Houston leaders seek clues for concert surge that killed 8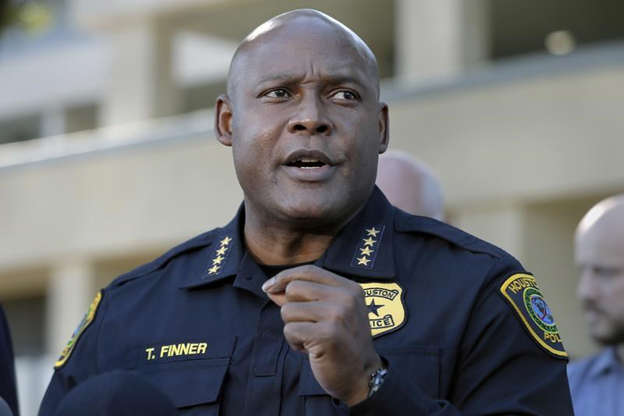 HOUSTON (AP) — Authorities said they would watch video, interview witnesses and review concert protocols to determine how eight people died at a Houston music festival when fans suddenly surged toward the stage to watch rapper Travis Scott.
City officials said Saturday they were in the early stages of investigating the pandemonium that unfolded Friday evening at Astroworld, a sold-out, two-day event in NRG Park with an estimated 50,000 people in attendance. One attendee said that as a timer clicked down to the start of Scott's performance, the crowd pushed forward.
"As soon as he jumped out on the stage, it was like an energy took over and everything went haywire," concertgoer Niaara Goods said. "All of a sudden, your ribs are being crushed. You have someone's arm in your neck. You're trying to breathe, but you can't."
Goods said she was so desperate to get out that she bit a man on the shoulder to get him to move.
The dead ranged in age from 14 to 27, and 13 people were still hospitalized Saturday, Mayor Sylvester Turner said. He called the disaster "a tragedy on many different levels" and said it was too early to draw conclusions about what went wrong. Dozens were injured.
"It may well be that this tragedy is the result of unpredictable events, of circumstances coming together that couldn't possibly have been avoided," said Judge Lina Hidalgo, Harris County's top elected official. "But until we determine that, I will ask the tough questions."
Experts who have studied deaths caused by crowd surges say they are often a result of density — too many people packed into a small space. The crowd is often running either away from a perceived threat or toward something they want, such as a performer, before hitting a barrier.
G. Keith Still, a visiting professor of crowd science at the United Kingdom's University of Suffolk, has testified as an expert witness in court cases involving crowds. He said he usually does not look at eyewitness reports in the early stages of analyzing an incident because emotions can cloud the picture, and witnesses can see only what's immediately around them.
Based on fire codes, the venue could have held 200,000 people, but city officials limited the attendance to 50,000, Houston Fire Chief Samuel Peña said.
"It was the crowd control at the point of the stage that was the issue, especially as the crowd began to surge toward the stage," Peña said.
The deaths called to mind a 1979 concert by The Who where 11 people died as thousands of fans tried to get into Cincinnati's Riverfront Coliseum. Other past crowd catastrophes include the deaths of 97 people in an overcrowded Hillsborough Stadium in 1989 in Sheffield, England, and numerous disasters connected with the annual hajj in Saudi Arabia.
People in the Houston crowd reported lots of pushing and shoving during the performances leading up to Scott's set.
Then when Scott took the stage, the crowd seemed to rush to the front, trying to get closer to the stage, said Nick Johnson, a high school senior from the Houston suburb of Friendswood who was at the concert.
"Everyone was passing out around you, and everyone was trying to help each other. But you just couldn't move. You couldn't do anything. You can't even pick your arms up," Johnson said. "It just got worse and worse."
Johnson said fans started to crush each other, and people started screaming. He said it felt like 100 degrees in the crowd.
Scott seemed to be aware that something was going on in the crowd, but he might not have understood the severity of the situation, Johnson said. A social media posting shows fans who appear to be dozens of rows from the stage chanting "stop the show" while Scott is performing. Another post shows two fans climbing a ladder aboard a platform and asking a cameraman to do something.
On video posted to social media, Scott could be seen stopping the concert at one point and asking for aid for someone in the audience: "Security, somebody help real quick."
In a tweet posted Saturday, Scott said he was "absolutely devastated by what took place last night." He pledged to work "together with the Houston community to heal and support the families in need."
Amy Harris, a freelance photographer for The Associated Press, described an "aggressive" crowd atmosphere throughout the day because of the way fans were behaving — pushing and rushing the stage barricades and prohibited VIP and admission areas.
"It was definitely the most chaotic festival environment that I've been in," Harris said. "I felt uneasy all day."
Houston Police Chief Troy Finner said his department noticed attendees "going down" at 9:30 p.m. and immediately notified concert organizers. The event was called off 40 minutes later after discussions that included the fire department and officials with NRG Park.
Finner defended the amount of time it took for the event to be canceled.
"You cannot just close when you've got 50,000 — over 50,000 — individuals, OK?" Finner said. "We have to worry about rioting — riots — when you have a group that's that young."
At one point, Gerardo Abad-Garcia was pressed so tightly into the crowd that he could not move his arms off his chest. During the performance that came before Scott's, he started getting concerned for his safety.
"I just couldn't breathe. I was being compressed," he said. A security guard helped him and others climb a fence and get out.
He described the crowd during Scott's set as a wave that was "going forward and backward." He said some people tried to help those who were passed out on the ground, while other concertgoers seemed to ignore them and continued watching the show.
Some audience members said barricades erected near the stage and to separate different sections of ticket holders prevented fans from escaping.
Billy Nasser described an area created by a stage barricade as a closet that people were thrown into and the door was shut. Joshua Robinson said the barricades created an area that "was just way too small and compact" for the number of people there.
Part of the investigation will include reviewing how the area around the stage was designed, the fire chief said.
Authorities did not disclose the causes of death, and the dead were not immediately identified.
The police chief said authorities were investigating reports of suspicious activity in the crowd, including a security officer who told police that he felt a prick in his neck during the chaos and lost consciousness while being examined by first responders. He was revived by the opioid antidote Narcan.
Scott, one of music's biggest young stars, founded the Astroworld Festival in 2018. The 29-year-old Houston native has been nominated for eight Grammy Awards. He has a 3-year-old daughter with Kylie Jenner, who announced in September that she's pregnant with their second child.
Drake joined Scott on-stage at the concert, which was livestreamed by Apple Music.
___
Associated Press writers Ryan Pearson in Los Angeles; Stan Choe in New York; David Sharp in Portland, Maine; and Desiree Seals in Atlanta contributed to this report.
Juan A. Lozano, The Associated Press
Putin hosts Xi in the Kremlin with imperial palace pageantry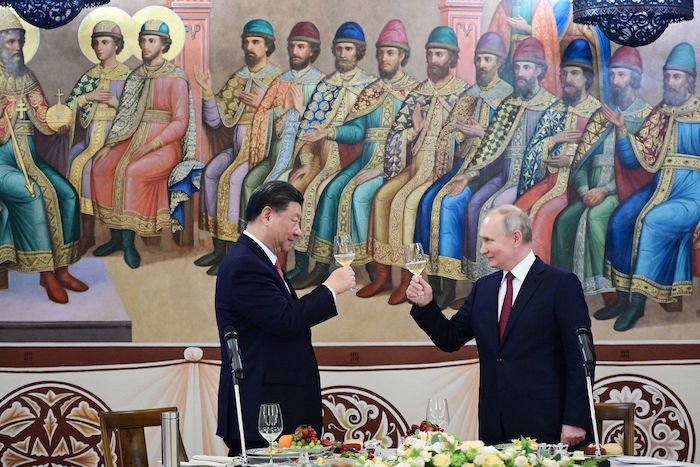 Russian President Vladimir Putin, right, and Chinese President Xi Jinping toast during their dinner at The Palace of the Facets is a building in the Moscow Kremlin, Russia, Tuesday, March 21, 2023. (Pavel Byrkin, Sputnik, Kremlin Pool Photo via AP)
By Vladimir Isachenkov in Moscow
MOSCOW (AP) — Russia and China showcased their "no-limits friendship" on Tuesday during a pomp-laden Kremlin ceremony intended to further cement ties amid the fighting in Ukraine.
After hosting Chinese leader Xi Jinping over a seven-course private dinner for 4 1/2 hours the previous night, Russian President Vladimir Putin greeted him in the old imperial palace for talks involving top officials from both countries.
Xi walked slowly up the opulent red-carpeted staircase of the Grand Kremlin Palace as guards in 19th century-style parade uniforms snapped to attention.
Putin was waiting to greet the Chinese leader in St. George's hall where walls are covered by white-marble plaques with gold engravings of the names of military units and soldiers awarded the order of St. George, a top military award established by Catherine the Great.
In a tightly choreographed ceremony filled with imperial grandeur, the two leaders entered the huge chandeliered room from opposite sides and shook hands in the middle to the sound of the Russian and Chinese national anthems.
They walked past a lineup of Russian and Chinese officials to sit down for talks. Putin and Xi both wore black suits and dark red ties.
The pageantry reflected the importance of Xi's three-day visit to Russia that gave a strong political boost to Putin just days after the International Criminal Court issued an arrest warrant for the Russian leader on charges of alleged involvement in abductions of thousands of children from Ukraine.
Moscow, which doesn't recognize the court's jurisdiction, dismissed the move as "legally null and void," but the arrest warrant further ramped up the pressure on the Russian leader as the fighting in Ukraine has dragged into a second year.
After the talks, Putin and Xi issued joint declarations pledging to further bolster their "strategic cooperation," develop cooperation in energy, high-tech industries and other spheres and expand the use of their currencies in mutual trade to reduce dependence on the West.
They said they would develop military cooperation and conduct more joint sea and air patrols, but there was no mention of any prospective Chinese weapons supplies to Russia that the U.S. and other Western allies feared.
Putin and Xi made long statements after the talks to a selected audience of officials and reporters from their pools. They didn't take questions.
Putin hailed China's proposals for a political settlement and a cease-fire in Ukraine, saying that it could serve as a basis for a peaceful settlement "once the West and Kyiv are ready for it." The U.S. has criticized Beijing's plan as a move intended to allow Russia to shore up its gains.
Putin and Xi wrapped up the day with a state dinner in the 15th-century Palace of Facets that served as a banquet hall for the czars. They again exchanged pledges of expanding the countries' "comprehensive partnership" at a table next to a frescoed wall before the audience of top officials.
Putin cited a long quote from China's classical Book of Changes about friendship capable of overcoming any obstacles that the interpreter failed to fully grasp. He raised a glass with a toast wishing good health to Xi and prosperity for the two countries and their peoples, ending it with 'Ganbei,' the Chinese equivalent of 'cheers.' Xi responded in kind.
After hosting Xi in the Kremlin for six hours, Putin accompanied him down the grand staircase.
"We are now witnessing the changes that haven't been seen for more than a century, and we are pushing them together," Xi told Putin through an interpreter as they stood in the Kremlin's doorway. "Take care, dear friend!"
They shook hands, and Putin stood on the pavement for a moment, waving his hand as Xi's limo drove away.
Before the Kremlin talks, Xi met with Russian Prime Minister Milkhail Mishustin. Unlike them, Russian and Chinese officials who attended the talks wore medical masks — a reminder of the COVID-19 pandemic that halted mutual visits.
Xi briefly referred to it, telling Mishustin he was happy to be back in Moscow after a long break because of the pandemic. He said that he invited Putin over Monday's dinner to visit China later this year to attend a top-level meeting of China's Belt and Road regional initiative.
Kremlin foreign affairs adviser Yuri Ushakov said Putin could make the trip but didn't give the date.
Xi stayed at a brand-new Chinese-owned Soluxe Hotel set in a lavish riverside park in northern Moscow that features trees and plants from all over China. He used a Chinese-made Hongqi limousine for driving around Moscow.
Putin: China has peace plan for Ukraine when West is ready
Russian President Vladimir Putin, right, and Chinese President Xi Jinping attend an official welcome ceremony at The Grand Kremlin Palace, in Moscow, Russia, Tuesday, March 21, 2023. (Alexey Maishev, Sputnik, Kremlin Pool Photo via AP)
By Karl Ritter in Kyiv
KYIV, Ukraine (AP) — Russian President Vladimir Putin said Tuesday a Chinese peace plan could provide a basis for a settlement of the fighting in Ukraine when the West is ready for it.
Speaking after talks with Chinese leader Xi Jinping, Putin charged that Ukraine's Western allies so far have shown no interest in that.
He also said British plans to provide Ukraine with ammunition for battle tanks containing depleted uranium, saying it heralds the West switching to supplying Kyiv with weapons containing nuclear components. He said that Russia will respond if it happens, but didn't elaborate.
THIS IS A BREAKING NEWS UPDATE. AP's earlier story follows below.
KYIV, Ukraine (AP) — Japanese Prime Minister Fumio Kishida made a surprise visit Tuesday to Kyiv, stealing some of the global attention from Asian rival President Xi Jinping of China, who is in Moscow to show support for Russia against the West over the Kremlin's invasion of Ukraine.
The two visits, about 800 kilometers (500 miles) apart, highlighted the nearly 13-month-old war's repercussions for international diplomacy as countries line up behind Moscow or Kyiv. They follow a week in which China and Japan both enjoyed diplomatic successes that have emboldened their foreign policy.
Kishida, who is to chair the Group of Seven summit in May, will meet President Volodymyr Zelenskyy in the Ukrainian capital, coinciding with Xi's talks for a second day with President Vladimir Putin in the Russian capital.
Kishida will "show respect to the courage and patience of the Ukrainian people who are standing up to defend their homeland under President Zelenskyy's leadership, and show solidarity and unwavering support for Ukraine as head of Japan and chairman of G-7," during his visit to Ukraine, the Japanese Foreign Ministry said in announcing his trip to Kyiv.
Kyodo News said Kishida visited a church in Bucha, a town outside Kyiv that became a symbol of Russian atrocities against civilians, laid flowers at a church there and paid his respects to the victims.
"I'm outraged by the cruelty. I represent the Japanese citizens to express my condolences to those who lost their lives," he was quoted as saying.
U.S. Ambassador to Japan Rahm Emanuel tweeted about the "two very different European-Pacific partnerships" that unfolded Tuesday.
"Kishida stands with freedom, and Xi stands with a war criminal," Emanuel said, referring to last week's action by the International Criminal Court, which issued an arrest warrant for Putin, saying it wanted to put him on trial for the abductions of thousands of children from Ukraine.
Washington is accelerating its delivery of Abrams tanks to Ukraine, choosing to send a refurbished older version that can be ready faster, U.S. officials told The Associated Press on Tuesday. The aim is to get the 70-ton behemoths to the war zone in eight-to-10 months, the officials said on the condition of anonymity because the plan has not yet been announced. The U.S. has led efforts among Kyiv's Western allies to augment Ukraine's military might.
Putin warmly welcomed Xi on Monday for a three-day visit the two major powers described as an opportunity to deepen their "no-limits friendship." Putin is keen to show he has a heavyweight ally and also find a market for Russian energy products under Western sanctions.
Speaking Tuesday at talks involving top officials from both countries, Putin said he wants to expand bilateral economic ties, noting Russian-Chinese trade rose by 30% last year to $185 billion. It's expected to top $200 billion this year, he added.
Russia stands "ready to meet the Chinese economy's growing demand for energy resources" by boosting deliveries of oil and gas, he said.
There are plans to expand industrial cooperation, including aircraft and shipbuilding industries, and other high-tech sectors.
Xi said he aimed to "strengthen coordination and interaction" with Russia, adding that it would help "the prosperity and revival of China and Russia."
Russia's Deputy Foreign Minister Sergei Ryabkov accused NATO of wanting to become the world's dominant military force and said Moscow is trying to prevent it.
"That is why we are expanding our cooperation with China, including in the security sphere," he said.
Western officials "have seen some signs" that Putin also wants lethal weapons from China, though there is no evidence Beijing has granted his request, NATO Secretary-General Jens Stoltenberg said in Brussels on Tuesday.
"China should not provide lethal aid to Russia," Stoltenberg said. "That would be to support an illegal war and only prolong the war."
At a meeting Tuesday with Russian Prime Minister Mikhail Mishustin, Xi said he invited Putin to visit China later this year for a top-level meeting of China's One Belt, One Road regional initiative, which seeks to extend Beijing's influence through economic cooperation projects.
Moscow and Beijing have both weathered international condemnation of their human rights record. The Chinese government has been widely condemned for alleged atrocities against Uighur Muslims in its far western Xinjiang region. The allegations include genocide, forced sterilization and the mass detention of nearly 1 million Uighurs. Beijing has denied the allegations.
Japanese public television channel NTV showed Kishida riding a train from Poland to Kyiv. His trip comes just hours after he met with Indian Prime Minister Narendra Modi in New Delhi and a week after a breakthrough summit with South Korean President Yoon Suk Yoel.
In New Delhi, Kishida called for developing and Global South countries to raise their voices to defend the rules-based international order and help stop Russia's war.
Japan, which has territorial disputes over islands with both China and Russia, is particularly concerned about the close relationship between Beijing and Moscow, which have conducted joint military exercises near Japan's coasts.
Beijing's diplomatic foray follows its recent success in brokering a deal between Iran and its chief Middle Eastern rival, Saudi Arabia, to restore diplomatic ties after years of tensions. The move displayed China's influence in a region where Washington has long been the major foreign player.
China looks to Russia as a partner in standing up to what both see as U.S. aggression, domination of global affairs and unfair criticism of their human rights records.
Beijing insists it is a neutral broker in Ukraine peace efforts.
Kishida was the only G-7 leader who hadn't visited Ukraine and was under domestic pressure to do so. U.S. President Joe Biden took a similar route to visit Kyiv last month, just before the first anniversary of Russia's invasion.
Kishida, Japan's first postwar leader to enter a war zone, was invited by Zelenskyy in January to visit Kyiv.
Due to its pacifist principles, Japan's support for Ukraine has been limited to equipment such as helmets, bulletproof vests and drones, and humanitarian supplies including generators.
Japan has contributed more than $7 billion to Ukraine, and accepted more than 2,000 displaced Ukrainians and helped them with housing assistance and support for jobs and education, a rare move in a country that is known for its strict immigration policy.
Tokyo joined the U.S. and European nations in sanctioning Russia over its invasion and providing humanitarian and economic support for Ukraine. In contrast, China has refused to condemn Moscow's aggression and criticized Western sanctions against Moscow, while accusing NATO and Washington of provoking Putin's military action.
Japan was quick to react because it fears the possible impact of a war in East Asia, where China's military has grown increasingly assertive and has escalated tensions around self-ruled Taiwan, which Beijing claims as its territory.
In Beijing, foreign ministry spokesperson Wang Wenbin said Beijing's contacts with Russia will help to bring about peace. "President Putin said that Russia appreciates China's consistent position of upholding fairness, objectivity and balance on major international issues," he said. "Russia has carefully studied China's position paper on the political settlement of the Ukrainian issue, and is open to peace talks."
Asked about Kishida's trip to Kyiv, he added, "We hope Japan could do more things to deescalate the situation instead of the opposite."
___
Associated Press writers Mari Yamaguchi in Tokyo and Lolita C. Baldor in Washington contributed.