Home run hands! Dallas fan catches Judge's 62nd homer on fly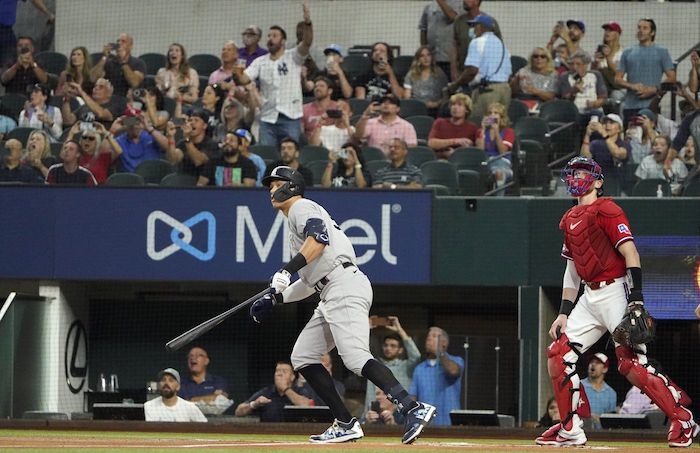 ARLINGTON, Texas (AP) — As he walked through a concourse in the outfield at Globe Life Field, high-fiving with fans and surrounded by a sea of cameras, it was almost as if Cory Youmans had hit a huge home run.
Instead, he hit the jackpot.
Youmans made the catch of a lifetime Tuesday night, snagging the ball New York Yankees slugger Aaron Judge launched for his American League-record 62nd homer.
The historic souvenir came sailing into the front row of section 31 in left field, a drive Judge hit to lead off the second game of a day-night doubleheader against the Texas Rangers. Youmans snared it on the fly.
Youmans, from Dallas, works in the financial world and there's no telling yet what the ball could be worth. With security personnel around him as he took the ball to be authenticated, he was asked what he planned to do with the prize.
"Good question. I haven't thought about it," he said.
After the Yankees lost 3-2, Judge said he didn't have possession of the home-run ball.
"I don't know where it's at," he said. "We'll see what happens with that. It would be great to get it back, but that's a souvenir for a fan. He made a great catch out there, and they've got every right to it."
Soon after a local TV station posted a brief interview with Youmans in a walkway, Bri Amaranthus tweeted: "THIS IS MY HUSBAND."
Amaranthus works in local media and identifies herself in her Twitter bio as an alum of ABC's "The Bachelor."
Youmans was among the crowd of 38,832, the largest to watch a baseball game at the 3-year-old ballpark.
Many fans came clad in Yankees caps, T-shirts and pinstripe jerseys.
Some came to watch Judge make history. Some came just for the history. Some traveled a long way.
The latter two categories included Jimmy Bennicaso of Norwalk, Connecticut.
"I'm a Met fan, actually," Bennicaso confessed. "Cowboy and Met fan – a rough combo."
Bennicaso was home in Connecticut on Monday night having watched Judge fail to homer in the first of four games against the Rangers in three days. He ran an idea past his girlfriend — what if he headed to Texas to take in Judge's chase in person?
"She said, 'Yeah, go for it,'" he said.
Bennicaso caught a morning flight to Texas. Being self-employed in real estate investments helped, he said.
Bennicaso stationed himself in the lower deck of the right-field stands in hopes of grabbing an opposite-field homer, certainly a possibility given Judge's spray chart.
Instead, Judge pulled a home run that broke the AL record set by Roger Maris in 1961.
Empty-handed, Bennicaso planned to return home Wednesday morning.
"It was worth it," he said. "I gave it my best shot."
___
More AP MLB: https://apnews.com/hub/MLB and https://twitter.com/AP_Sports
Blais scores twice, Canada beats Germany 5-2 to win gold at men's hockey worlds
TAMPERE, Finland — Sammy Blais scored twice as Canada beat Germany 5-2 to capture gold at the men's world hockey championship today.
Lawson Crouse, captain Tyler Toffoli and Scott Laughton also scored, and Peyton Krebs pitched in two assists for Canada.
"It feels really good," Blais said. "We've been in Europe for a month and we've all waited for that moment to play for the gold-medal game. And we're lucky enough to have won it."
JJ Peterka and Daniel Fischbuch scored for Germany, which was in the gold-medal game for the first time since 1992 when the playoff format was introduced at the world championship. Moritz Seider added two assists.
Goaltender Samuel Montembeault made 21 saves for Canada, while German netminder Mathias Niederberger turned away 23 shots.
Canada won gold for the second time in three years after losing to Finland in overtime in last year's world championship gold-medal game. It's Canada's 28th title at the event, the most of any country. Canada also has 16 silver and eight bronze medals from the tourney since 1931.
"I could not be more proud of this group. We battled through a lot of adversity and doubt to get to this point, and this win is so special," Toffoli said. "We have such a close-knit team that came together quickly, and we always believed in each other.
"Everyone bought in and we played a great game today, and I am incredibly happy to be going back to Canada with a gold medal."
Peterka opened the scoring for Germany at 7:44 of the first period with a wrist shot from the top of the left circle off a breakout that beat Montembeault.
Blais responded three minutes later, scoring in his third consecutive game after finishing off a pass from centre Peyton Krebs on a two-on-one to tie the game at 1-1.
Fischbuch gave Germany the lead again on a one-timer from the slot that trickled into the net 13:47 into the second period.
Canada replied with Crouse deflecting a pass from Krebs on the power play with 2:32 remaining in the second frame.
Blais then buried his second of the game 4:51 into the third period with a backhand off a rebound to put Canada ahead.
Toffoli added an insurance marker with eight minutes left, scoring with a wrist shot on a two-on-one to make it 4-2 in favour of Canada.
Laughton scored into an empty net with two minutes left to put the game out of reach.
"The commitment of everyone on our team was unbelievable. We knew we had to come here and play for each other and commit to a team game. We came here to represent Canada and make our country proud, and I am so blessed to be a part of this group," said head coach André Tourigny.
"Our players wanted to win so bad. They wanted to bring a gold medal back to Canada, and when you have that mindset you can accomplish great things, and we did that tonight."
Following the gold-medal game, MacKenzie Weegar was named best defenceman of the tournament and was selected to the media all-star team. Crouse, Montembeault and Weegar were also named Team Canada's three best players of the tournament following the semifinals.
LATVIA 4 UNITED STATES 3 (OT)
Defenceman Kristian Rubins scored his second goal 1:22 into overtime to lead Latvia to victory over the United States and earn a bronze medal earlier Sunday.
It's the first top-three finish for Latvia at the tournament. Its previous best was a seventh place it managed three times.
The U.S. lost in the bronze-medal game for the second straight year. The U.S. team was cruising through the tournament with eight straight wins until it was defeated by Germany in the semifinal, 4-3 in overtime.
Rubins rallied Latvia with his first with 5:39 to go in the final period to tie the game at -33 to force overtime.
Roberts Bukarts and Janis Jaks also scored for Latvia.
Rocco Grimaldi scored twice for the U.S. in the opening period to negate Latvia's 1-0 and 2-1 leads.
Matt Coronato had put the U.S. 3-2 ahead 6:19 into the final period.
This report from The Canadian Press was first published May 28, 2023.
Stars stay alive with 4-2 road victory over Golden Knights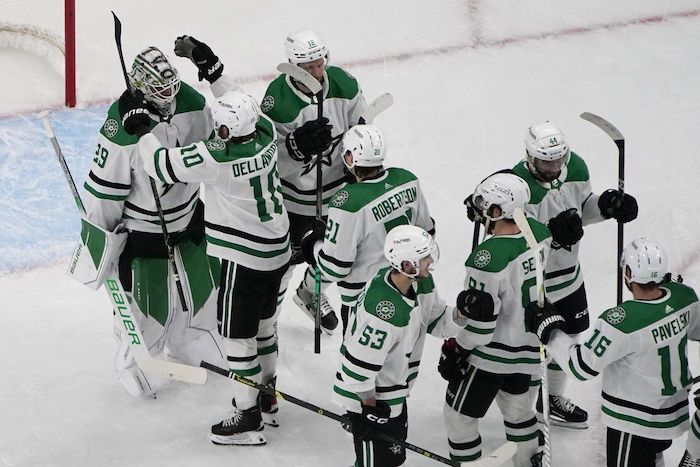 Dallas Stars celebrate after defeating the Vegas Golden Knights in Game 5 of the NHL hockey Stanley Cup Western Conference finals Saturday, May 27, 2023, in Las Vegas. (AP Photo/John Locher)
By Mark Anderson in Las Vegas
LAS VEGAS (AP) — With Dallas' season on the line, the Stars got two critical goals from a player who was a healthy scratch the first two games of the Western Conference final.
Ty Dellandrea's goals came within a 1:27 span midway through the third period, and the Stars beat the Vegas Golden Knights 4-2 on Saturday to keep alive their hopes of advancing to the Stanley Cup final to face the Florida Panthers.
"He's one of the best guys I've ever played with," said Stars goalie Jake Oettinger, who made 27 saves. "He deserves every opportunity he gets, and there's no one happier for him than the guys in this room.
"It shows how special you are when you get taken out. He didn't make it about him. He needed the opportunity to step up, and that's what he did."
The Stars escaped elimination for the second straight game and head to Dallas for Game 6 on Monday night down 3-2. Dallas is attempting to become the fifth team in NHL history to win a series after being down 3-0.
And look who's back for the Stars? Captain Jamie Benn returns after a two-game suspension for his cross-check to the neck of Vegas captain Mark Stone in Game 3. That was the only game in this series that was decided early, and until Saturday the Stars hadn't even had a multigoal lead.
"I know our group, and we weren't happy about being in the hole we were in, and they decided to do something about it," Stars coach Pete DeBoer said. "And now we're rolling."
The only problem for DeBoer was waiting two days to play Game 6.
"Drop the puck," he said.
DeBoer said before the game if his team won, the pressure would shift to the Knights. Now it's up to them to respond after twice being a period away from playing in the Stanley Cup final and letting both opportunities slip away.
"I don't think we brought our best the last two games," Stone said. "We were still in a good spot to win the game. We've got to bring a little bit better effort and start playing a little more desperate."
Vegas coach Bruce Cassidy said "it's a very good question" why his team didn't play with more desperation, but he also wasn't thrilled with the Knights' execution.
"We had 24 giveaways," Cassidy said. "I'm not sure you're beating the Arizona Coyotes in January with 24 giveaways. That's no disrespect to Arizona, but it's not the right way to play."
Dellandrea found the right way to play and put together the first multigoal playoff game of his career. Jason Robertson and Luke Glendening also scored, and Thomas Harley had two assists.
Chandler Stephenson and Ivan Barbashev scored for the Knights, and Jonathan Marchessault had two assists to extend his points streak to four games. Adin Hill made 30 saves.
Dellandrea scored from the right circle to put Dallas ahead, the puck deflecting off Vegas defenceman Alex Pietrangelo with 9:25 left for a 3-2 lead. Then, Dellandrea scored from the slot with 7:58 remaining.
Dellandrea said the older players kept him motivated when he was temporarily sidelined.
"There's no denying it's hard," he said. "I'm thankful for a good group of character guys, and you've just got to stay ready."
The teams traded goals in the first two periods.
Jack Eichel battled two Stars players for the puck in Vegas' offensive zone, and then Barbashev swooped in and made a fantastic move to glide past Oettinger and score with 6:24 left in the first period. The Stars wasted little time in answering when Glendening scored on a deflection less than two minutes later.
Dallas was robbed of what looked like a sure goal when Hill snagged a point-blank shot from Roope Hintz, who then threw his back in disbelief.
Like in the first period, the Knights had a goal in the second quickly answered by one from the Stars. Stephenson scored from the left circle at 16:40 of the period, and Robertson knocked his own rebounds 2:09 later to make it 2-2. Stephenson tied the Knights' record with his eight playoff goal this year, and Robertson had his fifth of the series.
—