Health Canada approves first COVID-19 vaccine for kids aged five to 11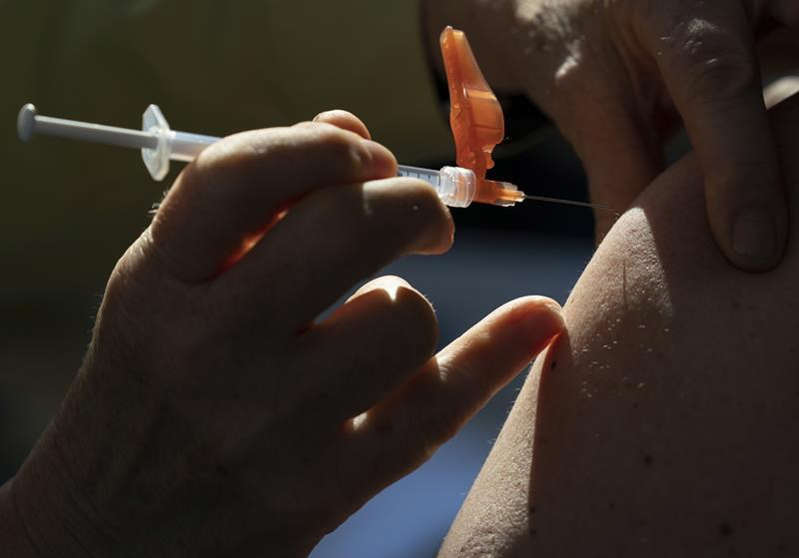 OTTAWA — Health Canada has approved the first COVID-19 vaccine for children aged five to 11 in Canada.
Pfizer and its partner BioNTech submitted a request for approval of a child-sized dose of its mRNA vaccine for COVID-19 on Oct. 18.
The companies say the results of their trials in children show comparable safety and efficacy to those recorded in a previous Pfizer-BioNTech study in people aged 16 to 25.
After a thorough review of the data, the department has determined the benefits of the vaccine for children between five and 11 years of age outweigh the risks, Health Canada said in a statement Friday.
"Overall this is very good news for adults and children alike," said Dr. Supriya Sharma, Health Canada's chief medical adviser, in reference to the growing number of COVID-19 cases among children during the fourth wave of the pandemic.
The vaccine was 90.7 per cent effective at preventing COVID-19 in children and no serious side-effects were identified, according to the regulator.
The National Advisory Committee on Immunization has suggested that two doses may be offered to children between five and 11 years of age, with at least eight weeks between doses.
"It is very important that we support children and their caregivers, and making informed decisions about COVID 19 vaccination, while respecting their choices and pace of decision-making," said chief public health officer Dr. Theresa Tam.
Pfizer-BioNTech has changed the formulation of the pediatric vaccine slightly, so new vaccines must be delivered to Canada before children can receive a shot.
Canada is expecting an accelerated delivery of 2.9 million child-sized doses, enough for a first dose for every child in the five to 11 age group.
In a statement Friday, Pfizer said the doses would be shipped "imminently."
Provinces are poised and ready to start administrating doses as soon as they have them in hand.
Main side-effects for children associated with the vaccine are the same as those for slightly older vaccine recipients, though they were less common in kids, aside from redness and swelling at the injection site.
Health Canada will require Pfizer-BioNTech to continue to report on ongoing studies and real-world use to monitor any issues related to the vaccine in children.
"Health Canada and the Public Health Agency of Canada will continue to closely monitor the safety of this vaccine, and will take action if any safety concerns are identified," the statement read.
For now NACI suggests children wait at least 14 days before or after receiving another vaccine, such as the flu shot, to get the COVID-19 vaccine so that officials can more easily identify potential side-effects.
The U.S. Food and Drug Administration approved the Pfizer-BioNTech vaccine for children on Oct. 29, and the United States has already vaccinated more than 2.5 million children.
Sharma said no safety issues have emerged during the U.S. rollout of the vaccine.
Health Canada is still reviewing Moderna's mRNA COVID-19 vaccine for children aged six to 11 years of age.
The Canadian government is also expected to announce Friday an easing of measures taken to prevent importing new cases across the border.
Federal ministers are set to discuss the changes at 1 p.m.
They are expected to do away with the rule that requires travellers taking short trips to the U.S. to present a negative molecular COVID-19 test in order to get back into the country.
This report by The Canadian Press was first published Nov. 19, 2021.
Laura Osman, The Canadian Press
Survey reveals widening gap between views of double-vaxxed and boosted people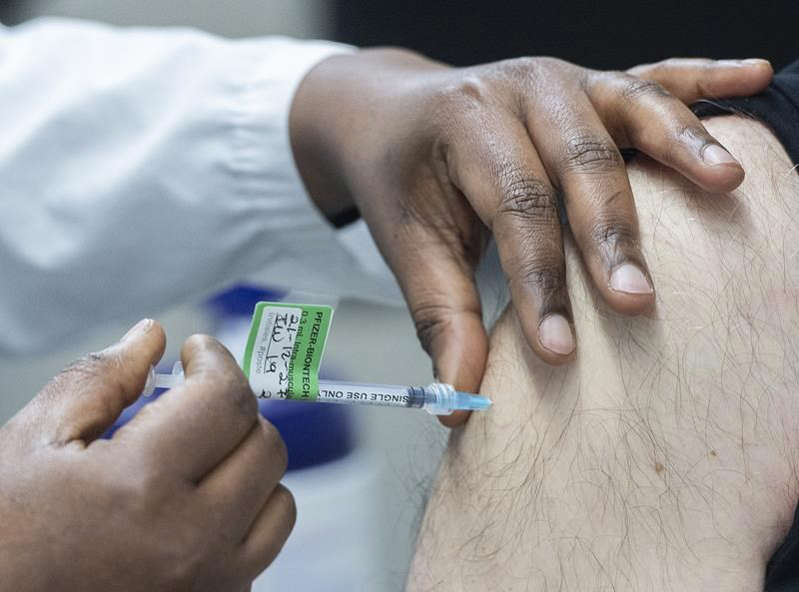 OTTAWA — A new survey suggests a widening gap between the pandemic views of people who have opted to get a COVID-19 vaccine booster and those who are holding steady with only two shots.
A web panel survey carried out by Leger for the Association for Canadian Studies shows 67 per cent of people with a booster dose who responded are afraid of contracting COVID-19, compared to just 52 per cent of those with two doses.
"We're seeing what I call a 'booster hesitancy,' as opposed to a vaccine hesitancy, and it's shaping some of their attitudes. Their level of concern about COVID is a bit different from the boosted. The degree to which they're concerned about the vaccination is a bit different," said Jack Jedwab, president of the Association for Canadian Studies.
For instance, 82 per cent of boosted respondents said they supported vaccine mandates at shopping malls and retail outlets, compared to only 57.8 per cent of people with two doses.
And 79 per cent of boosted people responded that they strongly support vaccine mandates in other non-essential public places like bars, restaurants and gyms.
That's compared to only 48 per cent of people with two vaccine doses.
There appears to be a growing split between the "boosted and the two-timers," Jedwab said.
"The issue takes on a bit more complexity than it (had) previously," he said.
People who received a booster shot were also more likely to respond that governments should not lift COVID-19 restrictions, at 85 per cent, compared to 71.5 per cent of people with two doses.
Generally, unvaccinated people responded at the other far end of the spectrum, with 65 per cent responding that COVID-19 restrictions should be lifted, and 94 per cent expressing opposition to vaccine mandates in shopping centres.
"They're in a completely different place," said Jedwab.
The results were gathered from 1,547 Canadians over the age of 18 between Jan. 7 and Jan. 9, and cannot be assigned a margin of error because the web survey did not randomly sample the population.
The number of COVID-19 cases have hit record highs in January thanks to the Omicron variant of the virus, which is said to be relatively more mild compared to past variants but can infect even vaccinated people.
Governments and public health officials have urged Canadians to get a third mRNA vaccine to protect them against the most serious effects of the virus, which has still sent people to the hospital in large numbers and threatened to overrun Canadian health systems.
The booster can also stave off the effects of waning immunity from the first two shots, which appear to offer less protection against contracting the virus over time.
About 41 per cent of Canadians over the age of 18 have opted for a COVID-19 booster as of Jan. 15, according to the Public Health Agency of Canada, but the survey suggests 73 per cent of respondents intend to get three shots.
At the same time, less than 10 per cent of adults have eschewed vaccination against the virus altogether.
Of those with two doses who say they don't want a third, 25.5 per cent said they don't believe a booster would work, and 14 per cent said they felt that two shots are enough.
Those reasons are very different from the ones given my people who have opted to remain completely unvaccinated, who since the beginning of the vaccine rollout least year have typically said they're more afraid of vaccine side-effects than the virus itself, Jedwab said.
In this latest poll, the unvaccinated were six times more worried about vaccine side-effects than getting COVID-19.
"That's not what people who are double-vaccinated are saying and it's not any meaningful degree," he said.
Only eight per cent of double-vaxxed people reported being concerned about the side-effects of the booster.
"They're more concerned with its effectiveness. So it will be up to policy-makers to remind people about the effectiveness."
This report by The Canadian Press was first published Jan. 26, 2022.
Laura Osman, The Canadian Press
This is not just another protest – Freedom Convoy is heading to Ottawa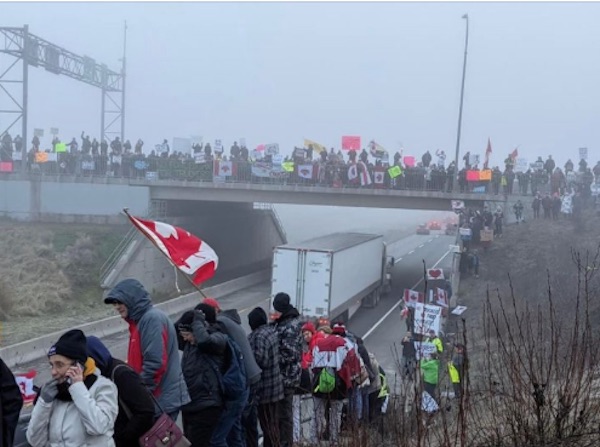 Millions of Canadians are wondering exactly what is happening on the highways leading to Ottawa. An overwhelming amount of traffic is forming, not only on the highways, but also in social media, and on websites dedicated to the "Freedom Convoy".
It appears the federal government's decision to implement a vaccine mandate for truckers has hit a nerve with Canadians opposed to the mandating of vaccines to treat covid. What started out as a cross country rally by truckers aiming to make a statement in Ottawa has exploded into a national and international phenomenon as people from around the world are turning their eyes to Canada to see more and more of the videos, posts, news articles, and podcasts focussing on opposition to mandating health restrictions.
Images of flag-waving Canadians lining up on overpasses to cheer on the truckers which started to trickle out on the weekend, are now flooding the internet. Videos of trucks blowing their horns at intersections and overpasses are being heard in homes across the country and increasingly around the world.
Just what do all these protestors want? One explanation comes from the
GoFundMe page
set up to help support the expenses truckers and supporters are encountering on their trip to Ottawa. That fundraiser easily blew through its initial goal of $3,000,000.00 on Monday morning. The message from fundraiser organizer Tamara Lich begins with these comments:
To our Fellow Canadians, the time for political over reach is over. Our current government is implementing rules and mandates that are destroying the foundation of our businesses, industries and livelihoods. Canadians have been integral to the fabric of humanity in many ways that have shaped the planet.
We are a peaceful country that has helped protect nations across the globe from tyrannical governments who oppressed their people, and now it seems it is happening here. We are taking our fight to the doorsteps of our Federal Government and demanding that they cease all mandates against its people. Small businesses are being destroyed, homes are being destroyed, and people are being mistreated and denied fundamental necessities to survive. It's our duty as Canadians to put an end to this mandates. It is imperative that this happens because if we don't our country will no longer be the country we have come to love. We are doing this for our future Generations and to regain our lives back.
As of Monday morning, a facebook page called
Convoy To Ottawa 2022
is already closing in on 400,000 followers. The group is quickly becoming a favourite place for supporters to share their photos, videos and supportive messages.
Here's a sample of posts and videos streaming in from across the county beginning with videos from the west coast and the east coast posted on Sunday. The beginning stages of this convoy seem to show there's already a groundswell of support. It the momentum continues throughout this week as the convoy approached Ottawa, this may culminate in something Canadians have never seen before.
From a facebook post by Jon Lively
The number of trucks and light vehicles slow rolling out of the east and west coast's today is astonishing. And the turnouts to wave them off were incredible.
I'll admit, I live in a constant state of skepticism to avoid disappointment. But what I'm seeing today sends chills down my spine and brings tears to my eyes. It feels very real.
Regardless of what happens in Ottawa next week, this movement has me feeling a little prouder to be Canadian. I needed that in a bad way. I think we're all feeling that.
I had people message me today who were in the various reception parties in BC and Alberta and they said it was very emotional. Many tears were shed. I understand why.
This is the most encouraging thing any of us in Canada have seen in two years. The love and unity is palpable.
Thank you to everyone involved. Behind you all the way
.
Sunday morning in Vancouver
Sunday morning outside Vancouver
Sunday morning at Abbotsford, BC. Amazing turn out In Abby this morning! Video from Shari Decker
Freedom Convoy to Ottawa coming through Langley, BC, at the crack of dawn on Jan 23, 2022. Video from Jacob Lequijt
Highway 2 North Lacombe overpass just after 10 PM Sunday night
Joining the convoy from Aluc, New Brunswick on Sunday afternoon. Video from 91.9 The Bend
A message from Ontario police Constable Erin Howard representing "Police On Guard"
Leaving Calgary Monday morning.