'Hands off Africa!': Pope blasts foreign plundering of Congo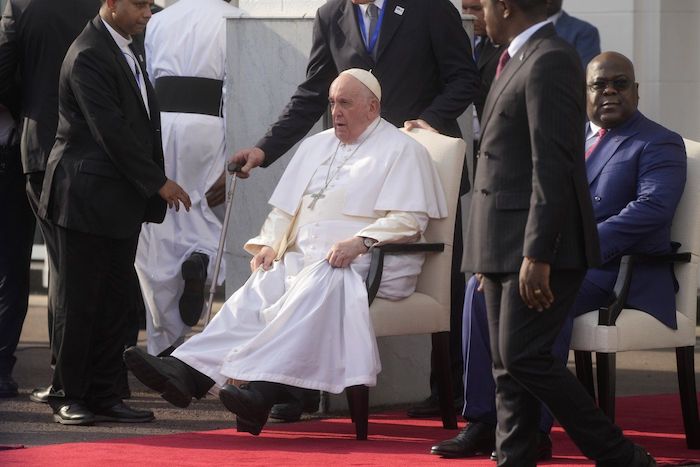 By Nicole Winfield, Jean-yves Kamale And Christina Malkia in Kinshasa
KINSHASA, Congo (AP) — Pope Francis demanded Tuesday that foreign powers stop plundering Africa's natural resources for the "poison of their own greed" as he arrived in Congo to a raucous welcome by Congolese grateful he was focusing the world's attention on their forgotten plight.
Tens of thousands of people lined the main road into the capital, Kinshasa, to welcome Francis after he landed at the airport, some standing three or four deep, with children in school uniforms taking the front row.
"The pope is 86 years old but he came anyway. It is a sacrifice and the Congolese people will not forget it," said Sultan Ntambwe, a bank agent in his 30s, as he waited for Francis' arrival in a scene reminiscent of some of Francis' earlier trips to similarly heavily Catholic countries.
Francis plunged headfirst into his agenda upon arrival, denouncing the centuries-long exploitation of Africa by colonial powers, today's multinational extraction industries and the neighboring countries interfering in Congo's affairs that has led to a surge in fighting in the east.
"Hands off the Democratic Republic of the Congo! Hands off Africa!" Francis said to applause in his opening speech to Congolese government authorities and the diplomatic corps in the garden of Kinshasa's national palace.
Calling Congo's vast mineral and natural wealth a "diamond of creation," Francis demanded that foreign interests stop carving up the country for their own interests and acknowledge their role in the economic "enslavement" of the Congolese people.
"Stop choking Africa: It is not a mine to be stripped or a terrain to be plundered," said history's first Latin American pope, who has long railed at how wealthy countries have exploited the resources of poorer ones for their own profit.
The six-day trip, which also includes a stop in South Sudan, was originally scheduled for July, but was postponed because of Francis' knee problems, which were still so serious on Tuesday that he couldn't stand to greet journalists in the plane heading to Kinshasa and forced him to use a wheelchair on the ground.
It was also supposed to have included a stop in Goma, in eastern Congo, but the surrounding North Kivu region has been plagued by intense fighting between government troops and the M23 rebel group, as well as attacks by militants linked to the Islamic State group.
The fighting has displaced some 5.7 million people, a fifth of them last year alone, according to the World Food Program.
Instead of travelling there, Francis will meet with a delegation of people from the east who will travel to Kinshasa for a private encounter at the Vatican embassy on Wednesday. The plan calls for them to participate in a ceremony jointly committing to forgive their assailants.
Sylvie Mvita, a student in economics in Kinshasa, said the pope's arrival would focus the world's attention and television cameras on Congo and the fighting in the east to show how its suffering has been forgotten by the rest of the world.
"This will allow the world to discover the atrocities of which our brothers in the east of the country are victims. And maybe for once, the little humanity that remains in some people will cause an awakening and the international community will not only be interested in what is happening in Ukraine but also in what is happening in this country," she said.
President Felix Tshisekedi voiced a similar line in his speech to the pope, accusing the international community of forgetting about Congo and of its complicit "inaction and silence" about the atrocities occurring in the east.
"In addition to armed groups, foreign powers eager for the minerals in our subsoil commit cruel atrocities with the direct and cowardly support of our neighbor Rwanda, making security the first and greatest challenge for the government," he said.
Rwanda has been accused of — and has repeatedly denied — backing the M23 rebels operating in Congo.
Francis' tough words at the start set the tone for the trip, in which the pontiff is aiming to bring a message of peace, a warning to the international community to not look the other way and a recognition that Africa is the future of the Catholic Church.
The continent is one of the only places on Earth where the Catholic flock is growing, both in terms of practicing faithful and fresh vocations to the priesthood and religious life.
And Congo stands out as the African country with most Catholics hands down: Half of its 105 million people are Catholic, the country counts more than 6,000 priests, 10,000 nuns and more than 4,000 seminarians — 3.6% of the global total of young men studying for the priesthood.
That makes Francis' trip, his fifth to the African continent in his 10-year pontificate, all the more important as the Jesuit pope seeks to reshape the church as a "field hospital for wounded souls," where all are welcome, poor people have a special pride of place and rivals are urged to make peace.
Aid groups had hoped Francis' six-day visit would shine a spotlight on the forgotten conflicts of Congo and South Sudan and their soaring humanitarian costs, and rekindle international attention amid donor fatigue that has set in due to new aid priorities in Ukraine.
Francis answered their call, pointing the finger at the role colonial powers such as Belgium played in the exploitation of Congo until the country, which is 80 times the size of Belgium, gained its independence in 1960, and neighboring countries are playing today.
Francis didn't identify Belgium or any neighboring country by name, but he spared no word of condemnation, quoting Tshisekedi as saying there was a "forgotten genocide" under way.
"The poison of greed has smeared its diamonds with blood," Francis said. "May the world acknowledge the catastrophic things that were done over the centuries to the detriment of the local peoples, and not forget this country and this continent."
"We cannot grow accustomed to the bloodshed that has marked this country for decades, causing millions of deaths that remain mostly unknown elsewhere," he said.
At the same time, he urged Congolese authorities to work for the common good and not tribal, ethnic or personal interests; and put an end to child labor and invest in education so that "the most precious diamonds" of Congo can shine brightly.
Congolese faithful were flocking to Kinshasa for Francis' main event, a Mass on Wednesday at Ndolo airport that is expected to draw as many as 2 million people in one of the biggest gatherings of its kind in Congo and one of Francis' biggest Masses ever.
Banners emblazoned with the pope's image carried messages including "Pope Francis, the city of Kinshasa welcomes you with joy."
Some women wore colorful dresses and skirts made of pagne, a wax print fabric featuring images of Francis, the Virgin Mary or the Vatican keys, in a celebratory sign of welcome.
Jean-Louis Mopina, 47, said he walked about 45 minutes to Kinshasa's airport before the pope's arrival on Tuesday.
"He has come like a pilgrim sent by God," Mopina said. "His blessing will give us peace in our hearts."
___
Christina Malkia in Kinshasa, and Krista Larson in Dakar, Senegal, contributed to this report.
Venezuela oil czar in surprise resignation amid graft probes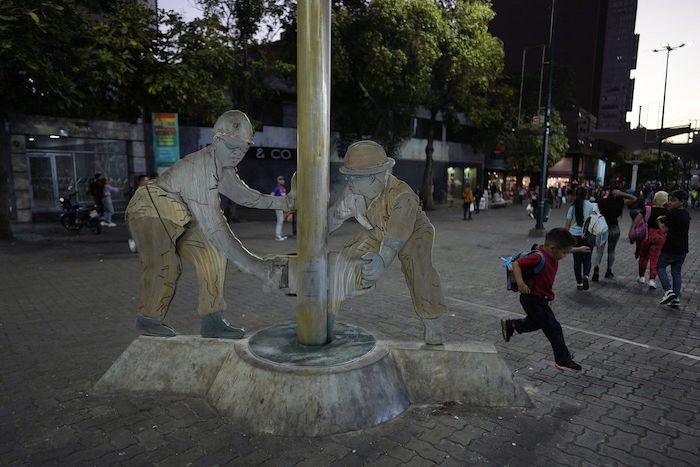 A boy jumps near the "Los Petroleros" sculpture that shows two men working on an oil drill of Petroleos de Venezuela, S.A, PDVSA, on the Sabana Grande boulevard, in Caracas, Venezuela, March 20, 2023. Venezuela's oil czar, Tareck El Aissami announced his resignation on Twitter and pledged to help investigate any allegations involving PDVSA. (AP Photo/Ariana Cubillos)
By Regina Garcia Cano in Caracas
CARACAS, Venezuela (AP) — The man responsible for running Venezuela's oil industry — the one that pays for virtually everything in the troubled country, from subsidized food to ridiculously cheap gas — has quit amid investigations into alleged corruption among officials in various parts of the government.
Tareck El Aissami's announcement Monday was shocking on multiple counts. He was seen as a loyal ruling party member and considered a key figure in the government's efforts to evade punishing international economic sanctions.
And he led the state oil company PDVSA in a Venezuelan business sector widely considered to be corrupt — in a country where embezzelment, bribery, money laundering and other wrongdoing are a lifestyle.
"Obviously, they are giving it the patina of an anti-corruption probe," said Ryan Berg, director of the Americas program at the Center for Strategic and International Studies, a Washington-based think tank.
"Rule of law is not being advanced here," Berg added. "This is really a chance for the regime to sideline someone that it felt for some reason was a danger to it in the moment and to continue perpetuating acts of corruption once particular individuals have been forced out of the political scene."
Hours after El Aissami revealed his resignation on Twitter, President Nicolás Maduro called his government's fight against corruption "bitter" and "painful." He said he accepted the resignation "to facilitate all the investigations that should result in the establishment of the truth, the punishment of the culprits, and justice in all these cases."
Venezuela's National Anti-Corruption Police last week announced an investigation into unidentified public officials in the oil industry, the justice system and some local governments. Attorney General Tarek William Saab in a radio interview Monday said that at least a half dozen officials, including people affiliated with PDVSA, had been arrested, and he expected more to be detained.
Among those arrested is Joselit Ramirez, a cryptocurrency regulator who was indicted in the U.S. along with El Aissami on money laundering charges in 2020.
Corruption has long been rampant in Venezuela, which sits atop the world's largest petroleum reserves. But officials are rarely held accountable — a major irritant to citizens, the majority of whom live on $1.90 a day, the international benchmark of extreme poverty.
"I assure you, even more so at this moment, when the country calls not only for justice but also for the strengthening of the institutions, we will apply the full weight of the law against these individuals," Saab said.
Oil is Venezuela's most important industry. A windfall of hundreds of billions in oil dollars thanks to record-high global prices allowed the late President Hugo Chávez to launch numerous initiatives, including state-run food markets, new public housing, free health clinics and education programs.
But a subsequent drop in prices and government mismanagement, first under Chávez's government and then Maduro's, ended the lavish spending. And so began a complex crisis that has pushed millions into poverty and driven more than 7 million Venezuela to migrate.
PDVSA's mismanagement, and more recently economic sanctions imposed by the U.S., caused a steady production decline, going from the 3.5 million barrels a day when Chávez rose to power in 1999 to roughly 700,000 barrels a day last year.
David Smilde, a Tulane University professor who has conducted extensive research on Venezuela, said the moves by Maduro's government are more than just an effort to clean its image.
"Arresting important figures and accepting the resignation of one of the most powerful ministers in a case that involves $3 billion does not improve your image," he said. "It is probably because the missing money actually has an important impact on a government with serious budgetary problems."
The Biden administration recently loosened some sanctions, even allowing oil giant Chevron for the first time in more than three years to resume production. Maduro's government has been negotiating with its U.S.-backed political opponents primarily to get the sanctions lifted.
U.S. congressional researchers saw El Aissami as an impediment to Maduro's goals.
"Should Al Aissami remain in that position, it could complicate efforts to lift oil sanctions," a November report from the Congressional Research Center said.
The U.S. government designated El Aissami, a powerful Maduro ally, as a narcotics kingpin in 2017 in connection with activities in his previous positions as interior minister and a state governor. The Treasury Department alleged that "he oversaw or partially owned narcotics shipments of over 1,000 kilograms from Venezuela on multiple occasions, including those with the final destinations of Mexico and the United States."
Under the government of Chávez, El Aissami headed the Ministry of Internal Affairs. He was appointed minister of oil in April 2020.
"El Aissami was a key player in the Maduro government's sanctions evasion strategy. We're talking about someone who knows where all the bodies are buried, so it will be key to watch where he ends up," said Geoff Ramsey, a senior fellow at the Atlantic Council focused on Colombia and Venezuela. "If El Aissami ends up being implicated himself, it could have serious implications for the entire power structure."
In September, Maduro's government renewed wrongdoing accusations against another former oil minister, Rafael Ramírez, alleging he was involved in a multibillion-dollar embezzlement operation during the early 2010s that took advantage of a dual currency exchange system. Ramírez, who oversaw the OPEC nation's oil industry for a decade, denied the accusations.
In 2016, Venezuela's then opposition-led National Assembly said $11 billion went missing at PDVSA in the 2004-2014 period when Ramirez was in charge of the company. In 2015, the U.S. Treasury Department accused a bank in Andorra of laundering some $2 billion stolen from PDVSA.
Liberals float possibility of making motion on foreign interference a confidence vote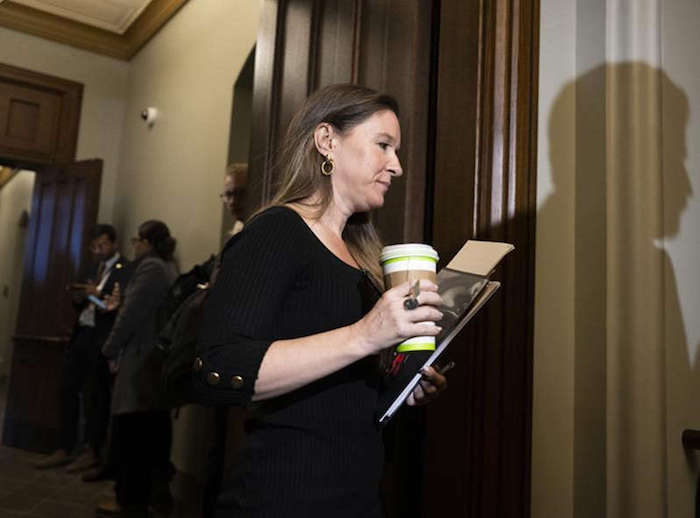 Katie Telford, Chief of Staff to Prime Minister Justin Trudeau, leaves after a meeting of the Liberal Caucus on Parliament Hill in Ottawa, on Wednesday, March 8, 2023. The federal Conservatives are trying to force Prime Minister Justin Trudeau's top aide to answer questions about allegations the Chinese government interfered in Canada's last two federal elections. THE CANADIAN PRESS/Justin Tang
By Mia Rabson in Ottawa
Liberal House leader Mark Holland isn't ruling out turning a Conservative motion on foreign interference into a confidence vote that could topple the government and would test the strength of the supply-and-confidence deal between the Liberals and the NDP.
The Conservatives tabled the motion in the House of Commons Monday demanding that Prime Minister Justin Trudeau's chief of staff, Katie Telford, appear at the House ethics committee before the middle of April. They want her, along with more than a dozen other witnesses, to answer questions about allegations that the Chinese government interfered in Canada's last two federal elections.
The move follows weeks of filibustering by the Liberals to prevent Telford from being summoned to appear at the House procedure committee on the same topic.
Alberta MP Michael Cooper said Telford is "a critical witness to get to the heart of the scandal." He said she should be able to answer what Trudeau knows about Beijing's attempts at meddling, when he learned about it and what he did about it.
The Conservatives and the Bloc Québécois both seem prepared to vote in favour of the motion. The NDP has yet to say where it stands on this specific motion, but intends to push its own motion demanding a full public inquiry be called on the issue of foreign interference.
NDP House leader Peter Julien reiterated Monday that his party wants an inquiry to look at the issue as a whole, rather than focus only on China. But the Conservatives have rejected calls to expand the probe to include meddling by other governments, such as Russia and Iran.
The Tories challenged the NDP to side with them instead of the "corrupt government."
"While this motion is a test for this government, it is also a test for the NDP," said Cooper.
It certainly could be the first real test of the supply-and-confidence arrangement the NDP and Liberals agreed to a year ago. Under that deal, the NDP is supporting the government on budgets and other votes that are automatically viewed as confidence matters, in exchange for the government moving on key NDP priorities such as dental care.
A confidence vote is one that the government must win — or be forced to resign.
The agreement, reached in early March 2022, does address situations in which the government declares a confidence vote on other matters. It requires the Liberals to inform the NDP of a confidence vote as soon as possible, and the NDP to discuss with the Liberals how its MPs intend to vote before announcing so publicly, "to permit discussions" to take place.
Holland hinted those talks are underway now, when asked specifically if the government would move to declare the Conservative motion a confidence matter.
"I think it's not helpful to jump to the end of a process when we are still having conversations in a contemporaneous circumstance," Holland said in a scrum with reporters outside the House Monday afternoon.
The Liberals are on the same page with the NDP about wanting to look at foreign interference from all other countries, not just China. However, thus far, Trudeau has rejected calls for a public inquiry, choosing instead to appoint a "special rapporteur" to oversee an investigation on the issue.
Trudeau named former governor general David Johnston for the role. The prime minister has committed to abiding by his advice, including any recommendation to hold a full public inquiry.
Holland accused the Conservatives of playing partisan games with the very serious issue of foreign interference in Canada's democratic processes. He said the government has offered to bring its national campaign chairs from 2019 and 2021 to the committees to answer questions.
He said the Conservatives won't offer the same, though the Conservative motion Monday includes not just Telford but more than a dozen others, including all the campaign chairs for every official party in the House of Commons for both the 2019 and 2021 elections.
The campaign chairs and co-chairs were briefed during the elections about any signs of foreign interference.
Holland said the decision to focus so intently on Telford is entirely about partisan politics.
Conservative House leader Andrew Scheer said the Tories would support the motion even if the Liberals made it into a confidence motion noting the issue is important enough.
"It's up to Justin Trudeau to make those kinds of decisions. And it's up to the NDP to decide whether or not they're going to allow themselves to be bullied around to cover up Liberal scandals," Scheer told reporters on Parliament Hill.
Scheer rejected Holland's contention that seeking Telford's testimony amounts to partisan games. He argued she is one of the few people in Trudeau's orbit during both elections and regular government work.
"She also would have had incredibly sensitive information as to the Liberal campaign itself, and that's why it's so important."
— With files from Dylan Robertson
This report by The Canadian Press was first published March 20, 2023.