Gunman kills 19 children in Texas school rampage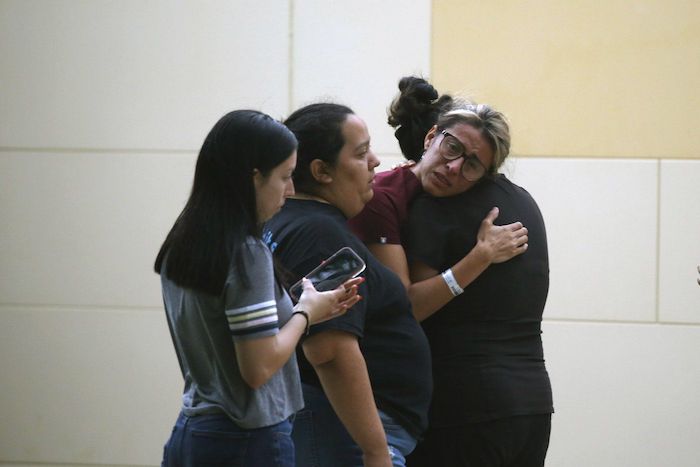 By Acacia Coronado And Jim Vertuno in Uvalde
UVALDE, Texas (AP) — An 18-year-old gunman opened fire Tuesday at a Texas elementary school, killing at least 19 children as he went from classroom to classroom, officials said, in the deadliest school shooting in nearly a decade and the latest gruesome moment for a country scarred by a string of massacres. The attacker was killed by law enforcement.
The death toll also included two adults, authorities said. Gov. Greg Abbott said one of the two was a teacher.
The assault at Robb Elementary School in the heavily Latino town of Uvalde was the deadliest shooting at a U.S. school since a gunman killed 20 children and six adults at Sandy Hook Elementary in Newtown, Connecticut, in December 2012.
Hours after the attack, families were still awaiting word on their children.
Outside the town civic center, where families were told to await news about their loved ones, the silence was broken repeatedly by screams and wailing. "No! Please, no!" one man yelled as he embraced another man.
"My heart is broken today," said Hal Harrell, the school district superintendent. "We're a small community, and we're going to need your prayers to get through this."
Adolfo Cruz, a 69-year-old air conditioning repairman, was still outside the school as the sun set, seeking word on his 10-year-old great-granddaughter, Elijah Cruz Torres.
He drove to the scene after receiving a terrifying call from his daughter shortly after the first reports of the shooting. He said other relatives were at the hospital and the civic center.
Waiting, he said, was the heaviest moment of his life.
"I hope she is alive," Cruz said.
The attack came just 10 days after a deadly, racist rampage at a Buffalo, New York, supermarket that added to a yearslong series of mass killings at churches, schools and stores. And the prospects for any reform of the nation's gun regulations seemed as dim, if not dimmer, than in the aftermath of the Sandy Hook deaths.
But President Joe Biden appeared ready for a fight, calling for new gun restrictions in an address to the nation hours after the attack.
"As a nation we have to ask, when in God's name are we going to stand up to the gun lobby? When in God's name are we going to do what has to be done?" Biden asked. "Why are we willing to live with this carnage?"
Many of the wounded were rushed to Uvalde Memorial Hospital, where staff members in scrubs and devastated victims' relatives could be seen weeping as they walked out of the complex.
Officials did not immediately reveal a motive, but they identified the assailant as Salvador Ramos, a resident of the community about 85 miles (135 kilometers) west of San Antonio. Law enforcement officials said he acted alone.
The attack came as Robb Elementary was counting down to the last days of the school year with a series of themed days. Tuesday was to be "Footloose and Fancy," with students wearing nice outfits and shoes.
The school has nearly 600 students in second, third and fourth grades. The vast majority of the students are Latino.
Ramos had hinted on social media that an attack could be coming, according to state Sen. Roland Gutierrez, who said he had been briefed by state police. He noted that the gunman "suggested the kids should watch out."
Before heading to the school, Ramos killed his grandmother with two military-style rifles he purchased on his birthday, Gutierrez said.
"That was the first thing he did on his 18th birthday," he said. Other officials said later that the grandmother had survived, and was being treated, through her condition was not known.
Investigators believe Ramos posted photos on Instagram of two guns he used in the shooting, and they were examining whether he made statements online alluding to the attack in the hours before the assault, a law enforcement official said.
Law enforcement officers were serving multiple search warrants Tuesday night and gathering telephone and other records, the official said. Investigators were also attempting to contact Ramos' relatives and were tracing the firearms.
The official could not discuss details of the investigation publicly and spoke to The Associated Press on condition of anonymity.
The attack began about 11:30 a.m., when the gunman crashed his car outside the school and ran into the building, according to Travis Considine, a spokesman for the Texas Department of Public Safety. A resident who heard the crash called 911, and two local police officers exchanged gunfire with the shooter.
Both officers were shot, though it was not immediately clear where on the campus that confrontation occurred, or how much time elapsed before more authorities arrived on the scene.
Meanwhile, teams of Border Patrol agents raced to the school, including 10 to 15 members of a SWAT-like tactical and counter-terrorism unit, said Jason Owens, a top regional official with the Border Patrol.
One Border Patrol agent who was working nearby when the shooting began rushed into the school without waiting for backup and shot and killed the gunman, who was behind a barricade, according to a law enforcement official speaking on condition of anonymity because he was not authorized to talk about it.
The agent was wounded but able to walk out of the school, the law enforcement source said.
Owens confirmed that an agent suffered minor injuries, but would not provide details of that confrontation.
He said some area agents have children at Robb Elementary.
"We have Border Patrol kids that go to this school. It hit home for everybody," he said.
It was not immediately clear how many people were wounded, but Uvalde Police Chief Pete Arredondo said there were "several injuries." Earlier, Uvalde Memorial Hospital said 13 children were taken there. Another hospital reported a 66-year-old woman was in critical condition.
Uvalde, home to about 16,000 people, is about 75 miles (120 kilometers) from the border with Mexico. Robb Elementary is in a mostly residential neighborhood of modest homes.
The tragedy in Uvalde was the deadliest school shooting in Texas history, and it added to a grim tally in the state, which has been the site of some of the deadliest shootings in the U.S. over the past five years.
In 2018, a gunman fatally shot 10 people at Santa Fe High School in the Houston area. A year before that, a gunman at a Texas church killed more than two dozen people during a Sunday service in the small town of Sutherland Springs. In 2019, another gunman at a Walmart in El Paso killed 23 people in a racist attack targeting Hispanics.
The shooting came days before the National Rifle Association annual convention was set to begin in Houston. Abbott and both of Texas' U.S. senators were among elected Republican officials who were the scheduled speakers at a Friday leadership forum sponsored by the NRA's lobbying arm.
In the years since Sandy Hook, the gun control debate in Congress has waxed and waned. Efforts by lawmakers to change U.S. gun policies in any significant way have consistently faced roadblocks from Republicans and the influence of outside groups such as the NRA.
A year after Sandy Hook, Sens. Joe Manchin, a West Virginia Democrat, and Patrick J. Toomey, a Pennsylvania Republican, negotiated a bipartisan proposal to expand the nation's background check system. But the measure failed in a Senate vote, without enough support to clear a 60-vote filibuster hurdle.
Then-President Barack Obama, who had made gun control central to his administration's goals after the Newtown shooting, called Congress' failure to act "a pretty shameful day for Washington."
Last year, the House passed two bills to expand background checks on firearms purchases. One bill would have closed a loophole for private and online sales. The other would have extended the background check review period. Both languished in the 50-50 Senate, where Democrats need at least 10 Republican votes to overcome objections from a filibuster.
___
Eugene Garcia and Dario Lopez-Mills in Uvalde, Jake Bleiberg in Dallas, Ben Fox, Michael Balsamo and Eric Tucker in Washington, Paul J. Weber in Austin, Juan Lozano in Houston, Gene Johnson in Seattle and Rhonda Shafner in New York contributed to this report.
___
More on the school shooting in Uvalde, Texas: https://apnews.com/hub/school-shootings
July 4 parade shooting leaves 6 dead, 30 hurt; man detained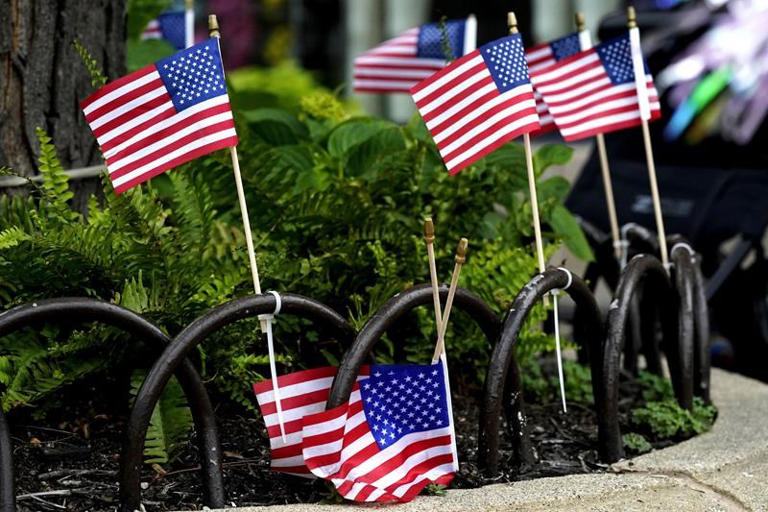 HIGHLAND PARK, Ill. (AP) — A shooter fired on an Independence Day parade from a rooftop in suburban Chicago, spraying the crowd with gunshots initially mistaken for fireworks before hundreds of panicked revelers of all ages fled in terror. At least six people were killed and at least 30 wounded.
An hourslong manhunt during which residents hunkered down in businesses or received police escorts to their homes ended with a traffic stop and brief chase Monday evening, when authorities detained a man they described as a person of interest. They gave no motive for the attack in Highland Park, a close-knit community on the shores of Lake Michigan that has long drawn the rich and sometimes famous
The July 4 shooting was just the latest to shatter the rituals of American life. Schools, churches, grocery stores and now community parades have all become killing grounds in recent months. This time, the bloodshed came as the nation tried to find cause to celebrate its founding and the bonds that still hold it together.
"It definitely hits a lot harder when it's not only your hometown but it's also right in front of you," resident Ron Tuazon said as he and a friend returned to the parade route Monday evening to retrieve chairs, blankets and a child's bike that he and his family abandoned when the shooting began.
"It's commonplace now," Tuazon said. "We don't blink anymore. Until laws change, it's going to be more of the same."
The shooting occurred at a spot on the parade route where many residents had staked out prime viewing points early in the day for the annual celebration.
Among them was Nicolas Toledo, who was visiting his family in Illinois from Mexico. He was shot and died at the scene, his granddaughter, Xochil Toledo, told the Chicago Sun-Times. Also killed was Jacki Sundheim, a lifelong congregant and "beloved" staff member at nearby North Shore Congregation Israel, which announced her death on its website.
Dozens of fired bullets sent hundreds of parade-goers — some visibly bloodied — fleeing. They left a trail of abandoned items that showed everyday life suddenly, violently disrupted: a box of chocolate cookies spilled onto the grass; a child's Chicago Cubs cap; baby strollers, some bearing American flags.
"There's no safe place," said Highland Park resident Barbara Harte, 73, who had stayed away from the parade fearing a mass shooting, but later ventured from her home.
Highland Park Police Chief Lou Jogmen said a police officer pulled over Robert E. Crimo III about 5 miles (8 kilometers) north of the shooting scene, several hours after police released the man's photo and warned that he was likely armed and dangerous.
Authorities initially said Crimo, whose father once ran for mayor of Highland Park, was 22, but an FBI bulletin and Crimo's social media said he was 21.
Police declined to immediately identify Crimo as a suspect but said identifying him as a person of interest, sharing his name and other information publicly was a serious step.
Lake County Major Crime Task Force spokesman Christopher Covelli said at a news conference "several of the deceased victims" died at the scene and one died at a hospital. Lake County Coroner Jennifer Banek said the five people killed at the parade were adults, but didn't have information on the sixth.
Police have not released details about the victims, but Toledo's granddaughter told the Sun-Times that Toledo had spent most of his life in Morelos, Mexico. Xochil Toledo said she remembers looking over at her grandfather, who was in his late 70s, as a band passed them.
"He was so happy," she said. "Happy to be living in the moment."
Xochil Toledo said her father tried to shield her grandfather and was shot in the arm; her boyfriend also was shot in the back and taken by someone to nearby hospital because they weren't sure there would be enough ambulances for all the victims.
Roberto Velasco, Mexico's director for North American affairs, said on Twitter that two Mexicans were also wounded.
Sundheim had spent decades on the staff at North Shore Congregation Israel, early on teaching at the congregation's preschool and later serving as Events and B'nei Mitzvah Coordinator, "all of this with tireless dedication," the congregation said in its statement announcing her death.
"Jacki's work, kindness and warmth touched us all," the statement said.
NorthShore University Health Center received 26 patients after the attack. All but one had gunshot wounds, said Dr. Brigham Temple, medical director of emergency preparedness. Their ages ranged from 8 to 85, and Temple estimated that four or five were children.
"It is devastating that a celebration of America was ripped apart by our uniquely American plague," Illinois Gov. J.B. Pritzker said at a news conference.
"While we celebrate the Fourth of July just once a year, mass shootings have become a weekly — yes, weekly — American tradition."
Since the start of the year, there have been 15 shootings where four or more people have been killed, including the Highland Park one, according to The Associated Press/USA TODAY/Northeastern University mass killing database.
The shooter opened fire around 10:15 a.m., when the parade was about three-quarters through, authorities said.
Highland Park Police Commander Chris O'Neill, the incident commander on scene, said the gunman apparently used a "high-powered rifle" to fire from a spot atop a commercial building where he was "very difficult to see." He said the rifle was recovered at the scene. Police also found a ladder attached to the building.
Highland Park Mayor Nancy Rotering told NBC's "Today" show that she did not know where the gun came from but that it was "legally obtained."
President Joe Biden on Monday said he and first lady Jill Biden were "shocked by the senseless gun violence that has yet again brought grief to an American community on this Independence Day."
In recent days, Biden signed the widest-ranging gun violence bill passed by Congress in decades, a compromise that reflected at once both progress on a long-intractable issue and the deep-seated partisan divide that persists.
Crimo, who goes by the name Bobby, was an aspiring rapper with the stage name Awake the Rapper, posting on social media dozens videos and songs, some ominous and violent.
In one animated video since taken down by YouTube, Crimo raps about armies "walking in darkness" as a drawing appears of a man pointing a rifle, a body on the ground and another figure with hands up in the distance.
Crimo's father, Bob, a longtime deli owner, ran unsuccessfully for mayor of Highland Park in 2019, calling himself "a person for the people."
The community of about 30,000 on Chicago's north shore has mansions and sprawling lakeside estates and was once home to NBA legend Michael Jordan. John Hughes filmed parts of several movies in the city, including "Ferris Bueller's Day Off," "Sixteen Candles" and "Weird Science."
Gina Troiani and her 5-year-old son were lined up with his daycare class ready to walk onto the parade route when she heard a loud sound that she believed was fireworks — until she heard people yell about a shooter.
"We just start running in the opposite direction," she told The Associated Press. "There were people that got separated from their families, looking for them. Others just dropped their wagons, grabbed their kids and started running."
___
Foody contributed from Chicago. Associated Press writers Martha Irvine and Mike Householder in Highland Park; Mike Balsamo and Bernard Condon in New York; David Koenig in Dallas; Jeff Martin in Woodstock, Georgia; Fabiola Sánchez in Monterrey, Mexico; and Jim Mustian in New Orleans contributed reporting.
Michael Tarm, Kathleen Foody And Roger Schneider, The Associated Press
Missing 13-year-old Edmonton girl found alive in Oregon, 41-year-old man arrested
EDMONTON — Police say a 13-year-old Edmonton girl missing for more than a week has been found alive in the United States.
She was located following a week-long search that began when she was seen arriving at her junior high school but didn't show up for class.
Edmonton Police Insp. Brent Dahlseide says the girl, who was reported missing June 24, is currently in an Oregon hospital for a precautionary examination after being found safe in the state early Saturday morning.
Dahlseide says a 41-year-old Oregon man will be charged with child luring and is expected to face additional charges in Canada and the U.S.
He says Edmonton police received assistance from other agencies in Canada, as well as from the FBI and other police services in the U.S.
Dahlseide says it's believed the suspect came to Edmonton, but it's not yet clear how he initially made contact with the girl or how she crossed the U.S. border.
"We would be speculating to say they crossed the border together, but I do know that they were located together, again, in the U.S. once they gained entry," Dahlseide told reporters during an online news conference Saturday, noting he believed the two had been communicating online.
"I don't know how long they may have been in contact with one another. I do know that the reason we're going with a child-luring charge at this point is that it's one we can support because of some of the online history."
Photos of the girl have appeared on billboards and posters across Alberta this past week asking people to be on the lookout for her and contact police with tips.
Dahlseide said an Amber Alert was not issued because investigators lacked a description of a suspect or a suspect vehicle. He said police got that information on Friday and were drafting the alert that afternoon when they learned from Canada Border Services the suspect had crossed into the U.S.
At that point the suspect was no longer in Canadian jurisdiction, Dahlseide explained, which is another criteria for an Amber Alert. He said they made a deduction about where the suspect was going and alerted authorities on the U.S. side.
Dahlseide said he believed the arrest was made outside Gladstone, Oregon, just south of Portland, away from the suspect's residence. He said the suspect's name would not be released until charges are formally laid.
He said the girl's family were informed early Saturday she'd been found safe and they are making arrangements to bring her home.
"I'm sure we likely woke them up, showing up at their door so early," Dahlseide said.
Canadian investigators have not had a chance to speak with the girl or the suspect yet, Dahlseide said, and other questions remain.
He said investigators believe the suspect was in Mission, B.C. for three to four days, so they'll be asking RCMP there to speak to people who may have seen him or the girl during that time. The FBI will also be able to help supply bank or credit card information to piece together the suspect's movements, he said.
This report by The Canadian Press was first published July 2, 2022
Rob Drinkwater, The Canadian Press