Guerrero Jr, Semien power surging Jays past Yanks 8-0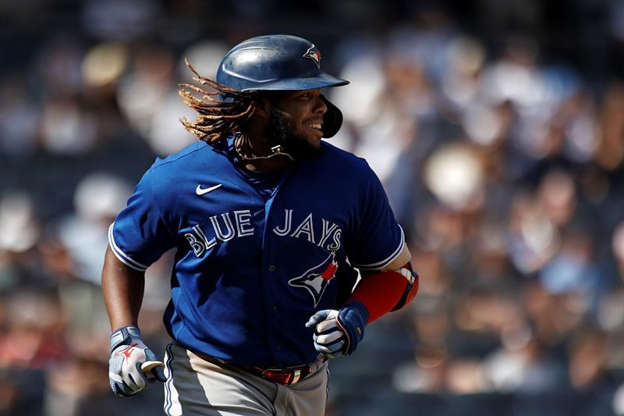 NEW YORK — Vladimir Guerrero Jr. hit his 40th homer, Marcus Semien went deep twice and the Toronto Blue Jays beat the New York Yankees 8-0 on Monday for their fifth straight win.
Hyun Jin Ryu (13-8) pitched six effective innings as the Blue Jays won for the eighth time in nine games. Toronto also improved to 5-2 in the Bronx this year.
Guerrero hit his 40th homer on Jameson Taillon's 13th pitch, a full-count curveball that landed a few rows into the seats in right. The slugger and his Hall of Fame father joined Cecil and Prince Fielder as the second father-son duo to hit 40 homers.
Guerrero finished with three hits, extending his hitting streak to a career-high 14 games.
Guerrero Sr. hit 449 homers in his 16-year career. His career high was 44 for the 2000 Montreal Expos when Toronto's slugging first baseman was 1 year old.
"I have front-row seats to watch this whole season," said Toronto manager Charlie Montoyo, a teammate of Guerrero Sr. in 1996 with Double-A Harrisburg. "What he's done, that's not easy to do. This guy he's going to be one of the best players in baseball. Actually, he already is and it's been fun to watch somebody that young be that good at the plate."
The 22-year-old Guerrero also became the youngest player in Toronto history to hit 40 homers, well ahead of Jesse Barfield, Tony Batista and Shawn Green, who were all 26 years old when they hit 40 homers for the first time.
Guerrero also became the 10th player in MLB history with 40 homers in his age-22 season. The last was Atlanta's Ronald Acuña Jr. in 2019.
"That's amazing," Semien said. "I knew when we took BP, it was a good day to hit to right field. He didn't hit on the field but I mentioned that to him. He's so good he did it in his first at-bat. It's something special."
Semien hit a solo drive in the first and his fifth career grand slam in the ninth. He has five homers in his last five games and a career-high 37 on the year.
Teoscar Hernández also went deep in the ninth for the Blue Jays.
Ryu held the Yankees to three singles after losing his previous two starts. He struck out six, including Joey Gallo three times, and walked none.
Ryu was lifted after 80 pitches. He said he felt some tightness in his right forearm when he threw a slider. He did not seem to think it would prevent him from making his next start.
"I felt really good with all my pitches today and I feel like it's one of those games that I felt my best," Ryu said through a translator.
Ryu also got some help from a slimmed-down Guerrero at first base. Guerrero, who lost 42 pounds in the offseason, made two nice stretches to get a throw from shortstop Bo Bichette in the fifth and a toss from Semien on a double play in the sixth.
Coming off a pair of one-run losses to the lowly Orioles, the Yankees lost for the seventh time in nine games following their first 13-game winning streak since 1961. The Yankees began the day with a half-game lead over Boston for the AL's first wild card.
"It's a concern," Yankees manager Aaron Boone said. "These are big-time games right now. These are important games. I want us to play well. We need to dig ourselves out of this little funk we've been in for a week."
New York struck out 10 times and had one at-bat with runners in scoring position. Its 2-3-4 hitters of Gallo, Aaron Judge and Giancarlo Stanton finished a combined 0 for 11 with seven strikeouts.
Taillon (8-6) allowed three runs and three hits in seven innings. He lost his second straight start following a 15-start unbeaten stretch.
Trevor Richards and Tim Mayza pitched a scoreless inning apiece. Adam Cimber finished the five-hitter for Toronto's AL-best 14th shutout.
YANKEE ERRORS
The Yankees committed three errors but Toronto did not capitalize on any of them.
Shortstop Gleyber Torres bobbled a grounder in the second by Gurriel, who was thrown out trying to steal second base later in the inning.
Gio Urshela also committed a pair of miscues at third in his first game back from a brief absence with a hand injury.
Danny Jansen's soft liner deflected off Urshela's glove in the second, and he also bobbled a grounder by Guerrero. The Yankees ended the third when Brett Gardner made a diving catch in center and easily doubled off Guerrero.
TRAINER'S ROOM
Blue Jays: DH George Springer fouled a ball off his knee in the eighth. He was checked out, stayed in but gingerly walked back to the dugout after striking out. He was replaced by Jake Lamb in the ninth. Montoyo said Springer has a contusion and is day to day.
UP NEXT
RHP Gerrit Cole (14-6, 2.73 ERA), who struck out 15 in seven innings Wednesday against the Angels, starts for New York against Toronto LHP Steven Matz (10-7, 3.80 ERA). Matz pitched 6 2/3 innings of one-run ball on May 25 in New York.
___
More AP MLB: https://apnews.com/hub/MLB and https://twitter.com/AP_Sports
Larry Fleisher, The Associated Press
Louie Anderson, Emmy-winning comedian, dies at 68
LOS ANGELES (AP) — Louie Anderson, whose more than four-decade career as a comedian and actor included his unlikely, Emmy-winning performance as mom to twin adult sons in the TV series "Baskets," died Friday. He was 68.
Anderson died at a hospital in Las Vegas of complications from cancer, said Glenn Schwartz, his longtime publicist. Anderson had a a type of non-Hodgkin lymphoma, Schwartz said previously.
Anderson won a 2016 Emmy for best supporting actor for his portrayal of Christine Baskets, mother to twins played by Zach Galifianakis. Anderson received three consecutive Emmy nods for his performance.
He was a familiar face elsewhere on TV, including as host of a revival of the game show "Family Feud" from 1999 to 2002, and on comedy specials and in frequent late-night talk show appearances.
Anderson voiced an animated version of himself as a kid in "Life With Louie." He created the cartoon series, which first aired in prime time in late 1994 before moving to Saturday morning for its 1995-98 run. Anderson won two Daytime Emmy Awards for the role.
He made guest appearances in several TV series, including "Scrubs" and "Touched by an Angel," and was on the big screen in 1988′s "Coming to America" and in last year's sequel to the Eddie Murphy comedy.
Anderson also toured regularly with his stand-up act and as a stand-up comedian.
Lynn Elber, The Associated Press
No national security issue in Chinese takeover of Canadian lithium company: Liberals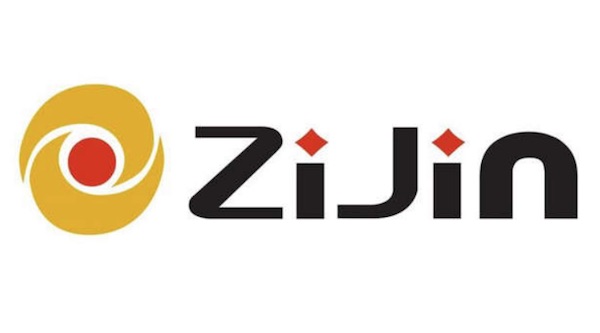 OTTAWA — The pending takeover of a Canadian lithium mining company by a Chinese state-owned company raises no national security concerns, federal Liberals argued Thursday.
Liberal MP Andy Fillmore, parliamentary secretary to Industry Minister François-Philippe Champagne, told a House of Commons committee that the Industry Department reviewed last fall the proposed takeover of Neo Lithium Corp. by China's Zijin Mining Group Ltd.
That review concluded that Neo Lithium is "really not a Canadian company," he told the industry committee, describing it as an Argentine company with directors in the United Kingdom and only three Canadian employees "on paper."
He said the only reason Neo Lithium "had any Canadian toehold whatsoever," was to get on the Toronto Stock Exchange in a bid to raise money for what Fillmore called an "increasingly dubious appearing" mine development project in Argentina.
Moreover, he said that project involves lithium carbonate, not the lithium hydroxide used to manufacture batteries that are critical for electric vehicles.
For those reasons, Fillmore said a formal national security review of the takeover was deemed unnecessary.
"These are the things they found, right? That in fact it's not a relevant lithium to Canada's national security interests and it's not really a Canadian company."
However, Conservative MP Ed Fast, who had called for the emergency committee meeting to find out why no formal security review was done, said it's "just false" to say Neo Lithium is not a Canadian company.
And he noted that the company's own website touts the mine as "the pre-eminent lithium brine asset in the world" to meet surging global demand for electric vehicle batteries.
"It goes without saying but bears restating that critical minerals such as lithium are a strategic asset, not only for Canada but for the world, and will play a critical role in driving our future prosperity and in meeting our environmental objectives," Fast said.
While the mine in question is in Argentina, Fast argued that it is incumbent on Canada and other "free-trading, rules-following allies" to ensure the global critical minerals industry is not monopolized by one country, especially one whose interests "are sometimes hostile toward ours."
China currently dominates the world's supply of lithium and batteries.
Conservative MP Tracy Gray further argued that lithium carbonate can be converted into lithium hydroxide for use in batteries.
But Fillmore countered that the conversion process involves additional costs and "significant environmental implications," which is why lithium hydroxide is preferred.
"I could probably make a passable hat using my socks but I'd much rather wear a hat," he said.
Thursday's meeting was called to consider a motion by Fast, calling for the committee to hold six meetings to explore the Neo Lithium takeover and whether a formal national security review should have been conducted.
In the end, committee members unanimously agreed to a Bloc Quebecois compromise to hold two meetings on the subject next week. The steering subcommittee, which is also to meet next week to set the committee's agenda for the coming months, could decide to schedule more meetings on Neo Lithium.
This report by The Canadian Press was first published Jan. 20, 2022.
Joan Bryden, The Canadian Press