Green Canadian hydrogen not an immediate solution to Germany's energy worries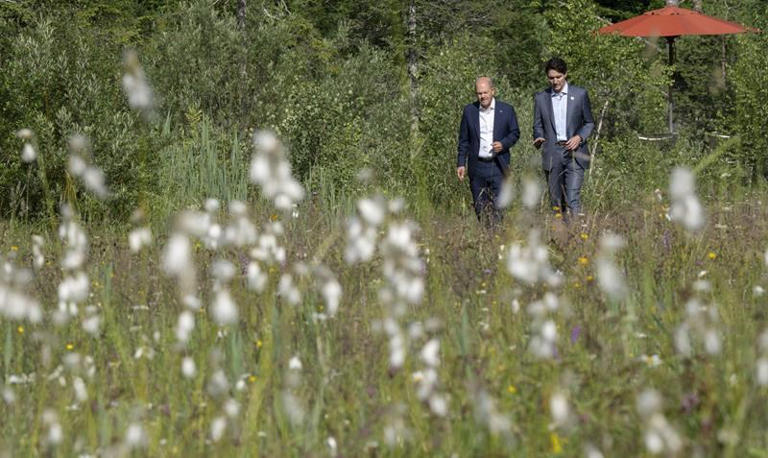 OTTAWA — Some energy experts warn a deal to sell Canadian hydrogen to Germany will serve as only a small, far-off and expensive part of the solution to Europe's energy crisis.
German Chancellor Olaf Scholz and Prime Minister Justin Trudeau are set to sign a hydrogen agreement in Stephenville, N.L. next week, during Scholz's official visit to Canada.
A government official speaking on the condition they not be identified confirmed there will be a hydrogen accord signed that is the culmination of months of talks between the two countries.
Stephenville, a port town an hour south of Corner Brook on Newfoundland's west shore, is the planned home for a zero-emission energy plant where wind power will be used to produce hydrogen and ammonia for export.
The deal between Canada and Germany is expected to make fuel-hungry Germany the first big customer for a first-of-its-kind project in Canada.
Germany was already looking to hydrogen as an energy solution in its climate plan before Russia invaded Ukraine last February. But since that invasion, as Russia attempts to push back against punishing economic sanctions, it has repeatedly threatened Germany's energy supply.
Germany typically gets about half of its natural gas from Russia and is looking for both short and long-term solutions to wean itself from Russian exports.
Proponents say the hydrogen deal comes at a pivotal time for Canada's green hydrogen industry, which is still in its infancy.
But some experts also say the fledgling product carries a big price tag and won't be able to help Germany in the near term. Canada doesn't yet have the infrastructure to produce large quantities of green hydrogen, or export it great distances.
"The key is you need a lot of associated infrastructure to be built before we can do a large scale export of hydrogen into other countries," said Amit Kumar, the industrial research chair of the Natural Sciences and Engineering Research Council.
In order to be shipped, the hydrogen would likely need to be cooled into a liquid, loaded into a specially adapted pipeline or tanker, and warmed again when it reached its destination.
The process and infrastructure is expensive, and so is production.
Most hydrogen production globally comes from converting natural gas to hydrogen and carbon dioxide. If the latter is emitted into the atmosphere, the hydrogen is referred to as "grey." In Canada, the goal is to capture those emissions with carbon capture and storage, which would make the hydrogen "blue."
Canada has to date been talking up plans to help Germany with new natural gas projects in Atlantic Canada that could one day be converted to blue hydrogen facilities.
But Germany is looking mainly for "green hydrogen," which is made through splitting water molecules using renewable energy like wind or solar power. That comes at a much higher price.
"You're looking at anywhere between three to four fold increase in costs," said Kumar, a faculty of engineering professor at University of Alberta, who was consulted on the drafting of Alberta's hydrogen strategy.
He said the technology needs to improve and more investment needs to be made before the cost is even relatively comparable with it's natural-gas derived alternative.
The company behind the Newfoundland project, World Energy GH2, said the first phase of its Newfoundland project should see up to 164 onshore wind turbines built to power a hydrogen production facility. Long-term plans call for tripling the size of the project.
In its proposal, World Energy GH2 said it is on the cutting edge of a new, green industry.
Construction on the first wind farm is supposed to begin next year. That means hydrogen production is still far off, said Paul Martin, chemical engineer and co-founder of the Hydrogen Science Coalition.
"It'll take years and years and years," he said. "And then you've got the infrastructure problem."
Martin says the infrastructure costs of producing and transporting green hydrogen don't add up.
"Honestly looking at it the green hydrogen pitch in Canada for export, it's disingenuous," he said.
That's partially why Canada's hydrogen strategy involves moving toward "blue hydrogen" before eventually converting to green, Kumar said.
Germany's strategy, however, clearly favours green hydrogen while the role of blue hydrogen is uncertain, an analysis by Centre for Strategic and International Studies fellow Isabelle Huber shows.
Trudeau and Scholz, who became Germany's chancellor in December, first discussed hydrogen and Canadian energy exports when Trudeau visited Berlin in March.
At the G7 leaders' summit in the Bavarian Alps in June, Trudeau spoke at length with other world leaders about how Canada could offer alternatives to nations dependent on Russian oil and gas.
At a press conference at the conclusion of the summit, Trudeau suggested infrastructure used to carry liquefied natural gas could be adapted to carry hydrogen, as one example of how Canada could help.
"We're also looking medium term at expanding some infrastructure," Trudeau said, "but in a way that hits that medium-term and long-term goal of accelerating transition — not just off Russian oil and gas — but off of our own dependence on fossil fuels."
Canadian hydrogen might be just one piece of Germany's plan to transition off of German gas in a very difficult situation, said Sara Hastings-Simon, who directs the masters of science in sustainable energy development at the University of Calgary.
"It's not the be all end all, it's neither going to fix it completely or be the single answer," she said in an interview.
This report by The Canadian Press was first published Aug. 16, 2022.
— With files from Mia Rabson
Laura Osman, The Canadian Press
Europe faces 'unprecedented risk' of gas shortage, IEA says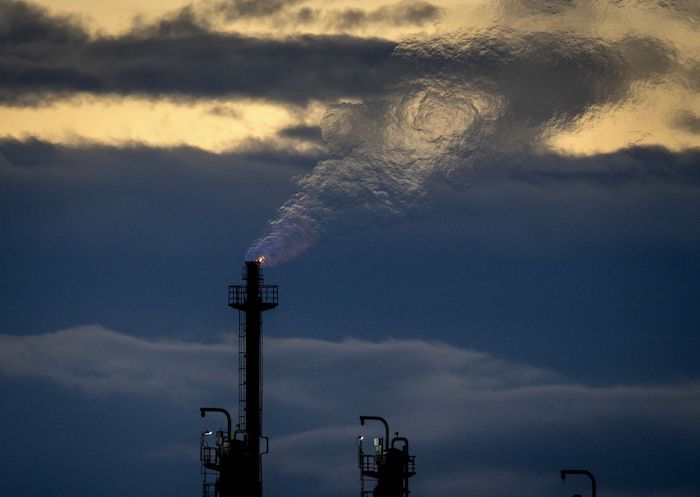 By David Mchugh
Europe faces "unprecedented risks" to its natural gas supplies this winter after Russia cut off most pipeline shipments and could wind up competing with Asia for already scarce and expensive liquid gas that comes by ship, the International Energy Agency said.
The Paris-based IEA said in its quarterly gas report released Monday that European Union countries would need to reduce use by 13% over the winter in case of a complete Russian cutoff amid the war in Ukraine. Much of that cutback would have to come from consumer behavior such as turning down thermostats by 1 degree and adjusting boiler temperatures as well as industrial and utility conservation, the group said.
The EU on Friday agreed to mandate a reduction in electricity consumption by at least 5% during peak price hours.
Just a trickle of Russian gas is still arriving in pipelines through Ukraine to Slovakia and across the Black Sea through Turkey to Bulgaria. Two other routes, under the Baltic Sea to Germany and through Belarus and Poland, have shut down.
Another hazard in the study was a late winter cold snap, which would be particularly challenging because underground gas reserves flow more slowly at the end of the season due to less gas and lower pressure in the storage caverns. The EU has already filled storage to 88%, ahead of its goal of 80% before winter. The IEA assumed 90% would be needed in its Russian cutoff scenario.
Businesses in Europe have already cut back natural gas use, sometimes simply by abandoning energy-intensive activity such as making steel and fertilizer, while smaller businesses like bakeries are feeling a severe crimp in their costs.
High prices for gas, which is used for heating homes, generating electricity and a host of industrial processes are feeding through to record consumer inflation of 10% in the 19 EU member countries that use the euro and sapping so much consumer purchasing power that economists predict a recession at the end of this year and the beginning of next.
European governments and utilities have made up much of the Russian shortfall by purchasing expensive supplies of liquefied natural gas, or LNG, that comes by ship from countries such as the U.S. and Qatar and by obtaining increased pipeline supply from Norway and Azerbaijan.
The goal is to prevent storage levels from falling so far that governments must ration gas to businesses. Gas storage must remain above 33% for a secure winter, according to the IEA, while levels below that risk shortages if there's a late cold snap.
Lower levels also would make it harder for Europe to refill storage next summer, while higher reserves from conservation would help lower extremely high prices.
European leaders say the cutback in Russian gas is energy blackmail aimed at pressuring governments over their support for Ukraine and sanctions against Moscow.
Since Russia halted flows this month through the Nord Stream 1 pipeline running under the Baltic Sea to Germany, it and the parallel Nord Stream 2 — built but never operated after Germany refused to certify it — were damaged in underwater explosionsthat European governments say are sabotage.
Demand for liquefied gas has driven up prices and tightened supply to the extent that poorer countries in Asia cannot afford it. Bangladesh is experiencing widespread power blackouts, while Pakistan faces rolling blackouts and has introduced reduced working hours for shops and factories to save electricity.
"Interregional competition in LNG procurement may create further tension, as additional European needs would put more pressure on other buyers, especially in Asia, and conversely cold spells in Northeast Asia could limit Europe's access to LNG," the agency said.
The gas crisis in Europe has also deprived Asian countries of the limited number of floating regasification terminals, which were expected to play a major role in LNG imports in Southeast Asia. Europe has secured 12 of the vessels and plans another nine.
Vancouver gas prices pass $2.39, breaking North American record: analyst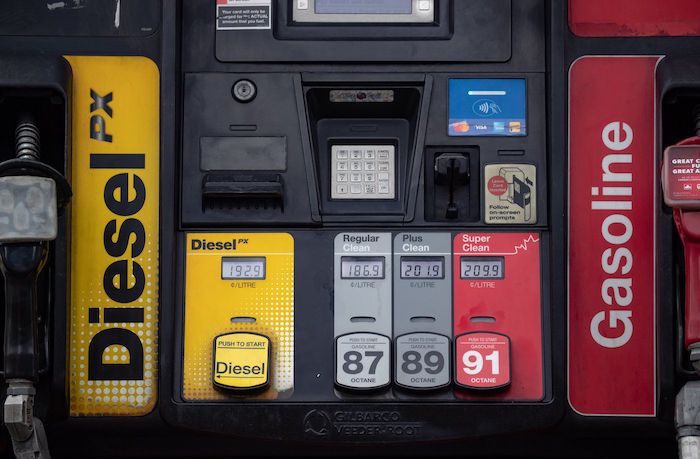 Vancouver – Gas prices in Vancouver hit a new high of more than $2.39 a litre at some stations Thursday, blowing past the previous peak set this summer.
One gas analyst said that's a new all-time record for North America, and expects prices to continue to rise this week.
Dan McTeague, president of Canadians for Affordable Energy, said prices passed the previous record of nearly $2.37 a litre, set in Vancouver in June, due to the temporary shutdown of refineries in the U.S. Pacific Northwest and California.
McTeague said prices will likely rise again then drop fairly quickly once the supply issues are resolved.
"I don't see the all-clear light at the end of the tunnel just yet. It's going to happen and when it does it will be a dramatic drop, probably about 20 cents a litre, not in one fell swoop but very close to that over two or three days," he said.
Gas prices jumped overnight across Canada by almost 20 cents in some places.
McTeague said no one could have predicted gas prices increasing at the speed they have over the past several days.
"The bottom line is that there's not enough supply out there and however we got here, we're going to have to spend a bit more time trying to figure this out because this is the kind of things that bring economies to a standstill," he said.
According to the CAA's price tracker, gas is up nationally by just over three cents on average at $1.58 per litre, with some provinces seeing higher jumps than others.
The CAA says the average gas price across Vancouver was $2.32 on Thursday.
This report by The Canadian Press was first published Sept. 29, 2022.