GOP directs culture war fury toward green investing trend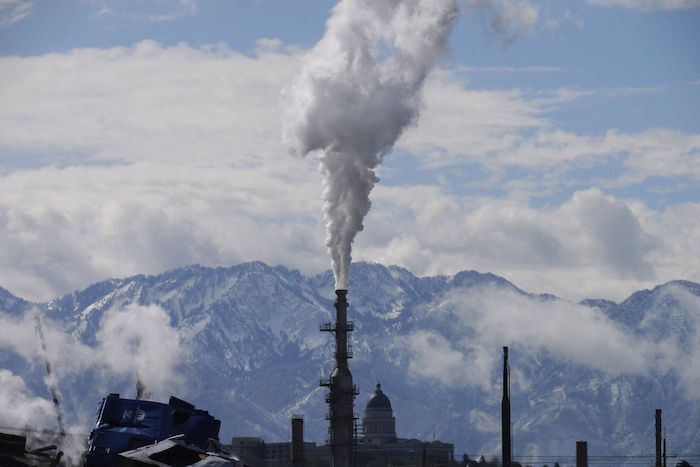 By Sam Metz in Salt Lake City
SALT LAKE CITY (AP) — Republicans are coming out swinging against Wall Street's growing efforts to consider factors like long-term environmental risk in investment decisions, the latest indication that the GOP is willing to damage its relationship with big business to score culture war points.
Many are targeting a concept known as ESG — which stands for environmental, social and governance — a sustainable investment trend sweeping the financial world. Red state officials deride it as politically correct and woke and are trying to stop investors who contract with states from adopting it on any level.
For right-wing activists who previously brought criticisms of critical race theory (CRT), diversity, equity and inclusion (DEI) and social emotional learning (SEL) to the forefront, it's the latest acronym-based source of outrage to find a home at rallies, in conservative media and in legislatures.
ESG has yet to take hold as mainstream political messaging, but backlash against it is gaining steam. Last week, former Vice President Mike Pence attacked the concept during a speech in Houston. And on Wednesday, the same day he said on Twitter he planned to vote Republican, Elon Musk attacked it after Tesla lost its place on the S&P 500′s ESG Index. He called it a scam "weaponized by phony social justice warriors."
The concept calls on investors to consider criteria such as environmental risk, pay equity or how transparent companies are in their accounting practices. Aided by recently proposed disclosure requirements and analysis from ratings agencies, they have adopted the principles to such an extent that those who use them control $16.6 trillion in investments held in the U.S.
In response, Republicans — historically known for supporting fewer regulations — are in many places attempting to impose new rules on investors. Their efforts reflect how members of the party are willing to distance themselves from big business to push back against those they see as ideological foes.
"I don't think we're the party of big business anymore. We're the party of people — more specifically, we're the party of working people. And the problem that we have is with big banks and corporations right now trying to dictate how we're going to live our lives," West Virginia Treasurer Riley Moore said.
Opponents criticize ESG as politicized and a potentially costly diversion from purely financial investment principles, while advocates say considering the criteria more accurately accounts for risk and promises steadier returns.
"We focus on sustainability not because we're environmentalists, but because we are capitalists and fiduciaries to our clients," Larry Fink, CEO of investment firm BlackRock and a leading proponent, told clients in a letter this year.
But Moore and others including Utah's Republican state treasurer Marlo Oaks argue favoring green investment over fossil fuels denies key industries access to the financial system and capital. They have targeted S&P Global Ratings for appending ESG scores to their traditional state credit ratings. They worry that without changes, their scores could make borrowing for projects like schools or roads costlier.
In an April letter, Oaks demanded S&P retract analysis that rated Utah as "moderately negative" in terms of environmental risk due to "long-term challenges regarding water supply, which could remain a constraint for its economy … given pervasive drought conditions in the western U.S."
The letter was co-signed by the governor, legislative leaders and the state's congressional delegation, including Sen. Mitt Romney, whose former firm Bain Capital calls ESG factors "strategic, fact-based and diligence-driven." It said ratings system "attempts to legitimize a dubious and unproven exercise" and attacks the "unreliability and inherently political nature of ESG factors in investment decisions."
Though he likened ESG to critical race theory, Oaks said he was mostly concerned with capital markets and what he called attempts by fossil fuel opponents to manipulate them by pressuring investors to pick businesses with high ESG scores.
"DEI, CRT, SEL. It can be hard to keep up with the acronyms," he wrote on an economics blog last month, "but there's a relatively new one you need to know: ESG."
Investors making carbon neutral or net zero criteria common were, in effect, Oaks said, limiting access to capital for oil and gas businesses, hurting their returns and potentially contributing to gas price spikes.
In more than a dozen red states, officials dispute the idea that the energy transition underway could make fossil fuel-related investments riskier in the long term. They argue employing asset managers with a preference for green investments uses state funds to further agendas out of sync with constituents.
In statehouses, anti-green investing efforts are backed by conservative groups such as the American Legislative Exchange Council and the Heartland Institute, a think-tank skeptical of scientific consensus on human-caused climate change that has backed bills that either divest state funds from financial institutions that use ESG or forbid them from using it to score businesses or individuals.
In Texas, West Virginia and Kentucky, lawmakers have passed bills requiring state funds limit transactions with companies that shun fossil fuels. Wyoming considered banning "social credit scores" that evaluate businesses using criteria that differ from accounting and other financial metrics, like ESG
After conservative talk show host Glenn Beck visited the Idaho Statehouse and referred to ESG as critical race theory "on steroids," the Legislature passed a law in March prohibiting investment of state funds in companies that prioritize commitments to ESG over returns.
The American Legislative Exchange Council recently published model policy that would subject banks managing state pensions to new regulations limiting investments driven by what it calls "social, political and ideological" goals.
Though the policy doesn't mention it outright, Jonathan Williams, the group's chief economist, said ESG's mainstreaming amid broader trends of political correctness was a driving force. He said his research shows that incorporating factors beyond traditional financial metrics can lower the rate of return for already underfunded state pensions.
Sustainable investing advocates deny that charge and say considering the risks and realities of climate change amounts to responsible investing.
West Virginia and Arkansas recently divested their pension funds from BlackRock in response to the asset manager adding businesses with smaller carbon footprints to its portfolios. Moore, West Virginia's treasurer, hopes more will follow.
Though it's drawing enthusiasm, the green investment discourse differs from recurring debates over gender and sexuality or how history is taught. Both proponents and detractors acknowledged they're surprised pensions, credit ratings and investment decisions have become campaign rally fodder.
Last month at the Utah state party's convention, thousands of Republicans roared when Sen. Mike Lee described green investment in similar terms to critical race theory — another acronym-based foil: "Between CRT and ESG and MSNBC, we get way too much B.S.," Lee said.
Bryan McGannon, a lobbyist with US SIF: The Forum for Sustainable and Responsible Investment, said opponents were wrong in framing sustainable investing trends as political. If states refuse to reckon with how the future will likely rely less on fossil fuels and limit how environmental risk can be considered, he said, they're making decisions with incomplete information.
"If a state's not considering those risks, it may be a signal to an investor that this might not be a wise government to be putting our money with," McGannon said. "Investors use a huge swath of information, and ESG is a piece of that mosaic."
___
Associated Press writers Stan Choe in New York and Lindsay Whitehurst in Salt Lake City contributed to this report.
North American stock markets wrap up brutal quarter and first half of 2022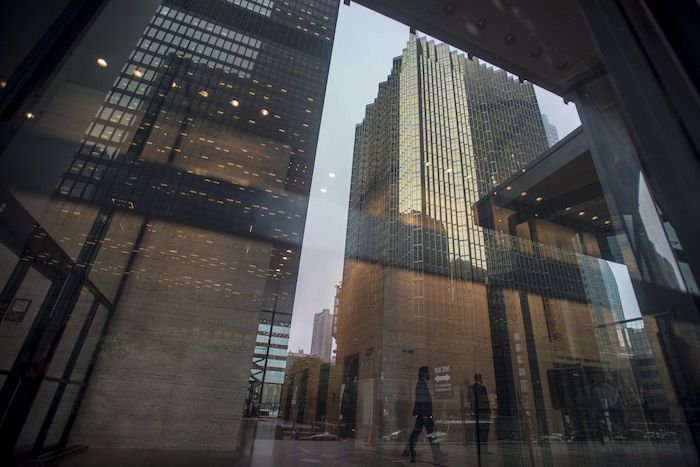 By Ross Marowits in Toronto
Allan Small said the first half of 2022 has proven to be the worst run of his 25-year investment career.
Canada's main stock index concluded its weakest quarter since before the pandemic while U.S. markets endured their worst six-months runs in decades on fears that rising interest rates will throw the economy into recession.
"As we hit the mid-point of the year, when you look back I think the first part of the year will be known for just a bloodbath in the markets," the senior investment adviser at IA Private Wealth said in an interview.
The S&P/TSX composite index closed down 217.28 points to 18,861.36 to end the quarter off nearly 14 per cent for the biggest decrease since December 2019. The TSX is closed Friday for Canada Day while U.S. markets will be closed Monday for Independence Day.
In New York, the Dow Jones industrial average was down 253.88 points at 30,775.43. The S&P 500 index was down 33.45 points at 3,785.38, while the Nasdaq composite was down 149.15 points at 11,028.74.
The TSX is down 11 per cent so far this year, while the Dow is down 15 per cent, the S&P 500 is off 20.6 per cent for the worst six months in 50 years and Nasdaq fell a record 29.5 per cent.
"I don't remember a year that started off the six months this poorly," said Small.
Soaring inflation has been stoked by Russia's invasion of Ukraine while supply chain bottlenecks have been accentuated by China's COVID-19 lockdowns.
While markets endured steep declines in the past due to COVID-19 and the financial crisis, they were always followed by people buying the dip. This time, many investors remain on the sidelines after getting hammered and unsure about when markets will bottom out.
Economic data out of the U.S. on Thursday said core inflation numbers, the Fed's preferred inflation measure, rose 4.7 per cent in May. That's 0.2 of a per cent lower than April but still around 40-year highs.
In Canada, economic growth slowed in April to 0.3 per cent, while a preliminary estimate for May suggests it likely contracted 0.2 per cent. The U.S. previously said its economy slipped 1.6 per cent in the first quarter.
A negative number in the second quarter will mean the U.S. economy is technically in recession. But Small said many people think the economy is already there and that Canada is either in recession or about to go into one.
Small said he wouldn't be surprised to see markets rise during a recession in anticipation of things getting better, with inflation moving down after peaking.
Real estate and utilities were the lone sectors in positive territory Thursday in a broad-based slump with six of nine sectors falling by more than one per cent.
Health care led the declines, losing 4.1 per cent with Canopy Growth Corp. plunging 18.5 per cent after the pot producer announced a convertible notes exchange.
Materials lost 3.6 per cent on a drop in metals prices, particularly copper.
The August gold contract was down US$10.20 at US$1,807.30 an ounce and the September copper contract was down 7.1 cents at US$3.71 a pound.
"Whenever you have fear of a recession, those types of metals which are used to build homes and build things, the fear is that you're not going to need to use as much of these building materials," Small said.
Energy lost 1.7 per cent on lower prices with crude oil dropping as Advantage Oil & Gas Ltd. shares were down six per cent.
The August crude contract was down US$4.02 at US$105.76 per barrel and the August natural gas contract was down US$1.07 at US$5.42 per mmBTU.
The Canadian dollar traded for 77.60 cents US compared with 77.65 cents US on Wednesday.
Shopify Inc. decreased 5.6 per cent to push technology lower while Laurentian Bank fell 2.5 per cent to lead a drop in the heavyweight financial sector.
Small is hoping for a better second half of the year after central banks conclude their aggressive interest rate hikes to tame soaring inflation.
"I don't know if we're going to make back enough to get us in the green for the year, but I'm hopeful that we'll see a positive second half and we'll make back some of the losses."
This report by The Canadian Press was first published June 30, 2022.
Companies in this story: (TSX:AAV, TSX:WEED, TSX:LB, TSX:SHOP, TSX:GSPTSE, TSX:CADUSD=X)
Canada extends COVID-19 border measures until Sept. 30, including ArriveCan app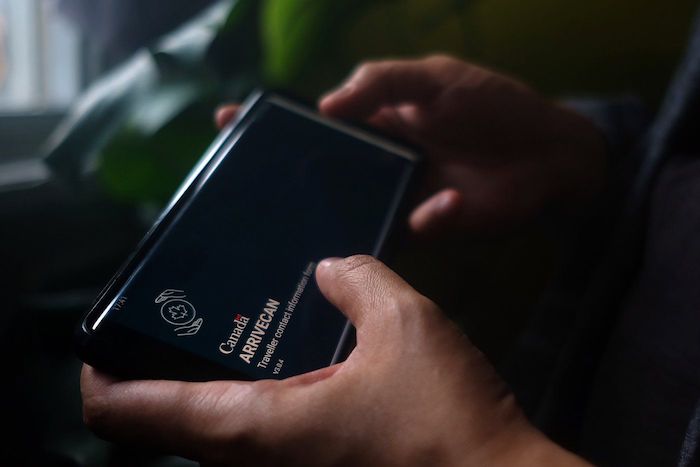 Ottawa – The federal government will extend current COVID-19 public health measures for travellers entering Canada, including the use of the ArriveCan app, until at least Sept. 30.
In a release Wednesday, the Public Health Agency of Canada also said it will continue the pause of mandatory random testing for fully vaccinated travellers at all airports until mid-July.
It first announced the pause on June 11 and said in the release that it's allowing airports to focus on streamlining their operations.
The public health agency said it's moving forward with plans to relocate COVID-19 testing for air travellers outside of airports to select test provider stores, pharmacies or by virtual appointment.
Mandatory random testing is to continue at land border points of entry with no changes.
The release added that travellers who are not fully vaccinated and don't have a valid exemption must continue to test on Day 1 and Day 8 of their 14-day quarantine.
"As we move into the next phase of our COVID-19 response, it is important to remember that the pandemic is not over. We must continue to do all that we can to keep ourselves and others safe from the virus," said Health Minister Jean-Yves Duclos in a statement.
He also urged people to remain up to date with the recommended vaccinations to ensure they are adequately protected against infection, transmission and severe complications.
"As we have said all along, Canada's border measures will remain flexible and adaptable, guided by science and prudence."
All travellers will have to continue to use the ArriveCan app or website to provide their travel information within 72 hours before their arrival in Canada or before boarding a cruise ship destined for the country. The government said 95 per cent of land and air travellers are using the app and it's taking steps to enhance compliance.
The government also said moving testing outside of airports will allow Canada to adjust to increased traveller volumes while still being able to monitor and quickly respond to new variants of concern or changes to the epidemiological situation.
It said border testing has been essential in helping Canada slow the spread of the virus, as data from the tests are used to understand the current level and trends of importation of COVID-19 into the country.
The testing program also allows for detection and identification of new COVID-19 variants of concern, it said.
Tourism groups and border-community mayors and MPs have called on the government to ease restrictions and scrap the ArriveCan app, saying the measures are limiting cross-border travel.
Transport Minister Randy Boissonnault said the government is deeply invested in growing Canada's visitor economy.
"From our reputation as a safe travel destination to our world-class attractions and wide-open spaces, Canada has it all and we are ready to welcome back domestic and international tourists, while prioritizing their safety and well-being."
This report by The Canadian Press was first published June 29, 2022.