GM to stop making the Camaro but a successor may be in works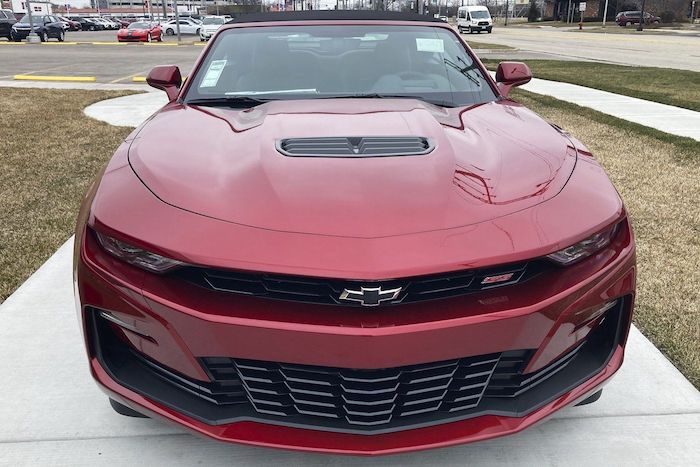 Justin Allgaier takes his Camaro through its paces as he drives in the NASCAR Xfinity Series auto race at Pocono Raceway, July 23, 2022, in Long Pond, Pa. The Chevrolet Camaro, for years the dream car of many teenage American males, is going out of production. General Motors, which sells the brawny muscle car, said Wednesday, March 22, 2023, that it will stop making the current generation early next year. (AP Photo/Matt Slocum)
DETROIT (AP) — The Chevrolet Camaro, for decades the dream car of many teenage American males, is going out of production.
General Motors, which sells the brawny muscle car, said Wednesday it will stop making the current generation early next year.
The future of the car, which is raced on NASCAR and other circuits, is a bit murky. GM says another generation may be in the works.
"While we are not announcing an immediate successor today, rest assured, this is not the end of Camaro's story," Scott Bell, vice president of Chevrolet, said in a statement.
The current sixth-generation Camaro, introduced in 2016, has done well on the racetrack, but sales have been tailing off in recent years. When the current generation Camaro came out in 2016, Chevrolet sold 72,705 of them. But by the end of 2021 that number fell almost 70% to 21,893. It rebounded a bit last year to 24,652.
GM said last of the 2024 model year of the cars will come off the assembly line in Lansing, Michigan, in January.
Spokesman Trevor Thompkins said he can't say anything more about a future Camaro. "We're not saying anything specific right now," he said.
The company, he said, has an understanding with auto-racing sanctioning bodies that the sixth-generation car can continue racing. GM will have parts available and the Camaro body will stay on the race track, he said.
NASCAR said that because the Generation 6 Camaro was in production when GM originally got permission to race, it remains qualified to race in NASCAR Cup and NASCAR Xfinity Series races.
GM will offer a collector's edition package of the 2024 Camaro RS and SS in North America, and a limited number of high-performance ZL-1 Camaros. The collector's edition cars will have ties to the first-generation Camaro from the 1960s and its GM code name "Panther," the company said without giving specifics.
GM's move comes as traditional gas-powered muscle cars are starting to be phased out due to strict government fuel economy regulations, concerns about climate change and an accelerating shift toward electric vehicles.
Stellantis, will stop making gas versions of the Dodge Challenger and Charger and the Chrylser 300 big sedan by the end of this year. But the company has plans to roll out a battery-powered Charger performance car sometime in 2024.
Electric cars, with instant torque and a low center of gravity, often are faster and handle better than internal combustion vehicles.
Stellantis, formed in 2021 by combining Fiat Chrysler and France's PSA Peugeot, earlier this week announced the last of its special edition muscle cars, the 1,025 horsepower Dodge Challenger SRT Demon 170. The company says the car can go from zero to 60 mph (97 kilometers per hour) in 1.66 seconds, making it the fastest production car on the market.
Why Hyundai and Kia have everyone else playing catch-up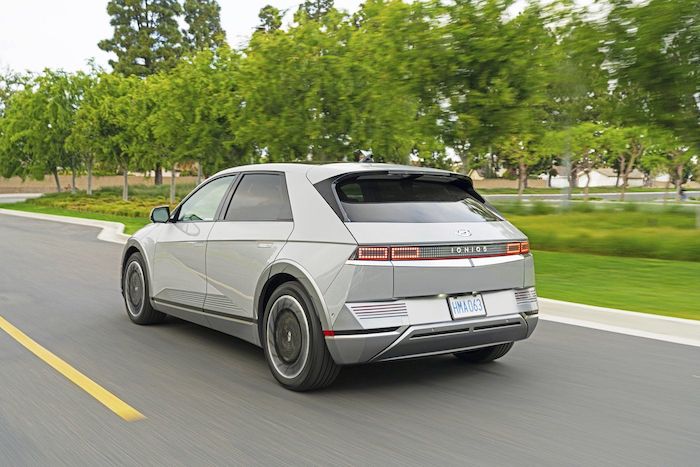 This photo provided by Hyundai shows the 2023 Hyundai Ioniq 5, which was named the Edmunds Top Rated Electric SUV for 2023. (Courtesy of Hyundai Motor America via AP)
By Nick Kurczewski
In the past few years, Hyundai and Kia vehicles have skyrocketed to the top of Edmunds' rankings in some of the most popular vehicle segments. For example, you'll find a Hyundai or Kia in the top spots for three-row midsize SUVs, midsize sedans, and multiple categories of electric vehicles. This changing of the guard can come as a surprise for car shoppers expecting to see more familiar brands like Chevrolet, Ford, Honda and Toyota.
This success isn't attributable to one single factor, such as short-lived marketing schemes like rock-bottom pricing or unsustainable rebates. Let's take a closer look at what these sister South Korean automakers are doing well and where they're still coming up short.
DISTINCTIVE DESIGN
First impressions matter, and this holds true when people are shopping for a new vehicle. Hyundai and Kia clearly recognize the importance of standing out in a crowd. Whether it's a family-friendly SUV with three rows of seating or an electric SUV on the technological cutting edge, a bold exterior draws attention and holds interest.
We'll start with EVs. While they share a platform and electric powertrains, the Hyundai Ioniq 5 and Kia EV6 take very different approaches to turning heads in the EV market. The Ioniq 5 is all edges and sharp angles, evoking Marty McFly's time-traveling DeLorean from 1984's "Back to the Future." The Kia EV6, on the other hand, is more traditionally handsome with its pointed front end, chunky fenders and sleek tapered tail. More is on the way too. The recently introduced Hyundai Ioniq 6 electric sedan is wildly curvaceous and has a swooping roofline that extends nearly to the rear bumper.
This bravado extends to the realm of conventional SUVs. When it arrived for the 2020 model year, the three-row Kia Telluriderocketed up sales charts thanks partly to its broad-shouldered stance and rugged design. However, style isn't everything. For example, the Kia Forte and Hyundai Elantra sedans also have distinctive looks but come up a little short on the fundamentals. That's why the relatively conservative Honda Civic is still Edmunds' top-rated small sedan.
THE LATEST TECHNOLOGY
Modern vehicles are now as much four-wheeled computers as they are traditional cars or trucks. As the recent microchip shortage proved, the technology beneath a car's sheetmetal is extremely complex. But if the interface to this technology is so nuanced that it takes a degree from MIT to master, what's the point?
Hyundai and Kia have met this challenge with infotainment systems that are simple to operate and come with sought-after features like Apple CarPlay and Android Auto, satellite radio and multiple USB ports. Many of the companies' latest vehicles also feature sleek-looking displays for both the instrument cluster and infotainment touchscreen, making some rival systems appear rudimentary by comparison.
A focus on technology shows up in the automakers' powertrain technology too. For example, the Ioniq 5 and EV6 have the capability to charge much more quickly at high-powered public DC fast-charging stations than many EVs. The South Korean companies have also been front-runners by offering hybrid and plug-in hybrid versions of their small SUVs, the Hyundai Tucson and Kia Sportage. However, shoppers should know that the regular non-hybrid versions of the Tucson and Sportage suffer from lackluster power and fuel economy and drop in Edmunds' rankings as a result.
STANDARD FEATURES AND VALUE
Kia and Hyundai have upped the quotient of desirable technology and safety features across their vehicle lineups. Most importantly, they've done so without making car shoppers pay thousands extra. Many rival brands have routinely bundled tech and comfort touches into pricey option packages or limited availability to the priciest trims.
While the gap has narrowed, Hyundai and Kia cars and SUVs have a well-earned reputation for offering more features for a given price. The brands also provide exceptionally long warranty coverage, including a 10-year/100,000-mile limited powertrain warranty that no competitors match.
High consumer demand for certain Hyundais and Kias has put a damper on value, however. Particularly during the height of pandemic-related shortages, Kia Tellurides were known to carry dealer markups of thousands more than the manufacturer's suggested retail price. It's not as bad now, but Kia and Hyundai consumers still need to be wary of dealer markups that can easily erase a lot of baseline value.
EDMUNDS SAYS: Hyundai and Kia are on a roll with vehicles that have expressive designs, competitive prices and extensive standard features. These automakers have become the ones to beat in many car segments, but savvy shoppers will bear in mind that not every Hyundai and Kia is golden.
_______
This story was provided to The Associated Press by the automotive website Edmunds.
Cost of VW battery plant subsidy raises questions on necessity of securing it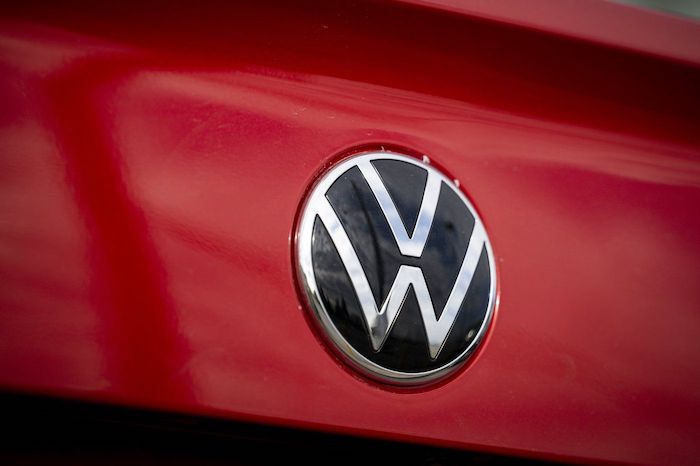 The Volkswagen emblem is seen on a vehicle for sale at a dealership in Ottawa, on Thursday, April 20, 2023. There's nothing small about the $13 billion in subsidies that Canada has promised Volkswagen to secure the automaker's first battery plant outside of Europe, but it remains to be seen whether the deal is enough to kick start the manufacturing sector's future.THE CANADIAN PRESS/Justin Tang
Saint Thomas
There's nothing small about the $13 billion in subsidies that Canada has promised Volkswagen to secure the automaker's first battery plant outside of Europe, but it remains to be seen whether the deal is enough to kick start the manufacturing sector's future.
The rising sticker shock of establishing a manufacturing base for electric vehicles is, depending on who you ask, either a worthy investment to secure the next generation of auto assembly or a sign that Canada should consider giving up the subsidy race and not worry so much about the sector in general.
Securing Volkswagen is a "massive win," said Flavio Volpe at the Automotive Parts Manufacturing Association, adding that people should focus more on the $200 billion in output the company will have to meet to secure the full payout.
Because the deal is based on output rather than just an upfront cash payment from government, it looks much bigger than past deals with automakers but is fundamentally different, he said.
"You either have to restate what the other deals cost before, or admit that we're doing an apples to oranges comparison."
The subsidy closely mirrors what's offered in the U.S. Inflation Reduction Act that contains some $370 billion in funding to create a cleaner economy, and is designed to spur the volume of production needed to meet targets. It comes as governments worldwide are looking to secure the future of auto sectors as the industry undergoes the tectonic shift to a fully electric future.
Auto assembly plants have long been pointed to as anchors for regional economies as they create numerous spinoff jobs for each worker in the plant, whether from parts suppliers or the restaurant down the street. Battery plants won't create as many because there are fewer parts involved, but still offer a conservative two-to-one ratio, said Volpe.
Securing VW's first plant outside of Europe at the St. Thomas, Ont. site also leaves room for more potential investment from the automaker, as Volpe notes that the land base the company has secured is five times bigger than the footprint in Windsor, Ont., where Stellantis and LG are building their battery plant.
If it were to be filled out, the potential is massive, said Volpe.
"This site, at full build, will be the biggest automotive industrial site in Canadian history."
The auto industry, however, and the economy in general is already humming, and Canada has numerous wins on electric vehicles already that secure an electric vehicle manufacturing base. The situation means it doesn't seem to make much sense to spend so richly to establish the Volkswagen plant, said Rob Gillezeau at the University of Toronto's Rotman School of Management.
"We're basically at full employment," said Gillezeau, assistant professor of economic analysis and policy. "It's basically going to take workers who already have jobs in one area, right and reallocate them to working at the plant."
He raised doubts about the economic models justifying the plant and the supposed payback on the investment in a few years, and noted that Canada is already shifting more to a service economy so it doesn't make sense to throw this much money at manufacturing jobs.
"I don't think there's an inherent advantage there. I think really, the only good rationale for government subsidization here would be if we think there's some kind of national security risk."
Whether the plant is necessary or not, Canada did need to step up on subsidies to secure it, said Greig Mordue, chair in advanced manufacturing policy at McMaster University.
He said the clean energy, labour talent pool and proximity to critical minerals that Industry Minister François-Philippe Champagne has touted as key differentiators don't actually hold that much sway compared with what competing locations like the U.S. offer.
"You strip away those three items that the minister has talked about as most appealing, you start to discount them you start to say, 'Well, what was it? Well, it must have been the incentive.'"
He predicted a subsidy number north of $10 billion, similar to what has come forward, just because it follows the especially generous subsidies the U.S. has promised.
"You're applying logic to an illogical situation, and this is what we're looking at," said Mordue. "It's a little breathtaking, but that's what it is."
This report by The Canadian Press was first published April 21, 2023.