Ghislaine Maxwell's appeals arguments mirror earlier claims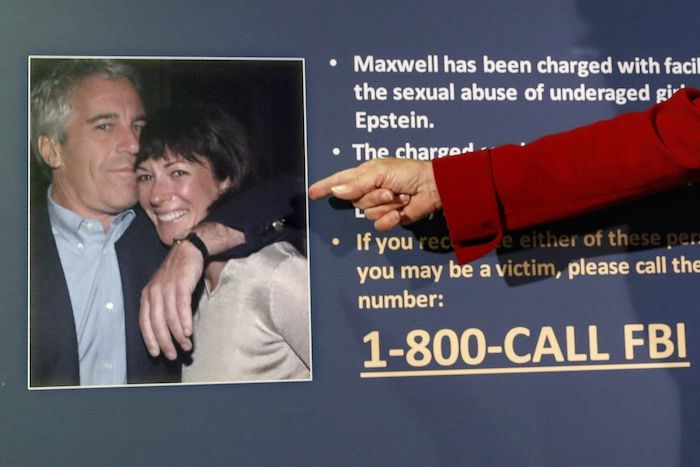 Audrey Strauss, acting U.S. Attorney for the Southern District of New York, points to a photo of Jeffrey Epstein and Ghislaine Maxwell during a news conference, in New York on July 2, 2020. Maxwell says a federal appeals court should reverse her conviction on charges that she joined and enabled the sexual abuse that Epstein committed on scores of teenagers and young women. The arguments her lawyers submitted Tuesday, Feb. 28, 2023, to the 2nd U.S. Circuit Court of Appeals largely repeated claims she unsuccessfully made to a trial judge who sent her to prison for 20 years.( AP Photo/John Minchillo, File)
By Larry Neumeister in New York
NEW YORK (AP) — A federal appeals court should reverse the conviction of Ghislaine Maxwell or grant a new trial on charges that she joined and enabled the sexual abuse that Jeffrey Epstein committed on scores of teenagers and young women for more than a decade, her lawyers argued in court papers Tuesday.
The arguments the lawyers submitted to the 2nd U.S. Circuit Court of Appeals largely repeated claims she unsuccessfully made to a trial judge who sent her to prison for 20 years.
The 61-year-old British socialite argued through her lawyers that the convictions violate an agreement Epstein reached with federal prosecutors 15 years ago, they violated the statute of limitations and should be tossed because a juror failed to reveal he was a victim of child sex abuse.
She also cited judicial error and a miscalculation of the federal sentencing guidelines range as reason to reject her conviction and sentence.
Maxwell is serving her sentence at a low-security federal prison in Tallahassee, Florida, where yoga, Pilates and movies are available.
She was convicted in December 2021 of luring teenage girls to be sexually abused by Epstein, an American financier who had hundreds of millions of dollars and an appetite for daily massages used to persuade vulnerable and mostly financially desperate girls to engage in sexual acts for hundreds of dollars.
Her lawyers had unsuccessfully argued previously that Maxwell became a scapegoat for prosecutors desperate for someone to blame after Epstein committed suicide in a federal prison cell in August 2019 as he awaited trial on sex trafficking charges.
Her trial featured testimony from some women who were victimized when they were children as well as the testimony of pilots who dropped the names of famous men — Britain's Prince Andrew, Bill Clinton, Donald Trump — who flew on Epstein's private jets.
Evidence showed that Epstein had transferred over $30 million to Maxwell, his onetime girlfriend, during and after a stretch of years from 1994 to 2004 when they were most closely connected.
Lawyers for Maxwell, a once privileged daughter of a shipping magnate, said in court papers that prosecutors never should have been able to press their case against her because a deal Epstein reached in September 2007 with federal prosecutors in Florida protected not only himself from prosecution but "any potential coconspirators."
They also argued that a law used to convict her no longer applied once her accusers reached the age of 25, which all of them had by the time of the trial.
The lawyers repeated their claims that a juror's disclosure to reporters after the verdict that he had failed to reveal that he was a victim of child sex abuse even though he had been asked were grounds to reverse the verdict. They said the trial judge mishandled the controversy.
And they wrote that Maxwell's "deplorable conditions of confinement" at a federal jail in Brooklyn prior to trial left her "so disoriented and diminished that she was unable meaningfully to assist in her own defense, much less to testify."
They also criticized the judge for letting three of four women who testified about sexual abuse they suffered to use pseudonyms even though one granted an interview with the Daily Mail after the verdict and another made public statements even before testifying.
Lawyer tells Alberta's highest court review board biased in de Grood's case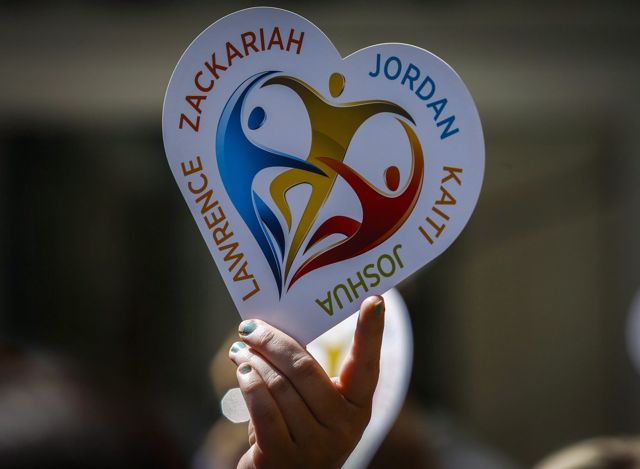 A family member of five slain students holds a heart sign with their names on it following a court decision in Calgary, Alta., Wednesday, May 25, 2016. Alberta's highest court is being asked to overturn a review board decision on the stabbing deaths of five young people at a Calgary house party that confined a man to a supervised Edmonton group home. THE CANADIAN PRESS/Jeff McIntosh
By Ritika Dubey in Edmonton
Alberta's highest court is being asked to overturn a review board decision that confined a man to a supervised Edmonton group home after the stabbing deaths of five young people at a Calgary house party.
The lawyer representing Matthew de Grood argued Wednesday the review board's decision was biased, citing what she described as political interference from Alberta's former justice minister.
"The appellant says, 'I think the conclusion about me is wrong. The board's conclusion is incorrect and not supported by evidence,"' Jacqueline Petrie said before the Alberta Court of Appeal. "He says there's no significant evidence that he's a risk."
De Grood, 31, was found not criminally responsible in 2016 for the killings two years earlier of Zackariah Rathwell, Jordan Segura, Kaitlin Perras, Josh Hunter and Lawrence Hong because he was suffering from schizophrenia at the time. Petrie said de Grood has been stable on medication, is at low risk to reoffend and should be allowed to live with his parents while being monitored under a full warrant.
She argued the review board misunderstood medical evidence during the September 2022 review, which deemed de Grood a significant risk despite the assessment showing improvements. She said the board is supposed to recommend the least onerous disposition compatible with public safety and did not do that for de Grood.
The defence lawyer has said the review had been influenced by former justice minister Doug Schweitzer, who weighed in on de Grood's case in October 2019 after the panel allowed de Grood to transition from institutional care to a supervised group home.
He has been under supervision at a group home. His case is reviewed by the Alberta Review Board yearly to see whether he can transition back into the community while maintaining public safety.
Petrie pointed at de Grood's "exemplary record," and that he has been "compliant to the (medical) treatment team."
"Nobody knew he had schizophrenia (at the time of the stabbings) and needed medication."
Crown prosecutor Matthew Griener said the board considered a conditional discharge but dismissed it, citing a relapse in schizophrenia symptoms in 2021.
Griener said de Grood's relapses were brief and happened at the hospital, providing an early window for medical professionals to intervene.
Justice Kevin Feehan said de Grood may be low-risk, but the consequences of even one relapse could be significant.
Reading from an expert's report, Feehan said: "A low risk to offend doesn't mean the reoffence would not be severe."
Some family members of the victims drove from Calgary for the hearing.
Segura's mother, Patty, said the last nine years have been about de Grood and his rights.
"He should be thankful that he ended up NCR (not criminally responsible) rather than end(ing) with five life sentences for murdering five people," she said. "He should not be appealing."
Hunter's father, Barclay, opposed a potential full release.
"The idea that he wouldn't be monitored for the rest of his life seems to defy logic, it doesn't make any sense," said the father.
Hunter's mother, Kelly, said the family has had "no healing."
"We do this every year, at least once. Now, this is the second appeal," she said. Barclay
Hunter said although there are attempts to reintegrate de Grood into society, he hopes the man is not left on his own with an absolute discharge.
"Regardless of what they say, he killed five people. If that doesn't stand on its own as a risk factor, then I don't know what does."
This report by The Canadian Press was first published June 7, 2023.
—
Canadians want revenge on Bernardo, but that's not how prison works: ex-official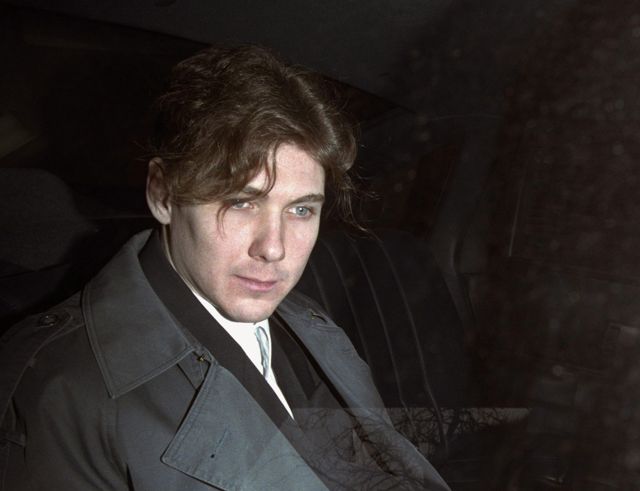 By Stephanie Taylor in Ottawa
One of the architects of the law that governs Canada's prison system says it's understandable people want revenge on killer and serial rapist Paul Bernardo, but that's not what the prison system is designed for.
Mary Campbell also says it is regrettable the Correctional Service of Canada has not been more transparent in how it handled the matter — which the law allows it to be.
Campbell, a lawyer who retired from her role as director-general of the corrections and criminal justice directorate in the Public Safety Department in 2013, said that without question Bernardo's crimes were horrific.
Broadly speaking, the corrections system has a mandate to rehabilitate offenders.
Politicians from all parties and levels of government have decried Bernardo's transfer from a maximum-security penitentiary to a medium-security prison in Quebec.
News of the transfer was confirmed last week by the lawyer for the families of two of his victims, Kristen French and Leslie Mahaffy, who want him sent back.
Both teenage girls were kidnapped, sexually assaulted and murdered by Bernardo in the early 1990s. He was also convicted of manslaughter in the death of Tammy Homolka, who died after being drugged and sexually assaulted. Tammy was the 15-year-old sister of Bernardo's then-wife Karla Homolka.
Karla Homolka was released in 2005 after completing a 12-year sentence for her role in the crimes committed against French and Mahaffy.
Bernardo admitted to sexually assaulting 14 other women. He has been declared a dangerous offender and is serving a life sentence.
Bernardo has spent 30 years under maximum security, which Campbell said is a long time for any offender.
And while she understands why people want to see him kept there, she said the criteria for transferring an inmate to another penitentiary "is not based on revenge."
"We, as a country, gave up torture quite a while ago, " she said in an interview Tuesday. "And we're pretty critical of other countries that engage in torture."
After the news broke, Ontario Premier Doug Ford said he thinks Bernardo should be locked up for "23 hours a day," while Conservative Leader Pierre Poilievre has called on Prime Minister Justin Trudeau's government to enact changes that would force those who are convicted of multiple murders to serve their entire sentence in maximum security.
The correctional service is reviewing the decision to transfer Bernardo. Under the Corrections and Conditional Release Act, inmates are given security classifications based on factors including escape risk, which inform where they serve their sentences.
In the case of Bernardo, who is now in his late 50s, the correctional service says a move to a medium-security prison poses no risk to public safety.
The reason behind his transfer, however, is a mystery, with the federal correctional service saying it is "restricted by law" in what it can divulge.
Public Safety Minister Marco Mendicino said Canadians are owed an explanation as to why Bernardo was transferred.
Tim Danson, the lawyer representing the French and Mahaffy families, said he was not given the information because of Bernardo's privacy rights.
Campbell said the law spells out that the commissioner of the country's prison system has the power to disclose to victims a summary of the reasons for the transfer of a particular offender, in cases where it is determined their interest outweighs any invasion of the offender's privacy.
She said the commissioner can also choose to release information under the federal privacy law in cases where they determine the public's right to know overrides an inmate's privacy.
"When (the Correctional Service of Canada) says they can't release details because of the law, that's not entirely accurate," she said. "There are exceptions."
"It is unfortunate that CSC maybe hasn't been a little bit more transparent, explaining things."
She added that there are more than 20,000 other people serving a sentence in Canadian prisons and jails, and the rules have been designed to apply broadly.
This report by The Canadian Press was first published June 7, 2023.