G'day for Canada Little Leaguers in beating Australia 7-0 at World Series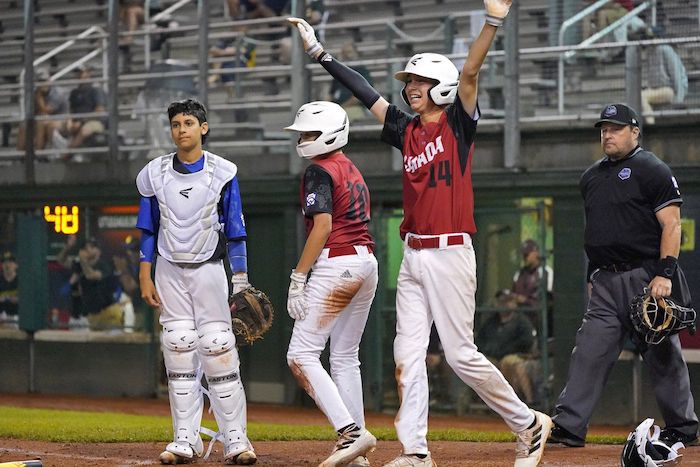 Williamsport – It started with a lengthy weather delay, but it turned out to be a g'day at Volunteer Stadium for Canada at the 75th Little League World Series.
The Little Mountain Little Leaguers of Vancouver defeated Australia 7-0 in their opening game, out-hitting the squad from Brisbane North Region Little League 11-5.
Canada, coached by Brad Dorwart and Kevin Smith, scored one run in the second, added three more in the fourth, one in the fifth and two in the sixth. Australia had three errors while Canada had one.
Righthanded starter Benjamin Dartnell pitched 3 2/3 innings for Canada and only gave up two hits and one walk. Of the 66 pitches he threw, 43 were strikes.
Jason and Graydon Yan all managed multiple hits for Canada as Jason went 4-for-4 at the plate to lead the Canucks.
The Little Mountain Little Leaguers advanced to the World Series by winning all eight of their games at the 2022 Canadian Region Championship.
Canada's next game is Friday against Japan.
This report by The Canadian Press was first published Aug. 17, 2022.
Friend, community members remember 'humble,' 'genuine' Mountie killed in shooting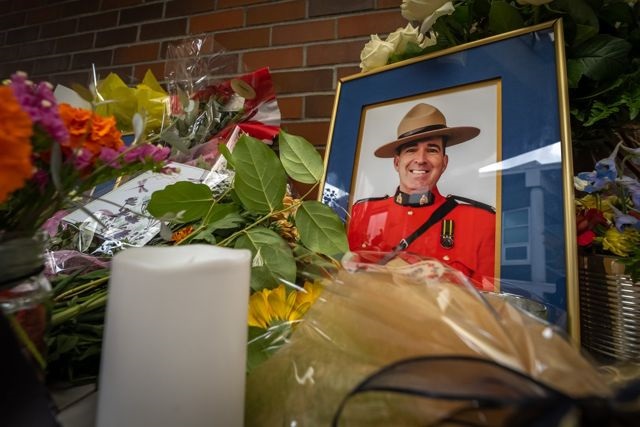 A memorial for officer Rick O'Brien, in front of the Ridge Meadows detachment in Maple Ridge B.C., on Saturday, September 23, 2023. O'Brien was shot and killed while executing a warrant in Coquitlam on Friday. THE CANADIAN PRESS/Ethan Cairns
By Chuck Chiang in Langley
Brittni Drummond's three-year old daughter, Rikki, doesn't understand why her "police officer buddy" has been showing up on television in the last few days.
Rikki's friend was Ridge Meadows RCMP Const. Rick O'Brien, who was shot and killed while executing a warrant in Coquitlam, B.C., on Friday.
"She just pointed him out and said, 'He's on the TV? Why?" said Drummond, a mother of two living in nearby Maple Ridge. "I told her that he's a hero, and she said, 'He's catching the mad people.'
Nicholas Bellemare, 25, has been charged with first degree murder and attempted murder with a firearm in the shooting incident that killed O'Brien and injured two other officers.
After the incident, Drummond wrote an emotional post on Facebook, detailing meeting O'Brien on-duty on Sept. 11 while watching Rikki bike around their neighbourhood.
Drummond, responding via text on social media, said the normally shy child gravitated toward the police officer, hanging out with O'Brien for about 30 minutes as they walked back to his patrol vehicle to get stickers and a slurpee coupon.
"He was just super nice," Drummond said. "He was making jokes. He was really funny. I just felt like it was hot, he had hiked all around in his heavy gear and he was in such good spirits and took the time to chat with the neighbours and Rikki.
"She was just smiling and said she wanted to keep going with him."
The interaction does not surprise Jeanette Martin, creator and co-founder of the Gratitude and Appreciation Summit, an inspirational and motivational event launched in 2020.
Martin, who is a friend of O'Brien and his wife, described the police officer as humble, genuine and very funny, never maintaining a stoic face and letting his personality shine through both in personal interactions and the photos posted online by family.
While O'Brien was decorated for bravery in the rescue of victims during a home invasion within months of joining the RCMP in 2016, Martin said what stood out was his ability to communicate and connect with people.
"He was more than just a police officer," Martin said.
""He came to the force with those soft skills of understanding mental health, understanding that everybody needs to be appreciated for where they're at in life.
"He was one that was not afraid to show his true humanity. He was himself, and that's what he delivered to the force; it's that kind humbleness, out to the world."
O'Brien joined the RCMP in his mid-'40s after previously working aith at-risk youth. In a speech at the Gratitude and Appreciation Summit's October 2020 event, the police officer said he had always wanted to be in law enforcement and joined the Mounties for "fulfilment."
In the speech, O'Brien credited his family as the main reason he was able to pursue his dreams and become a police officer after fighting through personal, career and relationship challenges earlier in his life.
"We all worked at it together to get to where we are now," O'Brien said in a recording of the 2020 event. "So those are my moments of where I feel the gratitude in my life, and that's where I seek the gratitude in my life.
"You have your family there who are always supporting you and always pushing you to do better, and just making you generally happy," he said. "And that's what you need. That's where I found my gratitude."
O'Brien leaves behind a wife and six children.
Martin said the family had just bought their "dream home" a year-and-a-half ago in Langley Township, B.C.
She said O'Brien's wife posted on Facebook about being "broken into a million pieces," but the Langley community is already rallying around her and their children to support them in any way they can.
"Our community, our sphere of friends love and adore them," Martin said. "We're gutted."
Drummond said she has not told Rikki yet of O'Brien's death but did take the girl to the procession in front of the Ridge Meadows RCMP detachment honouring the police officer on Friday.
"We just told her we were going to see police cars," Drummond said. "Her face when we got there looked very upset, almost crying. She could sense something was wrong. We had to keep telling her it was OK."
Drummond said she herself is still in shock over O'Brien's death after seeing his photo in media reports.
"It's hard to believe it," Drummond said. "It feels like he was just here."
The National Police Federation Benevolent Foundation has an active GoFundMe campaign for O'Brien's family and has raised nearly $95,000 as of Sunday afternoon.
This report by The Canadian Press was first published Sept. 24, 2023.
Jewish group demands apology after MPs honoured man who fought for Nazis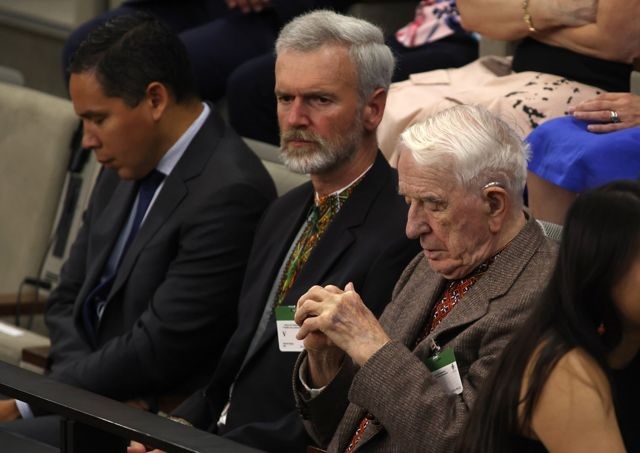 Yaroslav Hunka, right, waits for the arrival of Ukrainian President Volodymyr Zelenskyy in the House of Commons in Ottawa on Friday, Sept. 22, 2023. Several Jewish advocacy organizations condemned members of Parliament on Sunday for giving a standing ovation to a man who fought for a Nazi unit during the Second World War. THE CANADIAN PRESS/Patrick Doyle
By Sarah Ritchie in Ottawa
Several Jewish advocacy organizations condemned members of Parliament on Sunday for giving a standing ovation to a man who fought for a Nazi unit during the Second World War.
During Ukrainian President Volodymyr Zelenskyy's visit to Ottawa on Friday, MPs in the House of Commons honoured 98-year-old Yaroslav Hunka, who fought for the First Ukrainian Division.
Hunka was invited by Speaker Anthony Rota, who introduced him.
"I am very proud to say that he is from North Bay and from my riding of Nipissing—Timiskaming," the Ontario MP said.
"He is a Ukrainian hero, a Canadian hero, and we thank him for all his service."
MPs cheered and Zelenskyy raised his fist in acknowledgement as Hunka saluted from the gallery during two separate standing ovations.
The First Ukrainian Division was also known as the Waffen-SS Galicia Division or the SS 14th Waffen Division, a voluntary unit that was under the command of the Nazis.
The Friends of Simon Wiesenthal Center for Holocaust Studies issued a statement Sunday saying the division "was responsible for the mass murder of innocent civilians with a level of brutality and malice that is unimaginable."
"An apology is owed to every Holocaust survivor and veteran of the Second World War who fought the Nazis, and an explanation must be provided as to how this individual entered the hallowed halls of Canadian Parliament and received recognition from the Speaker of the House and a standing ovation," the statement said.
Rota released a statement late Sunday afternoon saying he recognized an individual in the gallery on Friday, and that he has "subsequently become aware of more information which causes me to regret my decision to do so."
"I wish to make clear that no one, including fellow parliamentarians and the Ukraine delegation, was aware of my intention or of my remarks before I delivered them," he wrote.
"I particularly want to extend my deepest apologies to Jewish communities in Canada and around the world."
The statement does not make clear what Rota is apologizing for, and it does not name Hunka or give any details about what information Rota learned about him since Friday.
B'nai Brith Canada CEO Michael Mostyn said it is beyond outrageous that Parliament honoured a former member of a Nazi unit, saying Ukrainian "ultra-nationalist ideologues" who volunteered for the Galicia Division "dreamed of an ethnically homogenous Ukrainian state and endorsed the idea of ethnic cleansing."
"We understand an apology is forthcoming. We expect a meaningful apology. Parliament owes an apology to all Canadians for this outrage, and a detailed explanation as to how this could possibly have taken place at the centre of Canadian democracy," Mostyn said.
The Centre for Israel and Jewish Affairs, which represents Jewish federations across the country, said it is deeply troubled by the incident.
"Canada's Jewish community stands firmly with Ukraine in its war against Russian aggression. But we can't stay silent when crimes committed by Ukrainians during the Holocaust are whitewashed," the group said in a statement published Sunday on X, formerly known as Twitter.
Members of Parliament from all parties rose to applaud Hunka. A spokesperson for the federal Conservatives said the party was not aware of his history at the time.
In a second written statement released late Sunday, Conservative Leader Pierre Poilievre laid the blame at the feet of Prime Minister Justin Trudeau.
"No parliamentarians (other than Justin Trudeau) had the opportunity to vet this individual's past before he was introduced and honoured on the floor of the House of Commons. Without warning or context, it was impossible for any parliamentarian in the room (other than Mr. Trudeau) to know of this dark past," Poilievre said.
The leader of the Bloc Québécois, Yves-François Blanchet, however, refrained from blaming anyone for the incident on Sunday, and called it a "collective error."
"Let us think first of the people of the Jewish community and of all the communities who were victims of Germany in the Second World War. These are the people we need to think about. For the rest, it's a mistake," he said.
A spokesperson for the Prime Minister's Office repeated Rota's assertion that he alone invited Hunka.
"Parliament and the Speaker's office is independent from the prime minister and the Prime Minister's Office," Mohammad Hussain said in a written statement Sunday.
"The Speaker had his own allotment of guest seating at Friday's address, which were determined by the Speaker and his office alone."
NDP Leader Jagmeet Singh said in a statement Sunday evening he also shares concens about "the individual honoured with a standing ovation," adding, without naming Hunka, that he was not a guest of the party and the NDPs were not aware of his "association with the Nazi regime."
"This event has caused harm to the Jewish community and for that, I am sorry," Singh said.
"We must all stand together against the rising tide of antisemitism."
Monuments to honour the First Ukrainian Division have caused controversy in recent years.
In 2021, a statue of Ukrainian military leader Roman Shukhevych and a monument to the fighters of the Waffen-SS Galicia Division in Edmonton were vandalized by someone who spray painted them with the words "Actual Nazi."
The Friends of Simon Wiesenthal Center said at the time that it had been advocating for their removal for decades.
In 2020, a monument to the Waffen-SS Galicia Division in Oakville, Ont., was vandalized in a similar way.
The decision to admit Ukrainian immigrants who had served in the SS Waffen Division in the post-war period was contentious, with Jewish groups arguing they should be barred from the country.
The International Military Tribunal in Nuremburg declared the SS to be a criminal organization, including the SS Waffen in that declaration.
The Waffen-SS Galicia Division surrendered to the British army in 1945, and just over 8,000 men were moved to the United Kingdom in 1947.
In 1950, the federal cabinet decided to allow Ukrainians living in the U.K. to come to Canada "notwithstanding their service in the German army provided they are otherwise admissible. These Ukrainians should be subject to special security screening, but should not be rejected on the grounds of their service in the German army."
In 1985, then-prime minister Brian Mulroney called for a royal commission to examine whether Canada had become a haven for war criminals.
The Deschênes Commission found there were about 600 former members of the Waffen-SS Galicia Division living in Canada at the time. But Justice Jules Deschênes said membership in the division did not itself constitute a war crime.
This report by The Canadian Press was first published Sept. 24, 2023.