Gaudreau scores on penalty shot, Flames down Stars 4-1 to even up playoff series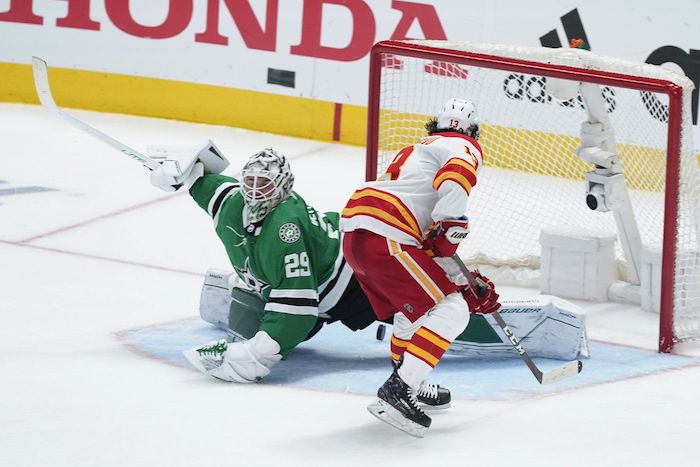 By Donna Spencer in Dallas
Johnny Gaudreau scored on a penalty shot for the Calgary Flames in Monday's 4-1 win over the Dallas Stars to even up their playoff series at two wins apiece.
Elias Lindholm and Rasmus Andersson also scored and Mikael Backlund added an empty-net goal for Calgary, which generated three unanswered goals before Dallas countered in the third period.
Flames goaltender Jacob Markstrom made 34 saves for the win.
Tyler Seguin scored the Stars' lone goal. Goalie Jake Oettinger stopped 50 shots in the loss.
The best-of-seven series returns to Calgary for Wednesday's Game 5 at the Saddledome, where the Flames went 25-9-7 in the regular season.
Calgary (50-21-11) topped the Pacific Division and ranked sixth in the NHL in the regular season. The No. 15 Stars (46-30-6) entered the post-season as the first wild card in the Western Conference.
The Flames won 1-0 and lost 2-0 at the Saddledome before the Stars doubled Calgary 4-2 in Game 3 at American Airlines Center.
When a best-of-seven series is tied 2-2, the winner of Game 5 holds an all-time series record of 219-58 (. 791), according to NHL statisticians.
After nearly 16 minutes of four-on-four over the second and third games of the series, more even-strength hockey was played in Game 4.
That favoured Calgary, ranked sixth in the NHL in even-strength goals. Lindholm produced just the Flames' third of that type in the series at 11:53 of the third period.
Gaudreau from the boards fed an undefended Lindholm at the hash marks where he beat Oettinger with a low wrist shot for a 3-0 Calgary lead.
Dallas replied with a power-play goal to cut the deficit. Seguin's wrist shot off the rush beat Markstrom far side at 15:03.
After he was hooked by Stars defenceman John Klingberg on a breakaway, Gaudreau stretched Oettinger out with a backhand and scored five-hole on his penalty shot at 7:47 of the third period.
The Flames generated more sustained offensive-zone pressure than Dallas. A tenacious Stars' defence in front of their crease continued to deny Calgary second efforts on the few rebounds Oettinger did allow.
It took a five-on-three goal at 9:41 of the second period for the Flames to finally break through.
Andersson's slap shot from just above the hashmarks beat Oettinger high-stick side after Stars Jani Hakanpaa (tripping) and Radek Faksa (high-sticking) were penalized within a 12-second span.
Markstrom and Oettinger traded heroics throughout the game.
Dallas turned the puck over deep in their zone late in the second period, but Oettinger batted away an all-alone Gaudreau attempt from close range.
Markstrom repelled Stars' forward Tyler Seguin driving to his doorstep four minutes into the period.
Calgary outshot the hosts 19-8 in a goal-free first period and held a 39-23 margin after two.
Oettinger denied Calgary's Tyler Toffoli a golden chance on a rebound in the first period. A prone Oettinger gloved Toffoli's attempt to lift the puck over the sprawling Stars' goalie at 9:14.
Gaudreau missed a few shifts early in the game. His head appeared to whiplash when he and Vladislav Namestnikov collided shoulder to shoulder in the Stars' zone.
Gaudreau went to the dressing room, but was back on the ice by the midpoint of the first period.
Flames head coach Darryl Sutter swapped forward Brett Ritchie for defenceman Michael Stone to deploy 11 forwards and seven defencemen Monday.
This report by The Canadian Press was first published May 9, 2022.
Regulator rules in favour of Trans Mountain route deviation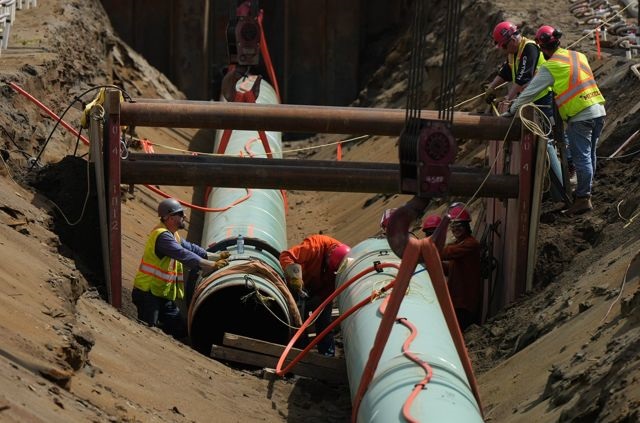 Workers place pipe during construction of the Trans Mountain pipeline expansion on farmland, in Abbotsford, B.C., on Wednesday, May 3, 2023. THE CANADIAN PRESS/Darryl Dyck
By Amanda Stephenson in Calgary
The Canada Energy Regulator has approved Trans Mountain Corp.'s application to modify the pipeline's route, a decision that could spare the government-owned pipeline project from an additional nine-month delay.
The regulator made the ruling Tuesday, just one week after hearing oral arguments from Trans Mountain and a B.C. First Nation that opposes the route change.
It didn't release the reasons for its decision Tuesday, saying those will be publicized in the coming weeks.
By siding with Trans Mountain Corp., the regulator is allowing the pipeline company to alter the route slightly for a 1.3-kilometre stretch of pipe in the Jacko Lake area near Kamloops, B.C., as well as the construction method for that section.
Trans Mountain Corp. had said it ran into engineering difficulties in the area related to the construction of a tunnel, and warned that sticking to the original route could result in up to a nine-month delay in the pipeline's completion, as well as an additional $86 million more in project costs.
Trans Mountain has been hoping to have the pipeline completed by early 2024.
But Trans Mountain's application was opposed by the Stk'emlúpsemc te Secwépemc Nation, whose traditional territory the pipeline crosses and who had only agreed to the originally proposed route.
In their regulatory filing, the First Nation stated the area has "profound spiritual and cultural significance" to their people, and that they only consented to the pipeline's construction with the understanding that Trans Mountain would minimize surface disturbances by implementing specific trenchless construction methods.
The Stk'emlúpsemc te Secwépemc argued that Trans Mountain never said its originally proposed construction method was impossible, only that it couldn't be done in time to meet a Jan. 1 in-service date for the pipeline.
The First Nation didn't respond to a request for comment by publication time.
The Trans Mountain pipeline is Canada's only pipeline system transporting oil from Alberta to the West Coast. Its expansion, which is currently underway, will boost the pipeline's capacity to 890,000 barrels per day (bpd) from 300,000 bpd currently.
The pipeline — which was bought by the federal government for $4.5 billion in 2018 after previous owner Kinder Morgan Canada Inc. threatened to scrap the pipeline's planned expansion project in the face of environmentalist opposition and regulatory hurdles — has already been plagued by construction-related challenges and delays.
Its projected price tag has since spiralled: first to $12.6 billion, then to $21.4 billion and most recently to $30.9 billion (the most recent capital cost estimate, as of March of this year).
Keith Stewart with Greenpeace Canada said it's alarming to see the regulator over-rule the wishes of Indigenous people in order to complete a pipeline on deadline.
"Every Canadian should be outraged that our public regulator is allowing a publicly owned pipeline to break a promise to Indigenous people to protect lands of spiritual and cultural significance," Stewart said.
The federal government has already approved a total of $13 billion in loan guarantees to help Trans Mountain secure the financing to cover the cost overruns.
Trans Mountain Corp. has blamed its budget problems on a variety of factors, including inflation, COVID-19, labour and supply chain challenges, flooding in B.C. and unexpected major archeological discoveries along the route.
Given the Canadian regulatory system has a reputation for being slow and cumbersome, it was surprising to see the Canada Energy Regulator rule so quickly on Trans Mountain's route deviation request, said Richard Masson, executive fellow with the University of Calgary's School of Public Policy.
"It's a challenging decision to have to make, when you've got a $30 billion pipeline that needs to be completed," Masson said.
"If there's no feasible way to do that tunnel, then I guess you have to allow for this."
Masson added that if the regulator had denied Trans Mountain's request, it would have been bad news for taxpayers as well as the federal government, which is seeking to divest the pipeline and has already entered into negotiations with several interested Indigenous-led buyers.
It also would have been bad news for Canadian oil companies, who have been eagerly anticipating the pipeline's start date to begin shipping barrels to customers.
"If this can result in the pipeline being completed by year-end and started up in the first quarter, that's good news. The world is still looking for oil, and oil prices are up at US$90 a barrel," Masson said.
This report by The Canadian Press was first published Sept. 25, 2023.
Partial settlement approved in lawsuit against Calgary Stampede over abuse of boys
Calgary
A judge has approved a partial settlement in a class-action lawsuit against the Calgary Stampede that alleged the organization allowed a performance school staffer to sexually abuse young boys.
Phillip Heerema received a 10-year prison sentence in 2018 after pleading guilty to charges including sexual assault, sexual exploitation, child pornography and luring.
Heerema admitted to using his position with the Young Canadians School of Performing Arts, which performs each year in the Calgary Stampede Grandstand Show, to lure and groom six boys into sexual relationships.
The school is operated by the Calgary Stampede Foundation.
Court of King's Bench Justice Alice Woolley approved the deal in which the Stampede has agreed to pay 100 per cent of the damages.
Hearings on the amount will take place on Dec. 14 and 15.
This report by The Canadian Press was first published Sept. 25, 2023