Future NASA moonwalkers to sport sleeker spacesuits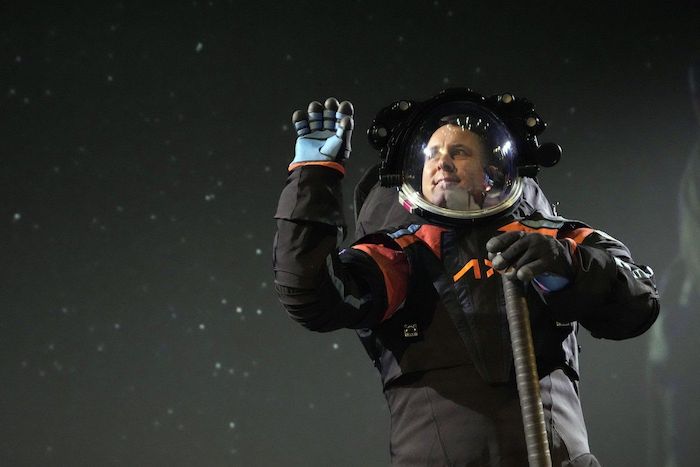 Axiom Space chief engineer Jim Stein demonstrates a prototype spacesuit, Wednesday, March 15, 2023, in Houston. NASA selected Axiom Space to design the spacesuits that its moonwalking astronauts will wear when they step onto the lunar surface later this decade. (AP Photo/David J. Phillip)
By Marcia Dunn in Cape Canaveral
CAPE CANAVERAL, Fla. (AP) — Moonwalking astronauts will have sleeker, more flexible spacesuits that come in different sizes when they step onto the lunar surface later this decade.
Exactly what that looks like remained under wraps. The company designing the next-generation spacesuits, Axiom Space, said Wednesday that it plans to have new versions for training purposes for NASA later this summer.
The moonsuits will be white like they were during NASA's Apollo program more than a half-century ago, according to the company. That's so they can reflect heat and keep future moonwalkers cool.
The suits will provide greater flexibility and more protection from the moon's harsh environment, and will come in a wider range of sizes, according to the Houston-based company.
NASA awarded Axiom Space a $228.5 million contract to provide the outfits for the first moon landing in more than 50 years. The space agency is targeting late 2025 at the earliest to land two astronauts on the moon's south pole.
At Wednesday's event in Houston, an Axiom employee modeled a dark spacesuit, doing squats and twisting at the waist to demonstrate its flexibility. The company said the final version will be different, including the color.
"I didn't want anybody to get that mixed up," said Axiom's Russell Ralston.
___ The Associated Press Health and Science Department receives support from the Howard Hughes Medical Institute's Science and Educational Media Group. The AP is solely responsible for all content.
New Democrat MP says she is target of foreign interference by China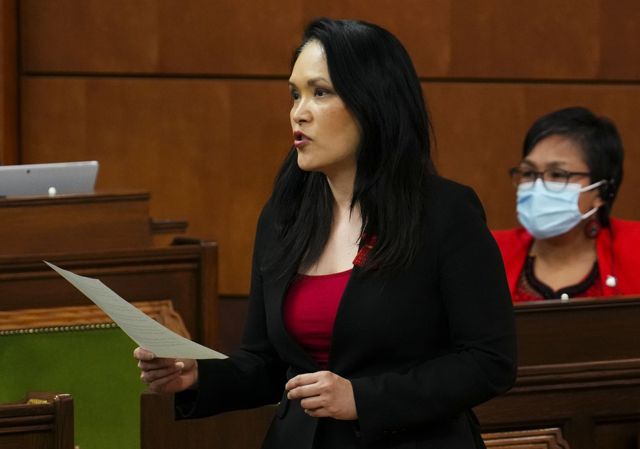 New Democrat member of Parliament Jenny Kwan says she was briefed by Canada's spy agency, who informed her that she is an ongoing target by the People's Republic of China. Kwan speaks during question period in the House of Commons on Parliament Hill in Ottawa on Thursday, May 5, 2022. THE CANADIAN PRESS/Sean Kilpatrick
Ottawa
New Democrat MP Jenny Kwan said Monday that Canada's spy agency has confirmed her long-held belief that she is being targeted by the Chinese government over her advocacy for human rights in Hong Kong and for the Uyghur Muslim minority in China.
Kwan said the Canadian Security Intelligence Service spent an hour with her on Friday laying out the intelligence it possesses that she has been targeted by China since before the 2019 federal election.
But Kwan said she can't divulge the nature of the alleged actions against her, nor has she noticed them happening.
"What CSIS confirmed with me is that I was a target and I continue to be a target," Kwan said outside the House of Commons. "They use the term 'evergreen' meaning that I will forever be targeted."
The news is further evidence of the need for a full public inquiry on foreign interference, NDP Leader Jagmeet Singh said. He said the NDP will put a motion to the House of Commons on Tuesday asking MPs to vote in favour of a public inquiry, as well as for the ousting of former governor general David Johnston as the government's special rapporteur on foreign interference.
Johnston was appointed by Prime Minister Justin Trudeau in March to look at the intelligence collected about attempts by foreign governments, including China, to interfere in the last two Canadian elections, as well as whether the government's protections against, and response to, such interference are sound.
The Conservatives have accused Johnston of being biased because he has old family connections to Trudeau. Singh said while he has not seen evidence that Johnston was biased, he believes the very appearance of any bias is reason enough for Johnston to be replaced.
Last week Johnston said a public inquiry was not warranted, in part because too much of the information is classified for national security reasons. Opposition parties agree that the elections were not compromised but several still say a public inquiry is the only way for Canadians to feel confident in their electoral system.
Kwan said it is troubling that MPs were not given information about possible threats against them for years. A party official confirmed to The Canadian Press Kwan is not concerned about any physical threats to her safety or that of her family.
Kwan said MPs should be told immediately if CSIS has information about threats or tactics being used against them. Public Safety Minister Marco Mendicino issued a new directive earlier this month requiring that to happen.
Kwan squirmed as reporters tried to get more information about exactly how she was being targeted, repeating over and over she cannot say because the information is classified.
While she has long suspected she may be fodder for attempted interference by the Chinese government, she was not aware of any actions and those suspicions were only confirmed in the briefing on Friday.
"The short answer is, no, I didn't know until this moment when I've been informed. Did I suspect that there might be something, especially in light of the information that's coming forward? I did wonder. I can't help but to wonder, because of my outspokenness."
Kwan said she has no intention of backing down in her advocacy work, pointing out that in the last week she participated in two rallies including a photo exhibition marking anti-democratic events in Hong Kong and a democracy walk over the weekend.
"Out of this briefing it is more clear to me than ever that I will not be intimidated, that I will not be silenced in any way," Kwan said. "Whoever is trying to put pressure on me in whatever way that they're trying to do it, they will not succeed."
This report by The Canadian Press was first published May 29, 2023.
Nun whose body shows little decay since 2019 death draws hundreds to rural Missouri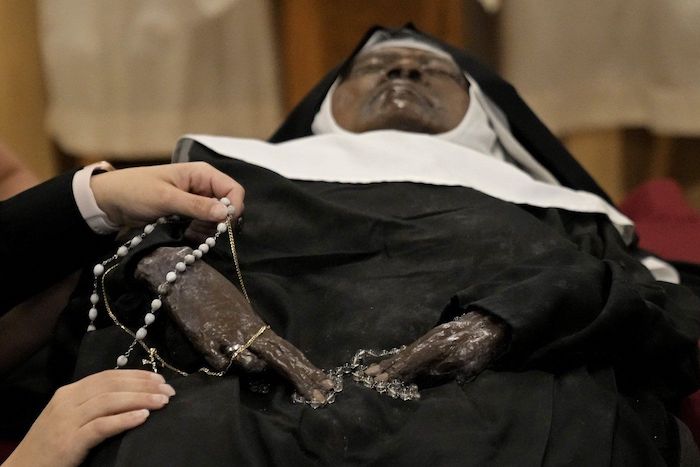 Hundreds of people flocked to a small town in Missouri this week and last to see a Black nun whose body has barely decomposed since 2019. Some say it's a sign of holiness in Catholicism, while others say the lack of decomposition may not be as rare as people think.
Sister Wilhelmina Lancaster was exhumed in April, according to a statement from the Benedictines of Mary, Queen of Apostles, in Gower, Missouri.
The nuns had been preparing for the addition of a St. Joseph shrine, and that involved "the reinterment of the remains of our beloved foundress, Sister Wilhelmina," the statement said.
When they exhumed Lancaster, they were told to expect only bones, since she had been buried in a simple wooden coffin without any embalming four years ago.
Instead, they discovered an intact body and "a perfectly preserved religious habit," the statement said. The nuns hadn't meant to publicize the discovery, but someone posted a private email publicly and "the news began to spread like wildfire."
Volunteers and local law enforcement have helped to manage the crowds in the town of roughly 1,800 people, as people have visited from all over the country to see and touch Lancaster's body.
"It was pretty amazing," said Samuel Dawson, who is Catholic and visited from Kansas City with his son last week. "It was very peaceful. Just very reverent."
Dawson said there were a few hundred people when he visited and that he saw many out-of-state cars.
Visitors were allowed to touch her, Dawson said, adding that the nuns "wanted to make her accessible to the public … because in real life, she was always accessible to people."
The monastery said in a statement that Lancaster's body will be placed in a glass shrine in their church on Monday. Visitors will still be able to see her body and take dirt from her grave, but they won't be able to touch her.
The Diocese of Kansas City-St. Joseph also released a statement.
"The condition of the remains of Sister Wilhelmina Lancaster has understandably generated widespread interest and raised important questions," the diocese said. "At the same time, it is important to protect the integrity of the mortal remains of Sister Wilhelmina to allow for a thorough investigation."
"Incorruptibility has been verified in the past, but it is very rare. There is a well-established process to pursue the cause for sainthood, but that has not been initiated in this case yet," the diocese added.
The Benedictines of Mary, Queen of Apostles, also said that Lancaster has not yet reached the required minimum of five years since death for the sainthood process to begin.
Rebecca George, an anthropology instructor at Western Carolina University in North Carolina, said the body's lack of decomposition might not be as rare as people are expecting.
George said the "mummification" of un-embalmed bodies is common at the university's facility and the bodies could stay preserved for many years, if allowed to.
Coffins and clothing also help to preserve bodies, she said.
"Typically, when we bury people, we don't exhume them. We don't get to look at them a couple years out," George said. "With 100 years, there might be nothing left. But when you've got just a few years out, this is not unexpected."
___