Fox sells out Super Bowl ads: crypto out, alcohol in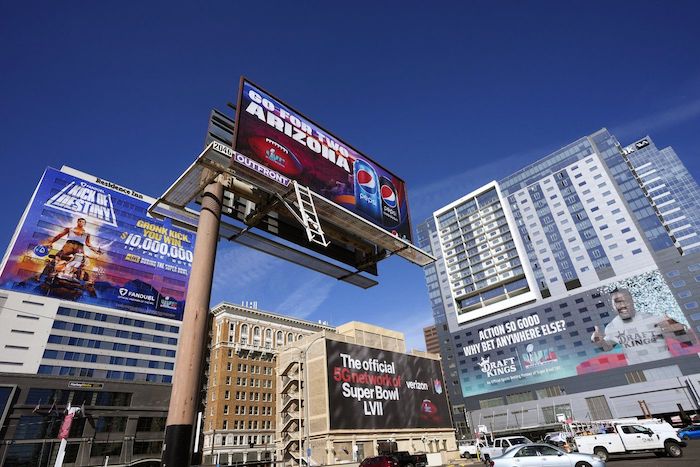 By Mae Anderson in New York
NEW YORK (AP) — The hottest ticket in town for advertisers is officially sold out. Fox said Monday that in-game ads for Super Bowl LVII have all been sold.
The big game between the Kansas City Chiefs and the Philadelphia Eagles takes place on Sunday.
The Super Bowl is advertising's biggest stage, with advertisers jockeying to get their products in front of the more than 100 million people that watch each year. Mark Evans, executive vice president of ad sales for Fox Sports, said a few ads went for more than $7 million for a 30-second spot. Most sold between $6 million and $7 million.
Anheuser-Busch remains the biggest advertiser with three minutes of national airtime. The beverage giant gave up its deal to be the exclusive alcohol advertiser this year, so Heineken, Diageo, Remy Martin and Molson Coors are also in the game. Other big categories advertising include packaged food like Doritos and M&Ms, movie studios and streaming services, automakers and tech companies, Evans said. Out this year: crypto companies.
Last year's Super Bowl was dubbed the "Crypto Bowl" because four cryptocurrency companies — FTX, Coinbase, Crypto.com and eToro — ran splashy commercials. It was part of a larger effort by crypto companies to break into the mainstream with sports sponsorships. But in November, FTX filed for bankruptcyand its founder was charged in a scheme to defraud investors.
This year, two crypto advertisers had commercials "booked and done" and two others were "on the one-yard line," Evans said. But once FTX news broke, those deals weren't completed.
Now, "There's zero representation in that category on the day at all," he said.
Evans said most Super Bowl ads sold much earlier than usual, with more than 90% of its Super Bowl ad inventory gone by the end of the summer, as established advertisers jockeyed for prime positions. But the remaining spots sold slower. Partly that was due to the implosion of the crypto space, as well as general advertiser concerns about the global economy, Evans said.
Last year, NBC sold out of its ad space briskly and said an undisclosed number of 30-second spots went for $7 million, a jump from the $6.5 million that 2021's ads went for.
Key takeaways from AP's report on China's influence in Utah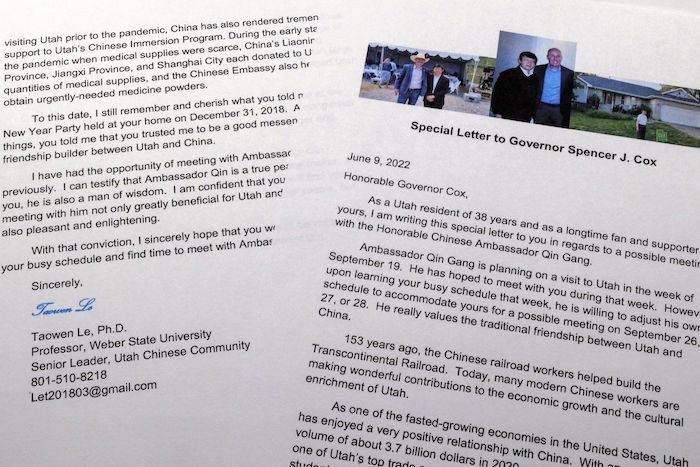 In a letter photographed Feb. 13, 2022, Utah professor Taowen Le sent a letter to Utah Gov. Spencer Cox in 2022 urging him to meet with a Chinese ambassador. Le is among China's most vocal advocates in the state. An investigation found that China's global influence campaign has been surprisingly robust and successful in Utah. (AP Photo/Jon Elswick)
By Alan Suderman And Sam Metz in Salt Lake City
SALT LAKE CITY (AP) — China's global influence campaign has been surprisingly robust and successful in Utah, an investigation by The Associated Press has found.
The world's most powerful communist country and its U.S.-based advocates have spent years building relationships with Utah officials.
Legislators in the deeply conservative and religious state have responded by delaying legislation Beijing didn't like, nixing resolutions that conveyed displeasure with China's actions and expressing support in ways that enhanced the Chinese government's image.
The AP's investigation relied on dozens of interviews with key players and the review of hundreds of pages of records, text messages and emails obtained through public records' requests.
Beijing's success in Utah shows "how pervasive and persistent China has been in trying to influence America," said Frank Montoya Jr., a retired FBI counterintelligence agent who lives in Utah.
"Utah is an important foothold," he said. "If the Chinese can succeed in Salt Lake City, they can also make it in New York and elsewhere."
Here are some key takeaways:
LEGISLATIVE AND PR VICTORIES
The AP review found that China and its advocates won frequent legislative and public relations victories in Utah.
Utah lawmakers recorded videos of themselves expressing words of encouragement for the citizens of Shanghai in early 2020, which experts said likely helped the Chinese Communist Party with its messaging.
The request came from a Chinese official as the government was scrambling to tamp down public fury at communist authorities for reprimanding a young doctor, who later died, over his warnings about the dangers posed by COVID-19.
Around the same time, Utah officials were thrilled when China's authoritarian leader Xi Jinping sent a letter to fourth grade students in Utah. A Republican legislator said on the state Senate floor that he "couldn't help but think how amazing it was" that Xi would take the time to write such a "remarkable" letter. Another GOP senator gushed on his conservative radio show that Xi's letter "was so kind and so personal."
The letter was heavily covered in Chinese state media, which quoted Utah students calling Xi a kind "grandpa" — a familiar trope in Chinese propaganda.
State lawmakers have frequently visited China, where they are often quoted in state-owned media in ways that support Beijing's agenda.
"Utah is not like Washington D.C.," then-Utah House Speaker Greg Hughes, a vocal supporter of former President Donald Trump, told the Chinese state media outlet in 2018 as the former president ratcheted up pressure on China over trade. "Utah is a friend of China, an old friend with a long history."
FBI SCRUTINY
Utah Republican Sen. Jake Anderegg told the AP he was interviewed by the FBI after introducing a 2020 resolution expressing solidarity with China in the early days of the coronavirus pandemic. It won nearly unanimous approval. A similar resolution, proposed by a Chinese diplomat, was publicly rejected by Wisconsin's Senate.
Anderegg said the language was provided to him by Dan Stephenson, the son of a former state senator and employee of a China-based consulting firm.
Stephenson and another Utah resident, Taowen Le, are among China's most vocal advocates in Utah.
Both men have supported and sought to block resolutions, set up meetings between Utah lawmakers and Chinese officials, accompanied legislators on trips to China and provided advice on the best way to cultivate favor with Beijing, according to emails and interviews. Both have ties to what experts say are front groups for Beijing.
After embassy officials tried unsuccessfully last year to get staff for Utah Gov. Spencer Cox to schedule a get-together with China's ambassador to the U.S., Le sent the governor a personal plea to take such a meeting.
"I still remember and cherish what you told me at the New Year Party held at your home," Le wrote in a letter adorned with pictures of him and Cox posing together. "You told me that you trusted me to be a good messenger and friendship builder between Utah and China."
Both men said their advocacy on China-related issues were self directed and not at the Chinese government's behest. Le told AP he has been interviewed twice over the years by the FBI.
The FBI declined to comment.
TAILORED APPROACH
Security experts say that China's campaign is widespread and tailored to local communities. In Utah, the AP found, Beijing and pro-China advocates appealed to lawmakers' affiliations with The Church of Jesus Christ of Latter-Day Saints, better known as the Mormon church, which is the state's dominant religion and one that has long dreamed of expanding in China.
Le, who converted to the church decades ago, has quoted scripture from the Bible and the Book of Mormon in his emails and letters to lawmakers, and sprinkled in positive comments that Russell Nelson, the church's president-prophet, has made about China.
PART OF BROADER TREND
Beijing's success in Utah is part of a broader trend of targeting "sub-national" governments, like states and cities, experts say.
It is not unusual for countries, including the U.S., to engage in local diplomacy. U.S. officials and security experts have stressed that many Chinese language and cultural exchanges have no hidden agendas. However, they said, few nations have so aggressively courted local leaders across the globe in ways that raise national security concerns.
In its annual threat assessment released earlier this month, the U.S. intelligence community reported that China is "redoubling" its local influence campaign in the face of stiffening resistance at the national level. Beijing believes, the report said, that "local officials are more pliable than their federal counterparts."
Authorities in other countries, including Australia, Canada and the United Kingdom, have sounded similar alarms.
A spokesman for the Chinese embassy in Washington told the AP that China "values its relationship with Utah" and any "words and deeds that stigmatize and smear these sub-national exchanges are driven by ulterior political purposes."
___
Suderman reported from Washington. AP writer Fu Ting in Washington contributed to this story.
Saudi Aramco to invest billions in Chinese petrochemicals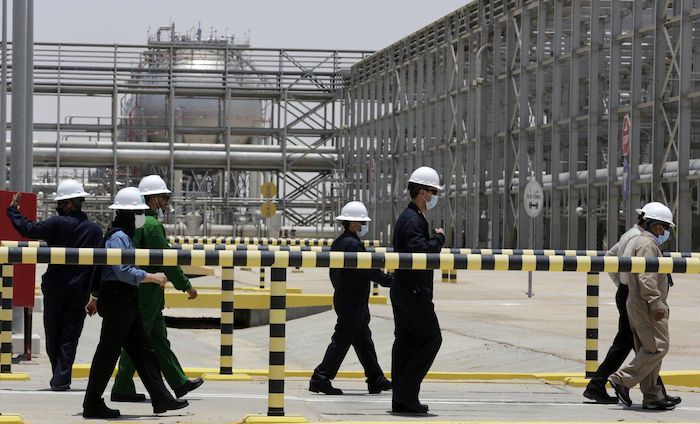 Saudi Aramco engineers escort reporters on a tour of the Hawiyah Natural Gas Liquids Recovery Plant, which is designed to process 4.0 billion standard cubic feet per day of sweet gas, a natural gas that does not contain significant amounts of hydrogen sulfide, in Hawiyah, in the Eastern Province of Saudi Arabia, on June 28, 2021. Saudi Arabia's state-owned oil giant Aramco will invest billions of dollars in China's downstream petrochemicals industry, including the construction of a new refinery, the company said in deals announced Sunday and Monday.(AP Photo/Amr Nabil, File)
RIYADH, Saudi Arabia (AP) — Saudi Arabia's state-owned oil giant Aramco will invest billions of dollars in China's downstream petrochemicals industry, including the construction of a new refinery, the company said in deals announced Sunday and Monday.
The announcements came as the company posted a record profitof more than $160 billion in 2022 and as Saudi Arabia, a longtime U.S. ally, has developed closer ties with Beijing in recent years.
Aramco will acquire a 10% interest in China's Rongsheng Petrochemical Co. Ltd,, a purchase valued at $3.6 billion. Under a long-term sales agreement, Aramco will supply 480,000 barrels per day to Rongsheng affiliate Zhejiang Pettroleum and Chemical Co. Ltd., which owns and operates China's largest refining and chemicals complex.
"This announcement demonstrates Aramco's long-term commitment to China and belief in the fundamentals of the Chinese petrochemicals sector," Aramco executive vice president Mohammed Al Qahtani said in a statement. "It also promises to secure a reliable supply of essential crude to one of China's most important refiners."
On Sunday, Aramco announced plans to construct a new refinery and petrochemical complex in northeastern China through a joint venture. Aramco, which holds a 30% stake in the Huajin Aramco Petrochemical Company, would supply 210,000 barrels per day of crude to the complex.
Saudi Arabia has cultivated closer ties with both Russia and China in recent years. Earlier this month, Saudi Arabia and Iran agreed to restore diplomatic ties for the first time since 2016 in a deal brokered by Beijing even as Riyadh announced a massive contract to buy commercial planes from U.S. manufacturer Boeing.