Former prime minister Stephen Harper says Canada needs a 'Conservative renaissance'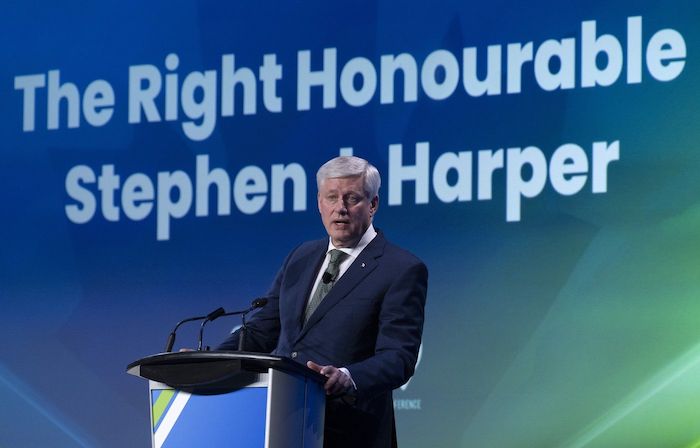 Former prime minister Stephen Harper delivers the keynote address at a conference, Wednesday, March 22, 2023 in Ottawa. THE CANADIAN PRESS/Adrian Wyld
By Stephanie Taylor in Ottawa
Canada needs a "Conservative renaissance," former prime minister Stephen Harper said Wednesday, but he cautioned that Pierre Poilievre should wait until an election before telling Canadians how he might run the country.
Harper delivered a speech that evening to a room of party faithful staged by the Canada Strong and Free Network, formerly called the Manning Centre.
His public appearance is a rare one for Harper, who exited political life after losing the 2015 election to Prime Minister Justin Trudeau's Liberals after nine years in power.
Poilievre's election as party leader last September appears to have changed that, with Harper throwing his endorsement behind Poilievre, which was the first time he had done so for a Conservative leader.
Introduced as a "statesman" of the party, Harper mounted a defence of the term "populism," which he said is often portrayed in a negative or imprecise light by what he called the "liberal media."
"Our country is badly in need of a Conservative renaissance at the national level," he told the crowd.
Harper reminded the audience that the modern Conservative party was built from the populism in Western Canada, a sense of nationalism in Quebec and Tories from Ontario.
He said its owes credit to Preston Manning, founder of the populist Reform Party, a precursor to the Canadian Alliance, which merged with the Progressive Conservatives to form the Conservative Party of Canada.
Harper and Manning then shared the stage Wednesday for what organizers billed as a "fireside chat" about the legacy of the Reform Party.
During the talk, the former Conservative prime minister quipped about foreign election interference, telling the crowd "I hear it's topical" and referred to the federal NDP as a "branch plant" for entering into a supply-and-confidence agreement with the Liberal government.
Only its leader Jagmeet Singh could enter into a deal with the Liberals and leave with nothing, Harper told the room.
As for Poilievre — whom Harper at one point referred to as first meeting as a "very tiny Reformer" — the former prime minister said if he forms the next government, Poilievre would be leading under much tougher circumstances than he ever did.
In the meantime, Harper said Poilievre's job as Opposition leader is to hold Trudeau's government to account, rather than outline how he would run the country.
"That's the job."
He said until an election happens, Poilievre and his team should be developing with their alternative vision for the country looks like to be ready.
This report by The Canadian Press was first published March 22, 2023.
Trudeau continues to stand by David Johnston despite calls that he step down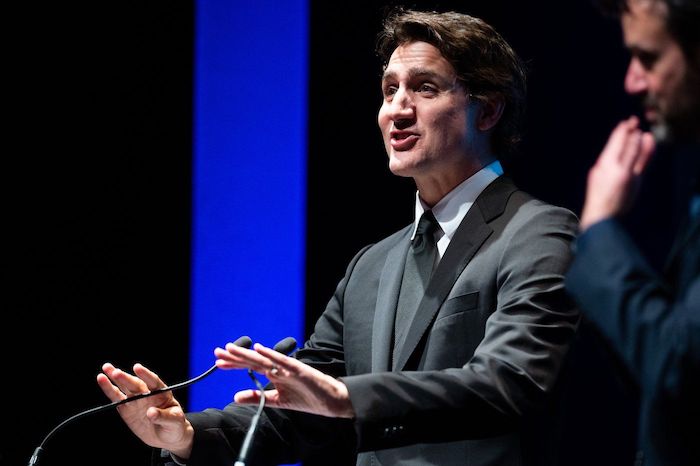 Prime Minister Justin Trudeau says he is committed to keeping David Johnston in place as Canada's special rapporteur on foreign interference, despite a majority of MPs voting in favour of his stepping down from the gig. Trudeau says he is committed to keeping David Johnston in place as Canada's special rapporteur on foreign interference, despite a majority of MPs voting in favour of his stepping down from the gig. THE CANADIAN PRESS/Spencer Colby
By David Fraser in Ottawa
Prime Minister Justin Trudeau says he is committed to keeping David Johnston in place as Canada's special rapporteur on foreign interference, despite a majority of MPs voting in favour of his stepping down from the gig.
Trudeau said in Toronto Friday that he looks forward to public hearings the governor general is expected to hold "across the country" over the coming months before he releases a final report by the end of October.
"He is taking very seriously this question, and he is digging into the facts," Trudeau said.
The House of Commons passed an NDP motion earlier this week, with the support of Conservative and Bloc Québécois MPs, that urged Johnston to step aside and asked the government to call a public inquiry.
Conservative Leader Pierre Poilievre said in Winnipeg today that Johnston has to go but wouldn't name a potential replacement.
"All the parties in the House of Commons should come together and agree on someone who is not partisan, not connected to any party leader and who has a track record of objectivity, preferably as a judge," he said.
Poilievre has criticized the special rapporteur role as a "fake job" and questioned Johnston's ability to objectively scrutinize the Liberal government's handling of alleged foreign meddling because of his ties to the Trudeau family.
Poilievre is refusing to review a classified portion of Johnston's initial report into foreign interference, saying it would silence him from criticizing the federal government on the subject.
Johnston has defended his integrity and downplayed his connections to the prime minister, saying this week he intends to stay on in his role.
"When I accepted the mandate to act as independent special rapporteur, I did so with full knowledge of the fact that the work ahead would be neither straightforward nor uncontroversial," Johnston said in a statement earlier this week.
"I deeply respect the right of the House of Commons to express its opinion about my work going forward, but my mandate comes the government. I have a duty to pursue that work until my mandate is completed."
Trudeau accused Poilievre and Bloc Québécois Leader Yves-François Blanchet of letting political arguments and political attacks get in the way of facts.
"They have refused to get security briefings on the actual facts surrounding the intelligence and the question of foreign interference, because they want to continue to smear a man of unimpeachable integrity and deep commitment and service to Canada," Trudeau said.
This report by The Canadian Press was first published June 2, 2023.
'All about the campfire': Campers adjust their plans with fire bans in place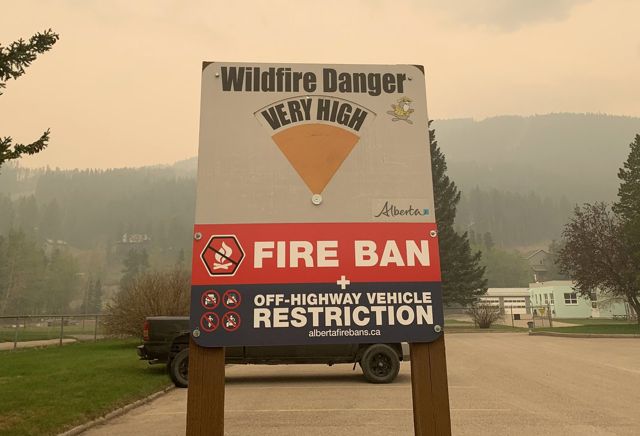 Blairmore area wildfire warning signage is shown in this handout image provided by the Government of Alberta Fire Service. As fire bans continue in many provinces, businesses selling camping gear and firewood are seeing a shift in demand. THE CANADIAN PRESS/HO-Government of Alberta Fire Service
By Ritika Dubey in Edmonton
Jade Najam was getting excited about camping during the May long weekend, sitting around the campfire late into the night with his family and sipping hot chocolate.
"Camping is all about the campfire. Just surfing the fire and sitting around the fire," said Najam. "Sitting around the campfire is the most important part of our evening."
But Alberta's fire ban, which was put in place in early May, still hadn't been lifted. Najam called off the plans to go camping in the wilderness, deciding it was better to stay home instead.
Fire bans began rolling in after hot, dry weather took over much of Canada early in the season — starting in Alberta, Saskatchewan and British Columbia, now expanding to the Maritimes. While Saskatchewan and Alberta have lifted the bans in some regions, people in the Prairies have been monitoring the wildfire season closely.
Companies that supply camping enthusiasts have been seeing trends change.
Najam, who is the managing director of Smart Firewood Products, based in Leduc, Alta., says demand usually picks up around mid-April and continues until mid-October.
"This May, I'm not even at five per cent of what I did last year in sales," he said.
Najam said his company provides "truckloads" of firewood to national parks in Alberta every year, while serving locals with retail firewood in his yard.
"My semi-truck full of firewood didn't even get out of the yard," he said of the current season.
One outdoor outfitter, meanwhile, is seeing a jump in sales for propane gas outdoor firepits.
"People have to look at things a bit differently when planning their camping trip due to fire bans," said Mike Eerkes, general manager at a Mountain Equipment Company store in Edmonton.
He said campers are opting for alternatives that don't get the classic smoky-wood campfire but still provide a warm glow.
For propane fires, Eerkes said, "All you need is a propane firepit, a propane tank and some gas in it."
The biggest advantage to propane fire is that "you can have it," he said. "They're fully compliant with the fire bans."
However, he acknowledges that propane fires are not fuel efficient, based on his experience. He suggested buying larger, refillable propane tanks for cost-effectiveness.
Overall, Eerkes said he hasn't seen a remarkable shift in the sales of camping gear overall.
"It's certain the fires are going to have some effect … but I'm not convinced we're seeing a massive downturn in people going camping this year."
A private campground about 100 kilometres southwest of Halifax has been getting cancellations since the fire ban and camping bans in wooded areas of Nova Scotia earlier this week.
"When fire bans are in place, it's the private campground's choice to follow the fire ban to not," said Minseo Kim, manager of the Little Lake Family Campground in Lunenburg, N.S. "But for this fire ban, private campgrounds have to listen as well.
"This has never happened before. We never faced this issue."
Kim said the cancellations will not have a huge effect in the coming weeks, partly because the peak season begins in July and the campground also has an open space outside of the wooded area.
He is hoping the fire ban lifts soon for overnight campers.
Nova Scotia imposed the fire ban on Monday, with Prince Edward Island following Tuesday.
Chris Nuttall-Smith, the author of the newly released book "Cook It Wild," said campers don't really need campfires to enjoy the outdoors or prepare meals.
A longtime backpacker and camper, Nuttall-Smith said fire bans are not a "huge limitation" for cooking outdoors with alternatives like backpack stoves available.
Nuttall-Smith, in his book, shares 75 recipes to cook in the wild, with up to 65 of them possible without a campfire, he said.
"Some of the best trips that I've ever taken are in places where you're never allowed to have a campfire," he said. "I don't think a lot of people miss it."
He recommends campers making due without fire this season bring pre-prepared food and enjoy the outdoors.
"You can find so much beauty out in the wild at dusk, after dark, like looking at the fireflies, looking at the stars. There is so much to do."
This report by The Canadian Press was first published June 2, 2023.
—-