Foreign supply of children's pain meds set to hit Canadian shelves next week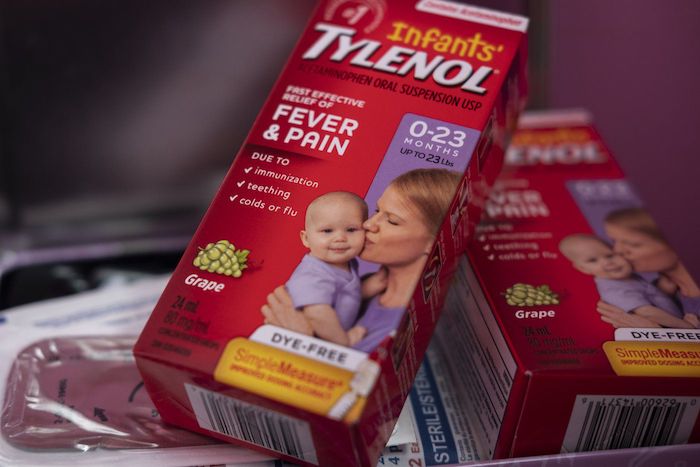 By Jordan Omstead
A large foreign supply of children's fever and pain medication is expected to start showing up on pharmacy and retail shelves next week, Health Canada said Friday.
One million bottles of the children's medication will have been distributed to hospitals, pharmacies and retailers after next week, health officials said during a media briefing.
"The initial supplies, including that one million bottles, is of acetaminophen for children and those are the products that are destined for the pharmacies and the retailers," said Chief Medical Adviser Dr. Supriya Sharma.
Hospital, pharmacies and parents with sick kids have been grappling with a nationwide shortage of children's Tylenol and Advil since spring, exacerbated by the early arrival of influenza and respiratory syncytial virus along with the ongoing COVID-19 pandemic.
Sharma did not provide a specific breakdown of where those bottles are coming from and where they will be distributed. But she said hospital supply "seems to be quite stable now."
Hospitals have reported surges in the number of kids admitted to emergency and intensive care units. Canada's largest pediatric health centre, the Hospital for Sick Children in Toronto, said last week it was reducing surgeries to preserve its critical care capacity after reporting its ICU had been well above capacity for several days.
Health Canada said production of children's acetaminophen and ibuprofen is double what it was last year, but demand is still outstripping supply.
Sharma said Health Canada approved three proposals to import foreign product and the supply has already started to arrive in the country. That move was "always on the table," but it's been taken up with urgency since the late summer and early fall, she said.
Health Canada regularly uses its power to temporarily authorize imports of drugs labelled for a foreign market to help prevent or ease shortages.
"The product that's coming in, just to say, for these first shipments, is actually very similar, almost exactly the same as the product that's already authorized in Canada in terms of in formulation," Sharma said.
Health Canada said it would update the list of authorized imports with the recent approvals early next week, and launched a web page dedicated to the children's acetaminophen and ibuprofen shortages.
The arrival of new shipments came as a relief to some parents with young children who for months have been anxiously met by empty pharmacy shelves and have had to jump through hoops to purchase the hard-to-find medication.
"My gut reaction is, it's about time. And is that even enough? Because everybody's kids are home all the time " said Kelly O'Dwyer-Manuel, a mother to two young boys, aged 2 and 6, in Peterborough, Ont.
"I'm glad that there's something but, man, that took them a long time to get there."
Since early September, either one or both of O'Dwyer-Manuel's young sons have been at home sick at least once a week, she said. She bought boxes of ibuprofen at a markup online and had them shipped from the U.S.
Despite the foreign supply set to soon arrive in Canada, O'Dwyer-Manuel said she expects to eventually rely on the goodwill of colleagues south of the border, who have offered to send her medication.
"It would be nice to see some concrete plans from leaders at all levels of government," she said. "The burden on parents is pretty extraordinary."
Sharma, the chief medical adviser, said it's challenging to predict the demand for acetaminophen and ibuprofen given their use for a range of conditions. Demand, she said, has been "very atypical" in recent months and "very challenging to predict."
"We'll see what happens in terms of the supply that goes out there, how quickly it's been taken up, what the supply situation is, then we continually reassess that."
Health Canada officials said the agency was also looking at foreign supply to help ease a shortage of some formulations of amoxicillin, an antibiotic frequently used to treat children with ear infections, bronchitis and pneumonia.
Officials were grilled about the drug shortages earlier this week by a House of Commons health committee, with MPs demanding answers about when it began, what was behind it and who was to blame.
This report by The Canadian Press was first published Nov. 18, 2022
Disney faces losing control of its kingdom with Florida bill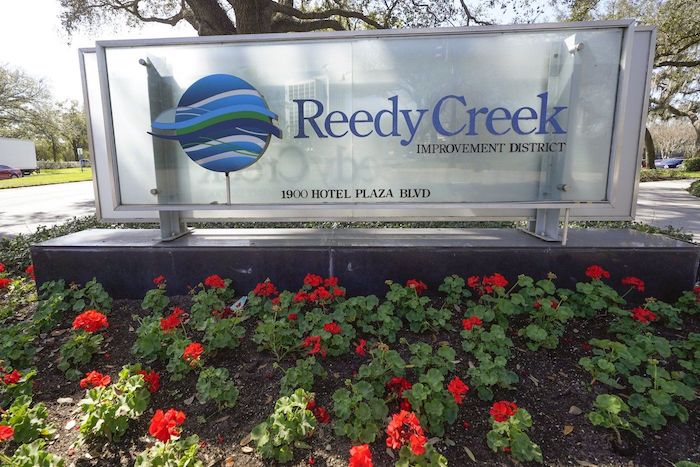 By Mike Schneider in Orlando
ORLANDO, Fla. (AP) — Disney's government in Florida has been the envy of any private business, with its unprecedented powers in deciding what to build and how to build it at the Walt Disney World Resort, issuing bonds and holding the ability to build its own nuclear plant if it wanted.
Those days are numbered as a new bill released this week puts the entertainment giant's district firmly in the control of Florida's governor and legislative leaders in what some see as punishment for Disney's opposition to the so-called "Don't Say Gay" lawchampioned by Republican Gov. Ron DeSantis and the Republican-controlled Legislature.
"Disney won't like it because they're not in control," said Richard Foglesong, professor emeritus at Rollins College, who wrote a definitive account of Disney's Reedy Creek Improvement Districtin his book, "Married to the Mouse: Walt Disney World and Orlando."
With that loss of control comes an uncertainty about how Disney's revamped government and Walt Disney World, which it governs, will work together — whether the left hand always will be in sync with the right hand as it has been with the company overseeing both entities.
The uniqueness of Disney' government, where building inspectors examine black box structures holding thrill rides instead of office buildings, also complicates matters. The district essentially runs a midsize city. On any given day, as many as 350,000 people are on Disney World's 27,000 acres (11,000 hectares) as theme park visitors, overnight hotel guests or employees. The 55-year-old district has to manage the traffic, dispose of the waste and control the plentiful mosquitoes.
"What kind of control is preferable? Control by a private business or corporation, or control by appointed officials, appointed by governor of the state?" Foglesong said. "Will they have the expertise to be able to make the new district work as efficiently as the old district works?"
The bill prohibits anybody who has worked or had a contract with a theme park or entertainment complex in the past three years, or their relatives, from serving on the revamped district's board of supervisors, a prohibition that some experts say eliminates people with expertise in the field.
The bill's sponsor, Florida Rep. Fred Hawkins, a Republican from St. Cloud, defended the exclusion Tuesday.
"This was a provision I requested," Hawkins said. "We want to try to avoid any conflicts of interest of the new board members."
Under the bill's proposals, Florida's governor appoints the five-member board of supervisors to the renamed Central Florida Tourism Oversight District instead of Disney. Limits would be placed on the district's autonomy by making it subject to oversight and regulation by state agencies, and it would be unable to adopt any codes that conflict with state regulations. The district also would no longer have the ability, if it wanted, to own and operate an airport, stadium, convention center or nuclear power plant.
DeSantis started gunning for Disney's private government last year when the entertainment giant publicly opposed what critics call the "Don't Say Gay" law, which bars instruction on sexual orientation, gender identity and other lessons deemed not age-appropriate in kindergarten through third grade. Republican critics of the Disney district also argued it has given the company an unfair advantage over rivals in issuing bonds and financing expansion.
The Legislature passed a bill last year to dissolve the Disney government by June 2023.
Lawmakers are meeting this week for a special session to complete the state takeover of the district and approve other key conservative priorities of the governor on immigration and voter fraud. A Senate committee approved separate bills Tuesday to expand the governor's migrant relocation program and allow the statewide prosecutor to bring election crime charges.
Florida Rep. Anna Eskamani, a Democrat from Orlando, calledthe Disney bill on Monday a "power grab" by DeSantis, a potential 2024 presidential candidate who has emerged as a fierce opponent of what he describes as "woke" policies on race, gender and public health. Such positions endear him to the GOP's conservative base but threaten to alienate independents and moderate voters in both parties who are influential in presidential politics.
The changes proposed in the legislation were welcomed by at least one group of Reedy Creek employees — firefighters who have clashed in the past with district leaders. Tim Stromsnes, a spokesperson for Reedy Creek Professional Firefighters Local 2117, said all the current board cares about is "bonds and low-interest loans for building Disney infrastructure, and zero about treating its employees fairly."
"We think they are going to be more receptive to first responders," Stomsnes said Tuesday of the proposed new board. "They're calling the governor a fascist for doing this … but he is actually fixing a fascist, Disney-owned government."
To the relief of taxpayers in neighboring Orange and Osceola counties, the district won't be dissolved, a prospect that had raised fears that the counties would have to absorb the district's responsibilities and raise property taxes significantly. The Reedy Creek Improvement District has more than $1 billion in bond debt.
In a statement, Orange County said officials were monitoring the bill.
The new bill appears to address some key questions raised by last year's legislation, primarily preserving the district's ability to raise revenue and service outstanding debt, said Michael Rinaldi, head of local government ratings for Fitch Ratings.
Foglesong expects a legal challenge should the bill pass. Disney didn't respond to an inquiry asking about any potential lawsuits.
"Disney works under a number of different models and jurisdictions around the world, and regardless of the outcome, we remain committed to providing the highest quality experience for the millions of guests who visit each year," Jeff Vahle, president of Walt Disney World Resort, said in a statement.
Disney could make an argument that their rights as a private business are being undermined, Foglesong said.
"It will have political appeal, the arguments they make, in a Republican state for a potential presidential candidate," Foglesong said. "It will be like, legally, 'How can you do this to us?' and politically, 'How can you do this to a corporation that has done so much for the state of Florida?'"
___
Associated Press writer Anthony Izaguirre in Tallahassee, Florida contributed to this report.
___
Follow Mike Schneider on Twitter at @MikeSchneiderAP
Alberta Premier Smith meets Prime Minister Trudeau; awkward handshake ensues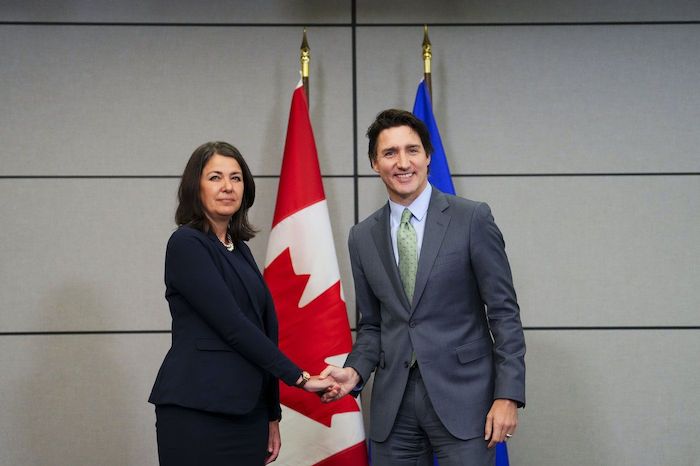 Alberta Premier Danielle Smith has met face to face with Prime Minister Justin Trudeau in a photo opportunity punctuated by short statements and a very awkward handshake.
Smith and Trudeau met briefly to discuss shared aspirations and concerns over pending federal legislation aimed at helping Canadian workers adapt to the global move to increasing reliance on renewable energy.
The short meeting began with Trudeau reaching down to shake hands, with Smith offering a hesitant palm down hand in return, prompting Trudeau to take it and hold it in place with his thumb on top as the cameras clicked and whirred.
Smith, in Ottawa with other premiers for talks on health-care funding, faces an election this spring after successfully harnessing party anger with Trudeau to win the UCP leadership race to become premier.
She has disparaged Trudeau's government as not a true national government and passed controversial legislation granting her government power to direct provincial agencies to ignore federal laws.
She has accused Trudeau of trying to decimate Alberta's oil and gas industry with his green transition legislation, but now says she wants to at least try to work collaboratively.
This report by The Canadian Press was first published Feb. 7, 2023.