For a view of a COVID-19 future, Canadians should look across the pond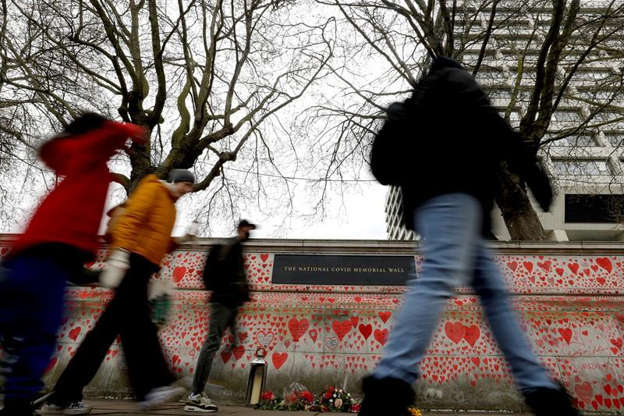 OTTAWA — On May 3, the British government announced that only one person had died of COVID-19 in the previous 24 hours.
It was a sharp turn around in a little over three months, from the country's worst ever death toll in the pandemic, to almost none.
It's also something, health experts say, Canadians can look to with hope.
"The U.K. shows the best way forward for Canada," said Dr. Fahad Razak, an internal medicine specialist at St. Michael's Hospital in Toronto.
The way, said Razak, is about getting more vaccines into arms, and keeping smart public health measures in place for as long as possible, to let the vaccines do their thing.
In January, the U.K. saw record numbers of new cases, deaths, hospitalizations and intensive care admissions. They were three to five times the worst numbers Canada has ever seen.
On January 8, more than 68,000 people were diagnosed with COVID-19, on Jan. 20, more than 1,820 people died. There were that month, more than 39,000 people in hospital on the worst day, and more than 4,000 in intensive care.
Now, after half the British population has had a single vaccine dose, one-quarter have had two, and the entire country faced a strict lockdown with a gradual, staged, reopening, the U.K.'s picture isn't just better, it's a whole new world.
Every one of those statistics is down. New cases? Down 96 per cent. Deaths? Down 99 per cent. Hospitalizations and ICU patients? Down 97 per cent.
"This is the remarkable effect of getting those vaccines into people's arms, and effective and smart restrictions on public health measures," said Razak. "This is the effect, you're seeing it right now."
Britain, like Canada, is one of the only countries in the world to delay second doses for several months, so that more people can get protected from at least one dose faster.
It was, in both countries, an experiment with many critics. With a pandemic underway and the need to get clinical trials completed quickly, vaccine makers had generally tested their products with three and four-week delays between two doses.
But with the B.1.1.7 driving crisis-levels of infections, and loaded with vaccine science that says delaying a second dose often generates a stronger immune response, Britain decided to push the second dose to 12 weeks.
Canada decided in March to delay second doses for most people up to 16 weeks, as production issues delayed deliveries and doses were in short supply.
Razak said it was, in both cases, "absolutely the right decision."
"We're going to see the benefit of that if we continue our aggressive vaccine rollout," he said.
The U.K. — which was in a strict nationwide lockdown in January and February — is gradually returning to normal. Kids are back in school, hair salons are open, restaurant patios are hopping, and even small backyard gatherings are allowed.
It has all been done in calculated stages, with restrictions gradually lifting every few weeks starting in early March.
Next week, on May 17th, comes one of the biggest steps forward yet: restaurants will be allowed to have indoor dining and people can entertain up to 6 friends and family from two households indoors. Outdoor gatherings will be increased to a limit of 30 people. Children's play places, movie theatres, hotels and indoor fitness classes, will once again be allowed.
On the 21st of June, the British government hopes to be able to lift all restrictions completely.
They can do that, said Razak, because there are more people vaccinated, and therefore fewer people available for the virus to infect.
The U.K. was fast out of the gate with vaccines, having made smart deals to get early doses from Pfizer, investing heavily in Oxford-AstraZeneca early on, and expanding production to make some of it at home.
In January, it outpaced even the United States in vaccinations, trailing only Israel and the United Arab Emirates in doses given per person.
Still the U.K. is not without supply woes. Vaccinations slowed considerably in April, as AstraZeneca couldn't get all its deliveries to the U.K. and Moderna reduced British deliveries along with Canada's.
Canada, with vaccine deliveries in May expected to be greater than the last five months combined, is catching up. It outpaced the U.K. in much of April, and expects to get a first dose to everyone over the age of 12 by the end of June.
The U.K. is targeting that by the end of July.
Dr. David Naylor, co-chair of Canada's National COVID-19 Immunity Task Force, said the sharp down curve of British COVID-19 statistics can happen here.
"I would be not surprised and very relieved if we actually see a pretty significant pickup (in) the drop in case counts when we once we get about 40% first doses, which we're heading toward quickly," Naylor said.
On Friday, Canada hit 14 million people vaccinated with at least one dose, more than 37 per cent of all Canadians. At current rates of vaccination, Canada should get to 40 per cent by mid-week.
With vaccines coming in faster now, the 50 per cent marker should come before Victoria Day.
"When we get about 50% then I think we should see a lot more light at the end of the tunnel," said Naylor. "I just hope there isn't a bunch of premature opening up at that time, because that could that could set us back."
Razak said there is no magic formula for when and how to lift restrictions but he said it has to be driven by the data. If it is done too quickly, before enough people are vaccinated and the virus has limited places to take hold, a fourth wave is very likely.
Naylor said, if things are done right there is no reason why Canada can't be where Britain is now, in the not too distant future.
"We are in a position here with this flood of effective vaccines to really go after this virus and get ourselves out of limbo and get our lives back," he said.
This report by The Canadian Press was first published May 9, 2021.
Mia Rabson, The Canadian Press
Afghan rights leader heartbroken after year of Taliban rule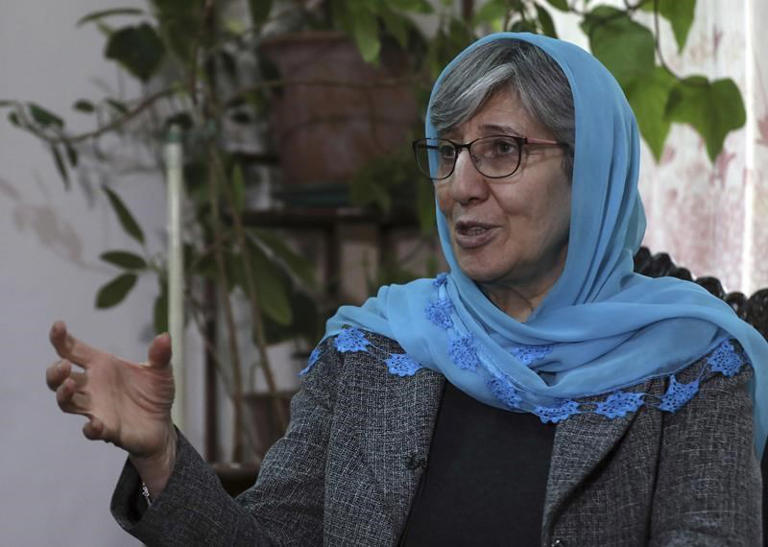 UNITED NATIONS (AP) — A year after the Taliban takeover of Afghanistan, prominent Afghan rights activist Sima Samar is still heartbroken over what happened to her country.
Samar, a former minister of women's affairs and the first chair of the Afghanistan Independent Human Rights Commission, left Kabul in July 2021 for the United States on her first trip after the COVID-19 pandemic, never expecting Afghan President Ashraf Ghani to flee the country and the Taliban to take power for the second time soon after on Aug. 15.
"I think it's a sad anniversary for the majority of people of my country," Samar said, particularly for the women "who don't have enough food, who do not know what is the tomorrow for them."
A visiting scholar at the Carr Center for Human Rights at the Kennedy School at Harvard, she has written the first draft of an autobiography and is working on a policy paper on customary law relating to Afghan women. She is also trying to get a Green Card, but she said, "I honestly cannot orient myself, where I am, and what I'm doing."
She wishes she could go home — but she can't.
In an interview Friday with The Associated Press, she recalled a Taliban news conference a few days after they took power when they said if people apologized for past actions they would be forgiven.
"And I said, I should be apologizing because I started schools for the people?" said Samar, a member of Afghanistan's long persecuted Hazara minority. "I should apologize because I started hospitals and clinics in Afghanistan? I should apologize because I tried to stop torture of the Taliban? I should apologize to advocate against the death penalty, including (for) the Taliban leadership?"
"All my life I fought for life as a doctor," she said. "So I cannot change and support the death penalty. I shouldn't apologize for those principles of human rights and be punished."
Samar became an activist as a 23-year-old medical student with an infant son. In 1984, the then-communist government arrested her activist husband, and she never saw him again. She fled to Pakistan with her young son and worked as a doctor for Afghan refugees and started several clinics to care for Afghan women and girls.
Samar remembered the Taliban's previous rule in the late 1990s, when they largely confined women to their homes, banned television and music, and held public executions. A U.S.-led invasion drove the Taliban from power months after the 9/11 attacks in 2001, which al-Qaida orchestrated from Afghanistan while being sheltered by the Taliban.
After the Taliban's ouster, Samar returned to Afghanistan, moving into the top women's rights and human rights positions, and over the next 20 years schools and universities were opened for girls, women entered the workforce and politics and became judges.
But Samar said in an AP interview in April 2021 — four months before the Taliban's second takeover of the country — that the gains were fragile and human rights activists had many enemies in Afghanistan, from militants and warlords to those who wanted to stifle criticism or challenge their power.
Samar said the Afghan government and leadership, especially Ghani, were mainly responsible for the Taliban sweeping into Kabul and taking power. But she also put blame on Afghans "because we were very divided."
In every speech and interview she gave nationally and internationally over the years, she said Afghans had to be united and inclusive, and "we have to have the people's support. Otherwise, we will lose."
As chair of the Human Rights Commission, she said she repeatedly faced criticism that she was trying to impose Western values on Afghanistan.
"And I kept saying, human rights is not Western values. As a human being, everyone needs to have a shelter … access to education and health services, to security," she said.
Since their takeover, the Taliban have limited girls' public education to just six years, restricted women's work, encouraged them to stay at home, and issued dress codes requiring them to cover their faces.
Samar urged international pressure not only to allow all girls to attend secondary school and university, but to ensure all human rights which are interlinked. And she stressed the importance of education for young boys, who without any schooling, job or skill could be at risk to get involved in opium production, weapons smuggling or in violence.
She also urged the international community to continue humanitarian programs which are critical to save lives, but said they should focus on food-for-work or cash-for-work to end peoples' total dependency and give them "self-confidence and dignity."
Samar said Afghan society has changed over the past two decades, with more access to technology, rising education levels among the young and some experience with elections, t even if they weren't free and fair.
She said such achievements leave the possibility of positive change in the future. "Those are the issues that they (the Taliban) cannot control," she said. "They would like to, but they cannot do it."
Samar said she hoped for eventual accountability and justice for war crimes and crimes against humanity. "Otherwise, we feel the culture of impunity everywhere, everywhere — and the invasion of Russia to Ukraine is a repetition of Afghanistan's case," she said.
Her hope for Afghan women is that they can "live with dignity rather than being a slave of people."
Edith M. Lederer, The Associated Press
Ship carrying grain for hungry Ethiopia leaves Ukraine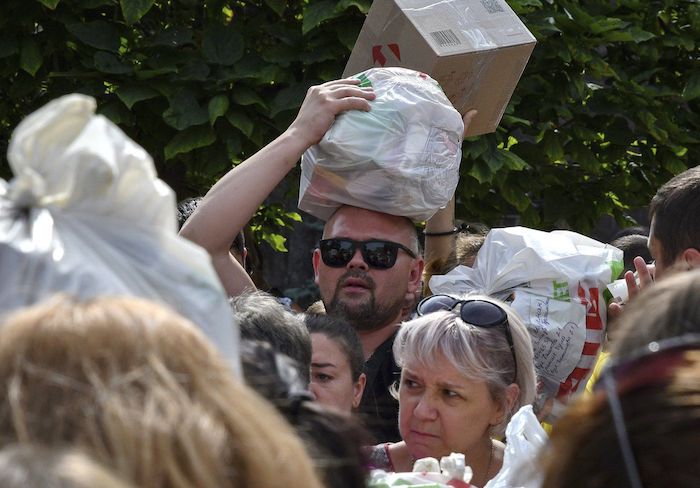 By Derek Gatopoulous in Kyiv
KYIV, Ukraine (AP) — A United Nations-chartered ship loaded with 23,000 metric tons of Ukrainian grain destined for Ethiopia set sail Sunday from a Black Sea port, the first shipment of its kind in a program to assist countries facing famine.
The Liberia-flagged Brave Commander departed from the Ukrainian port of Yuzhne, east of Odesa, according to regional governor Maksym Marchenko. It plans to sail to Djibouti, where the grain will be unloaded and transferred to Ethiopia under the World Food Program initiative.
Ukraine and Russia reached a deal with Turkey on July 22 to restart Black Sea grain deliveries, addressing the major export disruption that has occurred since Russia invaded Ukraine in February.
Ethiopia is one of five countries that the UN considers at risk of starvation.
"The capacity is there. The grain is there. The demand is there across the world and in particular, these countries," WFP Ukraine coordinator Denise Brown told The Associated Press. "So if the stars are aligned, we are very, very hopeful that all the actors around this agreement will come together on what is really an issue for humanity. So today was very positive."
On the front line, Russian forces on Sunday fired rockets on the Mykolaiv region in southern Ukraine, killing at least one person. That region is just north of the Russian-occupied city of Kherson, which Ukrainian forces have vowed to retake. The Ukrainian emergency service said one person was killed in shelling early Sunday settlement of Bereznehuvate in Mykolaiv.
A Russian diplomat, meanwhile, called on Ukraine to offer security assurances so that international inspectors could visit a nuclear power station that has come under fire.
As fighting steps up in southern Ukraine as Russia's war closes in on six months, concern has grown sharply about the Zaporizhzhia nuclear power plant, which is held by Russian forces and has been hit by sporadic shelling. Both Ukraine and Russia blame each other for the shelling, which officials say has damaged monitoring equipment and could lead to a nuclear catastrophe.
The Zaporizhzhia facility is Europe's largest nuclear power plant.
Russia's envoy to international organizations based in Vienna, Mikhail Ulyanov, called on Ukraine to stop attacking the plant in order to allow an inspection mission from the International Atomic Energy Agency.
"It is important that the Ukrainians stop their shelling of the station and provide security guarantees to members of the mission. An international team cannot be sent to work under continuous artillery shelling," he was quoted as saying Sunday by Russian state news agency Tass.
Ukraine says Russia is shelling nearby regions from the plant and storing weapons there.
___
Follow the AP's coverage of the war at https://apnews.com/hub/russia-ukraine