Flight issues? Here's what you need to know about getting compensation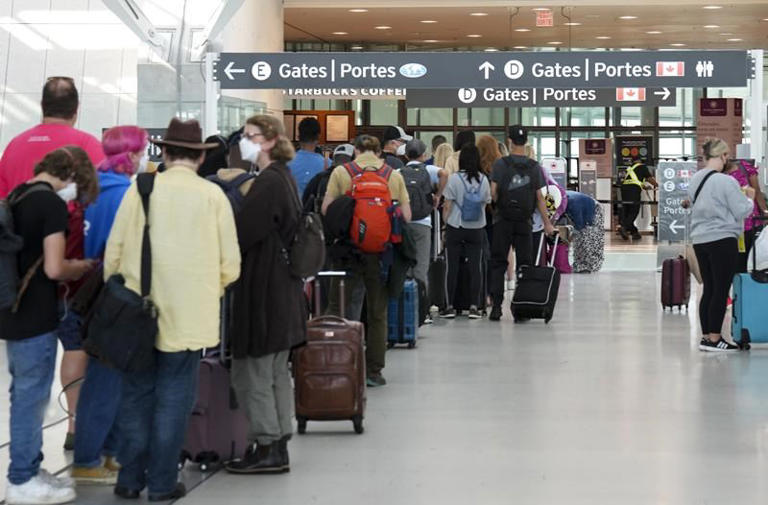 Delayed and cancelled flights are a reality this summer amid surging demand for travel, so customers should know whether they can expect compensation from airlines under federal regulations.
The Air Passenger Protection Regulations say ticket holders are entitled to financial compensation if they arrive at their destination at least three hours late, or if their flight was cancelled and the disruption was unrelated to safety issues or outside the airline's control.
Some airlines have been criticized over their explanations for the disruptions, including both Air Canada and WestJet citing staffing shortages as a safety issue. The Canadian Transportation Agency has disputed lack of staff as valid under compensation rules.
A July 8 ruling by the CTA said the threshold was high for an airline to use staffing shortages as a safety issue and found in that instance that WestJet had not met it, ordering the airline to pay what was owed to the traveller.
The CTA previously looked into the issue of cited reasons for disruptions in 2020 and found there were multiple communication issues leading to passenger frustration, but found no evidence that the airlines deliberately mischaracterized the reasons for delays and cancellation.
To dispute an airline's decision, customers need to file a request in writing for compensation to the airlines, which then have 30 days to respond.
If a traveller is unsatisfied with the airline's response they can then file a complaint to the CTA though the agency's website, but a huge backlog means travellers could have to wait some time to get a response.
The CTA faced a total of 28,673 complaints for the year up to March 31, including 12,158 new complaints and the carry-over of 16,515 reports from the previous fiscal year. Of the total, about half involved flight disruptions, while ticketing and reservations complaints also numbered in the thousands.
The higher numbers come even though many travellers don't bother to appeal their decision. Up to two-thirds of Canadian claimants give up their claim after an initial rejection by the airline, according to an online YouGov survey in 2019, though awareness of the new rules could have improved since then.
Appealing could well be worthwhile though, as a 2019 study from AirHelp, a German company that helps process claims, found that airlines wrongfully reject more than 50 per cent of valid claims at first.
The potential payouts for customers vary depending on a few factors including how lengthy the delay, how big the airline, and how much notice was given, as well as the question of whether the issue was within the airline's control and not a safety issue.
If the trip was cancelled within 14 days or less, passengers are owed $1,000 for a cancellation or delay of nine hours or more, and between $400 and $700 for delays of three to nine hours.
For those informed more than two weeks in advance, they are owed alternate travel arrangements or a refund, at the traveller's choice.
No matter how long the notice, a passenger who opts to reject a rebooking should receive $400 in compensation from large airlines and $125 for small airlines, on top of a refund.
Those denied boarding, such as from overbooking, could see between $900 and $2,400 depending on how much it delays their arrival, while there are also rules on compensation for lost and damaged baggage that can go up to $2,300.
Added rights also come into force on Sept. 8 where even if the cause of the delay is outside the airline's control, they must rebook the traveller within 48 hours on their or a competitor's flight or the traveller will be eligible for a refund.
Previously, the passenger rights regime only required refunds for flight disruptions that were within the airline's control, which excluded situations ranging from weather to war to unscheduled mechanical issues.
This report by The Canadian Press was first published Aug. 8, 2022.
The Canadian Press
Here's what Canada is pledging in multi-year support for Ukraine, updated trade deal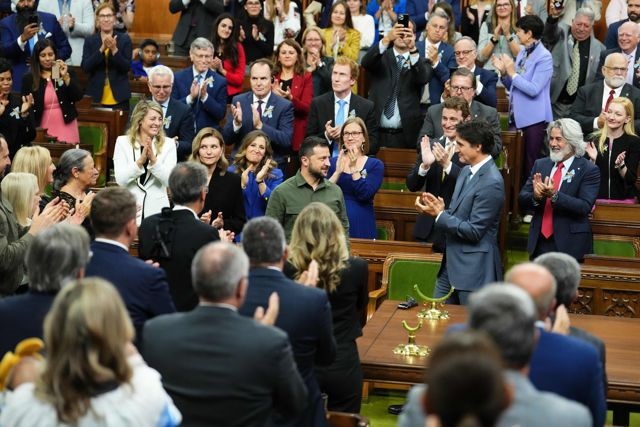 Ukrainian President Volodymyr Zelenskyy receives a standing ovation from Prime Minister Justin Trudeau and parliamentarians as he arrives to deliver a speech in the House of Commons in Ottawa on Friday, Sept. 22, 2023. Canada is making a multi-year commitment to provide steady support to Ukraine, including hundreds of millions of dollars for new armoured vehicles. THE CANADIAN PRESS/Sean Kilpatrick
By Nojoud Al Mallees in Ottawa
Prime Minister Justin Trudeau announced Friday that Canada is making a multi-year commitment to provide steady support to Ukraine, including hundreds of millions of dollars for new armoured vehicles.
The two countries also signed a modernized trade deal, as Ukrainian President Volodymyr Zelenskyy visits the country for the first time since Russia's full-scale assault of Ukraine began last year.
A spokeswoman for Trade Minister Mary Ng said the new deal does not include substantial changes on market access, but adds services and investment clauses to the agreement, along with progressive language around labour standards and gender equality.
Meanwhile, the multi-year commitment includes $650 million over three years for 50 armoured vehicles that are to be built in London, Ont.
Friday's announcement brings Canada's total committed support to Ukraine to more than $9.5 billion since the beginning of 2022, according to a news release.
The new commitment comes as Ukraine seeks longer-term support from allies and worries emerge that some countries' support may begin to waver as the war drags on.
Earlier this week, Poland's prime minister said his country is no longer sending arms to Ukraine as a trade dispute between the neighbouring states escalates and his populist party faces pressure from the far right in the upcoming national election.
G7 countries promised in July to reach individual agreements with Ukraine to provide long-term military help.
In addition to new funding, the federal government has also announced the allocation of part of the $500 million of support Canada announced in June.
Those funds will go toward providing 35 drone cameras to Ukraine, as well as sending Canadian trainers to help Ukrainian pilots and maintenance workers use donated fighter jets.
Canada is also providing additional funding toward other initiatives in support of Ukraine, including mental-health care and non-governmental organizations.
Money will go toward strengthening nuclear security measures at the Chornobyl Exclusion Zone and replacing equipment destroyed or stolen by Russia when it occupied the site in 2022.
Friday's announcement includes a further crackdown on Russia with a new round of sanctions.
Ottawa says it is placing 63 new sanctions on individuals and entities involved in Russia's nuclear sector, the illegal transfer and custody of Ukrainian children and the generation and dissemination of disinformation and propaganda.
Canada and Ukraine say they will be working with international partners to establish a working group that would provide advice to decision-makers on the seizure of Russian assets, including assets of the country's central bank.
This report by The Canadian Press was first published Sept. 22, 2023.
— With files from the Associated Press.
White House rejects reports of tension with Canada over India interference allegation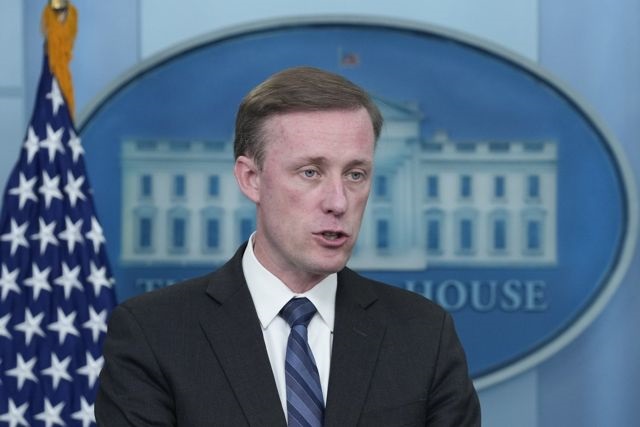 White House national security adviser Jake Sullivan speaks during the daily briefing at the White House in Washington, Friday, Sept. 15, 2023. The White House is pushing back against reports that Canada-U.S. relations are straining under Prime Minister Justin Trudeau's seismic murder allegation against the government of India. THE CANADIAN PRESS/AP/Susan Walsh
By James McCarten in Washington
The White House is pushing back against reports that Canada-U.S. relations are straining under Prime Minister Justin Trudeau's seismic allegation that the government of India was involved in the killing of a Canadian citizen.
National Security Adviser Jake Sullivan says the U.S. shares Canada's "deep concerns" and denies any suggestion of a wedge between the two countries.
Recent U.S. efforts to woo India as an economic and geopolitical ally have fuelled speculation that the White House was hedging its bets with its neighbour and vital trading partner.
Hardeep Singh Nijjar, prominent supporter of the Khalistan separatism movement that advocates for a Sikh homeland in India's Punjab province, was killed in June outside the gurdwara he led in Surrey, B.C.
The Indian government designated him as a terrorist in 2020, accusing him of belonging to a banned militant group.
A Canadian official told The Associated Press that the allegation of India's involvement is based on surveillance of Indian diplomats in Canada, including intelligence provided by a major ally.
The official said the communications involved Indian officials and Indian diplomats in Canada and that some of the intelligence was provided by a member of the "Five Eyes" intelligence-sharing alliance — Canada, the U.S., Britain, Australia and New Zealand.
The official did not say which ally provided the intelligence or give any details of the communications or how they were obtained. The official spoke on condition of anonymity because they weren't authorized to discuss the matter publicly.
The Prime Minister's Office refused Friday to either confirm or deny the details, which were first reported by CBC News.
"We are consulting with (Canada) closely, we support the efforts that they are undertaking in this investigation, and we have also been in touch with the Indian government as well," Sullivan told the White House press briefing Thursday.
"I firmly reject the idea that there is a wedge between the U.S. and Canada. We have deep concerns about the allegations, and we would like to see this investigation carried forward and the perpetrators held to account."
On Friday, White House press secretary Karine Jean-Pierre refused to elaborate on Sullivan's comments or release any additional details beyond saying the U.S. is in close contact with officials in both countries.
"He was not going to comment about private diplomatic conversations; I'm not going to do that either," Jean-Pierre said. "But yes, there has been conversations with our partners in the Indian government."
As he wrapped up two days at the UN General Assembly on Thursday, Trudeau urged India to co-operate with its investigation and work with Canada to ensure accountability and justice.
But he steadfastly refused to elaborate on the evidence that prompted him to tell the House of Commons of "credible allegations" of Indian involvement, except to say it "was not done lightly."
On Friday, he offered little new information beyond rejecting the claims of Indian officials that Canada has not shared the details of its charges.
"We did that many weeks ago," Trudeau said during a news conference alongside Ukrainian President Volodymyr Zelenskyy, who wrapped up a North American whirlwind visit with a speech in Parliament.
"We are there to work constructively with India and we hope that they engage with us so that we can get to the bottom of this very serious matter."
Canada and India each expelled one of the other's diplomatic emissaries in the ensuing fallout.
Foreign ministers from the Quadrilateral Security Dialogue, a coalition including India, the U.S., Australia and Japan known informally as the "Quad," met Friday on the margins of the UN assembly in New York City.
"We are committed to countering terrorism in all its forms and manifestations, including preventing the international and cross-border movement of terrorists, and countering terror finance networks and safe havens," the group said in a joint statement.
"We stressed the need for a comprehensive and balanced approach to effectively curb terrorist activities through whole of nation and whole of international community efforts."
The Quad, originally formed in 2007, was resurrected in 2017 in hopes of building an economic and geopolitical counterweight to China's growing influence around the world and in the Indo-Pacific region in particular.
Canada was excluded from that alliance, as well as from AUKUS, a trilateral security pact between the U.K., the U.S. and Australia that took shape in 2021 as an undersea military triad separate from the Five Eyes group.
Washington also included India as a founding member of its Indo-Pacific Economic Framework, a nascent trading bloc into which Canada was not invited until Foreign Affairs Minister Mélanie Joly expressed interest in joining in 2022.
India, which has halted visa services in Canada, called the allegations absurd and an attempt to shift attention from the presence of Nijjar and other wanted suspects on Canadian soil. Indian External Affairs Ministry spokesperson Arindam Bagchi called them "politically driven."
"No specific information has been shared by Canada on this case. We are willing to look at any specific information, we have conveyed this to the Canadians," Bagchi said.
He also accused Canada of being a safe haven for extremists.
"Very specific evidence about criminal activities by individuals based on Canadian soil has been shared with the Canadian authorities on a regular basis, but not been acted upon."
Nijjar was working to organize an unofficial referendum among the Sikh diaspora on independence from India at the time of his killing. He had denied India's accusation that he was a terrorist.
The second stage of B.C. voting on whether a Sikh homeland should be established in India's Punjab province is scheduled to be held on Oct. 29.
"There is not some special exemption you get for actions like this," Sullivan said.
"Regardless of the country, we will stand up and defend our basic principles. And we will also consult closely with allies like Canada as they pursue their law enforcement and diplomatic process."
This report by The Canadian Press was first published Sept. 22, 2023.
— With files from The Associated Press.