First full-size 3D scan of Titanic shows shipwreck in new light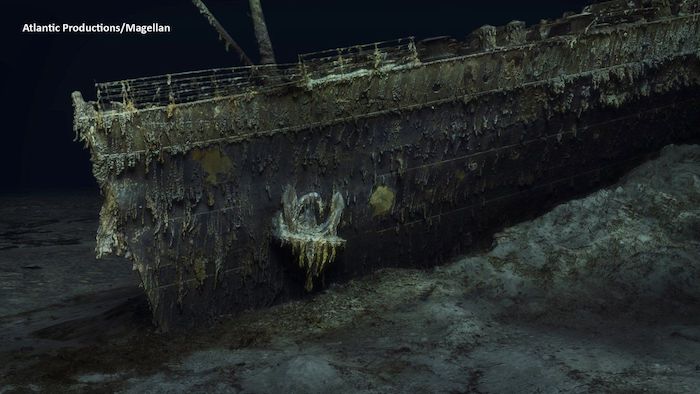 In this grab taken from a digital scan released by Atlantic/Magellan on Thursday, May 18, 2023, a view of the bow of the Titanic, in the Atlantic Ocean created using deep-sea mapping. Deep-sea researchers have completed the first full-size digital scan of the Titanic wreck, showing the entire relic in unprecedented detail and clarity, the companies behind a new documentary on the wreck said Thursday. Using two remote operated submersibles, a team of researchers spent six weeks last summer in the North Atlantic mapping every millimeter of the shipwreck and the surrounding 3-mile debris field, where personal belongings of the ocean liner's passengers such as shoes and watches were scattered. (Atlantic/Magellan via AP)
By Sylvia Hui in London
LONDON (AP) — Deep-sea researchers have completed the first full-size digital scan of the Titanic, showing the entire wreck in unprecedented detail and clarity, the companies behind a new documentary on the wreck said Thursday.
Using two remote operated submersibles, a team of researchers spent six weeks last summer in the North Atlantic mapping the whole shipwreck and the surrounding 3-mile debris field, where personal belongings of the ocean liner's passengers such as shoes and watches were scattered.
Richard Parkinson, founder and chief executive of deep-sea exploration firm Magellan, estimated that the resulting data — including 715,000 images — is 10 times larger than any underwater 3D model ever attempted before.
"It's an absolutely one-to-one digital copy, a 'twin,' of the Titanic in every detail," said Anthony Geffen, head of documentary maker Atlantic Productions.
The Titanic was on its maiden voyage from Southampton, England, to New York City when it hit an iceberg off Newfoundland in the North Atlantic on April 15, 1912. The luxury ocean liner sank within hours, killing about 1,500 people.
The wreck, discovered in 1985, lies some 12,500 feet (3,800 meters) under the sea, about 435 miles (700 kilometers) off the coast of Canada.
Geffen says previous images of the Titanic were often limited by low light levels, and only allowed viewers to see one area of the wreck at a time. He said the new 3D model captures both the bow and stern section, which had separated upon sinking, in clear detail — including the serial number on the propeller.
Researchers have spent seven months rendering the large amount of data they gathered, and a documentary on the project is expected to come out next year. But beyond that, Geffen says he hopes the new technology will help researchers work out details of how the Titanic met its fate and allow people to interact with history in a fresh way.
"All our assumptions about how it sank, and a lot of the details of the Titanic comes from speculation, because there is no model that you can reconstruct, or work exact distances," he said. "I'm excited because this quality of the scan will allow people in the future to walk through the Titanic themselves … and see where the bridge was and everything else."
After briefing on intel, Singh says 'clear evidence' India involved in B.C. killing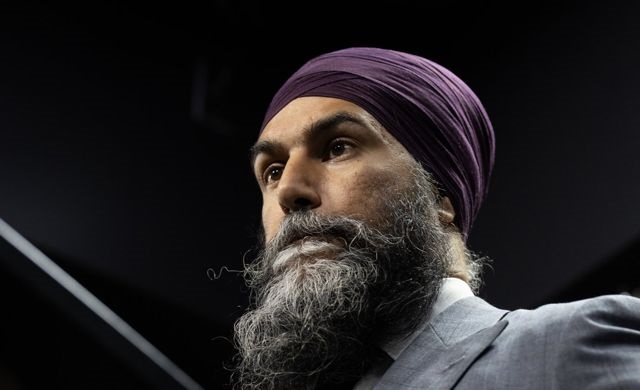 New Democratic Party leader Jagmeet Singh speaks with the media on Parliament Hill, Tuesday, September 26, 2023 in Ottawa. THE CANADIAN PRESS/Adrian Wyld
By Stephanie Taylor in Ottawa
Federal NDP Leader Jagmeet Singh said Tuesday he received an intelligence briefing about allegations that the Indian government could be behind the killing of a Sikh gurdwara leader in British Columbia.
"I can confirm what the prime minister has shared publicly: that there is clear intelligence that Canada has that lays out the following case that a Canadian citizen was killed on Canadian soil and a foreign government was involved," Singh told reporters in Ottawa on Tuesday.
"That intelligence is something that I think is very credible."
Prime Minister Justin Trudeau told the House of Commons Sept. 18 about "credible allegations" that the Indian government was involved in the June death of Hardeep Singh Nijjar in Surrey, B.C.
The well-known activist belonged to a movement that advocated for the creation of an independent Sikh state in India's Punjab province. India's government had labelled him a terrorist but has denied any involvement in his killing, calling the allegations by Trudeau "absurd and motivated."
The extraordinary allegation has worsened already rocky relations between India and Canada. India's government has accused Canada of not providing evidence to back up its claim, while Trudeau and other other ministers have called on India to co-operate with investigations.
Singh said Trudeau first told him and Conservative Leader Pierre Poilievre about the allegations against India before sharing them publicly. Three days later, Singh received a briefing from Trudeau's national security adviser, Jody Thomas.
Singh told reporters Tuesday that he was able to request the briefing on the matter because of the top-secret security clearance he obtained to review foreign-interference materials prepared by former governor general David Johnston, who had been named as a special rapporteur to explore that issue. Johnston has resigned from that role.
The former governor general's report had concluded that Trudeau's government did not knowingly or negligently fail to act on foreign attempts to interfere in the last two federal elections.
He had also recommended against calling a public inquiry into the issue. The Liberal government ended up tapping Quebec Court of Appeal Justice Marie-Josée Hogue to lead one earlier this month after months of outcry from, and discussions with, opposition parties.
Singh said that after reviewing the confidential material he had access to from Johnston, he agrees a public inquiry into foreign interference is necessary.
Poilievre has so far rejected getting the clearance needed to review the top-secret annex from Johnston's earlier report.
Poilievre said Tuesday that he was offered a briefing similar to one B.C. Premier David Eby received on the matter.
He said he doesn't believe the briefing will offer any more substantial details on the allegation and would only force him to be tight-lipped about whatever he learned.
The Conservative leader has called on Trudeau to "come clean" about the evidence behind the allegation against India, saying Canadians deserve more facts.
Singh said Tuesday he does not support that call.
"They're matters of national security and so information cannot be released beyond the general statements that were released," he said.
"There's going to be a next step in the investigation and a prosecution and then information will be made public in an appropriate manner. … To do it early would jeopardize the investigation."
A Canadian official told The Associated Press that the allegation of India's involvement is based on surveillance of Indian diplomats in Canada, including intelligence provided by a major ally.
The official said the communications involved Indian government officials and Indian diplomats in Canada and that some of the intelligence was provided by a member of the "Five Eyes" intelligence-sharing alliance — Canada, the U.S., Britain, Australia and New Zealand.
The official did not say which ally provided the intelligence or give any details of the communications or how they were obtained. The official spoke on condition of anonymity because they weren't authorized to discuss the matter publicly.
In an interview with CTV's Question Period that aired on Sunday, David Cohen, the U.S. ambassador to Canada, confirmed "there was shared intelligence among Five Eyes partners that helped lead Canada to making the statements that the prime minister made."
He said he does not generally comment on "private diplomatic conversations," but added: "There was a lot of communication between Canada and the United States about this, and I think that's as far as I'm comfortable going."
This report by The Canadian Press was first published Sept. 26, 2023.
— With files from James McCarten in Washington and The Associated Press.
JPMorgan settles claims that it enabled Jeffrey Epstein's sex trafficking acts for $75 million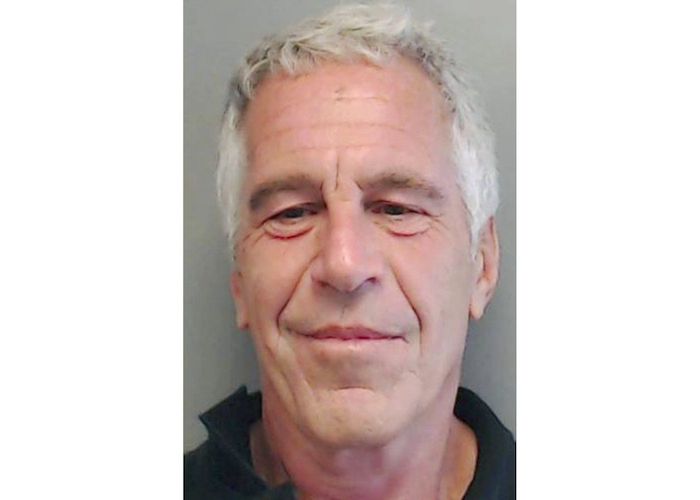 By Ken Sweet in New York
NEW YORK (AP) — JPMorgan Chase agreed Tuesday to pay $75 million to the U.S. Virgin Islands to settle claims that the bank enabled the sex trafficking acts committed by financier Jeffrey Epstein.
JPMorgan said that $55 million of the settlement will go toward local charities and assistance for victims. Another $20 million will go toward legal fees.
The Virgin Islands, where Epstein had an estate, sued JPMorgan last year, saying its investigation has revealed that the financial services giant enabled Epstein's recruiters to pay victims and was "indispensable to the operation and concealment of the Epstein trafficking enterprise."
In effect, the Virgin Islands had argued that JPMorgan had been complicit in Epstein's behavior and did not raise any red flags to law enforcement or bank regulators about Epstein being a "high risk" customer and making repeated large cash withdrawals.
The bank also said it reached an confidential legal settlement with James "Jes" Staley, the former top JPMorgan executive who managed the Epstein account before leaving the the bank. JPMorgan sued Staley earlier this year, alleging that he covered up or minimized Epstein's wrongdoing in order to maintain the lucrative account.
JPMorgan had already agreed to pay $290 million in June in a class-action lawsuit that involved victims of Epstein's trafficking crimes.
Epstein died by suicide in a federal jail in 2019.