Fight over Canadian oil rages on after pipeline's demise
BILLINGS, Mont. (AP) — The Keystone XL is dead after a 12-year attempt to build the oil pipeline, yet the fight over Canadian crude rages on as emboldened environmentalists target other projects and pressure President Joe Biden to intervene — all while oil imports from the north keep rising.
Biden dealt the fatal blow to the partially built $9 billion Keystone XL in January when he revoked its border-crossing permit issued by former President Donald Trump. On Wednesday, sponsors TC Energy and the province of Alberta gave up and declared the line "terminated."
Activists and many scientists had warned that the pipeline would open a new spigot on Canada's oil sands crude — and that burning the heavily polluting fuel would lock in climate change. As the fight escalated into a national debate over fossil fuels, Canadian crude exports to the U.S. steadily increased, driven largely by production from Alberta's oil sands region.
Even before the cancellation, environmentalists had turned their attention to other projects, including Enbridge Energy's proposal to expand and rebuild its Line 3 pipeline in Minnesota, the target of protests this week that led to the arrest of some 250 activists.
"Don't expect these fights to go away anytime soon," said Daniel Raimi, a fellow at Resources for the Future, an energy and environmental think tank in Washington. "This is going to encourage environmental advocates to do more of the same."
Bill McKibben, an author who was arrested outside the White House while protesting the Keystone XL in 2011, said its defeat provides a template to kill other pipelines, including Line 3 and the Dakota Access Pipeline from North Dakota's Bakken oil field.
Describing Keystone XL as "a carbon bomb," McKibben said Line 3 is the same size and "carries the same stuff. How on earth could anyone with a straight face say Line 3 passes the climate test?"
Enbridge said the cancellation of Keystone XL will not affect its projects, describing them as "designed to meet current energy demand safely and in ways that better protect the environment."
A second TC Energy pipeline network, known simply as Keystone, has been delivering crude from Canada's oil sands region since 2010. The company says the line that runs from Alberta to Illinois, Oklahoma and the Gulf Coast has moved more than 3 billion barrels of oil.
Canada is by far the biggest foreign crude supplier to the U.S., which imported about 3.5 million barrels a day from its neighbor in 2020 — 61% of all U.S. oil imports.
The flow dropped slightly during the coronavirus pandemic but has largely rebounded. Import volumes have almost doubled since the Keystone XL was first proposed in 2008, according to the U.S. Energy Information Administration.
The Canadian Association of Petroleum Producers said Thursday that it expects no immediate effect on production from Keystone XL's cancellation, but the group predicted more oil would be moved to the U.S. by rail.
A series of fiery accidents occurred in the U.S. and Canada after rail shipments of crude increased during an oil boom on the Northern Plains, including a 2013 incident in which 47 people were killed after a runaway train derailed in the Quebec town of Lac-Megantic.
The dispute over Keystone XL and other lines raised diplomatic tensions between the two countries, but Canadian Prime Minister Justin Trudeau adopted a conciliatory tone with Biden, who canceled the pipeline on his first day in the White House.
Canada uses much less oil than it consumes, making it a huge exporter, and 98% of those exports go to the U.S., according to the Natural Resources Canada.
Trudeau raised Keystone XL as a top priority with Biden while acknowledging that the president had promised in his campaign to cancel the line.
Both leaders have taken heat at home over Keystone, with Republicans slamming Biden for shutting it down while construction was underway, costing hundreds of jobs. The project was meant to expand oil exports for Canada, which has the third-largest oil reserves in the world, and provincial officials in Alberta wanted Trudeau to do more to save it.
The White House declined to comment on the cancellation. Spokesman Vedant Patel declined to say if Biden plans to address increased crude exports from Canada or intervene in other pipeline disputes.
His action on Keystone "signals at least some appetite to get involved," but pipelines that have operated for years would be tougher targets, Raimi said.
Winona LaDuke, executive director of the Indigenous-based environmental group Honor the Earth, called on Biden to withdraw an Army Corps of Engineers permit for Line 3 and to order a new study.
"He could stop the project," she said. "Don't ask us to be nice to Enbridge. They're all over our land. They're hurting us."
The Biden administration has been "disturbingly quiet" on Line 3 and the Dakota Access line, said Michael Brune, executive director of the Sierra Club. He urged the administration to declare both unacceptable.
Fiercely opposed by Native Americans, the Dakota Access pipeline was the impetus for protests that were quashed by law enforcement. The Biden administration has not sought to stop the line, and it's still in court after a judge revoked its permit but allowed oil to keep flowing.
Alberta sank more than $1 billion into Keystone XL last year to kick-start construction. Officials in the province are considering a trade action against the U.S. to seek compensation.
Keystone XL's price tag ballooned as the project languished, increasing from $5.4 billion to $9 billion.
Another question: What to do with pipe already in place at the U.S.-Canada border and other infrastructure along its route.
Jane Kleeb, a pipeline opponent in Nebraska, said state regulators should revoke the permit they approved for a route through the state. Otherwise, she said, TC Energy might try to sell the easements to another company.
Until the state acts, farmers and ranchers will continue to face TC Energy attorneys in court, "protecting their property from an eminent domain land grab by a foreign corporation," she said.
___
Daly reported from Washington and Flesher from Traverse City, Michigan. Rob Gillies contributed from Toronto and Grant Schulte from Omaha, Nebraska.
___
Follow Brown on Twitter: @MatthewBrownAP
Matthew Brown, John Flesher And Matthew Daly, The Associated Press
5 Reasons Why Canada Should Be a Global Oil Supplier of Choice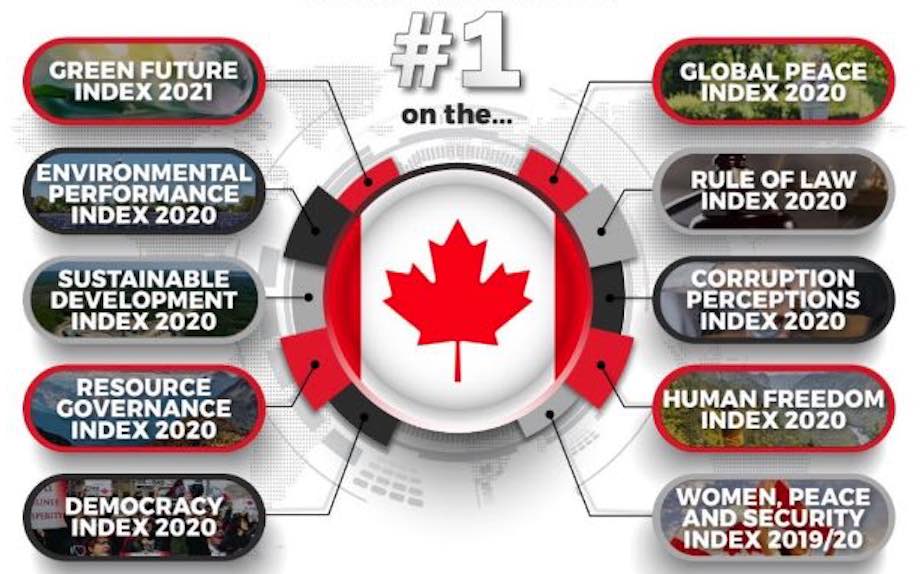 Post Submitted by Canada Action
#1 – Unprecedented Net-Zero Commitment
Canada's largest oil sands producers just announced an unprecedented commitment to reaching net-zero emissions by 2050!
The net-zero term – used to describe the process of removing all greenhouse gas (GHG) emissions by reduction methods – has become an increasingly important mandate for companies looking to continue attracting investment while participating in the transition to a lower-carbon future.
Accounting for about 90 per cent of oil sands production, the new five-member alliance is just one of many examples of why Canadian producers should be go-to oil suppliers of choice for buyers worldwide.
#2 – Continual GHG Emission Reductions
The emissions intensities of oil sands operations dropped by 36 per cent between 2000 and 2018due to fewer gas venting emissions, technological and efficiency improvements and reductions in the percentage of bitumen upgraded at national refineries says Natural Resources Canada.
Oil sands emissions intensities per barrel are also forecast by IHS Markit to drop another 16 to 23 per cent by 2030 due to continued innovation and technological advancement in the Canadian oil and gas sector.
This matters in an increasingly carbon-constrained world where going "green" has been put at the forefront of investors' minds around the globe. According to these standards, investment cash should be flowing into Canada in droves for its dedication to the sustainable production of its natural resources such as oil, natural gas and minerals to name a few.
#3 – Leader in Social Progress
Social Progress Imperative lists Canada as seventh out of 163 countries on its Social Progress Index 2020, outranking all other major global oil jurisdictions except Norway. The annual index examines a total of 50 social and environmental indicators across 12 major subcategories, including:
●
Nutrition & Basic Medical Care
●
Access to Basic Knowledge
●
Access to Information & Communications
●
Personal Freedom & Choice
●
Access to Advanced Education
If you value social progress, the choice is clear. Canada ranks number one out of all the world's top oil producers, exporters and reserve holders except for Norway and should be a global supplier of choice.
#4 – Carbon Pricing in a Carbon-Constrained World
Home to roughly 80 per cent of Canada's total oil production, Alberta is one of the few global oil jurisdictions with mandatory disclosures, regulated emissions protocols and carbon taxes on excess GHGs.
In 2007, the province also became the first jurisdiction in North America and one of the first in the world just behind the European Union to take climate action with mandatory GHG emission reduction targets for large industrial emitters across all industries.
To add, only 10.5 per cent of global crude oil production is subject to carbon pricing, of which about 40 per cent is accounted for by Canada (with ~4.2 per cent of global output).
Carbon pricing and mandatory GHG emissions protocols matter huge in a carbon-constrained world. Therefore, Canada's current policies indicate that it should be a choice supplier of oil and gas for decades to come.
#5 – A World-Class Regulatory Environment
Canada's oil and gas producers are subject to some of the most stringent regulations and governance standards for energy projects anywhere on the planet. It only makes sense that future oil and gas supply comes from highly transparent producers like Canada that practice environmentally conscious extraction and production techniques.
Shutting down Canadian pipelines carrying Canadian oil has not kept one barrel of oil in the ground. What this has accomplished, however, is the displacement of global market share to less environmentally conscious producers who, in many instances, have abysmal records on social progress indicators such as freedom of expression and other basic human rights.
More Oil & Gas in Canada
Canada Should Be a Supplier of Choice