FIFA picks 2026 cities, predicts soccer will be `No 1 sport'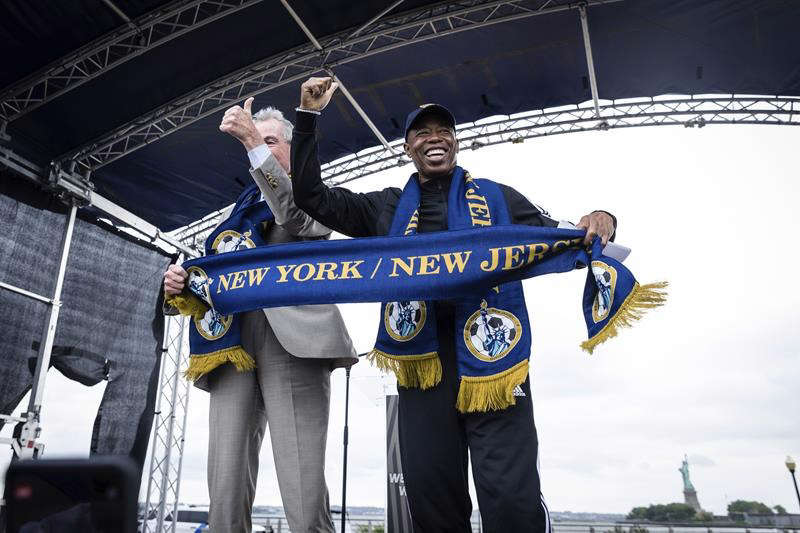 NEW YORK (AP) — The 16 cities of the first World Cup spread across three nations were revealed, and FIFA President Gianni Infantino made a bold statement summing up the goal of the 2026 tournament, to be played largely in the United States.
"By 2026, futbol — soccer — will be the No. 1 sport in this country," he proclaimed.
Roughly four years before soccer's showcase comes to the U.S., Mexico and Canada, there already were winners and losers Thursday: Atlanta, Houston, Miami, Philadelphia, Seattle and Kansas City, Missouri, were picked after missing out on hosting the 1994 tournament.
Baltimore, Cincinnati, Denver, Nashville, Tennessee, and Orlando, Florida, missed the cut.
Arlington, Texas; East Rutherford, New Jersey; Foxborough, Massachusetts, and Inglewood and Santa Clara, California, were the holdover areas from the 1994 tournament that boosted soccer's American prominence.
Mexico City's Estadio Azteca, which hosted the 1970 and '86 finals and will become the first stadium in three World Cups, was selected along with Guadalajara's Estadio Akron and Monterrey's Estadio BBVA.
Toronto's BMO Field and Vancouver, British Columbia's B.C. Place were picked while Edmonton, Alberta's Commonwealth Stadium was dropped.
Following the withdrawl of outmoded FedEx Field in Landover, Maryland, Baltimore's omission means this will be the first World Cup with no matches in the vicinity of a host's capital, though Infantino promised a fan fest on Washington's National Mall.
"The story is always who doesn't get chosen," U.S. Soccer Federation President Cindy Parlow Cone said.
Infantino's goal of reaching the top of U.S. sports appears to be quite a reach. The NFL averaged 17.1 million viewers for television and digital during its 2021 season, while the 2018 World Cup averaged 5.04 million in U.S. English- and Spanish-language television.
"I know it was giggles and laughs," Canada Soccer Association President Victor Montagliani said of the reaction to Infantino. "He wasn't joking."
The 1994 tournament set records with a 3.59 million total attendance and average of 68,991. The capacities of the 11 U.S. stadiums for 2026 are all 60,000 and higher.
"Will be much, much, much bigger," Infantino said. "I think this part of the world doesn't realize what will happen here in 2026. These three countries will be upside down. The world will be invading Canada, Mexico and the United States."
The bid plan envisioned 60 games in the U.S., including all from the quarterfinals on, and 10 each in Mexico and Canada.
Specific sites for each round will be announced later, and Infantino said world-wide television times were a factor for the final, which makes the Eastern and Central times zones more likely. FIFA has gradually moved back the kickoff time of the final from 3:30 p.m. EDT to 10 a.m. EDT for this year's tournament, which is 10 p.m. in Beijing.
The U.S. selections included none of the nine stadiums used at the 1994 World Cup. The Rose Bowl in Pasadena, California, and Orlando's Camping World Stadium were the only ones remaining in contention, and they were among the sites dropped in the final round.
New stadiums were selected in five areas used in 1994. AT&T Stadium in Texas replaced Dallas' Cotton Bowl; SoFi Stadium in Inglewood took over for Pasadena's Rose Bowl; and Levi's Stadium instead of Stanford Stadium.
Met Life Stadium in East Rutherford, New Jersey, and Gillette Stadium in Foxborough, Masschusetts, replaced torn-down stadiums that were adjacent, Giants Stadium and Foxboro Stadium.
Orlando's Camping World was dropped among existing 1994 venues. The Detroit area, where the old Pontiac Silverdome hosted games, was cut in 2018 and Baltimore's M&T Bank Stadium was dropped after FedEx Field in Landover, Maryland, dropped out. Washington's RFK Stadium was used in 1994.
Chicago, which hosted the 1994 opener at Solider Field, refused to bid, citing FIFA's economic demands.
In contrast to the 1992 site announcement during a news conference, the 2026 announcement was made during a televised show from Fox's studio in Manhattan.
___
More AP soccer: https://apnews.com/hub/soccer and https://twitter.com/AP_Sports
Ronald Blum, The Associated Press
US cities hope crime strategies keep homicide numbers dropping and prevent summer surge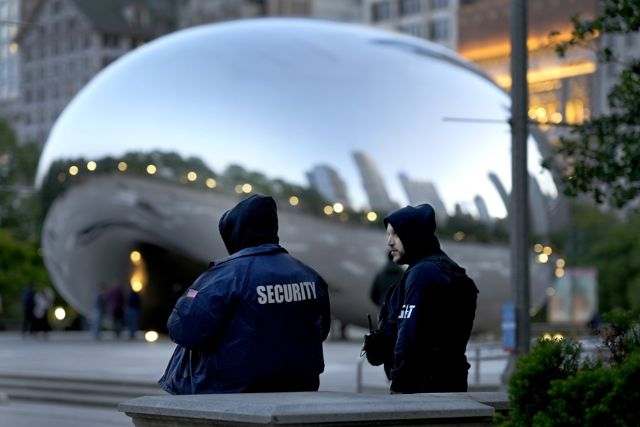 CHICAGO (AP) — An expected bump in violent crime this summer has mayors and police officials around the U.S. rolling out familiar strategies of making officers more visible and engaging with community groups, in some cases leaning on civilians to enforce curfews and keep the peace.
Chicago is among the U.S. cities under scrutiny following a mayoral race that focused on public safety in response to demands for change. Violence often surges during summer months, so this holiday weekend will undoubtedly ramp up pressure on Mayor Brandon Johnson's new administration to deliver short-term improvement along with the long-term strategies that the former union organizer advocated while campaigning to lead the nation's third-largest city.
"It's going to take all of us, not just the police, not just city government, to ensure that our communities can live and thrive in peace and safety," Johnson said at a lakefront press conference promoting the city's Memorial Day weekend strategy.
Most large U.S. cities are reporting fewer homicides this year, according to data collected by the Council on Criminal Justice, which created a Crime Trends Working Group this spring in hopes of providing more real-time information on crime.
The shift is a tentative reprieve following those spikes that began in 2020 and began to come down last year. The totals remain far higher than pre-pandemic reports and are "cause for serious concern but not for panic," said Thomas Abt, founding director of the Center for the Study and Practice of Violence Reduction at the University of Maryland.
"Where cities are seeing success, they're generally investing in a balanced approach that includes policing but … also supports community-based approaches," Abt said. "They have recognized the need for enforcement but also emphasize prevention and intervention."
Officials in Cleveland; Newark, New Jersey; and Philadelphia have announced summer plans to make officers more of a visible presence in locations where violent crimes have happened, while also promoting community efforts to prevent violence and provide alternative activities.
In Baltimore, city officials — not police officers — will enforce curfews on teenagers starting Friday and continuing through Labor Day weekend. The controversial policy has long been on the books but rarely enforced.
"We are going back to the old days," Baltimore Mayor Brandon Scott said in announcing the summer enforcement, after two teens were wounded as hundreds gathered on a Sunday night in the city's popular Inner Harbor district.
That shooting in April, which unfolded while officers were trying to break up a fight at the scene, added to a significant spike in youth violence, which has persisted even as overall shootings and homicides trend downward in Baltimore.
According to Scott's plan, non-law enforcement staff will approach children and teens violating the curfew policy on weekend and holiday nights. First, they'll encourage kids to go home, but if that doesn't work, the children will be brought to a youth engagement center that provides a supervised environment where they can hang out.
In Detroit, federal prosecutors are expanding efforts to help local police this summer by taking armed carjacking cases and business robberies in high-crime areas, in addition to certain gun crimes. Federal convictions typically bring longer sentences.
"The most dangerous people will be prosecuted immediately in federal court," U.S. Attorney Dawn Ison said Wednesday.
Following a half-dozen shootings — including one fatality — in the downtown Detroit area over one weekend in April, Police Chief James White instituted a crowd control strategy including increased police presence. Curfews for minors also will be enforced.
In Chicago, mayors face annual pressure to demonstrate a proactive approach to violent crime ahead of Memorial Day, the traditional kickoff to warm weather and summer events where crowds gather.
Johnson promised to move away from a policing-first strategy as he took office at the start of May, but he's also distanced himself from calls to cut money for policing. He chose a retired department veteran as interim police chief.
Federal data shows that Chicago's homicide rate remains lower than other Midwestern cities such as St. Louis and Detroit, with 211 killings reported so far this year, lower than the same period in 2022 and 2021.
Johnson's holiday weekend strategy includes making officers a visible presence, and even having them check bags at crowded beaches, parks and events. Police rushed to Chicago's North Avenue Beach on Friday afternoon after a report of gunshots following a large fight. The department said one juvenile was in custody but didn't provide more information. No injuries were reported.
Philanthropic and business groups have donated to anti-violence groups organizing events aimed at young people. And the state of Illinois has authorized a team of 30 "peacekeepers" — not police — who have training and experience in deescalating conflict, to roam Chicago aiming to prevent outbreaks of violence.
Community groups with similar strategies have operated for years across Chicago, focusing on specific neighborhoods or blocks with a history of violence. State officials said their team would be mobile and able to respond anywhere, including downtown, where large gatherings of teens during a warm April weekend ended with several shootings and other violence.
Norman Livingston Kerr led a Chicago anti-violence organization before he became assistant deputy mayor for public safety under Johnson's predecessor, Lori Lightfoot. He now consults with cities and nonprofits to develop anti-violence strategies that rely on deescalation or intervention. He's encouraged by signs that the city and state are committing long-term resources to efforts such as the peacekeepers program.
"This violence intervention work, it can take time for people to see it work and believe in it," Kerr said. "I'm not going to dwell on the fact it took years to happen; I'm going to say this is a new day."
Johnson has promised to give a variety of community organizations a larger role in his administration's public safety strategy and devoted much of Thursday's city presentation to promoting plans for basketball tournaments, neighborhood barbecues and karaoke contests.
Tamar Manasseh, founder of Mothers/Men Against Senseless Killings, said her organization has worked to prevent crime around a South Side intersection for nearly 10 years using "positive loitering." This weekend is no exception, with a neighborhood barbecue and other activities planned.
"We built a community center, our pop-up community center, in a vacant lot," Manasseh said. "And since then we've seen crime drop astronomically. And we feel like that can happen anywhere."
___
Associated Press writers Lea Skene in Baltimore and Corey Williams and Ed White in Detroit contributed to this report.
Latest GOP 2024 hopeful DeSantis 'blazing a trail' on book bans in Republican-controlled states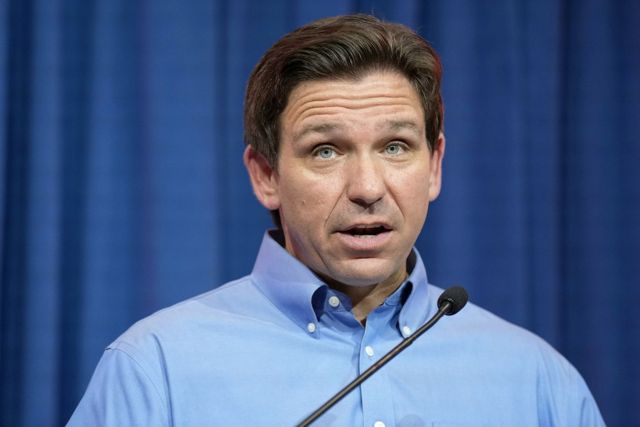 Florida last year became the first in a wave of red states to enact laws making it easier for parents to challenge books in school libraries they deem to be pornographic, deal improperly with racial issues or are in other ways inappropriate for students.
Books ensnared in the Florida regulations include explicit graphic novels about growing up LGBTQ+, a children's book based on a true story of two male penguins raising a chick in a zoo and "The Bluest Eye," a novel by Nobel laureate Toni Morrison that includes descriptions of child sexual abuse. Certain books covering racial themes also have been pulled from library shelves, sometimes temporarily, as school administrators try to assess what material is allowed under the new rules.
The day before DeSantis entered the presidential race earlier this week, a K-8 school in Miami-Dade County put the poem "The Hill We Climb" by Amanda Gorman on a restricted list for elementary students after a parent complained. The reasons for the objection to the poem, which Gorman read during President Joe Biden's inauguration, were not clear. The book version remains available to the middle school students, but Gorman criticized the decision to restrict it for younger grades, saying it robbed "children of the chance to find their voices in literature."
While efforts to ban books or censor education material have come up sporadically over the years, critics and supporters credit DeSantis with inspiring a new wave of legislation in other conservative states to regulate the books available in schools — and sometimes even in public libraries. The number of attempts to ban or restrict books across the U.S. last year was the highest in the 20 years the American Library Association has been tracking such efforts.
EveryLibrary, a national political action committee, said it's tracking at least 121 different proposals introduced in state legislatures this year targeting libraries, librarians, educators and access to materials. The group said 39 of those proposals would allow for criminal prosecution.
"He really is blazing a trail," said Tiffany Justice, the Florida-based co-founder of the conservative parents group Moms for Liberty, whose members have filed challenges to books in libraries in several states. "What Ron DeSantis does that I think is effective is he uses all the levers of power to make long-term change happen."
"Other governors," Justice said, "are paying attention and following suit."
In Arkansas, Republican Gov. Sarah Huckabee Sanders signed a law, set to take effect this summer, that could impose criminal penalties on librarians who knowingly provide "harmful" materials to minors. The law also would establish a process for the public to challenge materials and ask they be relocated to a section minors can't access.
"It's a perverse world when we're talking about trying to criminalize librarians," said Nate Coulter, executive director of the Central Arkansas Library System in Little Rock, which is expected to sue over Arkansas' law.
In Indiana, school libraries will be required by July 1 to publicly post a list of books they offer and provide a complaint process for community members under a law Republican Gov. Eric Holcomb signed this month. In Texas, a bill creating new standards for banning books from schools that the government considers too explicit has been sent to Republican Gov. Greg Abbott's desk.
In Oklahoma, the state school board has approved new rules that prohibit "pornographic materials and sexualized content" in school libraries and allow parents to submit formal complaints. The rules still must be approved by Republican Gov. Kevin Stitt.
DeSantis insists books aren't actually being "banned" in his state's schools, preferring to call the forced removal of some books "curation choices that are consistent with state standards."
"There has not been a single book banned in the state of Florida," DeSantis said during a live appearance on Twitter Wednesday when he announced his campaign. He later said "our mantra in Florida is education, not indoctrination."
Librarians, free speech advocates and some parents and educators say the push is driven by a small, conservative minority that happens to have outsized clout in Republican primaries, like the one DeSantis is now competing in.
"This is all part of his plan to run for president, and he believes his vilification of books and what's happening in public schools is his path to the presidency," said Andrew Spar, president of the Florida Education Association, the state's main teachers union.
Kasey Meehan, who directs the Freedom to Read program at the writers' organization PEN America, said that, when books are targeted in Florida, they later become the subject of complaints filed by parents in other states.
"It's something that continues to cause alarm for individuals who are advocating for the freedom to read or for a diversity of knowledge, ideas and books to be available to students across the country," Meehan said.
PEN earlier this month sued the Escambia school district in Florida over the removal of 10 books, including "The Bluest Eye" and "Lucky," a bestselling memoir by Alice Sebold about her rape when she was 18 years old.
There have been challenges to books in schools for decades — "The Bluest Eye" has been targeted in various states for years, long before DeSantis became governor. But the restrictions accelerated in Florida after DeSantis signed bills last year barring discussion of sexual orientation and gender identity in kindergarten through third-grade classrooms, a ban that has since expanded through 12th grade. He also created a mechanism for parents to challenge books in school libraries and has targeted how race is taught in Florida schools.
Many teachers and districts complain that the laws' standards are so vague they don't know what books might place them in legal jeopardy.
Michael Woods, a special education teacher in Palm Beach, said new rules compelling him to catalog books in his classroom led him to empty a small library he set up where students could choose to read something that interested them. Now those volumes are stored in a box he's stashed in his closet for fear of getting in trouble.
"That kind of positive connection to reading is no longer there," he said.
The individual challenges to books might be coming from a fairly narrow segment of the population, according to PEN and the American Library Association, which track requests to pull books. The library association said 40% of all requests challenged 100 or more books at a time.
Raegan Miller of Florida Freedom to Read, a group fighting the book restrictions, said she has talked about education issues with fellow parents of all political persuasions for years, and no one has ever complained about inappropriate material in their children's schools. She contends the issue has been ginned up by a small group of conservative activists.
"Do you really think we are all just happily dropping our kids off at Marxist indoctrination and pornography?" Miller said. "You only hear this stuff at school board meetings."
Moms for Liberty, which boasts 285 chapters, has a strong presence at school board meetings in the state and nationwide. It also has successfully backed several candidates for school board.
Justice, the group's co-founder, notes the books are still available in public libraries and through booksellers. The question, she said, is whether it's appropriate for taxpayer-funded schools to provide them to children.
Some books don't belong in certain settings, she said: "A seminary library would have different books than a medical school library."
It's the local, elected officials, she added, who should determine what's appropriate.
"That's representative government," Justice said.
___
Associated Press writers Sean Murphy in Oklahoma City and Arleigh Rodgers in Indianapolis contributed to this report.