Feds will increase annual health transfer and offer targeted funding with conditions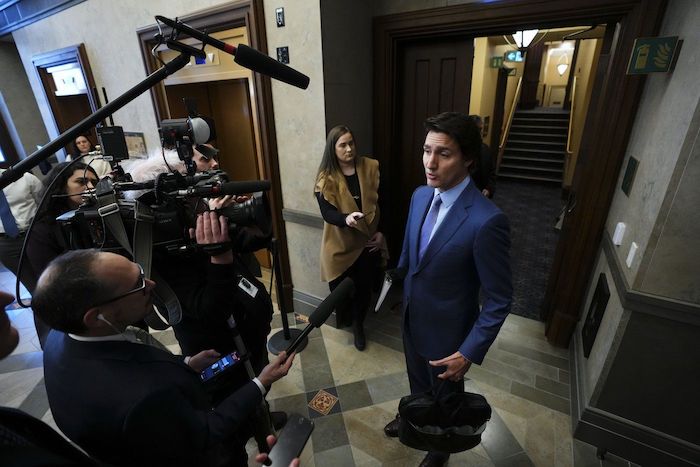 By Mia Rabson, Laura Osman and Mickey Djuric in Ottawa
Prime Minister Justin Trudeau will offer the provinces a "significant" increase to the Canada Health Transfer and additional money if they agree to one-on-one deals targeting specific problem areas in the health-care system.
A senior government official with knowledge of the plan said Trudeau will lay out a 10-year offer when he meets with the country's 13 premiers in Ottawa on Tuesday.
The Canadian Press agreed to grant the official anonymity because they were not authorized to speak publicly about the matter.
They said the offer will include a top-up to the annual Canada Health Transfer, which Ottawa sends to the provinces each year with very few strings attached. This year Ottawa transferred $45 billion, which amounts to 22 per cent of what the provinces budgeted for health care.
The premiers want Ottawa to fund 35 per cent, which this year would have required $26 billion more.
Trudeau will offer more money to provinces that make one-on-one deals in specific areas, and with accountability measures attached such as setting targets for improvement and data sharing.
Health Minister Jean-Yves Duclos has previously said the federal government's priority areas include improving access to family doctors, better mental health care, cutting surgical backlogs and a massive improvement to data collection and sharing.
The government's offer will be made public but not until after it's given to the premiers on Tuesday.
Manitoba Premier Heather Stefanson, who is currently the chair of the premiers' group known as the Council of the Federation, said the fact premiers haven't seen any details yet is frustrating.
"If we had it ahead of time we could have had a more fulsome discussion tomorrow," she said. "There's no question about that."
She wouldn't say if the premiers are flexible on the 35 per cent ask, or what concessions or strings they are open to.
"We want to see what the proposal will look like," she said. "We'll go in with an open mind and then we'll go from there."
Trudeau said his government doesn't expect to sign the same deal with every province.
"We recognize that different provinces have different needs and different priorities, and that flexibility is an important part of our responsibility," he said Monday.
After Tuesday's talks, Duclos and the provincial health ministers will meet to keep working out the details. There is no specific deadline but the hope is that a new deal will be in place before the next federal budget, which is generally tabled in the early spring.
The federal official said one of Ottawa's key asks is that the provinces agree to common indicators and the collection and sharing of data, both with other provinces and with Canadians. They said it's needed to better understand the extent of the problems and to be able to measure progress.
Former health minister Jane Philpott, who was in charge of the file in 2017 when the last federal-provincial health talks took place, said Monday that is a critical element of any successful plan.
In 2017, Ottawa signed bilateral deals with each province and territory to flow $11.5 billion over 10 years to improve mental health care and home care. The deals included an agreement that the provinces would annually report some common indicators. While that has happened, the data is often incomplete and assessing progress is difficult.
"As I look back on that, I would say that the agreements were not as specific as they could have been, and I think that's the lesson to be learned on this round," Philpott said.
"When the federal government puts more money on the table, there needs to be accountability for how that money is spent. I think this time I would advise being much more specific about those expectations and potentially even using legislative tools to be able to ensure that the outcomes will be what they need to be."
She said that could include clawing back money if provinces don't meet their obligations.
Philpott said the lack of information about how the health-care system is performing is a major issue, as is the lack of hard targets for progress.
An estimated six million Canadians don't have access to a family doctor or primary care team, and Philpott said a hard target should be to make sure every Canadian has access within five to seven years.
But to do that we'd need to know a lot more about the doctors we have, where they are, and how many hours they work.
"We don't actually know how many practising family doctors there are in the country, which is a shocking thing," she said.
Health workers' unions and associations began ringing alarms about the dwindling number of health-care professionals in the early days of the pandemic. Since then, worker burnout has turned a bad situation into a crisis. They say without a long-term plan to shore up their ranks there is little that can be done to improve the state of health care in Canada.
NDP Leader Jagmeet Singh said Monday "any agreement that does not include clear commitments to hire more front-line health care workers would be a failure."
The Conservatives have been hesitant to comment before seeing Trudeau's offer but are concerned about the cost.
"What we've seen over the last eight years is that Justin Trudeau has thrown money at all kinds of different challenges and, in general, things are getting worse," said Conservative MP Garnett Genuis Monday.
"When we see a proposal from the government we'll review it, we'll see whether the government's actually going to get us out of the failures they've caused."
This report by The Canadian Press was first published Feb. 6, 2023.
Police investigating how shooter got firearm after autopsy and balistic analysis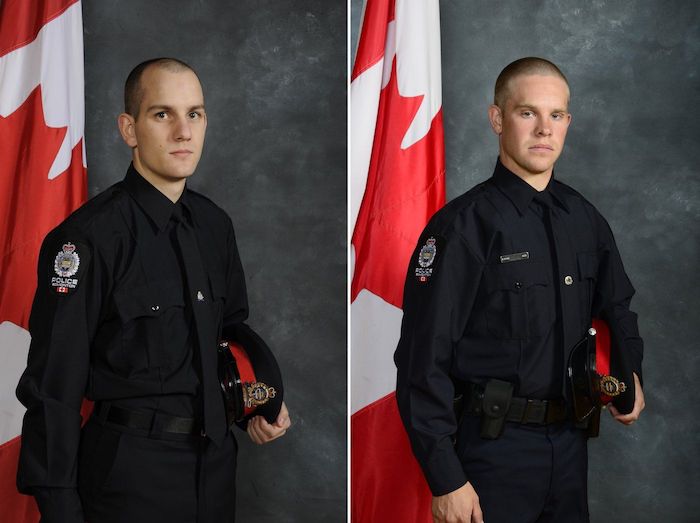 News release from the Edmonton Police Service
Autopsy on shooter, ballistic analysis complete in line of duty deaths
An autopsy on the shooter and ballistic analysis of the firearm have been completed in the Mar. 16, 2023 EPS line of duty deaths.
The Edmonton Medical Examiner conducted an autopsy on Mar. 22, 2023, and confirmed that the 16-year-old male shooter's cause of death was a single gunshot wound to the head consistent with being self-inflicted.
"We recognize that there is intense public interest in this investigation," says EPS Deputy Chief Devin Laforce. "At this time, our priorities need to be the integrity of ongoing investigations, including the origin of the firearm, as well as the safety and privacy of all the families affected by this tragedy. For these reasons, we are not releasing or confirming the name of the deceased."
A bullet casing recovered from the scene of a Mar. 12, 2023 shooting at a nearby restaurant in the area of 133 Street and 114 Avenue has been forensically matched to the firearm that was recovered at the 132 Street and 114 Avenue apartment, where Constable Brett Ryan and Constable Travis Jordan were fatally shot on Mar. 16, 2023.
Investigators believe the suspect in the Mar. 12 shooting to be the same 16-year-old male responsible for the deaths of the two EPS members, although this has yet to be confirmed. Detectives are also working to trace the origins of the firearm and how it came to be in the youth's possession.
At this time, investigators continue to believe that the youth's parents, police dispatch and Constables Ryan and Jordan had no information to suggest there was a firearm in the home when the family dispute call for service was made on Mar. 16.
"Both events have been served by robust investigations that have followed all lines of inquiry," says Deputy Chief Devin Laforce. "All tips and other investigative avenues were pursued exhaustively by the investigating teams."
The male shot on Mar. 12 in the restaurant remains in hospital in critical but stable condition, and the youth's mother who was shot on Mar. 16 remains in hospital in serious but stable condition.
Search of four Edmonton homes results in Cocaine and Meth bust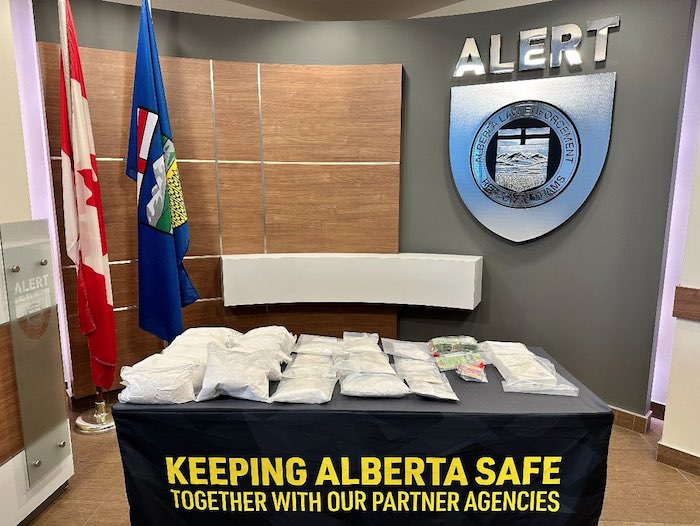 News release from the Alberta Law Enforcement Response Team (ALERT)
Cocaine seized after four Edmonton homes searched
More than two kilograms of cocaine, cash, and four vehicles have been seized following an ALERT Edmonton investigation into cocaine trafficking.
The investigation began in October 2022. Police were able to identify four homes and four vehicles linked to the drug trafficking operation.
"Through the course of this five-month investigation, officers were able to identify several suspects, and seized several pieces of equipment which were being used to produce large, commercial-sized quantities of product. This tells us that this was a much bigger, sophisticated operation," said Sgt. Jeff Woodliffe, ALERT Edmonton.
On February 23, 2023, police searched four homes and seized the following items as evidence:
2.6 kgs of cocaine;
28 grams of methamphetamine;
10 kgs of a cocaine buffing agent; and
$11,000 in cash.
The investigation remains ongoing as investigators prepare reports and disclosure for Crown Counsel.
The Edmonton Police Service assisted throughout the investigation.
Members of the public who suspect drug or gang activity in their community can call local police, or contact Crime Stoppers at 1-800-222-TIPS (8477). Crime Stoppers is always anonymous.
ALERT was established and is funded by the Alberta Government and is a compilation of the province's most sophisticated law enforcement resources committed to tackling serious and organized crime.