Feds to begin talks on high frequency rail with Indigenous groups, private sector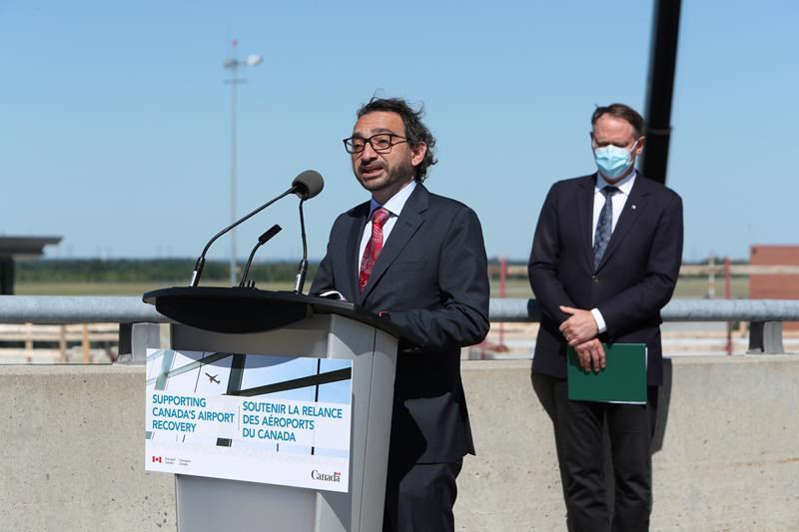 QUEBEC — The federal government said it's taking the first steps in building a long-awaited high frequency rail line along the Toronto to Quebec City corridor.
Transportation Minister Omar Alghabra said during a press conference Tuesday in Quebec City the government is now looking to engage with Indigenous groups and the private sector for feedback about the projected line that would connect Quebec City to Montreal, Ottawa and Toronto.
"Canada is a big country and we have a lot of ground to cover," he said. "Quebecers and all Canadians deserve a fast and reliable train service."
The final cost of the new line could range from $6 billion to $12 billion depending on the length of the building process, he said.
Officials are also set to begin dialogue with partner railways to negotiate dedicated routes in and out of the major cities.
Alghabra said the new line will provide more reliable service, aiming to bring Via Rail's on-time arrival performance to 95 per cent from the current average of 67 per cent.
"Up to 90 per cent of the new service will run on electricity," he said. "This will help encourage travellers to shift to rail from modes of transportation that produce more pollution."
Improvements will also allow the number of daily departures to triple and Alghabra called the upcoming train line one of the largest infrastructure projects in Canada in decades.
The request for proposals for the procurement process is expected to launch this fall and the target end date for the project is 2030.
Earlier this year, the government earmarked nearly $500 million over the next six years in the federal budget for Via Rail Canada to make infrastructure investments into the rail project.
The budget also set aside $4.4 million this year to support Transport Canada and Via Rail's work to "de-risk" the project.
This report by The Canadian Press was first published July 6, 2021.
– – –
This story was produced with the financial assistance of the Facebook and Canadian Press News Fellowship.
The Canadian Press
Beaver Lake Cree Nation to prove anew it needs funding for suit against feds, Alberta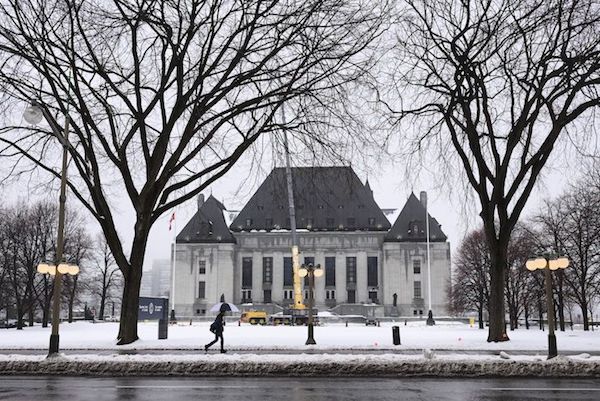 Ottawa-An Alberta First Nation fighting what it calls overdevelopment of its traditional territory has been given a second chance to convince the courts that governments should advance money for its legal bills so it can spend the revenues it has on social needs.
In a decision released Friday, the Supreme Court of Canada overturned a ruling from Alberta's top court that Beaver Lake Cree Nation wasn't entitled to advance funding for its long-running legal case. The Supreme Court said the band was entitled to put first priority for the money it had on "pressing needs."
"Allocating resources to improve deficits in housing, infrastructure, and basic social programming would, from the perspective of this First Nation government, constitute the addressing of pressing needs," the court's judgment said.
"We therefore disagree with the Court of Appeal inasmuch as it suggests that expenditures thereon represent 'spending on desirable improvements' rather than spending on pressing needs."
But, in a unanimous decision, the court also said Beaver Lake has to go back to a lower court and work harder to prove the band's needs are so great it can't be expected to also fund its court action.
"There was no specific account of how much it would cost to address Beaver Lake's pressing needs, or why no other resources were available to meet those needs," the judgment said.
The First Nation filed the lawsuit against the federal and Alberta governments in 2008, arguing the Crown had allowed so much development on the band's traditional lands that it was impossible to exercise treaty rights or to live a Cree life.
"There are multiple places we can no longer go to," said band spokeswoman Crystal Lameman. "There are multiple examples of roads that are no longer accessible, trails that are no longer accessible, by way of lease pads or no trespassing signs put up by industry.
"There are species of medicines and flora and fauna that we can no longer find."
The First Nation has already paid $3 million to fund its lawsuit. It has argued it doesn't have enough money to keep the case going until its scheduled trial date in 2024.
The total cost of litigation is estimated to be $5 million.
Lawyer Karey Brooks, who represented Beaver Lake, said the decision lays down clear guidelines for courts to follow in deciding whether a First Nation should get their legal bills paid in advance.
"It leaves a road map that all First Nations that are seeking such an award will have to follow. It's very clear."
The court held that a First Nation government's own ideas about what constitutes a pressing need should be considered in such judgments.
"Pressing needs are not defined by the bare necessities of life," it wrote. "Rather, and in keeping with the imperative of reconciliation, they ought to be understood from the perspective of that First Nation government."
Fourteen years into its lawsuit, Beaver Lake now has to go back into its books and return to Court of Queen's Bench, where the action began, to make the case that it can't afford to both support its people and defend its treaty rights.
"We're not happy about it, but we welcome this exercise," Lameman said. "We know this is not a full win, but this is a victory."
A spokeswoman for the Alberta government's Indigenous Relations department said it's pleased with the decision.
"Alberta's government is pleased that the Supreme Court of Canada has … provided additional clarification on the legal test that determines the First Nation's ability to pay costs," said Olga Michailides in an email. "We continue to work with Beaver Lake Cree Nation to ensure community members can participate in Alberta's economy."
Comment from the federal government was not immediately available.
Lameman said the costs and court time could be avoided by negotiation.
"We have repeatedly gone to the Crown to ask them to negotiate a resolution to costs and a resolution to the overall treaty case. Each and every time, they have denied."
This report by The Canadian Press was first published March 18, 2022.
Line 3 replacement helps Native American community curb poverty, says Indigenous business owner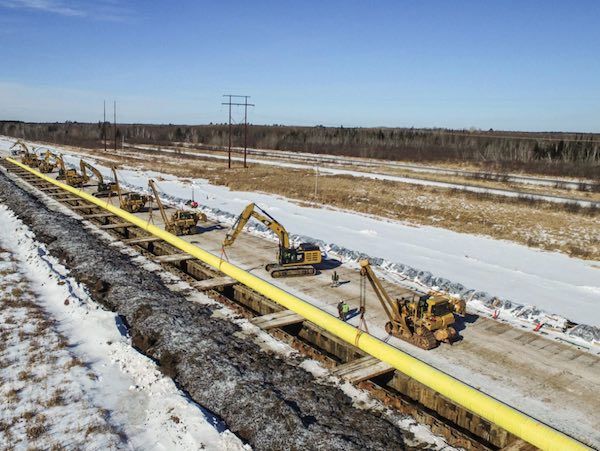 'We wanted to let other people know that all the Native Americans don't oppose the pipeline'
Article from the Canadian Energy Centre
On the White Earth Reservation in northwest Minnesota, Matt Gordon takes great pride that his family's Native American-owned construction company is able to help workers support their families in a region where 21 per cent of the population lives in poverty.
Gordon Construction is working on Enbridge's Line 3 Replacement Project, and that ongoing work is helping provide vital jobs and income for a region that has seen its share of struggles.
The company has over 150 employees, 60 of whom are recognized federally as Native Americans, Gordon says. Of the other 90 employees, many are married to a Native American member, supporting a Native American family, or living on the reservation.
"All that money stays on the reservation. One guy that works or one lady that works, they take care of not only their children or their significant other or spouse, they take care of their aunt or their grandma. It's a big web is what they take care of," he says.
"These are union jobs for a lot of these people. You get hours built up and good health insurance. You don't have to go to Indian Health anymore. You have a retirement after you're vested and you have a sustainable income."
Activist hypocrisy
After anti-pipeline activists wreaked havoc on a worksite earlier this month, Gordon and five fellow Native American business leaders working on Line 3 released a joint letter calling out activists in part for "intentionally creating a false narrative that there is no Native American support for this project and the economic impacts and opportunities it brings to our people."
The work of Native Americans employed by Gordon Construction and other companies were disrespected and put on hold when protestors descended on the work site, claiming to be defending the environment and Indigenous rights.
"They ended up not only damaging our equipment, they put gravel in our fuel tanks, in our hydraulic tanks, flattened all the tires. They essentially took that place over for almost 24 hours. They just left garbage everywhere," Gordon says.
"It's a touch of irony how these people are coming in to say they're there for the environment, but then it's just total chaos and anarchy and then they leave a mess. It took three days for that place to be cleaned up before we could go back to work."
Gordon says the letter was also a reminder that there's not universal opposition to Line 3 from Native Americans.
"We wanted to let other people know that all the Native Americans don't oppose the pipeline," Gordon says.
"It's a good thing all the way around up in the northwest Minnesota corridor."
Early advocate for Line 3
From his office window in the small town of Mahnomen, where his family has been for generations, Gordon often sees oil trains rolling by. It's an ongoing reminder of both the power of U.S. oil demand and the risks of transportation without pipelines.
"We see oil coming up and down every day. It's not going to stop just because one pipeline shuts down," he says. "Pipelines are indisputably safer."
Gordon was an early advocate of the Line 3 project, having previously worked with owner Enbridge including doing pipeline integrity digs for safety inspection on the existing pipeline.
"Essentially they have a structure set up on safety and environmental similar to that of working for the government, but I would say it's even more stringent," he says.
"My big thing of it is that they are a fair company. They work with you and they're not trying to bankrupt you or make you lose money. They want you to succeed because if you're a success, they're a success."
Benefits in Mahnomen
Mahnomen County, inside the White Earth Reservation, has the lowest per capita income in Minnesota. It's about $21,000 per year, according to the U.S. Census Bureau.
Gordon says that working pipelines, community members are able to make much more.
"You're looking at guys that are working 60 hours a week, anything after eight hours a day is overtime, and all these guys are bringing home $2,500, $3,000 a week, which is huge to a lot of people in the community. Pretty proud of that fact."
In addition to its contracts on the new Line 3, Gordon Construction is looking forward to supporting decommissioning and reclamation of the existing pipeline.
"Not only are we working now, but we'll be working in the future when they're doing the decommissioning of the line and shutting the old line down with final restoration. That'll be a two to three year project," Gordon says.
"We'll have 40 to 60 guys dedicated to the final restoration portion after the line is done. And then you have the decommissioning aspect, and we're trying to help support that process also."