Feds lift border vaccine mandates, mandatory masks on planes and trains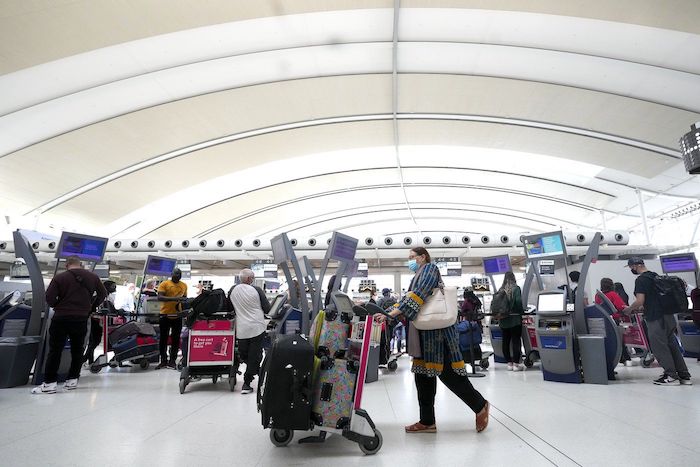 OTTAWA — The final vestiges of COVID-19 restrictions at Canada's borders will be lifted on Saturday, as federal ministers announced Monday the end of mandatory vaccination, random tests, quarantine, use of the ArriveCan app and masks on planes and trains.
The Liberal government will not renew the cabinet order maintaining COVID-19 border measures when it expires on Sept. 30, but Health Minister Jean-Yves Duclos once again warned that pandemic restrictions could be brought back if they are needed.
Duclos said Monday that the federal government has learned throughout the course of the pandemic which types of measures work.
"We will therefore leave open all possible options when it comes to protecting the health and safety of Canadians," he said at a news conference.
The changes mean foreign nationals will no longer require an approved series of vaccinations to enter the country.
Canada-bound travellers will also no longer be subject to random COVID-19 tests, and unvaccinated Canadians will not need to isolate when they return to the country.
Cruise passengers will not have to do pre-board tests or prove they have been vaccinated.
The controversial ArriveCan app will not be mandatory when the order expires.
"Going forward, use of ArriveCan will be optional, allowing travellers who so choose to submit their customs declaration in advance at major airports," said Public Safety Minister Marco Mendicino.
So far that option is available at international airports in Toronto, Montreal and Vancouver, but that will be expanded to include Calgary, Edmonton, Winnipeg, Ottawa, Quebec City, Halifax and Billy Bishop Toronto City Airport.
With the cabinet order gone, travellers will not have to self-monitor or report symptoms of COVID-19 anymore but they are still instructed not to travel when sick.
COVID-19 is still considered a communicable disease under the Quarantine Act, and federal officials say travellers who become sick en route or when they arrive in Canada should flag a flight attendant, cruise staff, or a border services officer.
"Border agents and public health officials have the ability to keep screening people and advise them on the right things to do if they happen to be infected with COVID-19 or other diseases," Duclos said.
"If people enter Canada and find out that they have been infected with COVID-19 then they will need to follow local public health measures."
People who already started their quarantine or testing regime in the 14 days before Oct. 1 will not have to continue once the changes come into effect.
The five federal ministers making the announcement said the changes are informed by science and epidemiology, adding that modelling indicates the peak of the latest wave of the disease has "largely passed."
But they did face questions about whether the move is at least partially politically motivated as the Liberals contend with the newly elected Opposition leader, Pierre Poilievre.
Duclos said public health data suggests COVID-19 cases imported into the country by travellers are having a minor effect on the epidemiology in Canada.
"There was a sense that these border measures were no longer effective, or no longer justified in the circumstance that we're in right now," Prime Minister Justin Trudeau said Monday at a separate news conference on Parliament Hill.
He said the best way to fend off the possibility of reinstating border restrictions is for people to get their COVID-19 booster shots.
"The more Canadians choose to get vaccinated, the more people get up to date on their shots, the more resilient we will be as a country to any future waves of COVID and therefore less disruptions people will have to see in their lives," Trudeau said.
The pandemic is not over, Trudeau said, and encouraged anyone who thinks so to visit a hospital "where we still see the impact of people struggling with COVID-19."
The Public Health Agency of Canada still strongly recommends that people wear masks, particularly in crowded environments such as planes and trains.
"The science is clear: wearing a mask is clearly a means of personal protection that is extremely effective," said Dr. Howard Njoo, Canada's deputy chief health officer.
"I hope Canadians will make an enlightened decision about this."
Duclos said the negative attitudes of some passengers have made things very difficult for airlines and crews to enforce the mask mandate in recent months, and cited that as a factor in the decision.
"The transmission of the variants of COVID are domestic-based, for the most part, and therefore, this is what we should stress: masking is highly recommended … but it is not something that can be, in a sense, forced."
That is a change in messaging from earlier in the summer, when the government and public health officials insisted that maintaining measures at the border was necessary to track and prevent the introduction of new variants.
Mendicino said there have been 38 million entries at the border in 2022 so far, more than double the number in all of last year. "We want to keep that momentum going."
In the United States, New York Republican Rep. Elise Stefanik went so far as to claim a measure of credit for the decision, which came "following my advocacy," she said in a statement.
"Our northern border communities have suffered enough from the prolonged closure and restriction to travel," Stefanik said. She also took an obligatory jab at the president, who declared the pandemic "over" in a recent "60 Minutes" interview, in calling for prompt reciprocal action south of the border.
"Even though Joe Biden has admitted that the pandemic is over, he continues to fail to drop the vaccine mandate for travel across the northern border into the U.S., failing our northern border communities as a result."
Border-state Democrats, including New York Rep. Brian Higgins and Montana's Sen. Jon Tester, are also among the congressional voices urging the Department of Homeland Security to follow Canada's lead.
White House officials have refused to say if the U.S. rules will change any time soon. DHS officials did not immediately respond to media inquiries Monday.
This report by The Canadian Press was first published Sept. 26, 2022.
— With files from James McCarten in Washington
Laura Osman, The Canadian Press
'Freedom Convoy' trial resumes with questions for mayor's chief of staff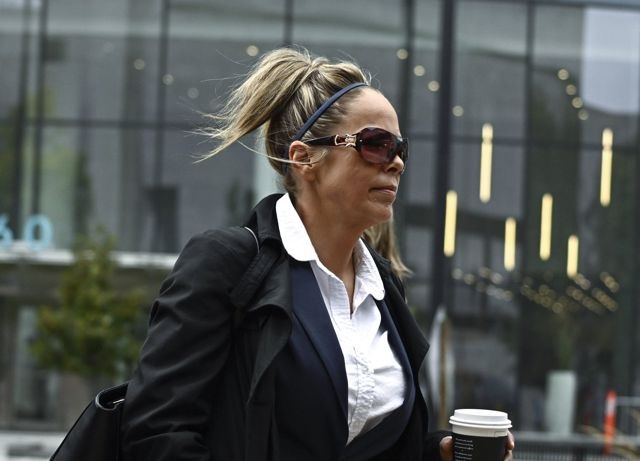 Tamara Lich arrives for her trial at the courthouse in Ottawa, on Tuesday, Sept. 19, 2023. Lich and fellow Freedom Convoy organizer Chris Barber are charged with mischief, obstructing police, counselling others to commit mischief and intimidation.THE CANADIAN PRESS/Justin Tang
Ottawa
The chief of staff for former Ottawa mayor Jim Watson is expected to continue his testimony in the trial of two "Freedom Convoy" protest organizers today before the court takes a two-week break.
Serge Arpin was involved in the mayor's deal with convoy organizers Tamara Lich and Chris Barber to move trucks off of residential streets last year.
Arpin and the mayor hoped the deal would result in some 400 trucks moving out of residential neighbourhoods and onto the street along Parliament Hill as the protest went on for weeks.
Lich and Barber are on trial for alleged mischief and counselling others to commit mischief, intimidation and other offences during the protest.
Friday was initially expected to be the final day for the Crown to present its case against them, but legal arguments and other delays have put the court well behind schedule, and Arpin is only the fourth of 22 Crown witnesses expected to testify.
The court is looking for more dates to finish the Crown's case and leave time for more legal arguments at the end of the trial.
This report by The Canadian Press was first published Sept. 22, 2023.
Notes suggest city considered leaving trucks on Wellington indefinitely, court hears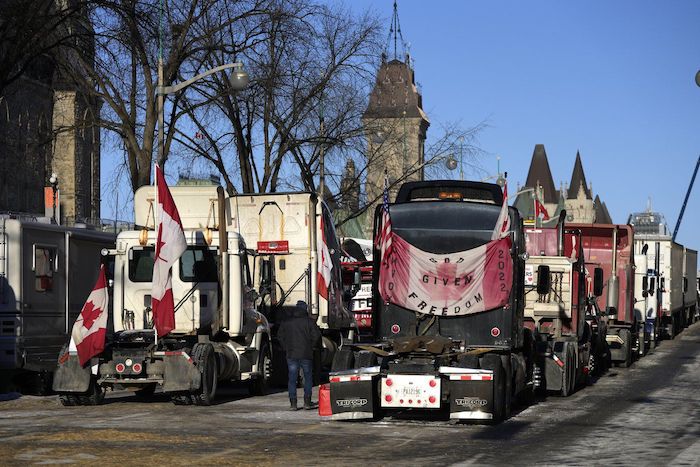 The City of Ottawa's emergency services manager took the stand for the third day in a row in the criminal trial of two 'Freedom Convoy' organizers. Kim Ayotte, general manager of emergency and protective services at the City of Ottawa, arrives at the courthouse in Ottawa where he will appear as a witness at the trial of "Freedom Convoy" organizers Tamara Lich and Chris Barber, on Tuesday, Sept. 19, 2023. THE CANADIAN PRESS/Justin Tang
By Laura Osman in Ottawa
Notes taken during a meeting between city employees and "Freedom Convoy" protesters show the City of Ottawa entertained allowing big-rig trucks to remain on the street along Parliament Hill indefinitely, the court heard Thursday.
The notes were produced by the defence during the criminal trial of two convoy organizers, Tamara Lich and Chris Barber. They had struck a deal with then-mayor Jim Watson to move trucks out of residential neighbourhoods and onto Wellington Street during the protest last year.
The city's emergency services manager, Kim Ayotte, met with several convoy organizers and other city staff over pizza on Feb. 13 to go over the details and come up with a plan.
Barber was among the protest organizers in attendance.
"Kim Ayotte produced maps and outlined the area on Wellington that the city is agreeable to stage trucks indefinitely," said minutes of that meeting, which were filed as evidence in court.
Ayotte told the court Thursday that police never agreed to stage the trucks indefinitely, and that was not part of the deal.
"Police were in the room and they did not agree to that," Ayotte said on the witness stand.
Ayotte took notes throughout the protest, but didn't make any during the meeting. He said he understood the meeting to be an informal attempt to build relationships with the protest organizers.
The agreement was brokered between Watson and Lich by Dean French, the former chief to staff to Premier Doug Ford, Serge Arpin told the court Thursday. Arpin served as Watson's chief of staff at the time.
The mayor offered to meet with protesters and hear out their concerns if they could show significant progress on moving the trucks.
Ayotte said he considered the agreement they struck a success on Feb. 14, when Barber reported to Ayotte that he had worn himself out moving 40 trucks.
Those efforts stopped on Feb. 15 after an incident between police and protesters.
"We had little troubles this morning in communication with some city police," Barber wrote to Ayotte in a text message sent Feb. 15. The message was filed as evidence in the trial.
"Kinda put things on hold till issues are resolved."
Ayotte reached out to his point person with the police, acting Supt. Robert Drummond, but said the police gave him limited information about why the deal fell through.
A text message exchange filed as evidence to the court shows Drummond initially told Ayotte that the police liaison team would check in with the truckers on Feb. 15 "to see if there are any more takers, but the groups are very fractured."
Later that morning, Drummond said police would not be helping to move any more trucks, except for those of protesters who wanted to voluntarily leave the city.
Arpin said the city was aware that there were various factions in the convoy, but French had told him that Lich and Barber were part of the "broad, moderate leadership."
That day of the meeting with convoy organizers over pizza, Ayotte signed an affidavit in support of the city's request to the Ontario Superior Court for an injunction against people who violated city bylaws.
Lawrence Greenspon, the lawyer representing Lich, said Ayotte's affidavit did not mention the agreement by convoy organizers to reduce the footprint of the protest zone that had been struck earlier the day.
In response to questioning by Greenspon, Ayotte also confirmed that no one with the City of Ottawa mentioned the coming injunction application to protest organizers who attended the pizza meeting.
Barber's lawyer, Diane Magas, said the tone of the affidavit suggested that demonstrators were not co-operating with the city or police at all.
"But that's not quite true," Magas said, pointing to the co-operative effort to move trucks that they agreed to in a meeting with him hours before he signed the document.
Justice Heather Perkins-McVey asked if Ayotte revised his affidavit at all in light of the plan he made with protest organizers. He said he did not, and he viewed them as "two separate issues.
Arpin's testimony is expected to continue Friday.
This report by The Canadian Press was first published Sept. 21, 2023.