Feds face calls for inquiry into military's handling of Iraq war crime reports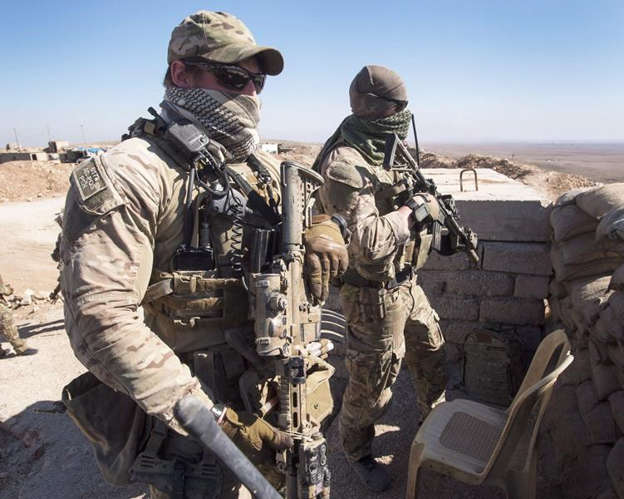 OTTAWA — The federal Liberal government is facing calls for an independent inquiry following allegations the military failed to respond to a complaint three years ago that Iraqi forces being trained by Canadian troops had committed war crimes.
NDP defence critic Randall Garrison suggests the complaint and concerns about the vetting of other Iraqi forces working with Canada are part of a disturbing pattern going back at least a decade, which is why he believes an independent probe is needed.
"What I've seen over time is that rank and file Canadian troops and lower levels of the officer corps have brought these issues to the attention of senior leaders, and senior leaders appear to have a pattern of telling people just not to pay attention," he said.
"Why is that happening? I think there needs to be an independent inquiry. Is this the fault of certain senior leaders? Or is there something systemic here that causes us not to uphold international (law) and even our own national law?"
Military police are currently investigating the handling of an incident in September 2018, where Canadian soldiers were helping with the enrolment of 270 Iraqi troops for a U.S.-led training mission near the northern city of Mosul.
An internal report obtained by The Canadian Press and first reported on by Postmedia says the Canadians were shown videos of war crimes and human rights violations being perpetrated by the Iraqi troops they were there to train.
Yet when the Canadians raised the issue with their commanders, according to the report, they were told the matter would be dealt with and that they were to ignore the videos and "carry on."
One of the soldiers involved said he tried to raise the issue with his commanders on three different occasions, but that he and other members of his unit "remain uncertain whether appropriate action was effectively taken."
A separate, secret memo obtained by The Canadian Press shows then-defence chief general Jonathan Vance was warned in January 2020 that the vetting of Iraqi security forces with whom Canadian troops might have interacted lacked "sufficient depth."
Garrison says the recent concerns are a continuation of issues first raised in Afghanistan more than a decade ago, when the military was accused of having transferred detainees to local authorities despite knowing they might be tortured.
That is why he believes the inquiry should also include a fresh look at what happened then. Defence Minister Harjit Sajjan, who previously served in Afghanistan, rebuffed NDP calls in 2016 for such an inquiry into the Afghan detainee affair.
"Things that were war crimes came to the attention of Canadians, were referred up the chain of command, and nothing happened," Garrison told The Canadian Press.
Conservative defence critic James Bezan in the House of Commons on Thursday questioned the government's decision to extend Canada's mission in Iraq given concerns about the Iraqi forces working with Canadian troops.
"Canada is contributing to greater peace and security in the world and remains a strong partner in the fight against (the Islamic State of Iraq and the Levant)," Sajjan's parliamentary secretary Anita Vandenbeld told Bezan.
"We are committed to meeting our obligations under international and domestic law. The Canadian Armed Forces is no longer operating with the Iraqi security forces related to these allegations."
Experts say it is not surprising that Canadian troops found themselves interacting with Iraqi soldiers who may have committed atrocities given the country's recent history, and that part of their mission is to prevent such behaviour in the future.
"This sounds kind of maybe counterintuitive, but it just reinforces how much we're needed there," said Bessma Momani, an expert on Middle Eastern politics at the University of Waterloo.
Yet both Momani and fellow Middle East expert Thomas Juneau from the University of Ottawa said the reports underscore the need for better transparency and accountability when operating in such environments — and with such partners.
"The government should be more transparent with Canadians about the challenges involved in the mission in Iraq, and about what we are trying to accomplish," Juneau said in an email.
"The government should also specifically be more transparent about what it is doing to make sure that Canadian troops deployed in Iraq, or in other comparable missions, comply with international law on these matters (and also on what happens if or when troops fail to comply with international law)."
This report by The Canadian Press was first published June 11, 2021.
Lee Berthiaume, The Canadian Press
Stretched thin, parents have swath of options to save for children's education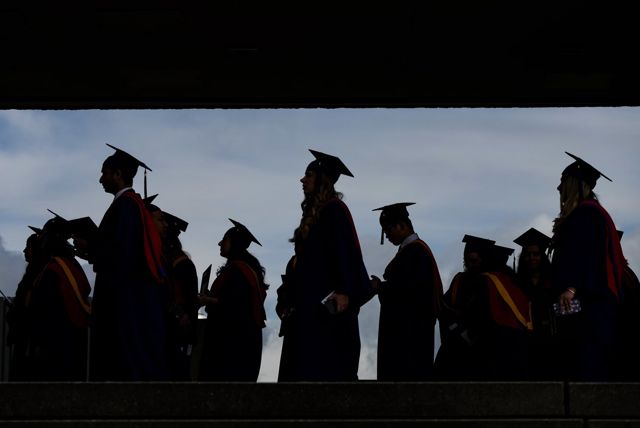 The rising cost of living has ramped up pressure on parents, who say it's tougher than ever to save for their children's post-secondary education, a new survey found. Graduates are silhouetted as they line up for a convocation ceremony at Simon Fraser University, in Burnaby, B.C., on Friday, May 6, 2022. THE CANADIAN PRESS/Darryl Dyck
By Christopher Reynolds in Montreal
Parents are finding it tougher than ever to save for their children's post-secondary education as the rising cost of living ramps up financial pressures.
But the mainstays of post-secondary saving — RESPs, especially — remain key tools, as do clear goals and plenty of planning.
Julie Petrera, a senior strategist for client needs at Edward Jones, said the first step is getting a handle on cost estimates, which can range from thousands to hundreds of thousands of dollars, depending on the type and length of schooling and whether the child is leaving home.
Other considerations include whether family members, such as a grandparent or the child themself, will contribute and where education ranks on parents' list of savings priorities.
"Are they paying for post-secondary education and saving for their own retirement and funding other expenses, like renovations and vacations?" Petrera asked.
According to an online survey of 1,000 parents with at least one child under 18 by Embark, a company specializing in education savings, some 73 per cent of parents said saving for college and university has been harder recently.
The survey also found just over half of respondents said they would go into debt to pay for their child's education.
The Registered Education Savings Plan (RESP) offers a tax-deferred investment account that has been used by millions. More than 481,000 students withdrew funds from an RESP in 2021, according to Employment and Social Development Canada.
Ottawa matches 20 per cent on the first $2,500 put toward an RESP each year, via the Canada Education Savings Grant (CESG), for a total of $500 per year, with higher rates available to lower income families. The lifetime maximum grant amount is capped at $7,200, while total contributions to RESP accounts are limited to $50,000 per beneficiary.
Low income families may also be eligible for the Canadian Learning Bond, which does not require RESP contributions.
RESP beneficiaries in British Columbia may be eligible for an additional one‑time $1,200 grant, while those in Quebec can enjoy a refundable tax credit with a lifetime maximum of $3,600.
"The RESP is great. It is designed to help with affordability," Petrera said. "But on the flip side there are some restrictions on these plans … on who can withdraw the funds, when they can withdraw them and why."
RESPs can comprise a major part of a family's education funding, but should not be viewed as a "standalone" plan, Petrera said. Non-registered investment accounts offer a supplementary option.
"There are no grants associated, they are fully taxable, but they have no restrictions. You can put money in up to any amount and withdraw at any time for any reason," she said.
A tax-free savings account provides another vehicle. Students themselves can't open one until they reach 18, but parents or grandparents can use their accounts to help save.
"My advice on that would be to work with an adviser or work with a professional that understands the pros and cons and the ins and outs of all of these plans to determine what is the best mix to maximize what the client's objective is," Petrera said.
Automatic contributions toward a plan are a simple, effective way to build a nest egg.
"We think that if each pair can make 50 bucks a month (per person) of contributions, they'll get $37,000 by the time their kids hit 18 and go to post-secondary school," Embark CEO Andrew Lo said.
He stressed that parents should educate themselves about education. One in three polled by the company did "not know enough to even guess" how much post-secondary schooling costs.
Erika Shaker, director of the national office of the Canadian Centre for Policy Alternatives, said costs are going up and everything's getting more expensive.
She pointed to a shift in education funding from Ottawa a couple decades ago that prompted most provinces to download more of the cost onto students or, in the case of Quebec, "two-tiering" the price between in-province and out-of-province pupils.
The labyrinth of funding programs and rules sometimes acts as more of a barrier than a relief, she added.
"Student assistance programs are a patchwork, they're messy, they're opaque. They're actually quite difficult to navigate and they can change midway through a degree," Shaker said.
"We have gone to a user-pay model that disproportionately impacts — negatively — students who have to borrow, unfortunately, to pay for post-secondary education."
This report by The Canadian Press was first published June 8, 2023.
Trans, non-binary students under 16 in N.B. need parental consent for pronoun changes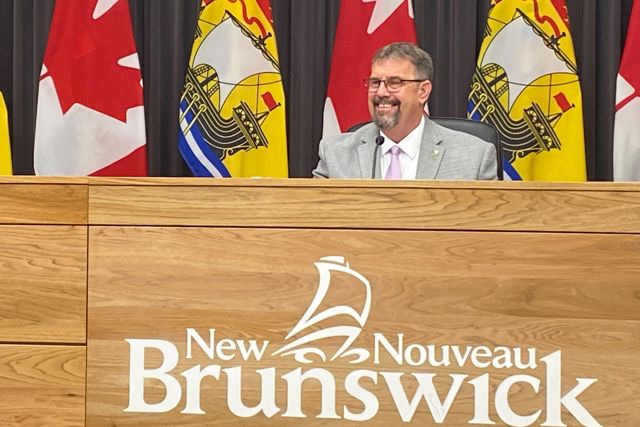 Fredericton
New Brunswick students under the age of 16 who identify as trans and non-binary won't be able to officially change their names or pronouns in school without parental consent.
Education Minister Bill Hogan made the announcement today as he unveiled his government's highly anticipated reform to the province's policy on sexual orientation in schools, known as Policy 713.
Policy 713, which was introduced in 2020, establishes minimum standards for schools to ensure a safe, welcoming and inclusive environment for LGBTQ students.
The new policy says the preferred first names and pronouns of students aged 16 and older will be used consistently in ways that the students request.
Hogan says the policy will also ensure that private, universal changing rooms and bathrooms will be available in all schools.
He says the changes, which come into effect July 1, were the product of consultations with hundreds of parents, families, students and advocacy groups.
The province's decision to review Policy 713 has faced intense scrutiny, with former education minister Dominic Cardy accusing Premier Blaine Higgs of wanting to gut sex education.
This report by The Canadian Press was first published June 8, 2023.