Fed raises key rate by quarter-point despite bank turmoil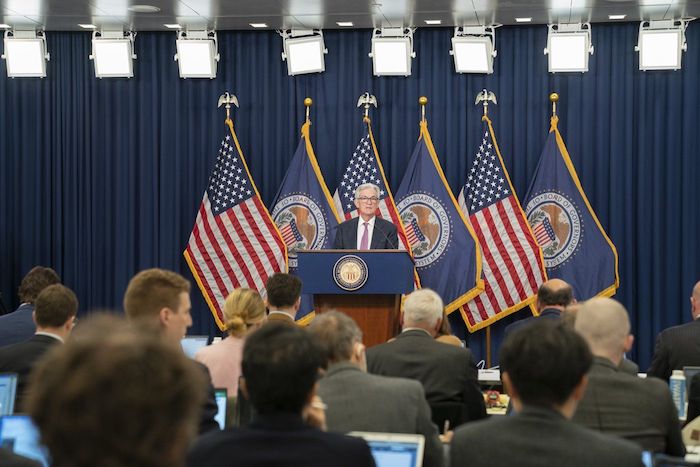 Federal Reserve chair Jerome Powell speaks during a news conference, Wednesday, Feb. 1, 2023, at the Federal Reserve Board in Washington. With inflation still high and anxieties gripping the banking industry, the Federal Reserve and its chair, Jerome Powell, will face a complicated task at their latest policy meeting Wednesday and in the months to follow: How to tame inflation by continuing to raise interest rates while also helping to restore faith in the financial system – all without triggering a severe recession. (AP Photo/Jacquelyn Martin, File)
By Christopher Rugaber in Washington
WASHINGTON (AP) — The Federal Reserve extended its year-long fight against high inflation Wednesday by raising its key interest rate by a quarter-point despite concerns that higher borrowing rates could worsen the turmoil that has gripped the banking system.
"The U.S. banking system is sound and resilient," the Fed said in a statement after its latest policy meeting ended.
At the same time, the Fed warned that the financial upheaval stemming from the collapse of two major banks is "likely to result in tighter credit conditions" and "weigh on economic activity, hiring and inflation."
The central bank also signaled that it's likely nearing the end of its aggressive series of rate hikes. In a statement, it removed language that had previously indicated it would keep raising rates at upcoming meetings. The statement now says "some additional policy firming may be appropriate" — a weaker commitment to future hikes.
And in a series of quarterly projections, the Fed's policymakers forecast that they expect to raise their key rate just one more time – from its new level Wednesday of about 4.9% to 5.1%, the same peak level they had projected in December.
Still, in its latest statement, the Fed included some language that indicated that its fight against inflation remains far from complete. It said that hiring is "running at a robust pace" and noted that "inflation remains elevated." It removed a phrase, "inflation has eased somewhat," that it had included in its previous statement in February.
The latest rate hike suggests that Chair Jerome Powell is confident that the Fed can manage a dual challenge: Cool still-high inflation through higher loan rates while defusing turmoil in the banking sector through emergency lending programs and the Biden administration's decision to cover uninsured deposits at the two failed U.S. banks.
The Fed's signal that the end of its rate-hiking campaign is in sight may also soothe financial markets as they continue to digest the consequences of the U.S. banking turmoil and the takeover last weekend of Credit Suisse by its larger rival UBS.
The central bank's benchmark short-term rate has now reached its highest level in 16 years. The new level will likely lead to higher costs for many loans, from mortgages and auto purchases to credit cards and corporate borrowing. The succession of Fed rate hikes have also heightened the risk of a recession.
The Fed's policy decision Wednesday reflects an abrupt shift. Early this month, Powell had told a Senate panel that the Fed was considering raising its rate by a substantial half-point. At the time, hiring and consumer spending had strengthened more than expected, and inflation data had been revised higher.
The troubles that suddenly erupted in the banking sector two weeks ago likely led to the Fed's decision to raise its benchmark rate by a quarter-point rather than a half-point. Some economists have cautioned that even a modest quarter-point rise in the Fed's key rate, on top of its previous hikes, could imperil weaker banks whose nervous customers may decide to withdraw significant deposits.
Silicon Valley Bank and Signature Bank were both brought down, indirectly, by higher rates, which pummeled the value of the Treasurys and other bonds they owned. As anxious depositors withdrew their money en masse, the banks had to sell the bonds at a loss to pay the depositors. They were unable to raise enough cash to do so.
After the fall of the two banks, Credit Suisse was taken over by UBS. Another struggling bank, First Republic, has received large deposits from its rivals in a show of support, though its share price plunged Monday before stabilizing.
The Fed is deciding, in effect, to treat inflation and financial turmoil as two separate problems, to be managed simultaneously by separate tools: Higher rates to address inflation and greater Fed lending to banks to calm financial turmoil.
The Fed, the Federal Deposit Insurance Corp. and Treasury Department agreed to insure all the deposits at Silicon Valley and Signature, including accounts that exceed the $250,000 limit. The Fed also created a new lending program to ensure that banks can access cash to repay depositors, if needed.
But economists warn that many mid-size and small banks, in order to conserve capital, will likely become more cautious in their lending. A tightening of bank credit could, in turn, reduce business spending on new software, equipment and buildings. It could also make it harder for consumers to obtain auto or other loans.
Some economists worry that such a slowdown in lending could be enough to tip the economy into recession. Wall Street traders are betting that a weaker economy will force the Fed to start cutting rates this summer.
The Fed would likely welcome slower growth, which would help cool inflation. But few economists are sure what the effects would be of a pullback in bank lending.
Other major central banks are also seeking to tame high inflation without worsening the financial instability caused by the two U.S. bank collapses and the hasty sale of Credit Suisse to UBS. Even with the anxieties surrounding the global banking system, for instance, the Bank of England faces pressure to approve an 11th straight rate hike Thursday with annual inflation having reached 10.4%.
And the European Central Bank, saying Europe's banking sector was resilient, last week raised its benchmark rate by a half point to combat inflation of 8.5%. At the same time, the ECB president, Christine Lagarde, has shifted to an open-ended stance regarding further rate increases
In the United States, most recent data still points to a solid economy and strong hiring. Employers added a robust 311,000 jobs in February, the government report. And while the unemployment rate rose, from 3.4% to a still-low 3.6%, that mostly reflected an influx of new job-seekers who were not immediately hired.
Poilievre threatens to filibuster budget bill if Liberals don't meet demands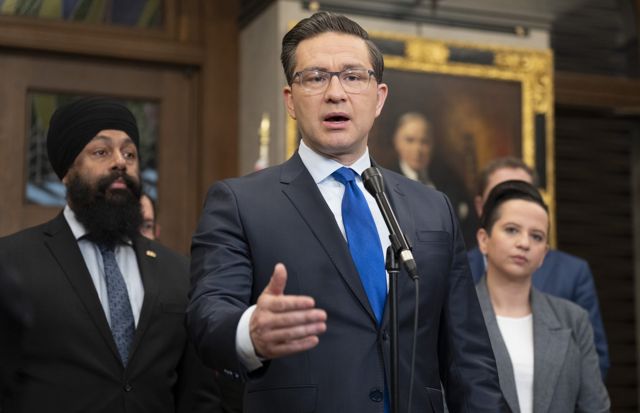 Flanked by Conservative Finance and Middle Class Prosperity critic Jasraj Singh Hallan and Conservative deputy leader Melissa Lantsman and other members of Parliament, Conservative leader Pierre Poilievre speaks with reporters in the Foyer of the House of Commons, Monday, June 5, 2023 in Ottawa. THE CANADIAN PRESS/Adrian Wyld
By Nojoud Al Mallees in Ottawa
During a news conference Monday, Poilievre outlined two conditions to avoid potential filibustering by his party.
He called on the federal government to present a plan to balance its budget "in order to bring down inflation and interest rates."
He also demanded the Liberals cancel any future increases to the carbon price.
"If the government does not meet these demands, we will use all procedural tools at our disposal to block the budget from passing," Poilievre said.
Those tools include amendments and lengthy speeches, he said.
Poilievre's threat comes as MPs gear up for their summer break, with the Commons set to rise June 23.
Finance Minister Chrystia Freeland tabled the 2023 budget in March after promising to keep spending plans restrained, given inflation is still high.
However, the fiscal projections in the budget show no end in sight for federal deficits despite the fall budget update in November projecting a balanced budget in 2027-28.
Following the release of federal and provincial budgets, Bank of Canada governor Tiff Macklem said that while government spending was not helping to bring down inflation, it was also not pushing it higher.
This report by The Canadian Press was first published June 5, 2023.
The Plan: Lock You Down for 130 Days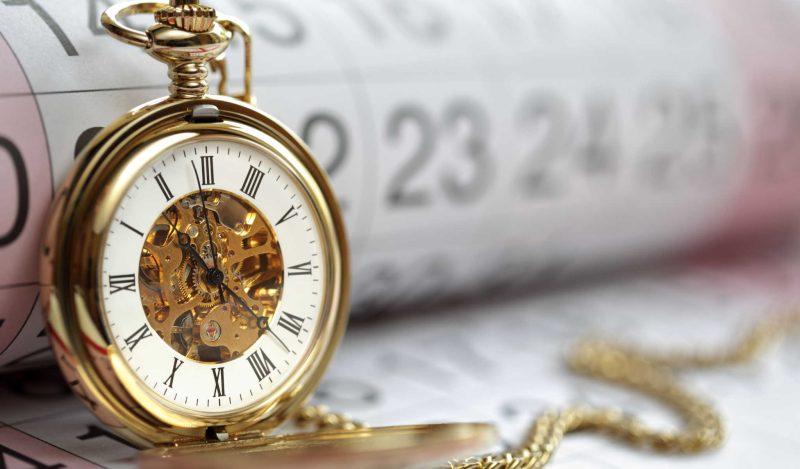 BY
JAYANTA BHATTACHARYA
What if the coronavirus pandemic was not a once-in-a-century event but the beginning of a new era of regular deadly respiratory viral pandemics? The Biden administration is already planning for this future. Last year, it unveiled a national strategy to develop pharmaceutical firms' capacity to create vaccines within 130 days of a pandemic emergency declaration.
The Biden plan enshrines former president Donald Trump's Operation Warp Speed as the model response for the next century of pandemics. Left unsaid is that, for the new pandemic plan to work as envisioned, it will require us to conduct dangerous gain-of-function research. It will also require cutting corners in the evaluation of the safety and efficacy of novel vaccines. And while the studies are underway, politicians will face tremendous pressure to impose draconian lockdowns to keep the population "safe."
In the case of COVID-19 vaccines, it took about a year for governments to deploy the jab at scale after scientists sequenced the virus. Scientists identified a vaccine target—fragments of the spike protein that the virus uses to access cells—by early January 2020, even before the WHO declared a worldwide pandemic.
This rapid response was only possible because some scientists already knew much about the novel virus. Despite heavy regulations limiting the work, the US National Institutes of Health had funded collaborations between the EcoHealth Alliance and the Wuhan Institute of Virology. They collected bat viruses from the wild, enhanced their function to study their potential, and designed vaccines before the viruses infected humans.
While there is controversy over whether this gain-of-function work is responsible for the COVID pandemic, there is no question this research is potentially dangerous. Even cautious scientists sometimes accidentally leak hazardous, highly infectious viruses into the surrounding community. In December 2021, for instance, the virus that causes COVID-19 accidentally leaked out of a laboratory in Taiwan, where scientists were researching the virus.
A promising vaccine target would be needed immediately after a disease outbreak for the Biden pandemic plan to work. For that to be possible, there will need to be permanent support for research enhancing the capacity of viruses to infect and kill humans. The possibility of a deadly laboratory leak will hang over humanity into perpetuity.
Furthermore, before any mass vaccination campaign, pharmaceutical firms must test the vaccines for safety. High-quality randomized, controlled studies are needed to make sure the vaccine works.
In 1954, Jonas Salk's group tested the vaccine in a million children before the polio mass vaccination campaign that effectively defanged the threat of polio to American children. Physicians need the results of these studies to provide accurate information to patients.
Operation Warp Speed cut red tape so that vaccine manufacturers could conduct these studies rapidly. The randomized trials cut some corners. For instance, the Pfizer and Moderna trials did not enroll enough people to determine whether the COVID vaccines reduce all-cause mortality.
Nor did they determine whether the vaccines stop disease transmission; a few months after the government deployed the vaccines, researchers found protection against infection was partial and short-lived. Each of these cut corners has since created policy controversies and uncertainty that better trials would have avoided. Because of the pressure to produce a vaccine within 130 days, President Biden's pandemic plan will likely force randomized trials on future vaccines to cut the same corners.
This policy effectively guarantees that lockdowns will return to the US in the event of a new pandemic. Though the lockdowns did not work to protect populations from getting or spreading COVID—after 2.5 years, nearly everyone in the US has had COVID—public health bureaucracies like the CDC have not repudiated the strategy.
Imagine the early days of the next pandemic, with public health and the media fomenting fear of a new pathogen. The impetus to close schools, businesses, churches, beaches, and parks will be irresistible, though the pitch will be "130 days until the vax" rather than "two weeks to flatten the curve."
When the vaccine finally arrives, the push to mass vaccinate for herd immunity will be enormous, even without evidence from the rushed trials that the vaccine provides long-lasting protection against disease transmission. This happened in 2021 with the COVID vaccine and would happen again amidst the pandemic panic. The government would push the vaccine even on populations at low risk from the novel pathogen. Mandates and discrimination against the unvaccinated would return, along with a fierce movement to resist them. The public's remaining trust in public health would shatter.
Rather than pursue this foolish policy, the Biden administration should adopt the traditional strategy for managing new respiratory-virus pandemics. This strategy involves quickly identifying high-risk groups and adopting creative strategies to protect them while not throwing the rest of society into panic.
The development of vaccines and treatments should be encouraged, but without imposing an artificial timeline that guarantees corners will be cut in evaluation. And most of all, lockdowns—a disaster for children, the poor, and the working class—should be excised from the public health toolkit forever.
A version of this piece appeared in Newsweek