FBI broke rules in scouring foreign intelligence on Jan. 6 riot, racial justice protests, court says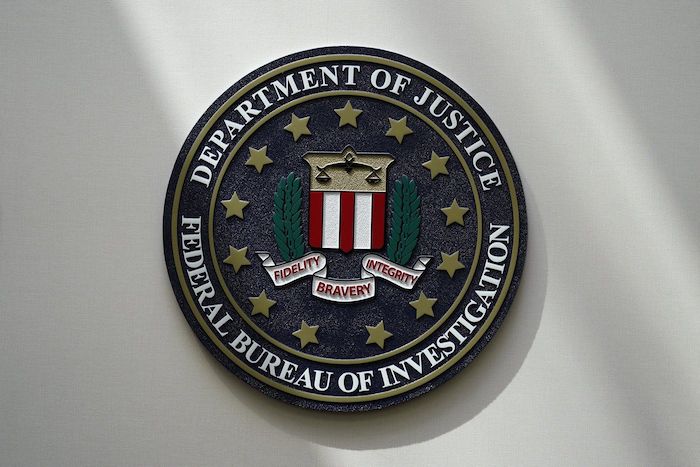 The FBI seal is pictured in Omaha, Neb., Aug. 10, 2022. FBI officials repeatedly violated their own standards when they searched a vast repository of foreign intelligence for information related to the insurrection at the U.S. Capitol on Jan. 6, 2021, and racial justice protests in 2020. That's according to a heavily blacked-out court order released Friday, May 19, 2023. FBI officials said the violations predated a series of corrective measures that started in the summer of 2021 and continued last year. (AP Photo/Charlie Neibergall, File)
By Eric Tucker in Washington
WASHINGTON (AP) — FBI officials repeatedly violated their own standards when they searched a vast repository of foreign intelligence for information related to the Jan. 6, 2021, insurrection at the U..S. Capitol and racial justice protests in 2020, according to a heavily blacked-out court order released Friday.
FBI officials said the thousands of violations, which also include improper searches of donors to a congressional campaign, predated a series of corrective measures that started in the summer of 2021 and continued last year. But the problems could nonetheless complicate FBI and Justice Department efforts to receive congressional reauthorization of a warrantless surveillance program that law enforcement officials say is needed to counter terrorism, espionage and international cybercrime.
The violations were detailed in a secret court order issued last year by the Foreign Intelligence Surveillance Court, which has legal oversight of the U.S. government's spy powers. The Office of the Director of the National Intelligence released a redacted version on Friday in what officials said was the interest of transparency. Members of Congress received the order when it was issued last year.
"Today's disclosures underscore the need for Congress to rein in the FBI's egregious abuses of this law, including warrantless searches using the names of people who donated to a congressional candidate," said Patrick Toomey, deputy director of the ACLU's National Security Project. "These unlawful searches undermine our core constitutional rights and threaten the bedrock of our democracy. It's clear the FBI can't be left to police itself."
At issue are improper queries of foreign intelligence information collected under Section 702 of the Foreign Intelligence Surveillance Act, which enables the government to gather the communications of targeted foreigners outside the U.S. That program expires at the end of the year unless it is renewed.
The program creates a database of intelligence that U.S. agencies can search. FBI searches must have a foreign intelligence purpose or be aimed at finding evidence of a crime. But congressional critics of the program have long raised alarm about what they say are unjustified searches of the database for information about Americans, along with more general concerns about perceived abuses of surveillance.
Concerns about the program have aligned staunch liberal defenders of civil liberties with supporters of former President Donald Trump who have seized on FBI surveillance errors during an investigation into his 2016 campaign. The issue has flared as the Republican-led House has been targeting the FBI, creating a committee to investigate the "weaponization" of government.
In repeated episodes disclosed Friday, the FBI's own standards were not followed. The April 2022 order, for instances, details how the FBI queried the Section 702 repository using the name of someone who was believed to have been at the Capitol during the Jan. 6 riot. Officials obtained the information despite it not having any "analytical, investigative or evidentiary purpose," the order said.
The court order also says that an FBI analyst ran 13 queries of people suspected of being involved in the Capitol riot to determine if they had any foreign ties, but the Justice Department later determined that the searches were not likely to find foreign intelligence information or evidence of a crime.
Other violations occurred when FBI officials in June 2020 ran searches related to more than 100 people arrested in connection with civil unrest and racial justice protests that had occurred in the U.S. over the preceding weeks. The order says the FBI had maintained that the queries were likely to return foreign intelligence, though the reasons given for that assessment are mostly redacted.
In addition, the FBI conducted what's known as a batch query for 19,000 donors to an unnamed congressional campaign. An analyst doing the search cited concern that the campaign was a target of foreign influence, but the Justice Department said only "eight identifiers used in the query had sufficient ties to foreign influence activities to comply with the querying standard."
Officials said the case involved a candidate who ran unsuccessfully and is not a sitting member of Congress, and is unrelated to an episode described in March by Rep. Darin LaHood, an Illinois Republican, who accused the FBI of wrongly searching for his name in foreign surveillance data.
Senior FBI officials, speaking on condition of anonymity to reporters under ground rules set by the government, attributed the majority of the violations to confusion among the workforce and a lack of common understanding about the querying standards.
They said the bureau has made significant changes since then, including mandating training and overhauling its computer system so that FBI officials must now enter a justification for the search in their own words than relying on a drop-down menu with pre-populated options.
One of the officials said an internal audit of a representative sample of searches showed an increased compliance rate from 82% before the reforms were implemented to 96% afterward.
The newly public order also shows that the National Security Agency won the surveillance court's approval last year to use a novel and sensitive intelligence collection technique, though the details of it remain redacted. A second unsealed order shows that the court in 2021 approved a request by the FBI to use a particular surveillance technique for the first time against "non-U.S. persons," though the details are again redacted.
Cyberattacks hit military, Parliament websites as India hacker group targets Canada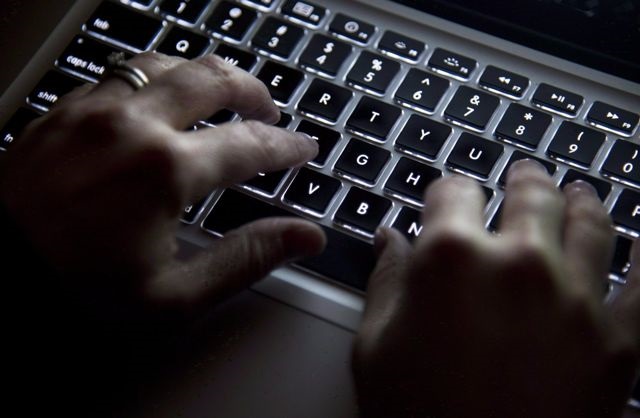 The federal government is coping with apparent cyber attacks this week, as a hacker group in India claims it has sowed chaos in Ottawa. Hands type on a keyboard in Vancouver on Wednesday, December, 19, 2012. THE CANADIAN PRESS/Jonathan Hayward
By Dylan Robertson in Ottawa
The federal government is coping with apparent cyberattacks this week, as a hacker group in India claims it has sowed chaos in Ottawa.
The Canadian Armed Forces said that its website became unavailable to mobile users midday Wednesday, but was fixed within a few hours.
The military said the site is separate from other government sites, such as the one used by the Department of Defence and internal military networks. The incident remains under investigation.
"We have no indication of broader impacts to our systems," said a statement from spokeswoman Andrée-Anne Poulin.
Meanwhile, various pages on the House of Commons website continued to load slowly or incompletely on Thursday due to an ongoing attack that officials say started Monday morning.
The Commons administration said it was facing a distributed denial-of-service attack, which is when bots swarm a website with multiple visits and cause it to stop loading properly.
"House of Commons systems responded as planned to protect our network and IT infrastructure. However, some websites may be unresponsive for a short period," spokeswoman Amélie Crosson said in a written statement Thursday morning.
"The House of Commons IT support team, in collaboration with our partners, have implemented mitigating measures and restored services to appropriate service levels. The IT team is still continuously monitoring for such activities."
She added that the Commons administration is helping their Senate colleagues "to provide guidance and support them to restore services."
Elections Canada also experienced roughly an hour-long denial-of-service attack starting around midnight early Wednesday, Ottawa time.
"This website does not host any sensitive data or information. It is separate from our main website, elections.ca, and is hosted by an external service provider. It is in no way connected to the network that supports elections.ca," the agency wrote in a statement.
"Our systems are monitored in real time both internally, and by the Canadian Cyber Security Centre, enabling us to quickly detect any anomalies on our platforms and systems. They are aware of the incident."
That centre is under the umbrella of the Communications Security Establishment, Canada's signals-intelligence agency.
A hacking group named Indian Cyber Force claimed responsibility for the incidents involving the military and Elections Canada, and it appeared to have managed to infiltrate a handful of websites owned by small businesses in Canada.
The group made reference to Prime Minister Justin Trudeau telling Parliament on Sept. 18 that there were "credible allegations" of Indian involvement in the killing of Sikh independence activist Hardeep Singh Nijjar, who had been wanted by India for years and was gunned down in June outside the temple he led.
The hacking group has posted multiple versions of a message riddled with spelling and grammatical errors onto websites of restaurants and medical clinics.
The affected sites show a message on a black background with green digits, similar to the film "The Matrix," as warlike music plays.
The message described Canada as a haven for terrorists — a "heaven hub," it said in butchered English — and similarly insulted Sikh separatists.
It also criticized Trudeau for "throwing something without any prove," or proof.
The group claimed to have attacked Elections Canada and the Ottawa Hospital, though these sites appeared to be operating normally Thursday morning. The Canadian Press has asked those responsible for these web pages to confirm whether they have been affected.
The hacking group also claimed to have taken down the Global Affairs Canada website for travel advisories, but the department insists this hasn't happened, and the group deleted that claim from its account on the social-media application Telegram.
News of the attacks came as questions abounded over Indian officials' level of co-operation with Canadian officials over Trudeau's allegations — and to what extent allies such as the United States were advocating on Canada's behalf.
On Thursday, U.S. Secretary of State Antony Blinken met with India's foreign-affairs minister Subrahmanyam Jaishankar.
Neither of them made mention of the controversy in Canada when they emerged briefly to pose for photos before their meeting began.
During a State Department briefing prior to that meeting, spokesman Matthew Miller refused to speculate on what the secretary would tell Jaishankar directly.
"What I will say, however, is we have consistently engaged with the Indian government on this question and have urged them to co-operate, and that engagement and urging them to co-operate will continue," Miller said.
"We urge them to co-operate with the Canadian investigation."
Miller flatly refused comment when asked about a television interview last week with U.S. ambassador to Canada David Cohen, who confirmed that Canada received intelligence from one of its Five Eyes security partners.
"I am not going to speak to intelligence matters from the podium."
This report by The Canadian Press was first published Sept. 28, 2023.
— With files from James McCarten in Washington, D.C.
After briefing on intel, Singh says 'clear evidence' India involved in B.C. killing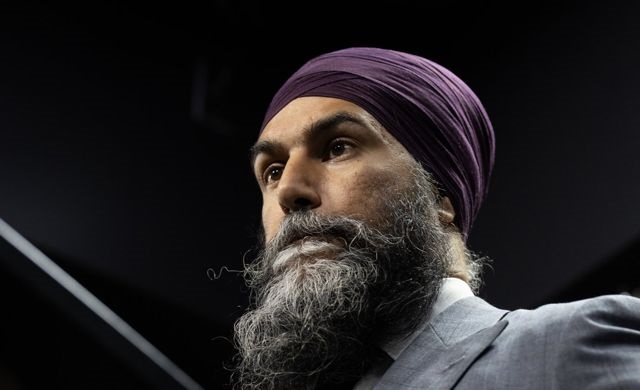 New Democratic Party leader Jagmeet Singh speaks with the media on Parliament Hill, Tuesday, September 26, 2023 in Ottawa. THE CANADIAN PRESS/Adrian Wyld
By Stephanie Taylor in Ottawa
Federal NDP Leader Jagmeet Singh said Tuesday he received an intelligence briefing about allegations that the Indian government could be behind the killing of a Sikh gurdwara leader in British Columbia.
"I can confirm what the prime minister has shared publicly: that there is clear intelligence that Canada has that lays out the following case that a Canadian citizen was killed on Canadian soil and a foreign government was involved," Singh told reporters in Ottawa on Tuesday.
"That intelligence is something that I think is very credible."
Prime Minister Justin Trudeau told the House of Commons Sept. 18 about "credible allegations" that the Indian government was involved in the June death of Hardeep Singh Nijjar in Surrey, B.C.
The well-known activist belonged to a movement that advocated for the creation of an independent Sikh state in India's Punjab province. India's government had labelled him a terrorist but has denied any involvement in his killing, calling the allegations by Trudeau "absurd and motivated."
The extraordinary allegation has worsened already rocky relations between India and Canada. India's government has accused Canada of not providing evidence to back up its claim, while Trudeau and other other ministers have called on India to co-operate with investigations.
Singh said Trudeau first told him and Conservative Leader Pierre Poilievre about the allegations against India before sharing them publicly. Three days later, Singh received a briefing from Trudeau's national security adviser, Jody Thomas.
Singh told reporters Tuesday that he was able to request the briefing on the matter because of the top-secret security clearance he obtained to review foreign-interference materials prepared by former governor general David Johnston, who had been named as a special rapporteur to explore that issue. Johnston has resigned from that role.
The former governor general's report had concluded that Trudeau's government did not knowingly or negligently fail to act on foreign attempts to interfere in the last two federal elections.
He had also recommended against calling a public inquiry into the issue. The Liberal government ended up tapping Quebec Court of Appeal Justice Marie-Josée Hogue to lead one earlier this month after months of outcry from, and discussions with, opposition parties.
Singh said that after reviewing the confidential material he had access to from Johnston, he agrees a public inquiry into foreign interference is necessary.
Poilievre has so far rejected getting the clearance needed to review the top-secret annex from Johnston's earlier report.
Poilievre said Tuesday that he was offered a briefing similar to one B.C. Premier David Eby received on the matter.
He said he doesn't believe the briefing will offer any more substantial details on the allegation and would only force him to be tight-lipped about whatever he learned.
The Conservative leader has called on Trudeau to "come clean" about the evidence behind the allegation against India, saying Canadians deserve more facts.
Singh said Tuesday he does not support that call.
"They're matters of national security and so information cannot be released beyond the general statements that were released," he said.
"There's going to be a next step in the investigation and a prosecution and then information will be made public in an appropriate manner. … To do it early would jeopardize the investigation."
A Canadian official told The Associated Press that the allegation of India's involvement is based on surveillance of Indian diplomats in Canada, including intelligence provided by a major ally.
The official said the communications involved Indian government officials and Indian diplomats in Canada and that some of the intelligence was provided by a member of the "Five Eyes" intelligence-sharing alliance — Canada, the U.S., Britain, Australia and New Zealand.
The official did not say which ally provided the intelligence or give any details of the communications or how they were obtained. The official spoke on condition of anonymity because they weren't authorized to discuss the matter publicly.
In an interview with CTV's Question Period that aired on Sunday, David Cohen, the U.S. ambassador to Canada, confirmed "there was shared intelligence among Five Eyes partners that helped lead Canada to making the statements that the prime minister made."
He said he does not generally comment on "private diplomatic conversations," but added: "There was a lot of communication between Canada and the United States about this, and I think that's as far as I'm comfortable going."
This report by The Canadian Press was first published Sept. 26, 2023.
— With files from James McCarten in Washington and The Associated Press.