FAA lifts ground stop on flights following computer outage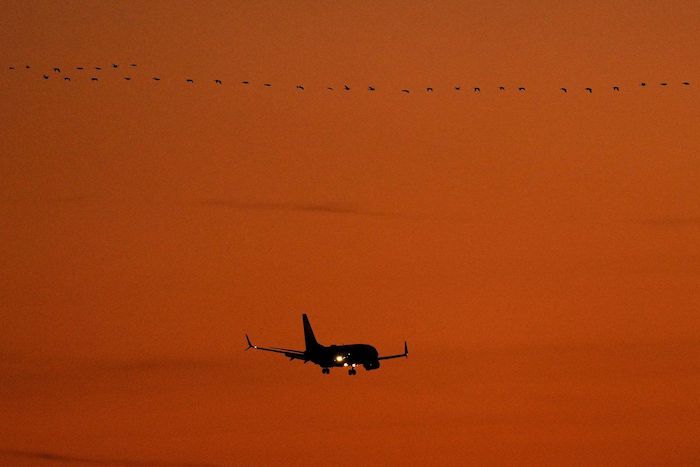 By Michelle Chapman in New York
NEW YORK (AP) — The Federal Aviation Administration is lifting a ground stop on flights across the U.S. following a computer outage early Wednesday that resulted in thousands of delays and hundreds of cancellations quickly cascading through the system at airports nationwide.
The FAA ordered all departing flights grounded early Wednesday morning, but lifted that order just before 9 a.m. Eastern after several hours.
However, delays and cancellations continue to snowball.
More than 3,700 flights were delayed and more than 640 were cancelled.
The stop order by the FAA impacts almost all flights of shippers and commercial airlines.
More than 21,000 flights were scheduled to take off in the U.S. today, mostly domestic trips, and about 1,840 international flights expected to fly to the U.S., according to aviation data firm Cirium.
Some medical flights could get clearance and the outage did not impact any military operations or mobility.
Flights for the U.S. military's Air Mobility Command had not been impacted, said Air Force Col. Damien Pickart, a spokesman for Air Mobility Command is responsible for all the troop movement and supply flights, such as the C-17s that carry the president's motorcade vehicles when he travels, but also all the flights that transport troops from one base to another. Air Mobility Command was working with the FAA on the issue.
While the White House initially said that there is no evidence of a cyberattack, President Joe Biden said "we don't know" and told reporters he's directed the Department of Transportation to investigate the cause of the disruption.
Biden addressed the FAA issue Wednesday before leaving the White House to accompany his wife to a medical procedure at Walter Reed National Military Medical Center outside of Washington. He said he had just been briefed by Transportation Secretary Pete Buttigieg, who told him they still had not identified what went wrong.
"I just spoke to Buttigieg. They don't know what the cause is. But I was on the phone with him about 10 minutes," Biden said. "I told him to report directly to me when they find out. Air traffic can still land safely, just not take off right now. We don't know what the cause of it is."
Buttigieg said in a tweet that he is in touch with the FAA and monitoring the situation.
The FBI did not immediately respond to a request seeking comment.
Delays were concentrated along the East Coast, but they are spreading quickly to the West Coast.
The FAA said it was working on restoring its Notice to Air Missions System.
"We are performing final validation checks and reloading the system now," the FAA said. "Operations across the National Airspace System are affected."
The agency said that some functions are beginning to come back on line, but that "National Airspace System operations remain limited."
Julia Macpherson was on a United Airlines flight from Sydney to Los Angeles on Wednesday when she learned of possible delays.
"As I was up in the air I got news from my friend who was also traveling overseas that there was a power outage," said Macpherson, who was returning to Florida from Hobart, Tasmania. Once she lands in Los Angeles, she still has a connection in Denver on her flight to Jacksonville, Florida.
She said there have been no announcements on the flight about the FAA issue.
Macpherson said she had already experienced a delay in her travels because her original flight from Melbourne to San Francisco was canceled and she rebooked a flight from Sydney to Los Angeles.
The FAA is working to restore what is known as the Notice to Air Missions System.
Before commencing a flight, pilots are required to consult NOTAMs, or Notices to Air Missions, which list potential adverse impacts on flights, from runway construction to the potential for icing. The system used to be telephone-based, with pilots calling dedicated flight service stations for the information, but has now moved online.
Breakdowns in the NOTAM system appear to be rare.
"I don't ever remember the NOTAM system going down like this. I've been flying 53 years," said John Cox, a former airline pilot and now an aviation-safety consultant.
According FAA advisories, the NOTAM system failed at 8:28 p.m. Eastern on Tuesday preventing new or amended notices from being distributed to pilots. The FAA resorted to a telephone hotline in an effort to keep departures flying overnight, but as daytime traffic picked up it overwhelmed the telephone backup system.
Air Force spokeswoman Ann Stefanek said the U.S. military flights were not impacted because the military has its own NOTAMS system separate from the FAA system and the military's system was not affected by the outage.
European flights into the U.S. appeared to be largely unaffected.
Irish carrier Aer Lingus said services to the U.S. continue, and Dublin Airport's website showed that its flights to Newark, Boston, Chicago and Los Angeles were running on schedule.
"Aer Lingus plan to operate all transatlantic flights as scheduled today," the carrier said in a prepared statement. "We will continue to monitor but we do not anticipate any disruption to our services arising from the technical issue in the United States."
This is just the latest headache for travelers in the U.S. who faced flight cancellations over the holidays amid winter storms and a breakdown with staffing technology at Southwest Airlines. They also ran into long lines, lost baggage, and cancellations and delays over the summer as travel demand roared back from the COVID-19 pandemic and ran into staffing cutbacks at airports and airlines in the U.S. and Europe.
The FAA said that it would provide frequent updates as it made progress.
_______
AP White House Correspondent Zeke Miller contributed to this report from Washington, D.C. AP Business Writer Kelvin Chan contributed from London. AP reporter Freida Frisaro contributed from Miami. AP Airlines Writer David Koenig contributed from Dallas.
The Plan: Lock You Down for 130 Days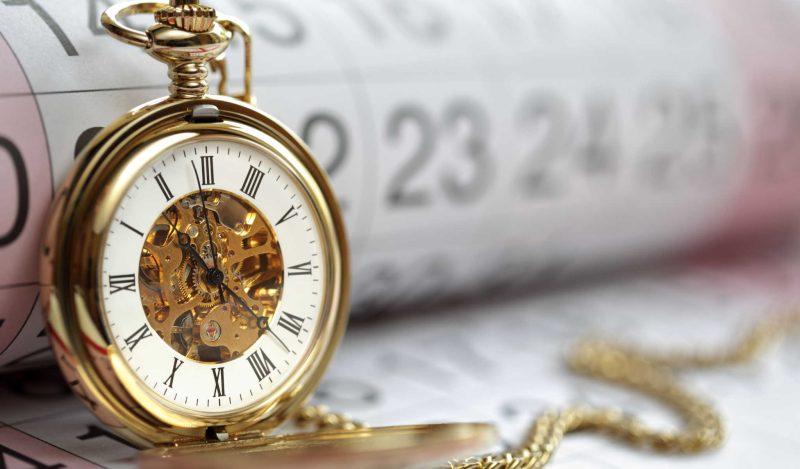 BY
JAYANTA BHATTACHARYA
What if the coronavirus pandemic was not a once-in-a-century event but the beginning of a new era of regular deadly respiratory viral pandemics? The Biden administration is already planning for this future. Last year, it unveiled a national strategy to develop pharmaceutical firms' capacity to create vaccines within 130 days of a pandemic emergency declaration.
The Biden plan enshrines former president Donald Trump's Operation Warp Speed as the model response for the next century of pandemics. Left unsaid is that, for the new pandemic plan to work as envisioned, it will require us to conduct dangerous gain-of-function research. It will also require cutting corners in the evaluation of the safety and efficacy of novel vaccines. And while the studies are underway, politicians will face tremendous pressure to impose draconian lockdowns to keep the population "safe."
In the case of COVID-19 vaccines, it took about a year for governments to deploy the jab at scale after scientists sequenced the virus. Scientists identified a vaccine target—fragments of the spike protein that the virus uses to access cells—by early January 2020, even before the WHO declared a worldwide pandemic.
This rapid response was only possible because some scientists already knew much about the novel virus. Despite heavy regulations limiting the work, the US National Institutes of Health had funded collaborations between the EcoHealth Alliance and the Wuhan Institute of Virology. They collected bat viruses from the wild, enhanced their function to study their potential, and designed vaccines before the viruses infected humans.
While there is controversy over whether this gain-of-function work is responsible for the COVID pandemic, there is no question this research is potentially dangerous. Even cautious scientists sometimes accidentally leak hazardous, highly infectious viruses into the surrounding community. In December 2021, for instance, the virus that causes COVID-19 accidentally leaked out of a laboratory in Taiwan, where scientists were researching the virus.
A promising vaccine target would be needed immediately after a disease outbreak for the Biden pandemic plan to work. For that to be possible, there will need to be permanent support for research enhancing the capacity of viruses to infect and kill humans. The possibility of a deadly laboratory leak will hang over humanity into perpetuity.
Furthermore, before any mass vaccination campaign, pharmaceutical firms must test the vaccines for safety. High-quality randomized, controlled studies are needed to make sure the vaccine works.
In 1954, Jonas Salk's group tested the vaccine in a million children before the polio mass vaccination campaign that effectively defanged the threat of polio to American children. Physicians need the results of these studies to provide accurate information to patients.
Operation Warp Speed cut red tape so that vaccine manufacturers could conduct these studies rapidly. The randomized trials cut some corners. For instance, the Pfizer and Moderna trials did not enroll enough people to determine whether the COVID vaccines reduce all-cause mortality.
Nor did they determine whether the vaccines stop disease transmission; a few months after the government deployed the vaccines, researchers found protection against infection was partial and short-lived. Each of these cut corners has since created policy controversies and uncertainty that better trials would have avoided. Because of the pressure to produce a vaccine within 130 days, President Biden's pandemic plan will likely force randomized trials on future vaccines to cut the same corners.
This policy effectively guarantees that lockdowns will return to the US in the event of a new pandemic. Though the lockdowns did not work to protect populations from getting or spreading COVID—after 2.5 years, nearly everyone in the US has had COVID—public health bureaucracies like the CDC have not repudiated the strategy.
Imagine the early days of the next pandemic, with public health and the media fomenting fear of a new pathogen. The impetus to close schools, businesses, churches, beaches, and parks will be irresistible, though the pitch will be "130 days until the vax" rather than "two weeks to flatten the curve."
When the vaccine finally arrives, the push to mass vaccinate for herd immunity will be enormous, even without evidence from the rushed trials that the vaccine provides long-lasting protection against disease transmission. This happened in 2021 with the COVID vaccine and would happen again amidst the pandemic panic. The government would push the vaccine even on populations at low risk from the novel pathogen. Mandates and discrimination against the unvaccinated would return, along with a fierce movement to resist them. The public's remaining trust in public health would shatter.
Rather than pursue this foolish policy, the Biden administration should adopt the traditional strategy for managing new respiratory-virus pandemics. This strategy involves quickly identifying high-risk groups and adopting creative strategies to protect them while not throwing the rest of society into panic.
The development of vaccines and treatments should be encouraged, but without imposing an artificial timeline that guarantees corners will be cut in evaluation. And most of all, lockdowns—a disaster for children, the poor, and the working class—should be excised from the public health toolkit forever.
A version of this piece appeared in Newsweek
GM to invest more than $1 billion in two Flint, Mich., plants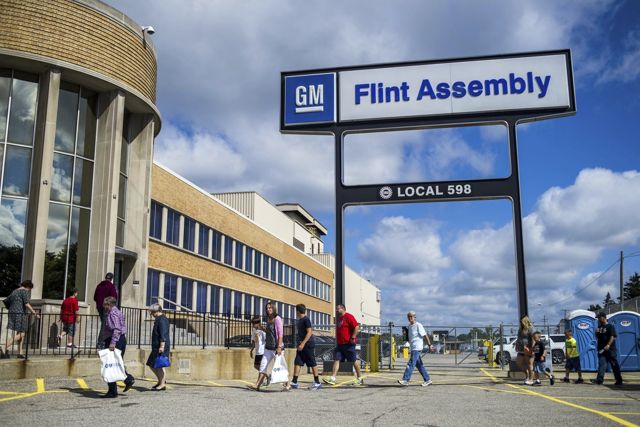 People arrive at the Flint Assembly Plant for a free tour and open house, Aug. 11, 2015, in Flint, Mich. General Motors plans to invest more than $1 billion in two Flint, Michigan manufacturing plants for the production of the next-generation internal combustion engine heavy-duty trucks. Gerald Johnson, executive vice president, Global Manufacturing and Sustainability, said Monday, June 5, 2023 that the company will build internal combustion vehicles throughout this decade, in addition to making electric vehicles. ( Jake May/The Flint Journal via AP)
By Associated Press in Flint
FLINT, Michigan (AP) — General Motors plans to invest more than $1 billion in two Flint, Michigan manufacturing plants for the production of the next-generation internal combustion engine heavy-duty trucks.
Gerald Johnson, executive vice president, Global Manufacturing and Sustainability, said Monday that the company will build internal combustion vehicles throughout this decade, in addition to making electric vehicles.
GM has a goal of building only electric passenger vehicles in the United States by 2035.
The Detroit automaker reported a 38% year-over-year increase in heavy-duty pickup sales last year, with nearly 288,000 trucks sold.
GM will invest $788 million in the Flint assembly plant, with updates including a body shop building expansion, general assembly conveyor expansion, and new tooling and equipment.
The company will invest $233 million in the Flint metal center for new stamping dies to support production of its next-generation ICE heavy-duty trucks, as well as press refurbishments and new equipment.
This latest investment brings GM's U.S. manufacturing and parts distribution facility investment commitments to more than $30.5 billion since 2013.