Expansion of prison needle exchange programs going ahead despite pandemic delays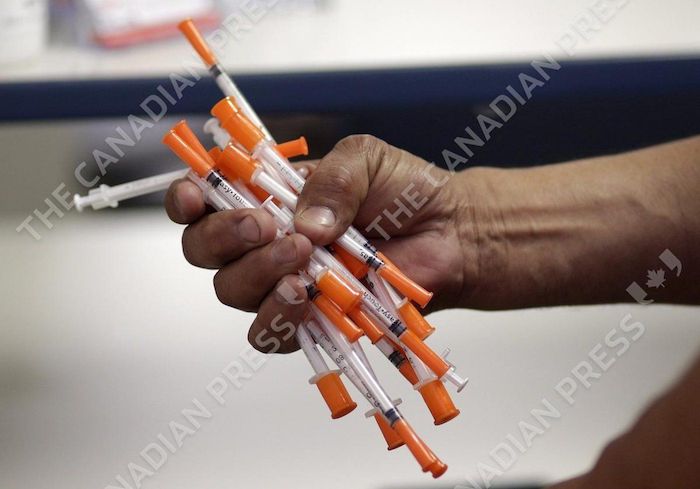 By Marie-Danielle Smith in Ottawa
Despite pandemic slowdowns, Correctional Service Canada is still planning to expand the needle exchange programs currently offered at nine federal prisons, government officials say.
At a presentation given to the International AIDS Conference in Montreal on Friday, Henry de Souza, the agency's director general of clinical services and public health, said "a number of institutions" have been identified for an expansion, and the program will continue to be implemented across the country.
Inmates have been able to request sterile equipment for drug use at two Canadian prisons since 2018, and another seven were added in 2019. Some advocates have expressed fears the program, which is designed to reduce needle sharing and the spread of infectious disease, could be cancelled after numbers showed a low uptake.
Only 53 inmates were actively using the programs in mid-June, officials told the AIDS conference Friday night, out of 277 who had been approved to participate over the last four years.
These programs are in addition to the country's only prison-based "overdose prevention service," which began operating in 2019 at the men's medium-security Drumheller Institution in Alberta. It is essentially a supervised injection site, offering sterile equipment and consumption under observation.
Since the site opened, there have been 55 participants, 1,591 visits and zero overdoses at the site, officials told the conference.The correctional service says it also offers mental health counselling, access to naloxone to counter opioid overdose effects and preventive treatments, such as pre-exposure prophylaxis — medicine taken to prevent getting HIV.
All of these efforts has led to a decrease in infections, said Marie-Pierre Gendron, an epidemiologist at Correctional Service Canada. She said HIV infection among inmates nationally is down from 2.02 per cent of the prison population in 2007 to 0.93 per cent in 2020; and hepatitis C is down from 21 per cent in 2010 to 3.2 per cent in 2021.
Lynne Leonard, a University of Ottawa associate professor who was contracted by the agency to evaluate the programs, said during a Tuesday morning panel that both programs have had "significant beneficial outcomes" for inmates, and she saw "eventual successful institutional adoption" despite initial pushback from staff.
Preliminary results from her study found that the program seemed to lead to a significant decrease in HIV infections at the institutions that put it into place. Overdoses at Drumheller were down more than 50 per cent overall since its supervised consumption site opened.
"I'm encouraged by the way they're describing the program as something they're proud of," says Sandra Ka Hon Chu, co-executive director of the HIV Legal Network.
But a major "red flag" that could be leading to lower participation is the fact that security personnel are involved in the process, she said. That's not the case in other countries' prison needle exchange programs, some of which are fully anonymous or even offer syringes in automated dispensing machines.
"It's really a critical flaw in the program," she said.
Inmates are subject to a threat assessment by security and approval by a warden before being able to access programs, as officials described the process. Almost a quarter of requests to participate in the program have been rejected, according to statistics presented at the conference.
Shawn Huish, the warden at Mission Institution in British Columbia, said it was a challenge to shift the mindset of correctional workers accustomed to searching for drugs, confiscating them and trying to stop inmates from taking them — while at the same time reassuring inmates that participating in the program would not affect their release.
There was a lot of "fake news" to battle, Huish said, including a billboard erected outside the prison that painted the program in a negative light.
"Our biggest focus was talking, educating, breaking down the fear. Having a needle acknowledged in jail can be scary for folks," he said. "You're afraid you're going to get needle sticks. So we looked at the records. In two and a half years, we've had one staff member get pricked, and it was while searching, and it was a thumb tack."
Leah Cook, the regional manager of public health for the Prairies, oversaw the implementation of the supervised injection site at Drumheller and said it is "the only known service of its kind in a correctional setting on the world stage, for which I am incredibly proud."
Cook said a "safe zone" was created so that participants in the program could carry their own drug supply to the observation room without the fear of being searched — and it's been nicknamed the "yellow brick road."
Although it is not clear whether the agency plans to expand the overdose prevention service to other institutions, Leonard's research found that staff members at Drumheller preferred it to the needle exchange program and thought it was safer and more successful.
Correctional Service Canada did not immediately respond to questions sent over the weekend.
This report by The Canadian Press was first published Aug. 2, 2022.
Premiers to hold virtual news conference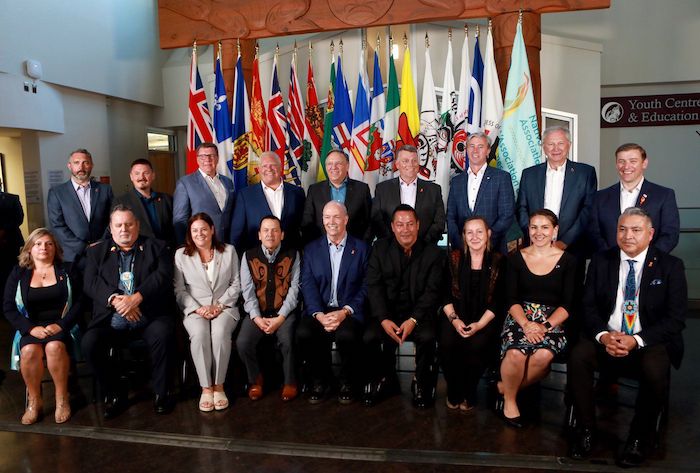 Premiers (back row L-R), Sandy Silver (Yukon), P.J. Akeeagok, (Nunavut), Scott Moe (SK), Doug Ford (Ont),Francois Legault (Que), Dennis King (PEI), Tim Houston (NS), Blaine Higgs (NB), Andrew Furey (NL and Labrador) and (front row L-R), President of Institute for the advancement of Aboriginal Women Lisa Weber, National Chief of Congress of Aboriginal Peoples Elmer St. Pierre, Heather Stefanson (MB), Songhees Nation Chief Ron Sam, John Horgan (BC), Esquimalt Nation Chief Rob Thomas, Caroline Cochrane (NWT), Cassidy Caron (Metis National Council) and Terry Teegee (Assembly of First Nations) gather for a family photo during the summer meeting of the Canada's Premiers at the Songhees Wellness Centre in Victoria, B.C., on Monday, July 11, 2022. THE CANADIAN PRESS/Chad Hipolito
Canada's premiers plan to meet virtually today, a month after talks with the federal government on health-care funding ended without an agreement.
The premiers have been calling on Ottawa to increase its share of health-care costs to 35 per cent, up from 22 per cent, and keep this level of funding going forward.
Ontario Premier Doug Ford's office says they are meeting to discuss health-care funding.
Last month, the federal government withdrew from a joint communique on health funding with provincial and territorial health ministers at a meeting in Vancouver.
Federal Health Minister Jean-Yves Duclos said at the time that he went to the meetings "in good faith" but blamed premiers for giving their ministers "marching orders" to force negotiations to end with no deal after the premiers released a statement he says depicted the talks as a failure.
British Columbia Health Minister Adrian Dix had said provincial and territorial health ministers were united behind the request for increased funding made by the premiers.
At a separate news conference, Duclos would not say whether he came to the table with more money, adding only that premiers did not want health ministers to accept any conditions, like providing data on the health-care workforce.
This report by The Canadian Press was first published Dec. 9, 2022.
Advocate asks AFN chiefs to ensure $40B settlement deal leaves no child behind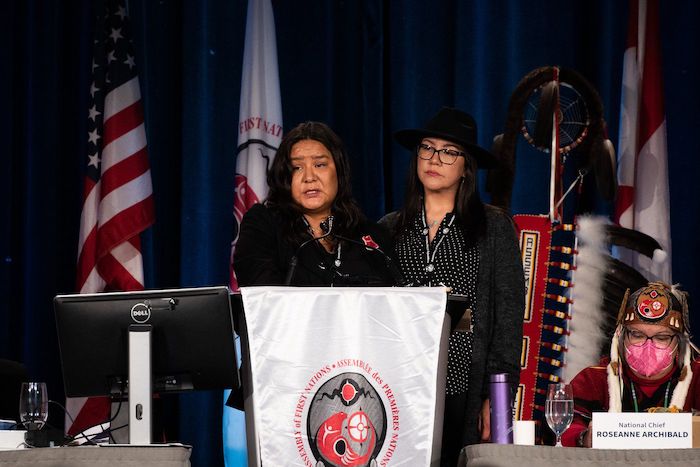 By Stephanie Taylor in Ottawa
A First Nations child welfare advocate on Wednesday implored chiefs to ensure "no child is left behind" in a landmark $40-billion settlement agreement with the federal government.
Cindy Blackstock delivered the message to an Assembly of First Nations gathering in Ottawa, after being invited to take the stage by Cindy Woodhouse, regional chief in Manitoba who helped negotiate the agreement, which had been thrown into question since being rejected by the Canadian Human Rights Tribunal.
The AFN, representing more than 600 First Nations across the country, had asked the tribunal to approve the settlement deal, which would see the government spend $20 billion to compensate families and children for systemic discrimination in the Indigenous child welfare system. It would also spend another $20 billion on making long-term reforms.
Blackstock, the executive director of the First Nations Caring Society who first lodged the complaint at the heart of the issue, raised concerns that the agreement wouldn't provide $40,000 in compensation to all eligible claimants, which is the amount the tribunal ruled they should get.
"We can make sure that in our First Nations canoe of justice, no child has to see their money go away and no child is left behind in justice," she said Wednesday.
"We are capable of that."
Following the tribunal's decision in October, the federal government filed for a judicial review of some parts of its decision.
Endorsing the settlement agreement loomed as one of the biggest items on the assembly's agenda, with chiefs being asked to vote on what the organization should do next.
The chiefs had been preparing to vote on conflicting resolutions, with one asking them to support the final settlement agreement, while another sought to see the organization not appeal the tribunal decision and renegotiate the deal.
But on Wednesday, further talks between both sides took place, assisted by former senator and judge Murray Sinclair, who helped the AFN, federal government and lawyers for two related class-action lawsuits reach the $40-billion agreement in the first place, which was formally announced in January.
Chiefs ultimately voted late Wednesday against re-entering negotiations but to instead support compensation for victims outlined in the agreement and "those already legally entitled to the $40,000 plus interest under the Canadian Human Rights Tribunal compensation orders."
It also included a provision that AFN leaders must regularly return to chiefs to provide it with progress updates and "seek direction" from chiefs on implementing the final agreement.
Many chiefs thanked Blackstock, who was greeted with applause after further agreement was met and said she was honoured to see people come together for children harmed by Ottawa's discrimination.
"We have had too many apologies, we've had too many compensation deals, we've had too many kids hurt. And this has got to be it," she said.
She added more discussion on the long-term reform part of the deal would be presented to chiefs on Thursday.
Earlier in the day, the assembly heard from sisters Melissa Walterson and Karen Osachoff, plaintiffs on the case, about the impact the foster care system had on their lives.
Osachoff said she had been in the child welfare system since she was born and didn't have a chance to grow up with her sister.
"Had it not been for the '60s Scoop and the child welfare (system), her and I would have grown up together."
She said she understands why the tribunal characterizes those like her as "victims," but told chiefs to instead think of them as survivors.
"I am not a victim and our claimants are not victims."
This report by The Canadian Press was first published Dec. 7, 2022.