Ex-police officer gets 7-plus years in prison in Jan. 6 case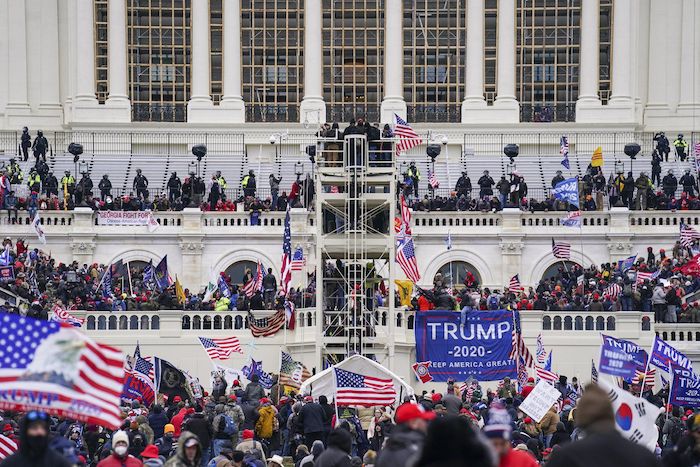 By Michael Kunzelman in Washington
WASHINGTON (AP) — An off-duty Virginia police officer who stormed the U.S. Capitol with a fellow officer was sentenced Thursday to more than seven years in prison, matching the longest prison sentence so far among hundreds of Capitol riot cases.
Former Rocky Mount Police Sgt. Thomas Robertson didn't speak in court before U.S. District Judge Christopher Cooper sentenced him to seven years and three months in prison. Cooper also sentenced Robertson to three years of supervised release after his prison term.
Federal prosecutors had recommended an eight-year prison sentence for Robertson. The sentence he got equals that of Guy Reffitt, a Texas man who attacked the Capitol while armed with a holstered handgun.
Robertson gets credit for the 13 months he has already been jailed.
In April, a jury convicted Robertson of attacking the Capitol on Jan. 6, 2021, to obstruct Congress from certifying President Joe Biden's 2020 electoral victory. Jurors found him guilty of all six counts in his indictment, including charges that he interfered with police officers at the Capitol and that he entered a restricted area with a dangerous weapon, a large wooden stick.
Robertson traveled to Washington on the morning of Jan. 6 with another off-duty Rocky Mount police officer, Jacob Fracker, and a third man, a neighbor who wasn't charged in the case.
Fracker was scheduled to be tried alongside Robertson before he pleaded guilty to a conspiracy charge in March and agreed to cooperate with federal authorities. Cooper is scheduled to sentence Fracker next Tuesday.
Prosecutors have asked Cooper to spare Fracker from a prison term and sentence him to six months of probation along with a period of home detention or "community confinement." They said Fracker's "fulsome" cooperation and trial testimony was crucial in securing convictions against Robertson.
3 physicists share Nobel Prize for work on quantum science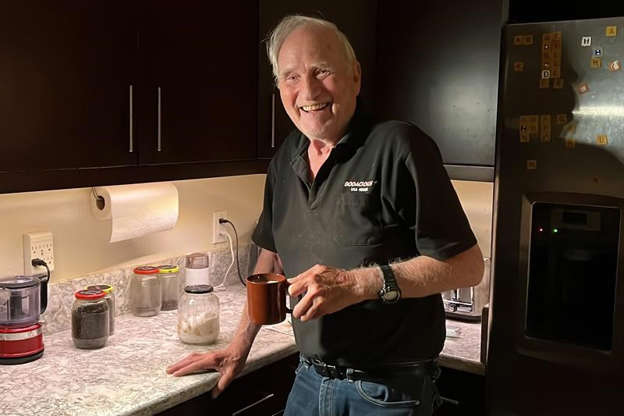 STOCKHOLM (AP) — Three scientists jointly won this year's Nobel Prize in physics on Tuesday for their work on quantum information science that has significant applications, for example in the field of encryption.
Frenchman Alain Aspect, American John F. Clauser and Austrian Anton Zeilinger were cited by the Royal Swedish Academy of Sciences for discovering the way that unseen particles, such as photons or tiny bits of matter, can be linked, or "entangled," with each other even when they are separated by large distances.
"Being a little bit entangled is sort of like being a little bit pregnant. The effect grows on you," Clauser said in a Tuesday morning phone interview with The Associated Press.
It all goes back to a feature of the universe that even baffled Albert Einstein and connects matter and light in a tangled, chaotic way.
Clauser, 79, was awarded his prize for a 1972 experiment that helped settle a famous debate about quantum mechanics between Einstein and famed physicist Niels Bohr. Einstein described "a spooky action at a distance" that he thought would eventually be disproved.
"I was betting on Einstein," Clauser said. "But unfortunately I was wrong and Einstein was wrong and Bohr was right."
Clauser said his work on quantum mechanics shows that you can't confine information to a closed volume, "like a little box that sits on your desk" — though even he can't say why.
"Most people would assume that nature is made out of stuff distributed throughout space and time," Clauser said. "And that appears not to be the case."
Quantum entanglement "has to do with taking these two photons and then measuring one over here and knowing immediately something about the other one over here," said David Haviland, chair of the Nobel Committee for Physics. "And if we have this property of entanglement between the two photons, we can establish a common information between two different observers of these quantum objects. And this allows us to do things like secret communication, in ways which weren't possible to do before."
That's why quantum information is not an esoteric thought experiment, said Eva Olsson, a member of the Nobel committee. She called it a "vibrant and developing field."
"It has broad and potential implications in areas such as secure information transfer, quantum computing and sensing technology," Olsson said. "Its predictions have opened doors to another world, and it has also shaken the very foundations of how we interpret measurements."
Everything in the universe could be entangled but "usually the entanglement just kind of washes off. It's so chaotic and random that when you look at it … we don't see anything," said Harvard professor Subir Sachdev, who has worked on experiments that look at quantum entangled material consisting of up to 200 atoms. But sometimes scientists can unsnarl just enough to make sense and be useful in everything from encryption to superconductors, he said.
Speaking by phone to a news conference after the announcement, Zeilinger said he was "still kind of shocked" at hearing he had received the award.
"But it's a very positive shock," said Zeilinger, 77, who is based at the University of Vienna.
Clauser, Aspect, and Zeilinger have figured in Nobel speculation for more than a decade. In 2010 they won the Wolf Prize in Israel, seen as a possible precursor to the Nobel.
While physicists often tackle problems that appear at first glance to be far removed from everyday concerns — tiny particles and the vast mysteries of space and time — their research provides the foundations for many practical applications of science.
The Nobel committee said Clauser developed quantum theories first put forward in the 1960s into a practical experiment. Aspect, 75, was able to close a loophole in those theories, while Zeilinger demonstrated a phenomenon called quantum teleportation that effectively allows information to be transmitted over distances.
"Using entanglement you can transfer all the information which is carried by an object over to some other place where the object is, so to speak, reconstituted," said Zeilinger. He added that this only works for tiny particles.
"It is not like in the Star Trek films (where one is) transporting something, certainly not the person, over some distance," he said.
When he began his research, Zeilinger said the experiments were "completely philosophical without any possible use or application."
Since then, the laureates' work has been used to develop the fields of quantum computers, quantum networks and secure quantum encrypted communication.
A week of Nobel Prize announcements kicked off Monday with Swedish scientist Svante Paabo receiving the award in medicine Monday for unlocking secrets of Neanderthal DNA that provided key insights into our immune system.
They continue with chemistry on Wednesday and literature on Thursday. The 2022 Nobel Peace Prize will be announced on Friday and the economics award on Oct. 10.
The prizes carry a cash award of 10 million Swedish kronor (nearly $900,000) and will be handed out on Dec. 10. The money comes from a bequest left by the prize's creator, Swedish inventor Alfred Nobel, who died in 1895.
___
Jordans reported from Berlin. Seth Borenstein contributed from Kensington, Maryland, and Maddie Burakoff contributed from New York.
___
Follow all AP stories about the Nobel Prizes at https://apnews.com/hub/nobel-prizes
David Keyton And Frank Jordans, The Associated Press
Prairie premiers, governors urge Canada, U.S. to keep border crossings open longer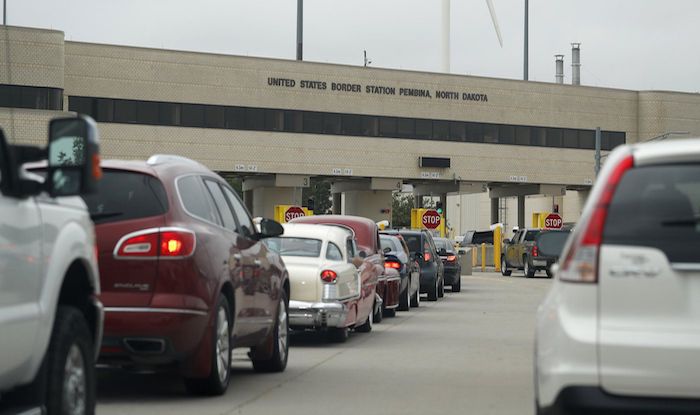 Washington – Canada's Prairie premiers and two U.S. governors want their respective countries to restore pre-pandemic operating hours at entry points along their shared land border.
The group of provincial and state leaders have written to Prime Minister Justin Trudeau and President Joe Biden to argue that curtailed hours at border crossings are hurting the economy.
The letter is signed by Alberta Premier Jason Kenney, Saskatchewan Premier Scott Moe and Manitoba Premier Heather Stefanson, as well as Montana Gov. Greg Gianforte and North Dakota Gov. Doug Burgum.
It says travellers and businesses are being forced to go out of their way to find entry points with longer hours, driving up fuel and labour costs.
The leaders say that's also hurting smaller border communities along the Canada-U.S. border that depend on international traffic for their economic livelihoods.
The letter does not mention that the U.S. still requires visiting foreign nationals to be vaccinated against COVID-19, a requirement Canada lifted over the weekend.
"Residents and businesses on both sides of the border have expressed concern that the reduced hours of operation will become permanent," the letter reads.
It also argues that the supply chain problems that have persisted since the onset of COVID-19 in 2020 will only linger so long as cross-border trade and travel remains curtailed by limited hours at border crossings.
"Resuming pre-pandemic operating hours will ensure the efficient and steady flow of people and goods, which will only improve trade activity and reduce inflationary pressure on both sides of the border."
A notice on the Canada Border Services Agency website warns of limited operating hours at nearly 40 land ports of entry, mostly in the Prairie provinces, along with Quebec, New Brunswick and B.C.
This report by The Canadian Press was first published Oct. 3, 2022.