Errors and omissions revealed in RCMP statements after Nova Scotia mass shooting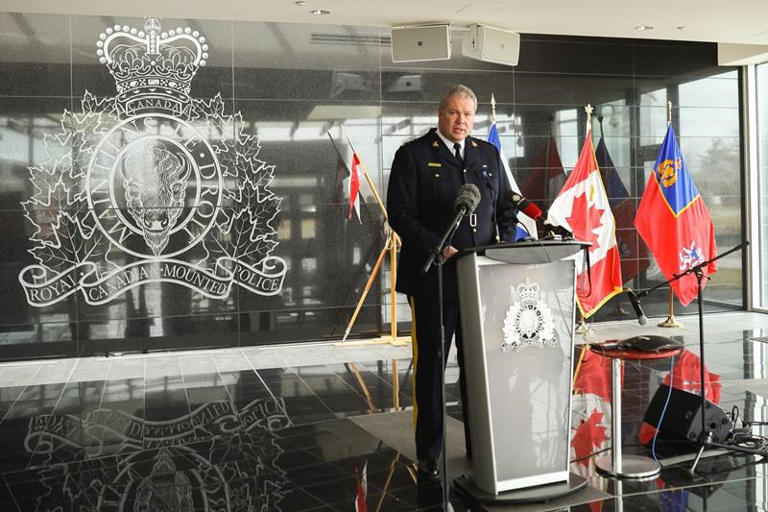 HALIFAX — In the days following the mass shooting that left 22 people dead in Nova Scotia, the RCMP's statements to the public were riddled with mistakes, confusion and omissions, a newly released report reveals.
The document, published Tuesday by the inquiry investigating the 2020 tragedy, also asserts that key information about the case, including the victims' names and the types of weapons used by the killer, was withheld from the public longer than was needed.
The commission of inquiry does not have a mandate to assign blame, but the 126-page document lays out a long list of miscues and delays, some of which attracted the ire of senior RCMP brass in Ottawa.
The summary of evidence confirms that on the night of April 19, 2020, when the Mounties held their first news conference about the killer's 13-hour rampage, the RCMP initially chose to understate the number of people who were known to be victims.
The senior Mountie who led the RCMP's initial news conferences, Chief Supt. Chris Leather, said after being pressed by reporters that "in excess of 10 have been killed." However, before his 6 p.m. news conference in Halifax, Leather knew that victims were still being found and the official number stood at 17, the document says.
In media interviews later that night, the head of the RCMP, Commissioner Brenda Lucki, told the CBC that 13 people were killed. And just before 8 p.m. that night, Lucki told The Canadian Press that the death toll was 17.
The resulting confusion prompted a flurry of emails among senior RCMP staff. Jolene Bradley, director of strategic communications at RCMP headquarters in Ottawa, sent a message to her counterpart in Nova Scotia, saying, "Doesn't help that the (commissioner) is giving the number!!!! Am really trying to get that back in the box for you."
Lia Scanlan, director of strategic communications in Halifax, replied: "Thank you. It looks awful and I've had to ask my entire team to turn their phones off …. Lord help me!!"
At 10:21 p.m., Scanlan sent another email to headquarters, saying: "Can I make a request to stop changing number on victims. Please allow us to lead the release of information. It looks fragmented and inconsistent."
In a followup interview with inquiry investigators, Scanlan said government officials, including Public Safety Minister Bill Blair and Prime Minister Justin Trudeau, were "weighing in on what we could and couldn't say" during media briefings. She did not provide further details.
Scanlan has told the inquiry that 10 was the number the Nova Scotia RCMP first used "because at a certain point, you have to call your information final."
By 11 p.m. on April 19, 2020, the RCMP had concluded that up to 22 people had been killed. The next day, Leather said the death toll had climbed to at least 19. The RCMP didn't reveal the final number until a statement was released on April 21, 2020.
At another point during the first news conference, Leather was asked if the killer was known to police. Leather said: "No, he was not." But that was not the case.
On the morning of April 19, 2020, the RCMP learned from police records that the killer had threatened to kill his parents in 2010 and had access to long guns. The records also confirmed he had told a police source in 2011 that he "wanted to kill a cop." And in early 2020, he had a bizarre but non-violent interaction with police who had parked their vehicle in the lot next to his denture-making business in Dartmouth, N.S.
As for the identities of the victims, Leather said on April 20, 2020, that no names would be released until Nova Scotia's medical examiner had confirmed the identity of certain individuals. The Mounties' own records, however, show that by 5:25 p.m. that day, all of the victims' immediate next of kin had been notified of their deaths — and that RCMP headquarters had confirmed its support for releasing the names.
By April 25, media reports confirmed the names of the 22 victims, but the RCMP had yet to provide a list.
The RCMP's operational manual says the names of deceased persons can be released once next of kin have been notified, but only if the disclosure will further the investigation, or there is a public safety concern or the identities have already been made public through other means.
On another front, Leather was asked at subsequent news conferences about the weapons owned by the gunman. He declined to provide details, saying he couldn't comment because the province's police watchdog agency — the Serious Incident Response Team (SIRT) — was investigating.
But the inquiry's document makes it clear the Mounties knew a great deal about the killer's firearms early in their investigation.
The RCMP had recovered multiple firearms from the stolen car the gunman was driving when he was shot dead by two Mounties at a gas station north of Halifax on April 19, 2020. A forensic identification officer had catalogued a list of five weapons, including two semi-automatic rifles, by April 21.
The types of guns used by the shooter, however, were not shared in the five news conferences that took place in the week following the mass shooting.
Internal RCMP documents show that on April 28, 2020, Lucki convened a meeting of senior RCMP officers, during which she said she was disappointed that details about firearms had been omitted. According to notes taken by RCMP Supt. Darren Campbell, Lucki said she felt "disobeyed" when those details were not shared.
Campbell's notes say Lucki had promised the Prime Minister's Office that the RCMP would release the descriptions, adding that the information "was tied to pending gun control legislation that would make officers and public safer."
In response, Campbell told Lucki that he was the one who had asked the strategic communications team not to release the firearms details because doing so could jeopardize the RCMP's investigation into how the gunman obtained them.
The inquiry's document also takes issue with Leather's statement on April 20, 2020, that police did not know about the killer's replica police vehicle until the morning of April 19 — the second day of the killer's rampage.
The inquiry has heard the Mounties were first told the gunman was driving a fully marked replica cruiser shortly after 10 p.m. on April 18, 2020, when 911 calls starting coming in from Portapique, N.S., where 13 people were killed. More witnesses came forward at 10:25 p.m. and the next morning at 5:16 a.m.
The document also reveals that RCMP Const. Wayne Tingley had seen the fully marked RCMP replica in Elmsdale, N.S., on April 17, 2020 — a day before the shootings started. He noticed the car had a push bar — uncommon for actual RCMP cruisers — and lacked a licence plate but he didn't see the driver. Tingley provided a statement to the RCMP about his sighting on April 23, 2020.
This report by The Canadian Press was first published June 21, 2021.
— With files from Lyndsay Armstrong and Keith Doucette
Michael MacDonald, The Canadian Press
Wanted man cut through fence to cross U.S. border with children: Border Patrol
United States Border Patrol says a convicted Canadian sex offender drove through a barbed wire fence to cross the intentional border with two children and their mother.
U.S. border patrol says agents found a cut fence near the Turner Port of Entry between Saskatchewan and Montana.
Mounties in Saskatchewan issued an Amber Alert for the boy and girl Monday and it was extended into South Dakota Wednesday.
Benjamin Martin Moore, who is 50, was taken into custody in South Dakota soon after.
The seven-year-old girl and eight-year-old boy, as well as their mother, were with Moore.
U.S. Immigration and Customs Enforcement confirm that Moore, as well as the mother, remain in custody.
This report by The Canadian Press was first published Aug. 11, 2022.
'Elaborate ruse': Prosecutor says Saskatoon mother in custody dispute faked deaths
Federal prosecutors in the United States have accused a Saskatoon woman of faking her own death and that of her son in what they describe as an elaborate scheme to illegally enter the country.
Kevin Sonoff, a spokesman for the U.S. Attorney's Office in Oregon, says 48-year-old # is being detained as a flight risk as she faces two charges related to identity theft.
Walker was reported missing with her seven-year-old son last month. Police discovered them "safe and well" in a rental unit in Oregon City on Friday, following two weeks of search-and-rescue efforts that included scouring the South Saskatchewan River and its banks, where her pickup truck was abandoned.
Court documents filed Monday in Oregon allege Walker "went through extreme efforts to steal identities for her and her son that allowed them to unlawfully enter the United States and hide."
The documents allege she "thoughtfully planned and engaged in an elaborate ruse in which she faked her death and that of her son."
The U.S. Department of Homeland Security has charged her with the felony offence of knowingly producing a passport of another person and a misdemeanour charge of possessing identification that was stolen or produced illegally.
The felony charge carries a mandatory minimum sentence of two years in prison if found guilty, while the misdemeanour charge carries up to six months' imprisonment, the U.S. Attorney's Office said.
Saskatoon police said they have charged Walker with public mischief and parental abduction in contravention of a custody order, and are looking to extradite her back to Canada.
The boy was returned to Canada on Sunday after a legal guardian picked him up, police said.
Saskatoon police said they began searching for Walker and her son on July 24 after friends reported them missing.
Her red Ford F-150 truck had been found at Chief Whitecap Park, just south of Saskatoon, along with some of her belongings.
The court documents allege Walker took the identities of a colleague and that colleague's child to open a bank account, and she bought an SUV and drove across the border on July 23. Saskatoon police said she crossed the border south of Lethbridge, Alta., into Montana.
An affidavit from Clinton Lindsly, a special agent with Homeland Security, says Walker and her son's biological father had been engaged in a lengthy custody dispute and she was supposed to return the boy on July 25.
Lindsly says in the document he told Walker, after her arrest, that "people presumed that she and her son died in the river, to which she spontaneously stated, 'He doesn't want to be with his father.'"
The court documents further allege Walker "put a lot of time and effort in planning her crime."
The documents say officers found a series of notebooks and handwritten notes in Walker's SUV that included a checklist: dye hair, cover tattoo, pack car, get toys, throw phone in water, ditch car by bridge, possibly buy fishing rod and find the nearest border.
The documents say Walker has no ties to the U.S. and allege she funded her scheme through hidden financial accounts and assets totalling over $100,000.
"The defendant's kidnapping of her child is extremely serious. While the child has been safely rescued there are no assurances that if the defendant were released she would not try once again to kidnap her child," say the court documents.
Walker, who remains in custody, is to next appear in court in Oregon on Sept. 7. A defence lawyer believed to be representing Walker could not be reached for comment.
"As the criminal investigation progresses, there may be further charges that Ms. Walker will face as a result," Saskatoon police Deputy Chief Randy Huisman said Monday.
"Investigators are looking at several different charges, and in relation to the false identity documents that were alluded to, and how she was able to prepare those documents."
The Federation of Sovereign Indigenous Nations, where Walker worked as its chief executive officer, had organized a vigil and walks through the park to raise awareness about the disappearance of the woman and her son.
The federation also issued its own Amber Alert for the pair, and asked police to do the same. Police said there wasn't evidence to suggest they were in imminent danger.
The boy's family said in a statement Saturday that "over the past two weeks of hell," all they had wished for was the safe return of Walker and the boy.
"When we found out they were both safe, there was sobbing, laughing, dancing, shouting, throwing of shoes and hugging."
Walker, who is from Okanese First Nation, is also a well-known author. Her recent book "The Prairie Chicken Dance Tour," published under the name Dawn Dumont, was named last week as a finalist for the Stephen Leacock Memorial Medal for Humour.
This report by The Canadian Press was first published on Aug. 8, 2022.
Mickey Djuric, The Canadian Press