Erin O'Toole says COVID-19 vaccine comments by Tory MPs Gladu, Lewis are not helpful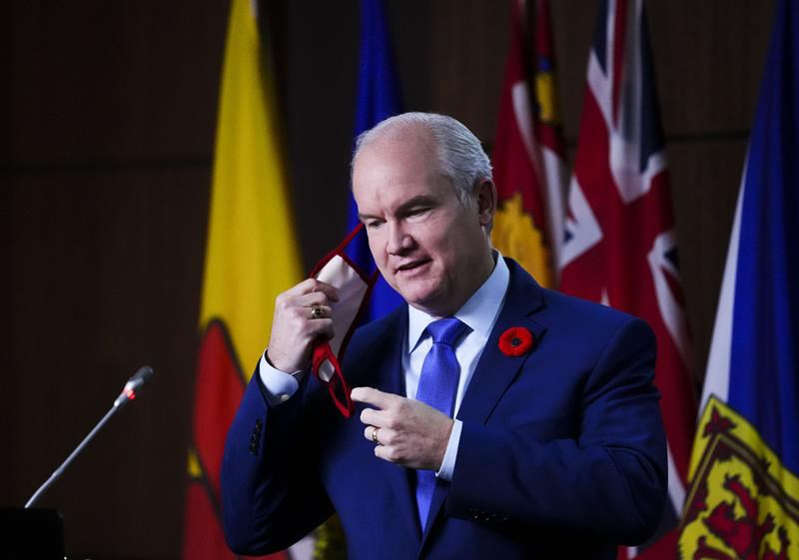 OTTAWA — Erin O'Toole sayscomments about COVID-19 vaccines by some members of his caucus are not helpful and are spreading uncertainty about immunization, but he will deal with those issues privately with his team.
The Conservative leader has struggled for weeks to put a lid on questions about where he and his party stand on mandatory vaccinations. Some of his MPs are ardently against such policies, while others see them as less of a concern than other issues.
O'Toole moved on Monday to distance himself from remarks by some of his caucus members, including those made by Ontario MP Marilyn Gladu during an interview on CTV's "Question Period."
In the interview that aired Sunday, Gladu compared COVID-19 to polio when it spread during the early 20th century, but she claimed the novel coronavirus doesn't pose the same "frequency of risk" in terms of deaths or disabilities.
"There's a big difference between advocating for your constituents who may need reasonable accommodation," said O'Toole.
"It's very different to cause confusion with respect to the health and well-being of Canadians. Ms. Gladu's interview did that yesterday and it's not appropriate at a time we should be answering questions about vaccine hesitancy, not creating new questions," he said.
"Our team will deal with this as a team because we respect one another and we have these discussions in caucus, but let me be crystal clear: The Conservative party encourages people to vaccinated."
The comments were O'Toole's first since Gladu publicized late last week that she belonged to a group of 15 to 30 Conservative MPs and senators planning to form a so-called mini-caucus within the larger Conservative cohort to discuss the negative impacts of vaccine mandates.
Gladu has repeatedly said the group isn't about O'Toole or his leadership, and that it wouldn't contradict the leader's message when it comes to COVID-19. Her office did not immediately respond to the concerns he raised about her CTV interview.
On Monday, O'Toole was alsoasked about comments by Conservative MP Leslyn Lewis — a former leadership rival and favourite of the social conservative wing of the party — who has questioned on social media the efficacy of vaccinating children, and those by Dean Allison, another Ontario MP. Allison, who has said he can't get vaccinated for medical reasons, has hosted broadcasts with scientists who compared natural immunity to COVID-19 with vaccination.
"It's a great example of why members of Parliament, of all stripes, should let the professionals, let the public health officials, let the physicians answer questions about efficacy of vaccines," said O'Toole.
The Conservative leader also cautioned that the pandemic has seen the creation of "instant experts" on social media.
"I don't think that helps in our public discourse. I've tried consistently for a year not to politicize questions about vaccines, to try and find ways to answer questions and reduce hesitancy."
A spokesman for Lewis declined to comment following O'Toole's remarks, while no one from Allison's office immediately responded.
O'Toole remains the lone leader in Parliament who refuses to disclose how many of his 118-member caucus are fully vaccinated against COVID-19. Immunization will be a requirement for MPs wishing to take their seat in the House of Commons when it resumes Nov. 22.
O'Toole has said he supports an in-person return to Parliament. However, the Liberals and NDP support a hybrid model with some virtual participation, so the possibility remains that some Tory MPs could stay home when it begins.
"All of our MPs that participate in the House will be vaccinated. I don't get into talking about the personal health situation of any member of Parliament, senator or any Canadian," he said on Monday.
An analysis by The Canadian Press shows at least 82 of the Conservatives' 119 elected members, including O'Toole, are double vaccinated against COVID-19. Besides Allison, at least one other says they can't be vaccinated for medical reasons and several others, including Lewis, say they don't disclose their status because it's their private health information.
The remainder have yet to respond.
O'Toole has been dealing with queries about the vaccination status of his team since the federal election campaign, when he decided inoculation against COVID-19 wasn't required in order for candidates to run under the Conservative banner.
The Liberals frequently attacked that decision, along with the Tories' opposition to mandatory vaccinations for air and train travellers, federal public servants and federally regulated workers — a policy the government announced just before the campaign kicked off.
Prime Minister Justin Trudeau continued his criticism of the Conservatives on Monday, accusing them of "moving backwards" when it comes to vaccinations.
He characterized the concerns of Tory MPs about needing to be double vaccinated to enter the House as demanding "special treatment" while millions of Canadians lined up to get their shot.
O'Toole has said his team will formally complain to the Speaker because it doesn't feel an all-party committee of MPs — the board of internal economy, which governs how the House operates — should have been the body to decide on the vaccine mandate, which affects all 338 MPs.
This report by The Canadian Press was first published Nov. 8, 2021.
Stephanie Taylor, The Canadian Press
Fortress Australia Gets Its Scalp, Tosses Djoker Out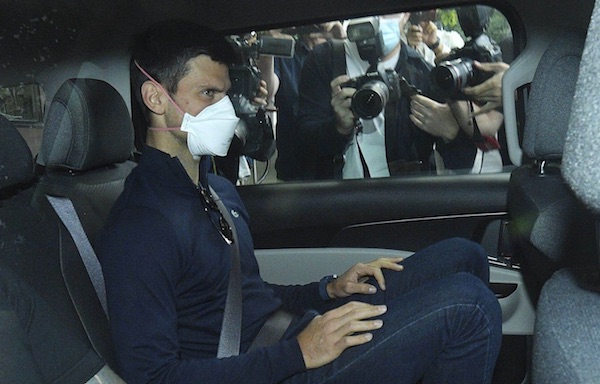 The ceremony of innocence is drowned;
The best lack all conviction, while the worst
Are full of passionate intensity. —W.B. Yeats
There has always been a large reservoir of affection for Australia in the West. The sun-kissed land down under. Kangaroos. Beaches. Crocodile Dundee. Aussie Rules Football. Men At Work. Foreigners embraced all the clichés gleefully.
The Australian Open tennis tournament was part of that scenario. The first Grand Slam, played in scorching sunshine while the Northern Hemisphere freezes in January. TV coverage was laced with tourist entreaties to fly 14 hours to the Great Barrier Reef and Gold Coast.
But with the nation's behaviour in fighting Covid-19, this is all (in the words of Yeats) "changed, changed utterly." The fever-swamp regime now running the nation has gone off the rails with detention camps for unvaxxed, flying squads of police roaming the streets and total lockdowns in emulation of the Chinese.
Australia's heavy-handed "cures" for Covid would make Curfew Quebec look a model of tolerance. While America is moving away from draconian lockdowns, (Associated Press is now asking its writers to play down Covid numbers) Australia is still singing from the 2020 WHO hymn book that pretends lockdowns save lives. For example, mask mandates were recently re-imposed when five— count 'em— five local cases were spotted in Perth.
Look, Australia is entitled to run their nation any way they want. They have the constitutional right to act like so many scared kookaburras in the face of a virus that will spare 99.98 percent of them. But don't push the "shrimp on the bar-b" hokum on the world when the tennis begins.
This whack-a-mole mania culminated in Sunday's expulsion of Covid rebel Novak Djokovic. After granting the No. 1 men's player in the world a visa to play, Australia's Minister of Immigration Alex Hawke said he had cancelled the 34-year-old's visa for a second time on "health and good order grounds, on the basis that it was in the public interest to do so". He said Djokovic's example was— wait for it— a threat to his people.
Good order? Hawke and his government have to lock up the population because their Island Fortress strategy isn't enough to curb Omicron's arrival. Yet Djokovic is the threat, not their frantic search for a fifth column of viral killers in Canberra.
Djoker knew he was going into headwinds as he sought to play in the Open as an unvaccinated player. He was less than forthcoming on his entry documents. So his highly political stance made him a target. But a threat to the people of Australia? Please. (The cops escorting him to the airport was reminiscent of Judy Garland being shooed from the country in the 1960s for being too drunk to perform.)
The Australian PM Scott Morrison, with his eyes on re-election, greeted the expulsion, mumbling about needing to "keep our borders strong and keep Australians safe… It's now time to get on with the Australian Open and get back to enjoying tennis over the summer."
Djokovic's argument is that the Australian government that initially granted him a visa is now using him as an easy target to whip the natives in line. The independent, unapologetic Djokovic has certainly served the Aussie politicians well as a convenient whipping boy for the petrified millions who put their faith in governments and health "experts" to save them from the dreaded virus.
(Sounds like France, which never misses an opportunity to enforce the status quo, will emulate Australia by banning an unvaxxed Djokovic if he ventures there in June for the French Open.)
The "burn the witch" frenzy feeds into the non-vaxxed insanity currently underway in Canada and the U.S. There are demands that those who declined the juice be denied healthcare or fined or have their taxes audited. Immunity is dismssed. Cobbled hospital numbers are conflated with truths. Instead, images of gap-toothed hillbillies saturate progressive media who find their allies have been unable to halt the virus as promised.
Inconveniently, polling by Abacus in Canada has shown that the typical anti-vaxxer is not a swaggering tennis player, a bow hunter or toothless yokel but is in fact a 42-year-old Ontario white woman who votes Liberal.
The bright side of this Kafkaesque farce is that Omicron is fading like old Xmas decorations. Many are predicting that it is peaking now and will be a spent force by February. The tinpot tyrants in Australia, having booted Djokovic, will need something else to reinforce their desperate grasp on power.
Ditto here in North America. Unless a follow-up variant can be swiftly produced (remember that subsequent viruses are always weaker) Skippy and Biden will be left to explain their enforced vaccines and virus solutions to a public disinterested in their ongoing need for power.
To use a tennis analogy they'll be down two breaks and facing Djokovic's best serve. Should be entertaining.
Bruce Dowbiggin @dowbboy is the editor of Not The Public Broadcaster (http://www.notthepublicbroadcaster.com). The best-selling author was nominated for the BBN Business Book award of 2020 for Personal Account with Tony Comper. A two-time winner of the Gemini Award as Canada's top television sports broadcaster, he's also a regular contributor to Sirius XM Canada Talks Ch. 167. His new book with his son Evan Inexact Science: The Six Most Compelling Draft Years In NHL History is now available on http://brucedowbigginbooks.ca/book-personalaccount.aspx
Health Canada approves Pfizer antiviral but supply issues expected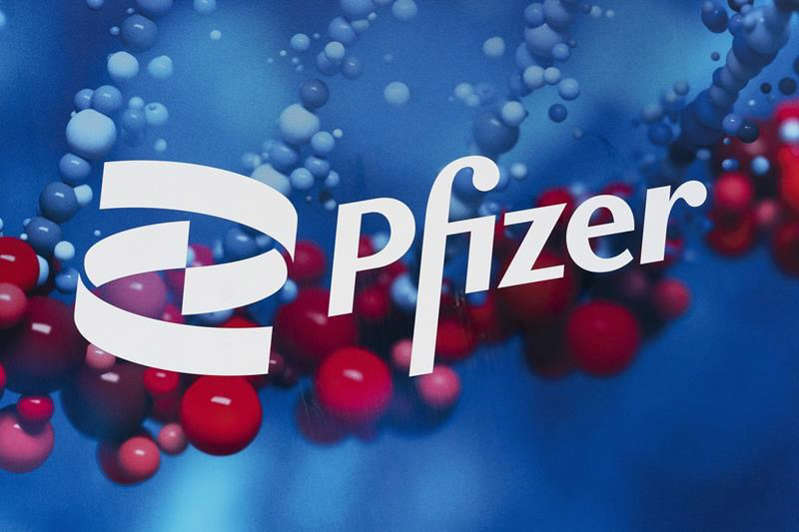 OTTAWA — Health Canada approved Pfizer's antiviral treatment for COVID-19 Monday which could help cut pressure on the health-care system by preventing high-risk patients from ending up in the hospital.
But limited supplies of Paxlovid mean the Public Health Agency of Canada is asking provinces and territories to prioritize the treatment for people most at risk of serious illness, including severely immune-compromised patients and some unvaccinated people over the age of 60.
"Canadians should be very happy today to hear that the oral antivirals are beginning to become available in Canada," chief public health officer Dr. Theresa Tam said at a virtual briefing Monday.
Health Canada's authorization means Paxlovid can be prescribed for adults who test positive for COVID-19 on a molecular or a rapid test, who have mild or moderate symptoms and are at high risk of becoming severely ill.
Clinical trials showed the treatment, which helps prevent the SARS-CoV-2 virus from reproducing in an infected patient, was almost 90 per cent effective at reducing hospitalization and death in high-risk patients if given within three days of infection, and 85 per cent if given within five days.
The medication requires three pills at a time, twice a day, for five days. It is the first oral COVID-19 treatment that can be taken at home to be approved in Canada but Tam admitted there may be some logistical challenges getting the drug to the right people quickly enough.
"It is challenging, there is no doubt it," Tam said. "First of all, spotting that you may have symptoms and then getting medical attention quickly."
McMaster University infectious disease specialist Dr. Zain Chagla said supply constraints mean the impact of Paxlovid may be slow, but overall, it should start to help reduce the number of people who are becoming severely ill.
"There is certainly a lot of hope here," he said.
Canada has a contract to get one million courses of the treatment this year but supply issues are limiting use everywhere it has been approved so far.
Procurement Minister Filomena Tassi said more than 30,000 courses of the treatment are already in Canada and will be distributed to provinces on a per-capita basis this week.
She said another 120,000 courses of the treatment will be shipped before the end of March. She did not say when the remainder of the one million doses Canada bought will come, nor would she disclose the cost, citing contract confidentiality.
Neither would Pfizer Canada, though Pfizer said in the fall the United States is paying about US$530 per treatment course.
Chagla said it's difficult to know how many courses would be enough, but he said every one helps, particularly if there are enough available for immune-compromised people for whom vaccines don't work very well.
Tam said because of supply constraints the Public Health Agency of Canada is asking provincial and territorial governments to prioritize the highest-risk patients for the medications.
Severely immune-compromised patients, such as transplant recipients, top the priority list. They are followed by unvaccinated people over the age of 80, and then unvaccinated people over 60 who live in long-term care, remote or rural locations or First Nations.
Tam said prioritizing unvaccinated people is scientific and rational because they are at higher risk of severe outcomes.
"I think that as health-care providers, you don't pick and choose which patients you have coming into the hospital getting treated," she said.
Chagla said keeping unvaccinated patients out of hospital is a big help to everyone from a health-care resources perspective, and noted for most patients, being vaccinated means they aren't at high risk for serious illness.
"Getting two or three doses of vaccine probably are like having Paxlovid in your system all the time (in terms of) preventing people from getting seriously ill," he said.
The United States Food and Drug Administration authorized Paxlovid for patients as young as 12 years old but Health Canada said the company did not submit any safety or efficacy data for that age group so it can't be authorized for people younger than 18 at this time.
Health Canada also says the treatment isn't to be used on patients already in hospital with severe or critical COVID-19 or as a prevention treatment before or after someone is exposed to the virus. It is also not to be given to a patient for more than five days.
It warns there are some potentially severe drug interactions between Paxlovid and other medications prescribed for ailments including prostate cancer and heart problems and narcotics including fentanyl.
This report by The Canadian Press was first published Jan. 17, 2022.
Mia Rabson, The Canadian Press
Note to readers: This is a corrected story. A previous version said two tablets were taken twice a day for five days.