Elon Musk's next drama: a trial over his tweets about Tesla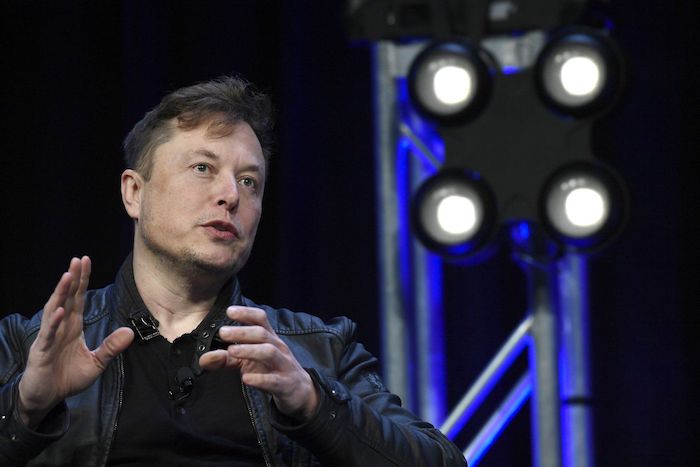 By Michael Liedtke in San Francisco
SAN FRANCISCO (AP) — While still grappling with the fallout from a company he did take private, beleaguered billionaire Elon Musk is now facing a trial over a company he didn't.
Long before Musk purchased Twitter for $44 billion in October, he had set his sights on Tesla, the electric automaker where he continues to serve as CEO and from which he derives most of his wealth and fame.
Musk claimed in a August 7, 2018 tweet that he had lined up the financing to pay for a $72 billion buyout of Tesla, which he then amplified with a follow-up statement that made a deal seem imminent.
But the buyout never materialized and now Musk will have to explain his actions under oath in a federal court in San Francisco. The trial, which begins on Tuesday with jury selection, was triggered by a class-action lawsuit on behalf of investors who owned Tesla stock for a 10-day period in August 2018.
Musk's tweets back then fueled a rally in Tesla's stock price that abruptly ended a week later, after it became apparent that he didn't have the funding for a buyout after all. That resulted in him scrapping his plan to take the automaker private, culminating in a $40 million settlement with U.S. securities regulators that also required him to step down as the company's chairman.
Musk has since contended he entered that settlement under duress and maintained he believed he had locked up financial backing for a Tesla buyout during meetings with representatives from Saudi Arabia's Public Investment Fund.
The trial's outcome may hinge on the jury's interpretation of Musk's motive for tweets that U.S. District Judge Edward Chen has already decided were a falsehood.
Chen dealt Musk another setback on Friday, when he rejected Musk's bid to transfer the trial to a federal court in Texas, where Tesla moves its headquarters in 2021. Musk had argued that negative coverage of his Twitter purchase had poisoned the jury pool in the San Francisco Bay Area.
Musk's leadership of Twitter — where he has gutted the staff and alienated users and advertisers — has proven unpopular among Tesla's current stockholders, who are worried he has been devoting less time steering the automaker at a time of intensifying competition. Those concerns contributed to a 65% percent decline in Tesla's stock last year that wiped out more than $700 billion in shareholder wealth — far more than the $14 billion swing in fortune that occurred between the company's high and low stock prices during the Aug. 7-17, 2018 period covered in the class-action lawsuit.
The lawsuit is based on the premise that Tesla's shares wouldn't have traded at such a wide range if Musk hadn't dangled the prospect of buying the company for $420 per share. Tesla's stock has split twice since then, making that $420 price worth $28 on adjusted basis now. The shares closed last week at $122.40, down from its November 2021 split-adjusted peak of $414.50.
After Musk dropped the idea of a Tesla buyout, the company overcame a production problem, resulting in a rapid upturn in car sales that caused its stock to soar and minted Musk as the world's richest person until he bought Twitter. Musk dropped from the top spot on the wealth list after the stock market's backlash to his handling of Twitter.
The trial is likely to provide insights into Musk's management style, given the witness list includes some of Tesla's current and former top executives and board members, including luminaries such as Larry Ellison, Oracle co-founder, as well as James Murdoch, the son of media mogul Rupert Murdoch. The drama also may shed light on Musk's relationship with his brother, Kimbal, who is also on the list of potential witnesses who may be called during a trial scheduled to continue through Feb. 1.
GM to invest more than $1 billion in two Flint, Mich., plants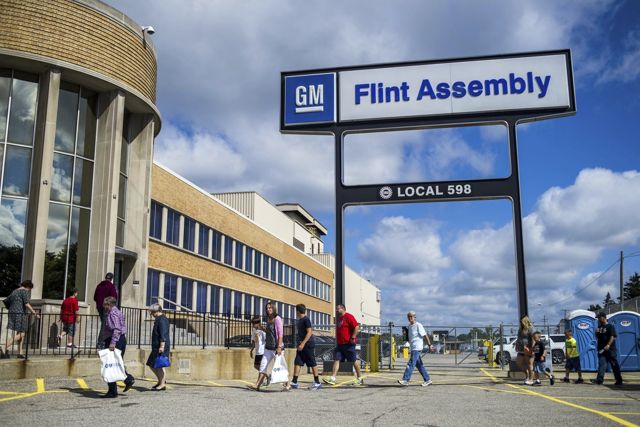 People arrive at the Flint Assembly Plant for a free tour and open house, Aug. 11, 2015, in Flint, Mich. General Motors plans to invest more than $1 billion in two Flint, Michigan manufacturing plants for the production of the next-generation internal combustion engine heavy-duty trucks. Gerald Johnson, executive vice president, Global Manufacturing and Sustainability, said Monday, June 5, 2023 that the company will build internal combustion vehicles throughout this decade, in addition to making electric vehicles. ( Jake May/The Flint Journal via AP)
By Associated Press in Flint
FLINT, Michigan (AP) — General Motors plans to invest more than $1 billion in two Flint, Michigan manufacturing plants for the production of the next-generation internal combustion engine heavy-duty trucks.
Gerald Johnson, executive vice president, Global Manufacturing and Sustainability, said Monday that the company will build internal combustion vehicles throughout this decade, in addition to making electric vehicles.
GM has a goal of building only electric passenger vehicles in the United States by 2035.
The Detroit automaker reported a 38% year-over-year increase in heavy-duty pickup sales last year, with nearly 288,000 trucks sold.
GM will invest $788 million in the Flint assembly plant, with updates including a body shop building expansion, general assembly conveyor expansion, and new tooling and equipment.
The company will invest $233 million in the Flint metal center for new stamping dies to support production of its next-generation ICE heavy-duty trucks, as well as press refurbishments and new equipment.
This latest investment brings GM's U.S. manufacturing and parts distribution facility investment commitments to more than $30.5 billion since 2013.
Why Hyundai and Kia have everyone else playing catch-up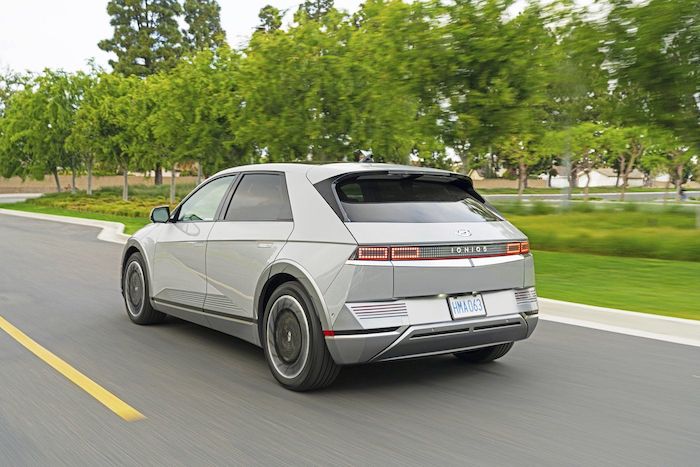 This photo provided by Hyundai shows the 2023 Hyundai Ioniq 5, which was named the Edmunds Top Rated Electric SUV for 2023. (Courtesy of Hyundai Motor America via AP)
By Nick Kurczewski
In the past few years, Hyundai and Kia vehicles have skyrocketed to the top of Edmunds' rankings in some of the most popular vehicle segments. For example, you'll find a Hyundai or Kia in the top spots for three-row midsize SUVs, midsize sedans, and multiple categories of electric vehicles. This changing of the guard can come as a surprise for car shoppers expecting to see more familiar brands like Chevrolet, Ford, Honda and Toyota.
This success isn't attributable to one single factor, such as short-lived marketing schemes like rock-bottom pricing or unsustainable rebates. Let's take a closer look at what these sister South Korean automakers are doing well and where they're still coming up short.
DISTINCTIVE DESIGN
First impressions matter, and this holds true when people are shopping for a new vehicle. Hyundai and Kia clearly recognize the importance of standing out in a crowd. Whether it's a family-friendly SUV with three rows of seating or an electric SUV on the technological cutting edge, a bold exterior draws attention and holds interest.
We'll start with EVs. While they share a platform and electric powertrains, the Hyundai Ioniq 5 and Kia EV6 take very different approaches to turning heads in the EV market. The Ioniq 5 is all edges and sharp angles, evoking Marty McFly's time-traveling DeLorean from 1984's "Back to the Future." The Kia EV6, on the other hand, is more traditionally handsome with its pointed front end, chunky fenders and sleek tapered tail. More is on the way too. The recently introduced Hyundai Ioniq 6 electric sedan is wildly curvaceous and has a swooping roofline that extends nearly to the rear bumper.
This bravado extends to the realm of conventional SUVs. When it arrived for the 2020 model year, the three-row Kia Telluriderocketed up sales charts thanks partly to its broad-shouldered stance and rugged design. However, style isn't everything. For example, the Kia Forte and Hyundai Elantra sedans also have distinctive looks but come up a little short on the fundamentals. That's why the relatively conservative Honda Civic is still Edmunds' top-rated small sedan.
THE LATEST TECHNOLOGY
Modern vehicles are now as much four-wheeled computers as they are traditional cars or trucks. As the recent microchip shortage proved, the technology beneath a car's sheetmetal is extremely complex. But if the interface to this technology is so nuanced that it takes a degree from MIT to master, what's the point?
Hyundai and Kia have met this challenge with infotainment systems that are simple to operate and come with sought-after features like Apple CarPlay and Android Auto, satellite radio and multiple USB ports. Many of the companies' latest vehicles also feature sleek-looking displays for both the instrument cluster and infotainment touchscreen, making some rival systems appear rudimentary by comparison.
A focus on technology shows up in the automakers' powertrain technology too. For example, the Ioniq 5 and EV6 have the capability to charge much more quickly at high-powered public DC fast-charging stations than many EVs. The South Korean companies have also been front-runners by offering hybrid and plug-in hybrid versions of their small SUVs, the Hyundai Tucson and Kia Sportage. However, shoppers should know that the regular non-hybrid versions of the Tucson and Sportage suffer from lackluster power and fuel economy and drop in Edmunds' rankings as a result.
STANDARD FEATURES AND VALUE
Kia and Hyundai have upped the quotient of desirable technology and safety features across their vehicle lineups. Most importantly, they've done so without making car shoppers pay thousands extra. Many rival brands have routinely bundled tech and comfort touches into pricey option packages or limited availability to the priciest trims.
While the gap has narrowed, Hyundai and Kia cars and SUVs have a well-earned reputation for offering more features for a given price. The brands also provide exceptionally long warranty coverage, including a 10-year/100,000-mile limited powertrain warranty that no competitors match.
High consumer demand for certain Hyundais and Kias has put a damper on value, however. Particularly during the height of pandemic-related shortages, Kia Tellurides were known to carry dealer markups of thousands more than the manufacturer's suggested retail price. It's not as bad now, but Kia and Hyundai consumers still need to be wary of dealer markups that can easily erase a lot of baseline value.
EDMUNDS SAYS: Hyundai and Kia are on a roll with vehicles that have expressive designs, competitive prices and extensive standard features. These automakers have become the ones to beat in many car segments, but savvy shoppers will bear in mind that not every Hyundai and Kia is golden.
_______
This story was provided to The Associated Press by the automotive website Edmunds.