Election day: Alberta voters go to the polls, expected nail-biter between UCP, NDP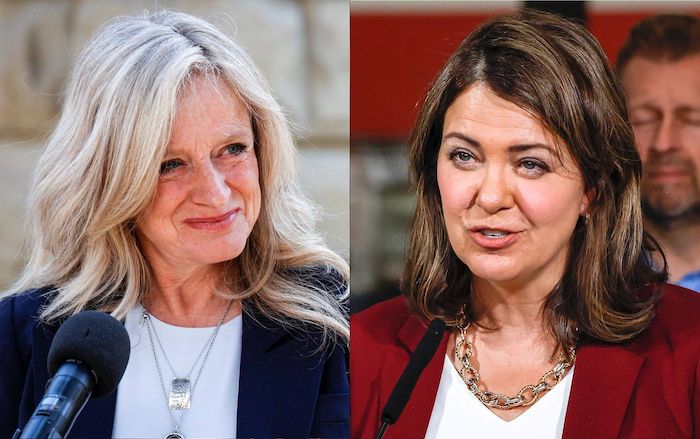 NDP Leader Rachel Notley and United Conservative Party Leader Danielle Smith are shown on the Alberta election campaign trail in this recent photo combination.  THE CANADIAN PRESS/Jeff McIntosh
It's election day in Alberta in what polls suggest could be a nail-biter finish between the province's two dominant parties.
Danielle Smith's United Conservative Party is fighting to win a second consecutive majority government, while Rachel Notley's NDP is trying to regain the government it lost to the UCP in 2019.
Both leaders have been premier and leaders of the official Opposition.
To win, the NDP would have to continue its dominance in Edmonton, flip the majority in Calgary and hope for some help in smaller cities, while defeating scores of UCP incumbents including cabinet ministers.
The NDP needs to swing 20 seats in the 87-seat legislature.
Polls suggest the UCP should continue its near total domination in rural areas and smaller centres, giving it a cushion of up to 40 or so seats to reach the threshold of 44 needed to form a majority government.
The month-long campaign has been dominated by the economy and health care.
Albertans are struggling with high costs for consumer goods, a shortage of family doctors and long waits in emergency rooms.
Smith has promised to keep Alberta the lowest tax regime in Canada.
Her government, she says, would introduce a law to mandate a binding referendum before any personal or corporate income tax hikes. There would also be tax changes to benefit those making more than $60,000 a year, at a cost of $1 billion annually to the treasury.
The NDP is also promising to maintain Alberta's status as Canada's lowest tax regime. It has pledged to end the tax on small businesses and raise the corporate income tax to 11 per cent from eight per cent, which it says would help pay for investments while maintaining the lowest corporate rate in Canada.
The NDP also promises legislation this summer to counteract UCP policies that hiked the cost of utilities, auto insurance, a range of fees and tuition.
Both leaders have promised to preserve the publicly funded health system while creating more primary care teams — physicians accompanied by related specialists such as nurses and therapists — so more Albertans are able to access a family doctor and not clog emergency wards for care.
Polls also show trust is a key issue, with Notley viewed more favourably than her party and vice versa for Smith.
Smith has been dogged during the campaign by past comments she made comparing those who took the COVID-19 vaccine to credulous followers of Adolf Hitler. A report also came out mid-campaign from the province's ethics commissioner that concluded Smith undermined the rule of law by pressuring her justice minister to end the criminal court case of a COVID-19 protester.
This report by The Canadian Press was first published May 29, 2023.
CBC News retracts report alleging email interference by Alberta premier's office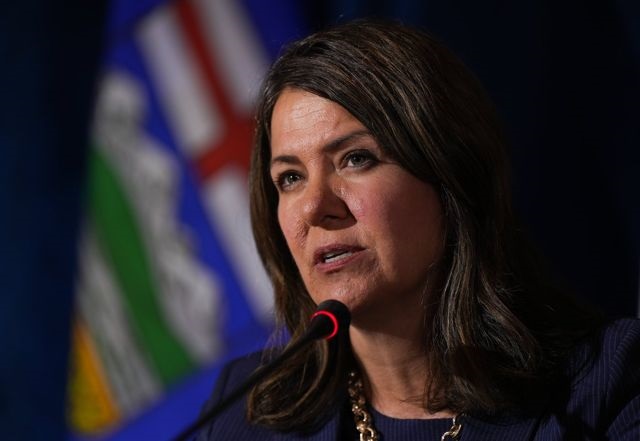 Alberta Premier Danielle Smith responds to a question during a news conference after a meeting of western premiers, in Whistler, B.C., on Tuesday, June 27, 2023. CBC News is retracting a report from January alleging someone in Premier Danielle Smith's office emailed prosecutors to question the handling of cases involving a COVID-19 protest at a U.S. bordering crossing. THE CANADIAN PRESS/Darryl Dyck
By Dean Bennett in Edmonton
CBC News is retracting a report alleging someone in Premier Danielle Smith's office emailed Crown prosecutors to question and challenge the handling of cases involving COVID-19 protests in Alberta that blocked traffic at a U.S. border crossing for more than two weeks.
CBC made the announcement Wednesday in an unsigned editor's note atop an amended online version of the original Jan. 19 story.
"Our sources have insisted that Crown prosecutors felt political pressure regarding the Coutts, (Alta.), cases, but they are not able to confirm that the emails they originally described were sent directly from the premier's office to the Crown," said the editor's note.
"As such, we have updated this story and related pieces, removing references to direct contact between the premier's office and prosecutors — which the premier has vehemently denied.
"CBC News regrets reporting direct contact by email."
The story, along with public comments made by Smith around that time, sparked months of controversy, accusations, investigations and threats of lawsuits that culminated in an investigation and subsequent May 18 report by ethics commissioner Marguerite Trussler.
In that report, Trussler found no evidence of such emails but, based on other information, concluded Smith broke ethics rules and sought to undermine the rule of law by trying to persuade her then-justice minister to make a COVID-19-related criminal prosecution "go away."
Smith had challenged the veracity of the CBC email claims from the start, noting officials could find no evidence of such correspondence and that CBC News itself had stated it had not seen the emails in question.
CBC stood by its reporting for months, but in Wednesday's note stated Trussler's finding of no evidence to support the existence of the emails prompted it to review the matter anew and reach a new conclusion.
Smith's office has threatened to sue the CBC for defamation for months over the story, but has yet to formally launch a claim. Smith recently said she wanted to sit down with CBC officials to explore the matter.
Smith stood in the chamber of the legislature last month and formally apologized for her Jan. 6 phone call to then-justice minister Tyler Shandro in which she sought to have him abandon the criminal prosecution of COVID protester Artur Pawlowski.
Shandro refused to intervene and Pawlowski was eventually found guilty of mischief.
Smith has since asked new Justice Minister Mickey Amery to give her guidelines on how she is to interact with him on legal matters.
Smith has said she will also act on Trussler's recommendation to have new members to the legislature receive briefings on how the separation of powers works in Canada's democracy.
Her office declined Wednesday to comment on the CBC retraction, state whether the meeting with CBC officials took place, say if Smith still planned to sue or say whether the updated guidelines from Amery had arrived.
CBC spokesman Chuck Thompson said in a statement that the public broadcaster has not met with Smith.
"The editor's note was published after reviewing all of our journalism and talking again to sources," Thompson said.
"As you can appreciate, it's not our place to speak for the premier on what she may or may not do (regarding a lawsuit)."
The Opposition NDP, meanwhile, asked RCMP in a letter last month to investigate whether Smith's actions violated Criminal Code provisions surrounding breach of trust and obstructing justice.
This report by The Canadian Press was first published July 5, 2023.
Alberta NDP Leader Rachel Notley mum on political future following election loss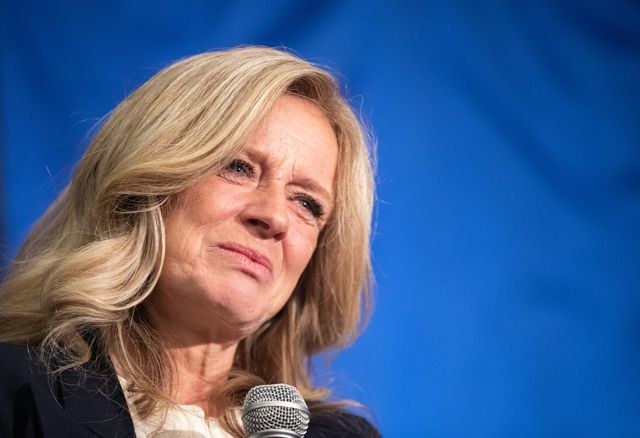 Alberta NDP Leader Rachel Notley gives her concession speech in Edmonton on Monday, May 29, 2023. Notley says she has not made a decision on her political future following a second consecutive election loss by her New Democrats. THE CANADIAN PRESS/Jason Franson
By Dean Bennett in Edmonton
Alberta Opposition Leader Rachel Notley says she has not made a decision on her political future following a second consecutive election loss by her New Democrats.
Notley said she will think about her role as the party analyzes what went right and wrong in the campaign, and added there is no timeline for a decision.
"When I've made a decision, when I've reached a conclusion, I will be sure to let Albertans know," Notley told reporters outside the legislature Tuesday.
"As of now, my No. 1 priority is to do the work Albertans have asked of us and nothing less. That is our intention as a caucus, and that is what my plan is as leader."
It was the first time Notley spoke with reporters since the May 29 election.
Notley's NDP won 38 seats in the 87-seat legislature, becoming the largest official Opposition in Alberta history, but failed to win back government from Premier Danielle Smith's United Conservative Party.
Notley said while the result was disappointing, her party made tremendous strides.
"More than 740,000 Albertans gave us their vote," said Notley.
"Of 1.7 million votes, about 2,600 actually decided this election. It was that close."
The 2,600 votes refer to close losses in key ridings that could have put the NDP over the top.
"I've been leader in this party when it had four seats, when it had 54 seats, 24, and now 38," Notley said. "In every single election, our vote has gone up. It went up in nearly every rural riding, whereas UCP (vote) did not."
The NDP swept the UCP in the 20 seats in Edmonton, won 14 of the 26 seats in Calgary, but were dominated outside the major centres by the UCP, which won 49 seats to form government.
"We captured ridings we've never held before. We defeated several high-profile UCP (cabinet) ministers and, frankly, we very nearly overturned the government," Notley said.
She said her caucus is to meet in the coming days to hash out critic roles and responsibilities
The policy goals, Notley said, will be to push Smith's government to reduce long waits for care and lab testing, for smaller class sizes in schools and to address the shortage in affordable housing.
She said they will also continue to oppose the government's promise to explore abandoning the Canada Pension Plan in favour of an Alberta model and its pursuit of a provincial police force to replace the RCMP.
She said they will also be watching new Health Minster Adriana LaGrange does not impose restrictions on existing access to abortions given LaGrange's anti-abortion beliefs.
Smith has already promised there will be no changes to a woman's right to choose.
Notley declined to discuss the election campaign in detail or explore what led to the NDP loss.
She wouldn't respond to a suggestion that a promised corporate tax hike, seized on as a wedge issue by the UCP, was a factor.
She defended attacking Smith's recent record on the campaign trail, particularly Smith's recent comments urging more direct pay in health care and Smith being found to have broken ethics laws by trying to get a COVID-19 protester's criminal court case tossed out.
"We had a premier who was found to have broken the law in the course of interfering with the administration of justice," said Notley.
"We had a premier who had advocated repeatedly in multiple forums for the privatization of our much-cherished public health care.
"These were issues that needed to be fully discussed and canvassed."
This report by The Canadian Press was first published June 13, 2023.