Edmonton Oilers rookie Dylan Holloway receives raves for pre-season play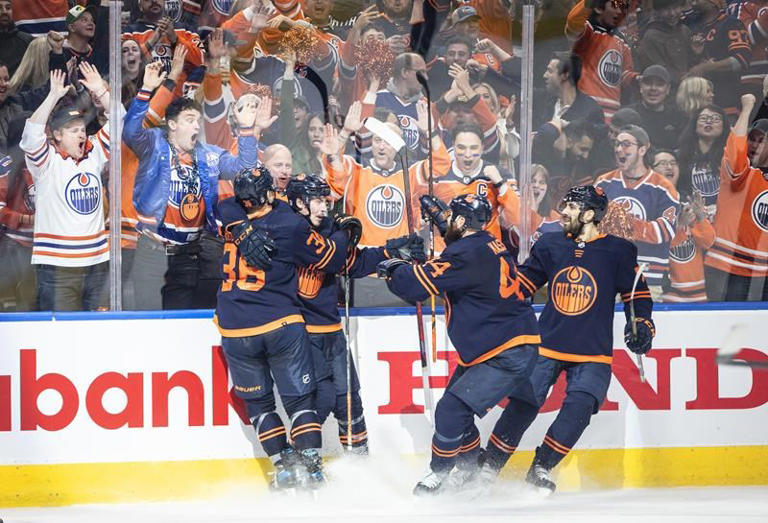 EDMONTON — Dylan Holloway played in one NHL game last season. The rookie wore No. 36 for the Oilers in a playoff game against the Colorado Avalanche.
And, even though he was assigned that number coming into training camp, he quickly gave it up to goalie Jack Campbell, who wore that number in Toronto before coming to Edmonton as a free agent.
Holloway, now wearing 55 in training camp, said that his reward was a night out on the new Oilers' goalie's tab.
"I didn't know he was paying," Holloway said. "He told me he was taking me out for dinner. He took the number 36, that was the number they gave me in camp, and I had no emotional attachment to it, but he insisted on taking me out for dinner.
"When I got there, he had a whole seafood tower out. It was a lot."
Campbell can have 36, but Holloway's goal is to burn his No. 55 in the minds of coach Jay Woodcroft and president and general manager Ken Holland. It's not like Holloway doesn't have a spotlight on him — he carries the weight of expectation that comes with being a first-round pick of the Oilers. The winger notched 35 points in just 23 games for the University of Wisconsin in 2020-21. But he only played 33 games for the Oilers' AHL affiliate in Bakersfield last season, because of a wrist injury that required surgery. He then got the chance to make his debut for the team with his one-game playoff cameo.
"I got a little taste of it in the playoffs," said Holloway. "I stayed hungry over the summer. And, my first camp, I think it's been a lot of fun. The guys have been great and it's good to get back into the season."
Then, in the Oilers pre-season opener against the Winnipeg Jets, Holloway was the best player on the ice. Sure, the likes of Oilers stars Connor McDavid and Leon Draisaitl were nowhere to be found, but Holloway stood out, tipping in a shot from Evan Bouchard, one of his team-high six shots on goal for the night. He was willing to go into the corners and absorb hits in order to win the puck.
"I feel it's been pretty good," Holloway said of his hot start to camp. "I've been fortunate to play with some pretty good linemates, I think they've helped me along the way. But I am feeling good so far and I hope to keep it going for the rest of camp.
"It was awesome. I was able to play in different kind of situations all over the ice. He (Woodcroft) gave me all sort of opportunities."
But, when Oilers camp opened, Holland warned that he wants to ensure that young players with offensive talent don't languish on the fourth line, where they'd only get a few minutes of playing time a game — and that it might be better for young players to play a lot in the AHL than a little bit in the NHL.
"What you're saying is, do you weigh limited minutes in the NHL versus big minutes in the American Hockey League," said Woodcroft. I believe that those answers will play themselves out here. He's going to show us where he's at and if he's able to play meaningful minutes in the National Hockey League."
As well, Holland said he wants to see his young players resist the urge to play it safe. And that's a message that Holloway embraces.
"Obviously, you don't want to make mistakes but, at the same time, if you're playing timid out there you're not doing too much. So you kind of play and not think too much. You do what comes naturally."
And, any concerns about the state of Holloway's wrist are quickly fading in the rear-view mirror. He spent a lot of the summer trying to build the wrist back up.
"The big thing was working on my hands," he said. "With my wrist, I wasn't able to touch the puck very much when I was rehabbing. I thought that my hands, when I got out to Bakersfield, weren't up to par."
So, on top of on-ice work, he spent a lot of time stickhandling a ball to get his hands back.
Woodcroft said that, during the rookie games in Penticton before the official start of camp, Holloway showed his willingness to get to the tough areas on the ice, but the qualifier is that those games were against other rookies from other Western Canadian NHL teams, his "peer group."
Over the next couple of weeks, Holloway needs to show he can do it against NHL veterans. And then the Oilers need to evaluate what's the best fit for his development.
"I think he's had a good first few days," said Woodcroft. "He's obviously a big, strong power-forward type. He's a powerful skater … I think he's feeling more and more confident in and among the big boys. I think his line's been good, but the real test will come as we get into the pre-season schedule."
This report by The Canadian Press was first published Sept. 27, 2022.
Steven Sandor, The Canadian Press
Alberta Premier Danielle Smith says conservatives must learn to win in 'big cities'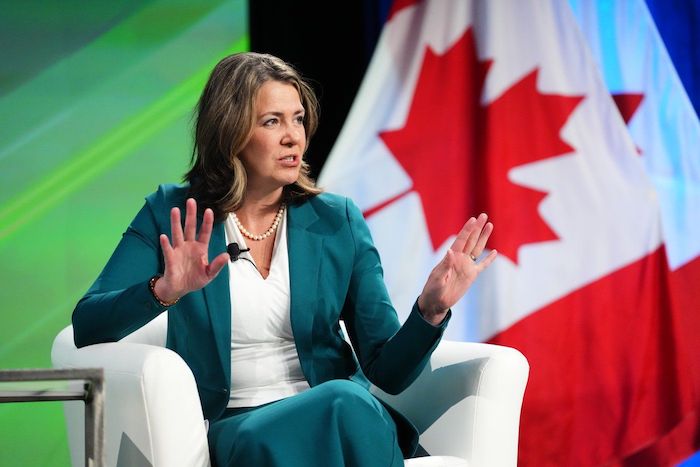 Alberta Premier Danielle Smith speaks at the Canada Strong and Free Network in Ottawa on Thursday, March 23, 2023. THE CANADIAN PRESS/Sean Kilpatrick
Ottawa (CP) – Alberta Premier Danielle Smith says conservatives must learn how to win in "big cities."
Smith made the comment to a room of conservatives gathered in Ottawa for the annual conference of the Canada Strong and Free Network, formerly called the Manning Centre.
With Albertans set to go the polls in a provincial election this year, Smith says the United Conservative Party has more ground to gain in the province's two largest cities: Calgary and Edmonton.
Smith replaced Jason Kenney as party leader and premier last fall, after he resigned following a leadership review where he received only 51 per cent support.
Kenney faced considerable backlash leading up to that vote for his handling of the COVID-19 pandemic, and Smith told today's crowd that the party had lost "a lot" of its base.
Smith's belief that conservatives must make inroads in large cities is shared by the federal Conservatives, with Leader Pierre Poilievre spending many of his weekends in Metro Vancouver and the Greater Toronto Area — areas where his party has struggled to gain ground in the past several elections.
This report by The Canadian Press was first published March 23, 2023.
Alberta Sheriffs receiving additional officers and more powers with new funding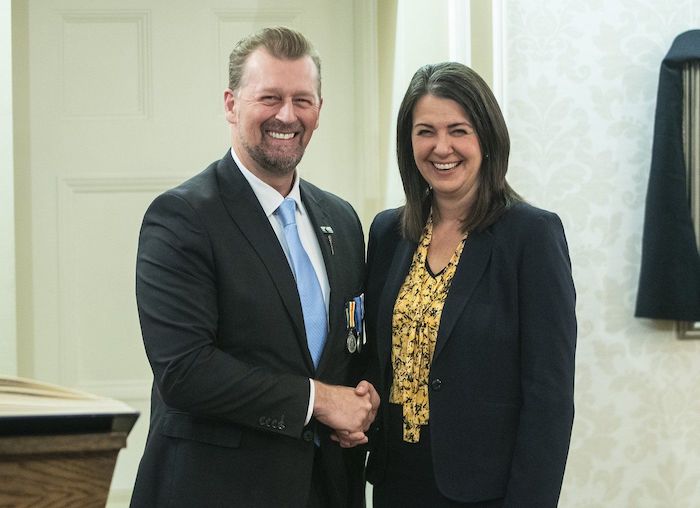 Mike Ellis shakes hands with Alberta Premier Danielle Smith after being sworn into cabinet as minister of public safety in Edmonton, Monday, Oct. 24, 2022. Alberta sheriffs will have expanded powers and play a bigger role in combating rural crime with new funding, the provincial government said Friday. THE CANADIAN PRESS/Jason Franson
St. Paul, Alberta
The Alberta Sheriffs Branch will have expanded powers and play a bigger role in combating rural crime with new funding, the provincial government said Friday.
Public Safety Minister Mike Ellis said $27.3 million will go to new positions and for rural crime initiatives, including two plain clothes teams that will help RCMP with criminal surveillance.
The announcement comes as Alberta continues to mull over whether to create a provincial police service to replace the RCMP.
"There has been some misleading commentary about this investment in the Alberta sheriffs, namely that it's the way of laying the groundwork for establishing a provincial police service by some other means," Ellis said Friday in St. Paul, Alta., 200 kilometres northeast of Edmonton.
"I'd like to remind people that the provincial government hasn't made any decision about an Alberta police service."
Ellis said although the RCMP has its own surveillance teams, most of the efforts are focused on major investigations. He said the new sheriff teams will fill a gap by helping the RCMP detachments with local investigations.
"I've heard countless stories about home invasions being committed by prolific offenders or thefts from farms. Every property owner has the right to feel safe in their home and the right not to wake up and find their equipment gone or fuel siphoned from vehicles," he said.
"These really are the type of cases that keep Albertans up at night."
The sheriffs will also get funding to add 20 investigators to the Safer Communities and Neighbourhood unit, which uses civil enforcement to target problem properties where illegal activities take place.
There is also money for the Sheriff Highway Patrol to train and equip its members to help RCMP with emergencies and high-priority calls.
"We will provide all members of the Alberta sheriffs with full powers to arrest under the Criminal Code," Ellis said.
"Some members of the sheriffs already have Criminal Code authorities, but we believe the public will be better served with consistency throughout this province."
The head of the Alberta RCMP said he welcomes the additional help from the sheriffs.
"These additional resources for the Alberta Sheriffs will improve our combined ability to suppress criminal activity in rural Alberta," said Deputy Commissioner Curtis Zablocki in a statement.
Farooq Sheikh, the chief of Alberta Sheriffs, called it a proud day.
"While our members have a visible presence in many functions they perform such as highway patrol, fish and wildlife enforcement, security in our provincial courts … the sheriffs perform a lot of important work to keep communities safe that's outside of the public eye."
This report by The Canadian Press was first published March 24, 2023.