Durenberger, former US senator from Minnesota, dies at 88
Former U.S. Senator David Durenberger, a Minnesota Republican who espoused a progressive brand of politics and criticized the GOP after his political career, died Tuesday at age 88.
Durenberger's health had declined in recent months, his longtime spokesperson Tom Horner said. Horner told The Associated Press that Durenberger died Tuesday morning of natural causes. He was at his St. Paul home surrounded by family.
Durenberger, an attorney and former captain in the U.S. Army Reserve, won a U.S. Senate seat in 1978. He served three terms and championed health care reform. He pushed proposals to expand Medicare benefits, protect rights for disabled people and promote gender equity.
He was unanimously censured by the Senate in 1990 following a Senate Ethics Committee investigation into payments he received for book royalties and federal reimbursements for stays in a Minneapolis condo. In 1995, Durenberger also pled guilty to five misdemeanor charges related to the condo payments.
"If there is a smudge on the Seal of the United States Senate, or on the Star of the North, as we like to call our state, I will work my hardest to polish both back to brightness," Durenberger told his Senate colleagues after his censure.
He decided not to run for reelection in 1994. Following his exit from politics, he worked with a number of initiatives focused on health care policy. As chair of the National Institute of Health Policy at the University of St. Thomas Opus College of Business, he addressed systemic health care problems.
As the Republican Party tilted toward fiscal conservatives focused on slashing government programs, Durenberger became a critic. He told a Minnesota political podcast in 2005 that Democrats are "better equipped to carry the day" on health care policy, though he said at the time he would not become a Democrat.
In the 2016 and 2020 presidential elections, he endorsed Democrats Hillary Clinton and Joe Biden over Donald Trump. And in 2018, he wrote a book with political reporter Lori Sturdevant titled, "When Republicans Were Progressive." It mourned a nearly-extinct wing of the GOP in which lawmakers prided themselves on bipartisanship and sought to assist vulnerable people.
Stephen Groves, The Associated Press
Liberals float possibility of making motion on foreign interference a confidence vote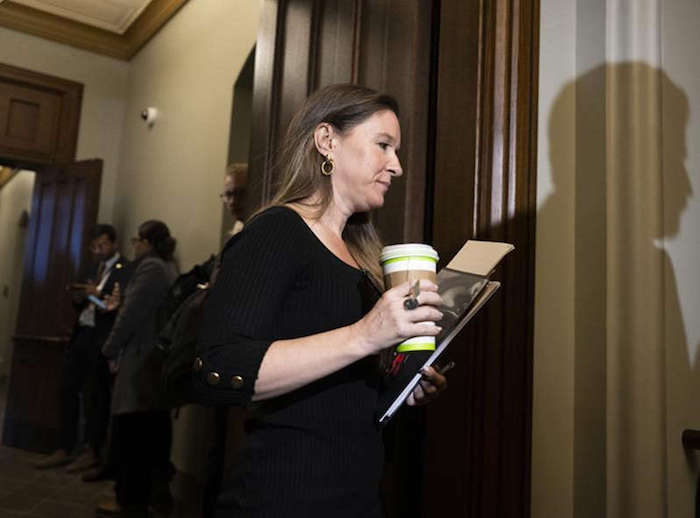 Katie Telford, Chief of Staff to Prime Minister Justin Trudeau, leaves after a meeting of the Liberal Caucus on Parliament Hill in Ottawa, on Wednesday, March 8, 2023. The federal Conservatives are trying to force Prime Minister Justin Trudeau's top aide to answer questions about allegations the Chinese government interfered in Canada's last two federal elections. THE CANADIAN PRESS/Justin Tang
By Mia Rabson in Ottawa
Liberal House leader Mark Holland isn't ruling out turning a Conservative motion on foreign interference into a confidence vote that could topple the government and would test the strength of the supply-and-confidence deal between the Liberals and the NDP.
The Conservatives tabled the motion in the House of Commons Monday demanding that Prime Minister Justin Trudeau's chief of staff, Katie Telford, appear at the House ethics committee before the middle of April. They want her, along with more than a dozen other witnesses, to answer questions about allegations that the Chinese government interfered in Canada's last two federal elections.
The move follows weeks of filibustering by the Liberals to prevent Telford from being summoned to appear at the House procedure committee on the same topic.
Alberta MP Michael Cooper said Telford is "a critical witness to get to the heart of the scandal." He said she should be able to answer what Trudeau knows about Beijing's attempts at meddling, when he learned about it and what he did about it.
The Conservatives and the Bloc Québécois both seem prepared to vote in favour of the motion. The NDP has yet to say where it stands on this specific motion, but intends to push its own motion demanding a full public inquiry be called on the issue of foreign interference.
NDP House leader Peter Julien reiterated Monday that his party wants an inquiry to look at the issue as a whole, rather than focus only on China. But the Conservatives have rejected calls to expand the probe to include meddling by other governments, such as Russia and Iran.
The Tories challenged the NDP to side with them instead of the "corrupt government."
"While this motion is a test for this government, it is also a test for the NDP," said Cooper.
It certainly could be the first real test of the supply-and-confidence arrangement the NDP and Liberals agreed to a year ago. Under that deal, the NDP is supporting the government on budgets and other votes that are automatically viewed as confidence matters, in exchange for the government moving on key NDP priorities such as dental care.
A confidence vote is one that the government must win — or be forced to resign.
The agreement, reached in early March 2022, does address situations in which the government declares a confidence vote on other matters. It requires the Liberals to inform the NDP of a confidence vote as soon as possible, and the NDP to discuss with the Liberals how its MPs intend to vote before announcing so publicly, "to permit discussions" to take place.
Holland hinted those talks are underway now, when asked specifically if the government would move to declare the Conservative motion a confidence matter.
"I think it's not helpful to jump to the end of a process when we are still having conversations in a contemporaneous circumstance," Holland said in a scrum with reporters outside the House Monday afternoon.
The Liberals are on the same page with the NDP about wanting to look at foreign interference from all other countries, not just China. However, thus far, Trudeau has rejected calls for a public inquiry, choosing instead to appoint a "special rapporteur" to oversee an investigation on the issue.
Trudeau named former governor general David Johnston for the role. The prime minister has committed to abiding by his advice, including any recommendation to hold a full public inquiry.
Holland accused the Conservatives of playing partisan games with the very serious issue of foreign interference in Canada's democratic processes. He said the government has offered to bring its national campaign chairs from 2019 and 2021 to the committees to answer questions.
He said the Conservatives won't offer the same, though the Conservative motion Monday includes not just Telford but more than a dozen others, including all the campaign chairs for every official party in the House of Commons for both the 2019 and 2021 elections.
The campaign chairs and co-chairs were briefed during the elections about any signs of foreign interference.
Holland said the decision to focus so intently on Telford is entirely about partisan politics.
Conservative House leader Andrew Scheer said the Tories would support the motion even if the Liberals made it into a confidence motion noting the issue is important enough.
"It's up to Justin Trudeau to make those kinds of decisions. And it's up to the NDP to decide whether or not they're going to allow themselves to be bullied around to cover up Liberal scandals," Scheer told reporters on Parliament Hill.
Scheer rejected Holland's contention that seeking Telford's testimony amounts to partisan games. He argued she is one of the few people in Trudeau's orbit during both elections and regular government work.
"She also would have had incredibly sensitive information as to the Liberal campaign itself, and that's why it's so important."
— With files from Dylan Robertson
This report by The Canadian Press was first published March 20, 2023.
Not a refugee, not quite a resident: Ukrainians who fled to Canada in 'grey area'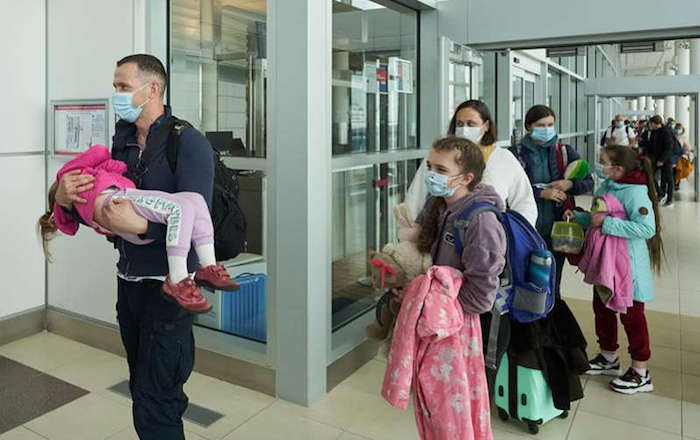 OTTAWA — Several immigrant specialists say Ukrainians who have fled to Canada with an emergency visa are stuck in a "grey area" of the immigration system, and they're urging the government to make changes.
Canada took a new approach to the crisis sparked by the Russian invasion last year, offering an unlimited number of temporary visas to Ukrainians while they figure out their next steps.
Those visa-holders were offered some targeted supports by federal and provincial governments, but not the same resources as people who arrive with refugee designations.
Nova Scotia immigration program director Simone Le Gendre says that created a challenge for the province at the outset, since their usual guidelines didn't apply.
Katie Crocker, the CEO of the Affiliation of Multicultural Societies and Service Agencies, says there is also no information about when people are arriving, making it more difficult to connect them with services.
The program is set to stop taking new applicants on March 31, giving the government two weeks to decide whether to extend it.
This report by The Canadian Press was first published March 20, 2023.
The Canadian Press