Drying conditions return in Alberta, crews see more intense fire activity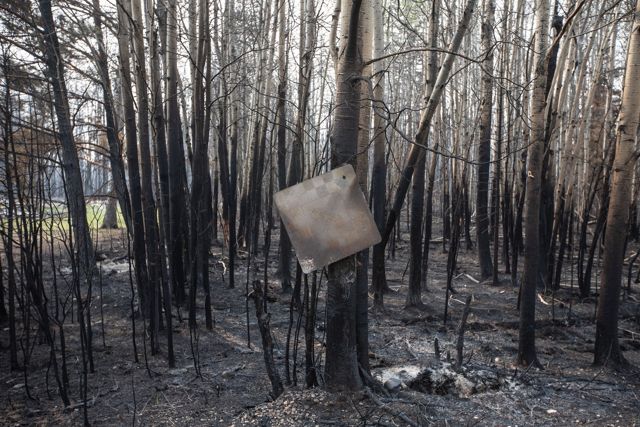 A burnt metal sign hangs from a tree, damaged by recent wildfires, in Drayton Valley Alta., on Wednesday, May 17, 2023. As more wildfire evacuees are being allowed to return home in Alberta, provincial officials warn that warm, dry conditions are returning this weekend in some areas.THE CANADIAN PRESS/Jason Franson
As more wildfire evacuees are being allowed to return home in Alberta, provincial officials warn that warm, dry conditions are returning this weekend in some areas.
Melissa Story with Alberta Wildfire says the elevated fire conditions were anticipated and that crews on the ground are seeing more intense fire activity on the perimeters of wildfires.
But she says most fires haven't grown substantially and she doesn't believe any have jumped their containment lines.
The number of evacuees as of Saturday afternoon stood at 5,257, down from over 7,200 on Wednesday, following cooler and wetter conditions in the last week.
Nearly 50 wildfires in Alberta's forest protection area are burning, with 14 of those listed as out-of-control.
Cyndee Evans, executive director of the Alberta Emergency Management Agency, says the situation remains serious despite recent positive news.
"While we can take heart that more Albertans are starting to return home, we cannot afford to drop our guard. Now is not the time for complacency. Please continue to do your part and help prevent the spread of wildfires and further damage from occurring," Evans told a news conference Saturday.
Story noted that showers were forecast for some parts of Alberta later Saturday, reducing fire danger, but also cautioned they bring the risk of lightning.
Federal Emergency Preparedness Minister Bill Blair said in a tweet Saturday that an extension for the deployment of Canadian Armed Forces personnel to assist in firefighting efforts has been approved.
Story said firefighters from New Zealand were welcomed to the province Friday and that nearly 200 firefighters and support staff from Australia would be arriving this weekend.
Alberta remains under a provincewide state of emergency, although some bans on fires, ATVs and off-highway vehicles have been relaxed in recent days.
Parkland County west of Edmonton lifted a state of local emergency on Friday that had been in place since April 29, and downgraded a fire ban to a fire restriction. It said that meant "safe fires in approved fire pits with a screen are allowed and do not require a permit."
Fires without screens still required permits, however, and open fires in the county are still banned.
The High Level Forest Area wildfire update noted the Pasqua fire located in the community of Fox Lake saw an increase in fire activity after warm and dry weather on Friday, and that temperatures and fire behaviour was expected to pick up on Saturday.
Fox Lake remains evacuated, but residents are being permitted to sign up for tours of the community on Monday to view damage. A statement from the Little Red River Cree Nation said priority will be given to people who have lost their homes.
"Tours will be visual only, as it is still not safe for members to walk around the community or house sites due to hot spots as well as possible toxins and hazards in the areas that have been burned," said a statement posted online by the First Nation on Friday.
This report by The Canadian Press was first published May 27, 2023.
"With success comes challenge." Premier Smith to Alberta Municipalities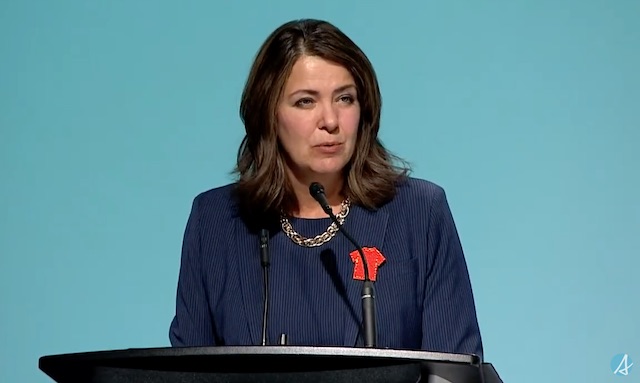 Premier Danielle Smith delivered a keynote address at the 2023 Alberta Municipalities Convention in Edmonton.
Alberta says first steps to reform provincial health delivery system coming this fall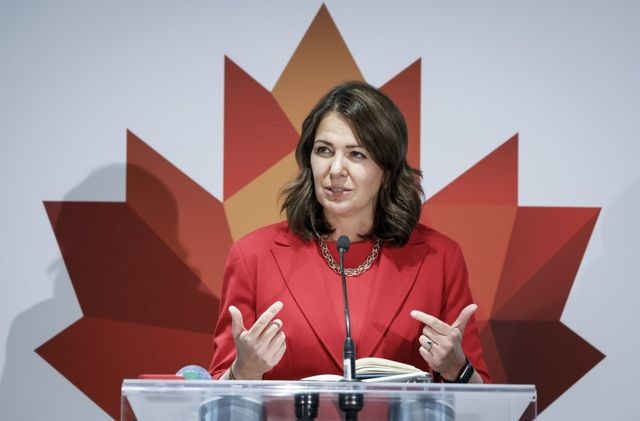 Alberta Premier Danielle Smith speaks to the media in Calgary, Monday, Sept. 18, 2023. Smith says the first steps are coming this fall to reconfigure Alberta's health delivery system – a plan the Opposition calls a recipe for more chaos from a government fresh off turning lab testing into a debacle. THE CANADIAN PRESS/Jeff McIntosh
By Dean Bennett in Edmonton, Alberta, Canada
Premier Danielle Smith says the first steps are coming this fall to reconfigure Alberta's health delivery system — a plan the Opposition calls a recipe for more chaos from a government fresh off turning lab testing into a debacle.
"We will not delay," Smith told mayors, councillors and other local leaders at the Alberta Municipalities convention Friday.
She said Health Minister Adriana LaGrange is to present her proposal to Smith and cabinet Wednesday on how to decentralize Alberta Health Services.
"If we get the cabinet approval and the caucus approval, we would be moving on some of that direction in the fall so that we are prepared for the new budget cycle in February."
Smith has directed LaGrange to revamp the structure of Alberta Health Services, better known as AHS, saying it needs to be more responsive to regional needs and focus more on direct hospital care.
She has said LaGrange will look at whether AHS still needs to be in charge of non-acute functions such as midwifery, primary care staffing and continuing care.
Alberta finished centralizing its health system 15 years ago to create AHS.
Smith has made AHS reform the centrepiece of her leadership.
Last year, she fired the governing board of AHS and replaced it with a single administrator. She blamed the agency for failing to step up during the COVID-19 pandemic as hospitals came close to being overrun with patients.
Opposition NDP Leader Rachel Notley said Smith's plan is only going to make things worse, particularly given the province abandoned last month its attempt to fully privatize community lab services after the changes resulted in long waits for tests in Calgary and southern Alberta.
"People all across this province are struggling to get access to lab (testing) now because of the dysfunction of this UCP (government)," Notley told reporters after her speech to Alberta Municipalities delegates.
"Overlaying more disorganization on top of that is a recipe for further undermining our health care and our public health care.
"There is not a single solitary thing that this UCP government has done under (former premier) Jason Kenney's leadership or Danielle Smith's leadership that has made our health care better."
Alberta Municipalities represents and speaks for villages, towns and cities that make up about 85 per cent of the province's population.
Wetaskiwin Mayor Tyler Gandam, the newly elected president of Alberta Municipalities, said they're hoping for changes and improvements to fix doctor shortages and emergency rooms forced to limit their operating hours.
"I was speaking with members of council from Ponoka and hearing that their emergency room had been shut down nearly 20 times this year so far," Gandam told reporters.
"The last thing that a person should be worrying about is whether or not the emergency room is going to be open or an ambulance is going to able to respond to their call when they need it."
The convention focused mainly on calls for more funding from the province.
On Thursday, delegates voted 98 per cent on a motion calling on the province to roll back years of municipal funding cuts on infrastructure.
The association says the province has cut both per capita spending and the percentage of total budget spending for years, resulting in about $1.3 billion less investment in community infrastructure per year that needs to be returned, particularly as the province continues to attract thousands more newcomers a year.
Smith said she will look at ways to get more money to municipalities to help bring property taxes down along with more one-time funding from recent budget surpluses to help accelerate capital projects.
"'I've watched it happen many times that we're very generous (and) increase the funding when times are good, and then when times turn the other way, we ask you to take a pretty big haircut, and that puts a lot of extra pressure on you," Smith told the delegates.
This report by The Canadian Press was first published Sept. 29, 2023.