Doug Ford holds rally to mark first 100 days as Ontario premier
TORONTO — Doug Ford is marking his first 100 days as Ontario's premier with a rally at the heart of the so-called Ford Nation, the west Toronto area where he and his family cut their political teeth.
Ford, who officially took the reins on June 30 after promising to reduce government waste without cutting jobs or services, hosted the Tuesday evening event at the Woodbine Banquet Hall in his riding of Etobicoke-North.
"Over a hundred days ago, we promised we would restore accountability and trust to government," the premier told an enthusiastic crowd gathered for the event. "And I am proud to say we have delivered."
Summarizing his government's accomplishments, Ford touted the cancellation of the Drive Clean program and a number of solar and wind power projects, as well as the introduction of buck-a-beer.
None of that, he said, would have been possible without the voters.
"We have a great team, an all-star team, in Queen's Park," he said. "But we have an even better team outside of Queen's Park, and that's folks like you — thousands of people across the province that support us."
A polarizing figure since his time as a Toronto city councillor, Ford has been hailed by supporters as a champion of fiscal restraint focused on fulfilling his promises, and condemned by opponents as a regressive autocrat willing to ignore democratic processes to push through his agenda.
"We've seen this government make some pretty serious, I think, decisions that have moved our province backwards," NDP Leader Andrea Horwath said last week in assessing the premier's first few months in office.
In that time, Ford has fulfilled or taken steps towards several of his key campaign pledges, convening the legislature for a rare summer sitting — and in one instance, an overnight debate — in order to advance his plans.
His first moves included dismantling major policies brought in by the previous Liberal government, such as a modernized sex-education curriculum and the province's cap-and-trade system.
Both decisions have faced backlash and spawned ongoing legal challenges, with critics alleging the government is trampling on the rights of Ontarians.
The Ontario government, meanwhile, has launched its own a legal battle against the federal government over Ottawa's plan to impose carbon pricing on provinces that don't have their own system in place by next year. Ford has been rallying support for his cause among other provinces, at times allying himself with the opposition rather than the sitting premier.
The premier recently announced he would go through with his vow to halt a planned increase to the minimum wage, then said he would scrap the entire legislation that combined the wage increase with a number of other labour reforms such as paid sick days.
Ford has also made good on his election promise to re-examine government spending, calling a commission of inquiry that found the province was facing a $15-billion deficit. Critics, including opposition parties and labour groups, have suggested the move will pave the way for cuts.
Some of Ford's early actions, however, weren't part of his election promises.
His controversial plan to cut Toronto's city council to 25 from 47 in the middle of a municipal campaign stunned politicians and voters alike, and prompted a legal challenge that initially saw the legislation overturned as unconstitutional.
Ford then announced he would use a rare constitutional provision to override the ruling, setting off multiple protests, including one that saw crowds rally outside the legislature overnight. An appeal court eventually agreed to put the decision on hold until after the Oct. 22 municipal vote. An appeal of the lower court ruling has yet to be heard.
His plan for legalized cannabis also wasn't fleshed out during the campaign. The province recently laid out its plan to have cannabis sold online only when it becomes legal Oct. 17, with retail stores to follow next year. A proposed legislation further allows cannabis to be smoked by those over 19 wherever the smoking of tobacco is permitted.
While the premier has delivered on some key promises, the first part of his term is defined by unpredictability, making it difficult to project what his government will do in the future, said Jonathan Malloy, a political science professor at Carleton University in Ottawa.
"It's a reactive vision, it's rolling back some of things the Liberal government did … I don't see a lot of big new ideas or policies coming out and there's not really clear cohesion," Malloy said.
"What are this government's priorities, both now and over the next four, five years? I can't really look back at the last 100 days and project where this government is going ahead from there, which you could with the (Mike) Harris government or the (Dalton) McGuinty government."
Tuesday's rally comes weeks after the annual gathering known as Ford Fest, a public event with free food and entertainment that used to be held at the Ford family home in the Etobicoke area of Toronto.
During the September edition of Ford Fest, the premier posed for a photograph with Faith Goldy, a controversial Toronto mayoral candidate known for her extreme views. Ford was questioned for days over the photo until he publicly distanced himself from Goldy.
Paola Loriggio, The Canadian Press
Advocate asks AFN chiefs to ensure $40B settlement deal leaves no child behind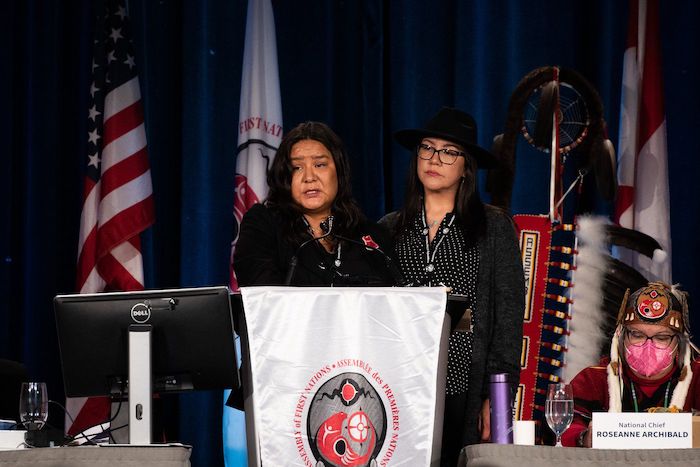 By Stephanie Taylor in Ottawa
A First Nations child welfare advocate on Wednesday implored chiefs to ensure "no child is left behind" in a landmark $40-billion settlement agreement with the federal government.
Cindy Blackstock delivered the message to an Assembly of First Nations gathering in Ottawa, after being invited to take the stage by Cindy Woodhouse, regional chief in Manitoba who helped negotiate the agreement, which had been thrown into question since being rejected by the Canadian Human Rights Tribunal.
The AFN, representing more than 600 First Nations across the country, had asked the tribunal to approve the settlement deal, which would see the government spend $20 billion to compensate families and children for systemic discrimination in the Indigenous child welfare system. It would also spend another $20 billion on making long-term reforms.
Blackstock, the executive director of the First Nations Caring Society who first lodged the complaint at the heart of the issue, raised concerns that the agreement wouldn't provide $40,000 in compensation to all eligible claimants, which is the amount the tribunal ruled they should get.
"We can make sure that in our First Nations canoe of justice, no child has to see their money go away and no child is left behind in justice," she said Wednesday.
"We are capable of that."
Following the tribunal's decision in October, the federal government filed for a judicial review of some parts of its decision.
Endorsing the settlement agreement loomed as one of the biggest items on the assembly's agenda, with chiefs being asked to vote on what the organization should do next.
The chiefs had been preparing to vote on conflicting resolutions, with one asking them to support the final settlement agreement, while another sought to see the organization not appeal the tribunal decision and renegotiate the deal.
But on Wednesday, further talks between both sides took place, assisted by former senator and judge Murray Sinclair, who helped the AFN, federal government and lawyers for two related class-action lawsuits reach the $40-billion agreement in the first place, which was formally announced in January.
Chiefs ultimately voted late Wednesday against re-entering negotiations but to instead support compensation for victims outlined in the agreement and "those already legally entitled to the $40,000 plus interest under the Canadian Human Rights Tribunal compensation orders."
It also included a provision that AFN leaders must regularly return to chiefs to provide it with progress updates and "seek direction" from chiefs on implementing the final agreement.
Many chiefs thanked Blackstock, who was greeted with applause after further agreement was met and said she was honoured to see people come together for children harmed by Ottawa's discrimination.
"We have had too many apologies, we've had too many compensation deals, we've had too many kids hurt. And this has got to be it," she said.
She added more discussion on the long-term reform part of the deal would be presented to chiefs on Thursday.
Earlier in the day, the assembly heard from sisters Melissa Walterson and Karen Osachoff, plaintiffs on the case, about the impact the foster care system had on their lives.
Osachoff said she had been in the child welfare system since she was born and didn't have a chance to grow up with her sister.
"Had it not been for the '60s Scoop and the child welfare (system), her and I would have grown up together."
She said she understands why the tribunal characterizes those like her as "victims," but told chiefs to instead think of them as survivors.
"I am not a victim and our claimants are not victims."
This report by The Canadian Press was first published Dec. 7, 2022.
What the latest Bank of Canada rate hike means for inflation, consumers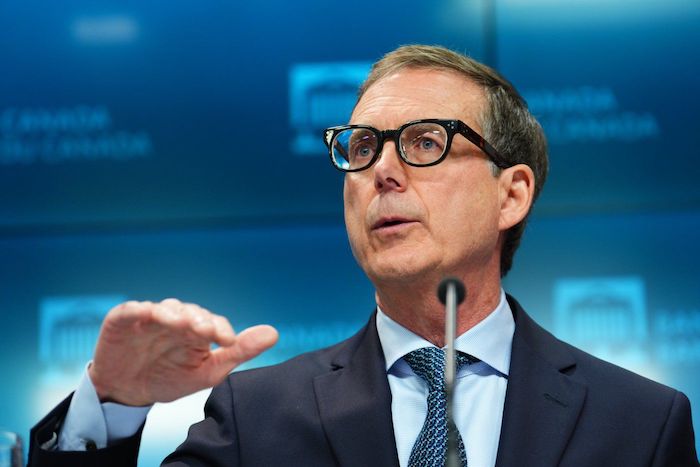 By Tara Deschamps
The Bank of Canada hiked its key policy rate by half a percentage point to 4.25 per cent — the highest it's been since January 2008 — on Wednesday in its final rate decision of a year that has been marked by stubbornly high inflation and rapidly increasing interest rates.
The bank, which has made a steady succession of large hikes over the course of the year, is widely believed to be nearing an end to the increases.
In announcing the rate hike Wednesday, the bank said it will consider whether the rate "needs to rise further to bring supply and demand back into balance and return inflation to target."
Here's a look at what the rate means, how analysts are interpreting it and what it could mean for consumers.
What is the key policy rate and what does it do?
The key policy rate, also known as the target for the overnight rate, is how much interest the Bank of Canada wants commercial banks to charge when lending each other money overnight to settle daily balances.
Knowing how much it costs to lend money, or deposit it with the central bank, helps set the interest rates charged on things like loans and mortgages.
Lowering the rate generally makes borrowing money more affordable, while raising it makes such activities more expensive.
Why is the bank using the rate to target inflation?
Inflation is a measure of how much prices of goods and services are rising or falling. High inflation is a sign of an economy that's overheating.
Canada's annual inflation rate reached a peak of 8.1 per cent in June, the highest level in four decades.
It has eased since then, reaching 6.9 per cent in September, but didn't budge in October. And shoppers have seen higher prices for common expenses like groceries. Grocery prices have been rising at the fastest pace in decades and were 11 per cent higher in October than they were a year ago.
Economists and the central bank want to see a further easing, which is why interest rates have been rising so quickly in the hope of cooling consumer spending patterns.
"Inflation is still too high and short-term inflation expectations remain elevated," the bank said in its announcement. "The longer that consumers and businesses expect inflation to be above the target, the greater the risk that elevated inflation becomes entrenched."
What does this mean for my mortgage?
Mortgage rates tend to increase or decrease in tandem with interest rates.
When Canadians buy homes there are two kinds of mortgages they can select — fixed rate or variable. Fixed-rate mortgages allow borrowers to lock in the interest rate they will pay for a set amount of time, while variable-rate mortgages can fluctuate.
Allison Van Rooijen, vice-president of consumer credit at Meridian Credit Unit, estimates the rate hike Wednesday will bump payments on a $450,000 variable-rate mortgage on a 25-year amortization up another $130 or so every month. Since the beginning of 2022, rising rates have amounted to roughly $1,000 more per month since the beginning of 2022.
"Because of the high cost of housing in Canada and years of low borrowing rates, Canadians are carrying record-levels of debt on mortgages and lines of credit, so it's really important that people go through their expenses and look to scale back discretionary spending where they can," she said in an email.
She recommends people double down on efforts to pay off debt with higher interest rates as much as possible and if they are running into trouble making payments, discuss whether switching to another format of mortgage is right for them.
Does this mean interest rates will stop rising soon?
Shortly after the announcement, many economists predicted the bank isn't done with hikes yet, even though the language in the statement signalled the possibility of holding steady at 4.25 per cent.
BMO Capital Markets chief economist Douglas Porter said a further hike of about 25 basis points is likely still to come because he's concerned about the "stickiness of underlying inflation."
James Orlando of TD Economics agreed. He expects the bank will deliver its final rate hike for the foreseeable future in January, bringing the measure to 4.5 per cent.
"We don't think the Bank of Canada is done yet, but it is quickly approaching the end of its hiking cycle," he wrote in a note to investors.
"As all Canadians know, the rapid rate hikes over 2022 have caused a dramatic adjustment in the real estate market, and we are starting to see this in consumer spending data. We expect this to continue to weigh on the economy over 2023 as the lagged effects of past hikes filter through."
This report by The Canadian Press was first published Dec. 7, 2022.