Doubles lift Blue Jays over Rays in Toronto's first Canada Day home game since 2019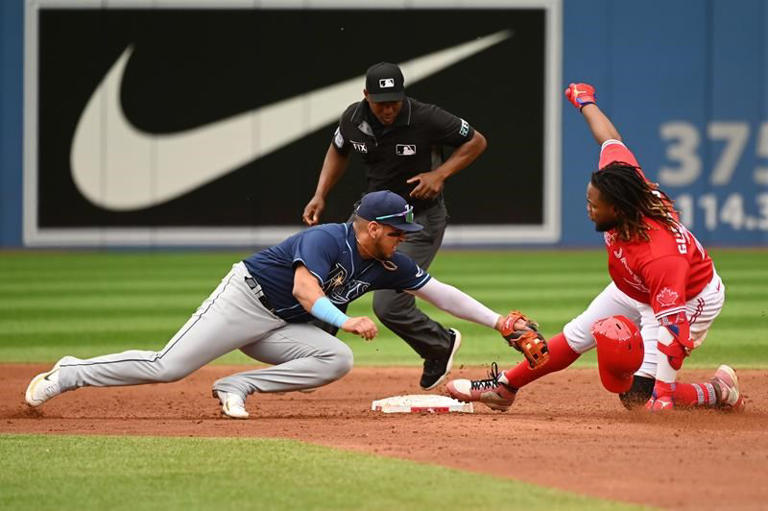 TORONTO — As Blue Jays reliever Max Castillo closed out Toronto's win over the visiting Tampa Bay Rays, thousands of fans at Rogers Centre started singing "O Canada."
The spontaneous patriotic gesture moved Blue Jays manager Charlie Montoyo, who was relieved that his team cruised past Tampa 9-2 on Friday in the Blue Jays' first home game on Canada Day since 2019.
Canada's only Major League Baseball franchise played in Dunedin, Fla., and Buffalo, N.Y., for most of the 2020 and 2021 seasons due to COVID-19 regulations.
"This is one of those things that reminds you how great is to play for Canada," said Montoyo. "To play for a country is awesome."
Bo Bichette, Vladimir Guerrero Jr. and Alejandro Kirk hit three consecutive doubles in a five-run third inning as the Blue Jays (44-33) slashed a total of five doubles in the game.
Lourdes Gurriel Jr. belted a solo home run in the seventh and George Springer batted two runs in with a single in the sixth.
Cavan Biggio, who played for the Jays in the 2019 Canada Day game, said Friday's sold-out crowd of 49,445 was a reflection of how far the Blue Jays have come in the past three years.
"In 2020 and 2021 we definitely missed this place," said Biggio, who reached base four times and scored twice in the win.
"Being finally back and experiencing that energy that we've all been looking forward to on a nightly basis is special, to say the least"
Rogers Centre was decked out for Canada Day, with red and white bunting hanging from the second deck and all scoreboards in national colours.
The first 15,000 fans through the gates received free red Blue Jays jerseys with Springer's name on the back, which added to the stadium's celebratory feel.
José Berríos (6-4) allowed two runs on eight hits and two walks over five innings. He had three strikeouts.
Trent Thornton, Sergio Romo, Max Castillo came on in relief for the Blue Jays.
Berríos pitched in Toronto on Canada Day for the first time in his career. He was touched by the crowd's energy.
"I've been hearing about this day a lot but being here, to get the opportunity to pitch this day, it was a little bit emotional," he said.
Designated hitter Harold Ramirez had an RBI double as Tampa Bay (40-36) dropped its fourth game in a row.
Corey Kluber (3-5) lasted only three innings, giving up five runs on seven hits and two walks.
Phoenix Sanders and David McKay, who gave up four runs, came out of the Rays' bullpen. Right-fielder Brett Phillips pitched Tampa's final frame.
The Rays opened the scoring in the second inning when catcher René Pinto grounded out, but gave Ramirez time to score.
Bichette came to the plate in the third inning with the bases loaded and banged a double off the right-field wall to score Gurriel and Biggio.
On the next pitch, Guerrero doubled down the left-field line to bring in Springer and Bichette.
Guerrero's double brought Kirk up to the plate with fans chanting "M-V-P" for the top vote-getter among American League catchers in all-star balloting.
His hit also went down the left-field line to cash in Guerrero for a 5-1 lead.
"Our pitching gives us a chance and our offence is going to go, even against a pitcher like Kluber," said Montoyo.
"That's exactly what happened. Berríos kept us in the game and then the offence got going."
Ramirez chipped away at Toronto's lead in the fifth, doubling to deep left-centre field to give Kevin Kiermaier enough time to score from first base.
Springer tacked on more runs for the Blue Jays in the sixth inning when his hit eluded Rays third baseman Yandy Diaz and dropped for a single.
That scored Gurriel and Santiago Espinal for a 7-2 lead.
Guerrero's groundout brought home Biggio from third for the Toronto first baseman's third RBI of the game.
Gurriel came to the plate in the eighth inning with two outs and no one on.
He took McKay's 79.4 m.p.h. curveball to left-centre field for the game's final score.
MARTIN HONOURED — Former Blue Jays catcher Russell Martin threw out the opening pitch. Born in Toronto and raised in Montreal, Martin earned four all-star appearances over his 14 years in Major League Baseball. He played four seasons with the Blue Jays, including the team's post-season runs in 2015 and 2016.
UP NEXT — Kevin Gausman (6-6) will take the mound for Toronto in Saturday afternoon's first game of a doubleheader with Tampa Bay. Shane McClanahan will get the start for the Rays.
This report by The Canadian Press was first published July 1, 2022.
John Chidley-Hill, The Canadian Press
WHL Roundup: Rebels continue hot roll by pouncing on Pats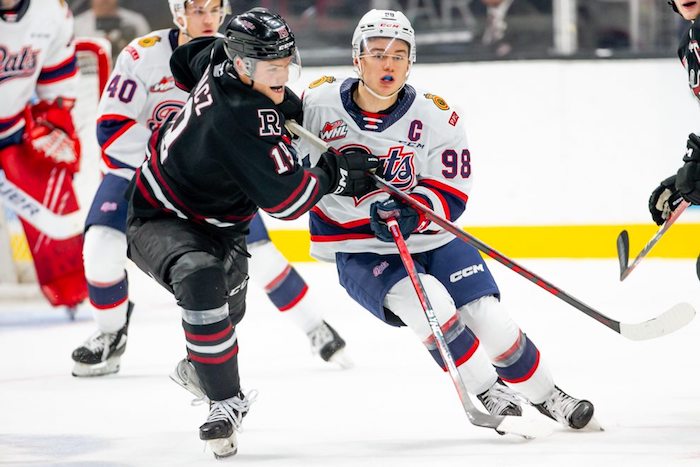 Photo by Rob Wallator
RED DEER, Alta. — The Red Deer Rebels continue to roll in the early going of the Western Hockey League season as they defeated the visiting Regina Pats on Saturday 4-2 to boost their Central Division-leading record to three wins in as many games.
Kai Uchacz paced the Rebels with two goals, with singles added by Carter Anderson and Jace Isley.
Easton Armstrong and Borya Ellis scored for the Pats, who are 2-2 and tied for third in the East Division.
WHEAT KINGS 4 WARRIORS 1
The Brandon Wheat Kings won their first game of the season by outgunning the visiting Moose Jaw Warriors 4-1.
Jake Chiasson, Evan Groening, Calder Anderson and Charlie Elick scored for the Wheat Kings (1-1), while Marek Howell scored for the Warriors (2-2).
ICE 5 TIGERS 2
Coonor Geekie scored three times to lead the unbeaten Winnipeg ICE to a 5-2 victory in Medicine Hat, Alta.
Skyler Bruce and Jaren Brinson scored the other goals for the ICE (4-0), while Tyler MacKenzie and Oasiz Wiesblatt scored for the Tigers (1-2).
WINTERHAWKS 4 AMERICANS 2
The Portland Winterhawks snapped a 2-2 tie in the second period and skated to their third win in as many games.
James Stefan, Gabe Klassen, Luke Schelter and Robbie Fromm-Delorme scored for the U.S. Division-leading Winterhawks, while Adam Mechura and Andrew Fan scored for the Tri-City Americans (1-3).
RAIDERS 5 OIL KINGS 1
The Prince Albert Raiders won their first game of the season by blitzing the visiting Edmonton Oil Kings 5-1.
Keaton Sorenson had two goals for the Raiders (1-3-1), while Cole Peardon, Anton Yatsyshin and Ryder Ritchie added singles. Marshall Finnie scored for the Oil Kings (0-3-1).
ROCKETS 5 COUGARS 1
The Kelowna Rockets scored three unanswered goals in the first period and coasted to a 5-1 win over the Cougars in Prince George, B.C.
Adam Kydd scored two goals for the Rockets (1-1-1) while Turner McMillen, Marcus Pacheco and Gabriel Szturc netted singles. Chase Wheatcroft scored for the Cougars (2-2).
BLADES 8 BRONCOS 3
The unbeaten Saskatoon Blades scored three goals in the first and added four more in the second en route to an 8-3 win over the visiting Swift Current Broncos.
Scoring for Saskatoon (3-0) were Josh Pillar, Rowan Calvert, Justin Lies, Egor Sidorov, Trevor Wong, Aidan De La Gorgendiere, Jayden Wiens and Marek Schneider.
Connor Hvidston, Raphael Pelletier and Landon Roberts scored for the Broncos (1-3).
THUNDERBIRDS 6 GIANTS 4
Kyle Crnkovic scored twice as the Seattle Thunderbirds won their second game in as many outings. Gabe Ludwig, Lucas Ciona, Jared Davidson and Reid Schaefer chipped in with singles.
Ty Thorpe had two goals for visiting Vancouver (1-2), with singles added by Samuel Honzek and Colton Roberts.
BLAZERS 4 CHIEFS 2
The Kamloops Blazers, who will host the 2023 Memorial Cup, scored the game's first four goals then cruised t a 4-2 victory in Spokane, Wash.
Connor Levis, Matthew Seminoff, Caedan Bankier and Ethan Brandwood scored for Kamloops (1-1), while Grady Lane and Cade Hayes scored for the Chiefs (2-1).
This report by The Canadian Press was first published Oct. 1, 2022.
The Canadian Press
125 die as tear gas triggers crush at Indonesia soccer match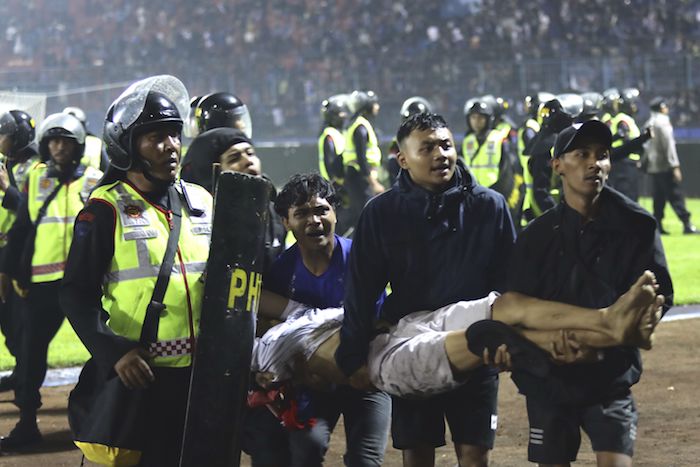 By Agoes Basoeki And Niniek Karmini in Malang
MALANG, Indonesia (AP) — Panic and a chaotic run for exits after police fired tear gas at an Indonesian soccer match to drive away fans upset with their team's loss left at least 125 dead, most of whom were trampled upon or suffocated, making it one of the deadliest sports events in the world.
Attention immediately focused on the police use of tear gas, and witnesses described police beat them with sticks and shields before shooting canisters directly into the crowds.
The president of FIFA called the deaths at the stadium "a dark day for all involved in football and a tragedy beyond comprehension," while President Joko Widodo ordered an investigation of security procedures. While FIFA has no control over domestic games, it has advised against the use of tear gas at soccer stadiums.
Violence broke out after the game ended Saturday evening with host Arema FC of East Java's Malang city losing to Persebaya of Surabaya 3-2.
Disappointed with their team's loss, thousands of supporters of Arema, known as "Aremania," reacted by throwing bottles and other objects at players and soccer officials. Witnesses said fans flooded the Kanjuruhan Stadium pitch and demanded that Arema management explain why, after 23 years of undefeated home matches against rival Persebaya, this one ended in a loss.
The violence spread outside the stadium where at least five police vehicles were toppled and set ablaze. Riot police responded by firing tear gas, including toward the stadium's stands, causing panic among the crowd.
Spectator Ahmad Fatoni said police had started beating the fans with sticks and shields, and they fought back.
"Officers fired tear gas directly at spectators in the stands, forcing us to run toward the exit," he said. "Many victims fell because of shortness of breath and difficulty seeing due to tear gas and were trampled."
He said he climbed the roof of the stands and only came down when the situation calmed down.
Others suffocated and were trampled as hundreds of people ran to the exit to avoid the tear gas. In the chaos, 34 died at the stadium, including two officers, and some reports include children among the casualties.
"We have already done a preventive action before finally firing the tear gas as (fans) began to attack the police, acting anarchically and burning vehicles," East Java police chief Nico Afinta said in a news conference early Sunday.
More than 300 were rushed to hospitals but many died on the way and during a treatment, Afinta said.
National Police Chief Listyo Sigit Prabowo said the death toll had been revised down to 125 after authorities found some of the victims were counted twice. More than 100 were receiving intensive treatment in eight hospitals, 11 of them in critical condition.
"The stadium turned into a smoke-filled battleground when police fired tear gas," said Rizky, who came with his cousin to watch the game.
"I felt hot and stinging in my eyes, I couldn't see clearly while my head was dizzy and everything went dark … I passed out," he said. When he woke up, he was already in the emergency room. He said his cousin died because of head injuries.
"We wanted to entertain ourselves by watching a football match, but we got disaster," he said.
Indonesia's soccer association, known as PSSI, suspended the premier soccer league Liga 1 indefinitely in light of the tragedy and banned Arema from hosting soccer matches for the remainder of the season.
Television reports showed police and rescuers evacuating the injured and carrying the dead to ambulances.
Grieving relatives waited for information about their loved ones at Malang's Saiful Anwar General Hospital. Others tried to identify the bodies laid at a morgue while medical workers put identification tag on the bodies of the victims.
"I deeply regret this tragedy and I hope this is the last soccer tragedy in this country, don't let another human tragedy like this happen in the future," Widodo said in a televised speech. "We must continue to maintain sportsmanship, humanity and a sense of brotherhood of the Indonesian nation."
He ordered the youth and sports minister, the national police chief and the PSSI chair to conduct a thorough evaluation of the country's soccer and its security procedure.
Youth and Sports Minister Zainudin Amali also expressed his regrets that "this tragedy happened when we were preparing for soccer game activities, both national and international level."
At the Vatican, Pope Francis said he was praying for "all those who have lost their live and were injured in the clashes that erupted after a soccer game in Malang, Indonesia."
Indonesia is due to host the 2023 FIFA U-20 World Cup from May 20 to June 11, with 24 participating teams. As the host, the country automatically qualifies for the cup.
"Unfortunately, this incident has certainly injured our soccer image," Amali said.
In a statement, FIFA President Gianni Infantino expressed condolences on behalf of the global football community, saying "the football world is in a state of shock." The statement did not mention the use of tear gas.
Ferli Hidayat, local police chief of Malang, said there were some 42,000 spectators at the game Saturday, all of whom were Arema supporters because the organizer had banned Persebaya fans from entering the stadium in an effort to avoid brawls.
The restriction was imposed after clashes between supporters of the two rival teams in East Java's Blitar stadium in February 2020 caused 250 million rupiah ($18,000) in damage. Brawls were reported outside the stadium during and after the semifinals of the East Java Governor's Cup, which ended with Persebaya beating Arema 4-2.
Rights groups responded to the tragedy by blaming the use of tear gas in the stadium by police.
Citing FIFA's stadium safety guidelines against the use of "crowd control gas" by pitch side stewards or police, Amnesty International called on Indonesian authorities to conduct a swift, thorough and independent investigation into the use of tear gas at Kanjuruhan stadium.
"Those who are found to have committed violations are tried in open court and do not merely receive internal or administrative sanctions," said Usman Hamid, executive director of Amnesty International Indonesia.
He said tear gas should only be used to disperse crowds when widespread violence has occurred and when other methods have failed. People must be warned that tear gas will be used and allowed to disperse. "No one should lose their lives at a football match," Hamid said.
Despite Indonesia's lack of international accolades in the sport, hooliganism is rife in the soccer-obsessed country where fanaticism often ends in violence, as in the 2018 death of a Persija Jakarta supporter who was killed by a mob of hardcore fans of rival club Persib Bandung in 2018.
Saturday's game is already among the world's worst crowd disasters, including the 1996 World Cup qualifier between Guatemala and Costa Rica in Guatemala City where over 80 died and over 100 more were injured. In April 2001, more than 40 people are crushed to death during a soccer match at Ellis Park in Johannesburg, South Africa.
___
Karmini reported from Jakarta, Indonesia. Associated Press journalists Edna Tarigan and Andi Jatmiko in Jakarta contributed to this report.