Doctor tells Law Society of Alberta that former health minister visited his home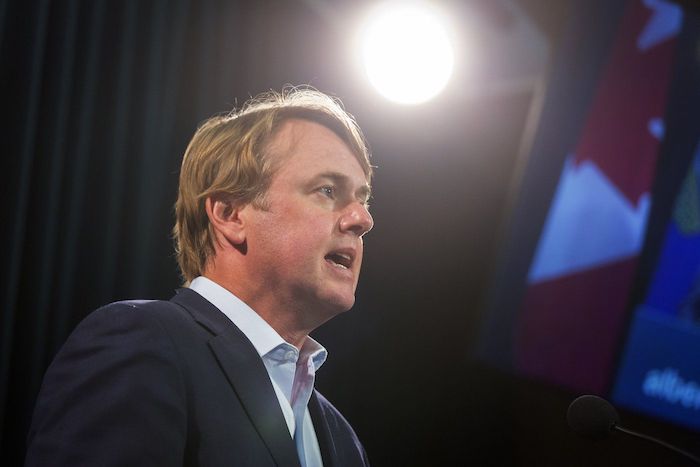 By Bill Graveland in Calgary
Alberta's justice minister began a three-day Law Society of Alberta hearing Tuesday to answer allegations he broke the lawyers' code of conduct.
Three complaints against Tyler Shandro stem from his time as health minister early in the COVID-19 pandemic.
Dr. Mukarram Zaidi told the hearing he had posted a photo on social media of Shandro with a caption related to privatizing health care. He said the minister and his wife visited his home in March 2020 during fractious negotiations between the government and the Alberta Medical Association over fees.
The photo of Shandro, with a thought bubble caption, said "So every Albertan that I can kick off health care is another client we can sign up for Vital Partners. We're going to be RICH."
Shandro's wife, Andrea, is the co-founder of Vital Partners, a health insurance agency.
Zaidi said he went outside of his home to meet Shandro, whom he described as being highly upset. He said Shandro demanded that the doctor remove the post immediately because his family was being subjected to death threats.
"As I stepped out into the driveway I see Shandro and his wife standing at the sidewalk. He was crying, he was emotionally charged. His wife was holding him," Zaidi said.
"He said, 'you can't do this to us. We're getting death threats.' I think I asked him, 'what do you want me to do?' And he said, 'delete your post.'"
Zaidi said he complied and felt that Shandro was visiting in his capacity as a government minister and not as a private citizen.
He said he has been a member of the United Conservative Party, was an activist and had known Shandro for some time.
Zaidi told the panel that he put the matter behind him but was contacted by a CBC journalist.
Under examination from Shandro's lawyer, Zaidi said he didn't plan the original post or his media interview as a strategy to discredit the minister during fee negotiations.
"I wanted to get attention that this is a conflict of interest, of a sitting minister of health, whose business would benefit in turn for what his actions were," he said.
After the story emerged, Shandro issued a statement confirming the meeting took place.
"The attacks on someone I love and the mother of my children upset me deeply. As any husband would do, I responded passionately to defend my wife," the minister wrote.
Shandro said he visited Zaidi, who he had known to be a decent and honourable man.
"When I saw that a longtime political acquaintance and neighbour had posted something to social media that was contributing to attacks against my wife, I went to speak to him and implore him to cease propagating this false information."
Shandro's lawyer, Grant Stapon, said the conversation with Zaidi was a private matter.
"Those communications should be judged on the basis of Minister Shandro's actions as a non-lawyer, in his personal capacity," said Stapon.
"He was not practising law. He was not acting as a politician. He was acting in his personal capacity."
Zaidi said he found the encounter unsettling.
"I don't really get intimidated. This was a very intimidating situation."
This report by The Canadian Press was first published Jan. 24, 2023.
Police investigating how shooter got firearm after autopsy and balistic analysis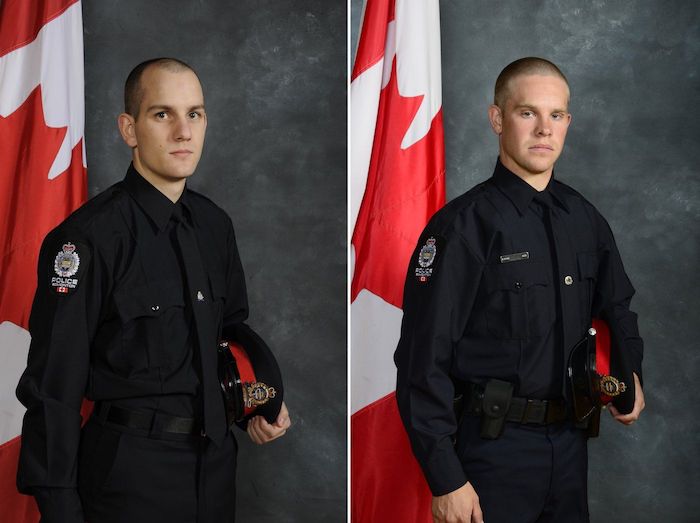 News release from the Edmonton Police Service
Autopsy on shooter, ballistic analysis complete in line of duty deaths
An autopsy on the shooter and ballistic analysis of the firearm have been completed in the Mar. 16, 2023 EPS line of duty deaths.
The Edmonton Medical Examiner conducted an autopsy on Mar. 22, 2023, and confirmed that the 16-year-old male shooter's cause of death was a single gunshot wound to the head consistent with being self-inflicted.
"We recognize that there is intense public interest in this investigation," says EPS Deputy Chief Devin Laforce. "At this time, our priorities need to be the integrity of ongoing investigations, including the origin of the firearm, as well as the safety and privacy of all the families affected by this tragedy. For these reasons, we are not releasing or confirming the name of the deceased."
A bullet casing recovered from the scene of a Mar. 12, 2023 shooting at a nearby restaurant in the area of 133 Street and 114 Avenue has been forensically matched to the firearm that was recovered at the 132 Street and 114 Avenue apartment, where Constable Brett Ryan and Constable Travis Jordan were fatally shot on Mar. 16, 2023.
Investigators believe the suspect in the Mar. 12 shooting to be the same 16-year-old male responsible for the deaths of the two EPS members, although this has yet to be confirmed. Detectives are also working to trace the origins of the firearm and how it came to be in the youth's possession.
At this time, investigators continue to believe that the youth's parents, police dispatch and Constables Ryan and Jordan had no information to suggest there was a firearm in the home when the family dispute call for service was made on Mar. 16.
"Both events have been served by robust investigations that have followed all lines of inquiry," says Deputy Chief Devin Laforce. "All tips and other investigative avenues were pursued exhaustively by the investigating teams."
The male shot on Mar. 12 in the restaurant remains in hospital in critical but stable condition, and the youth's mother who was shot on Mar. 16 remains in hospital in serious but stable condition.
Search of four Edmonton homes results in Cocaine and Meth bust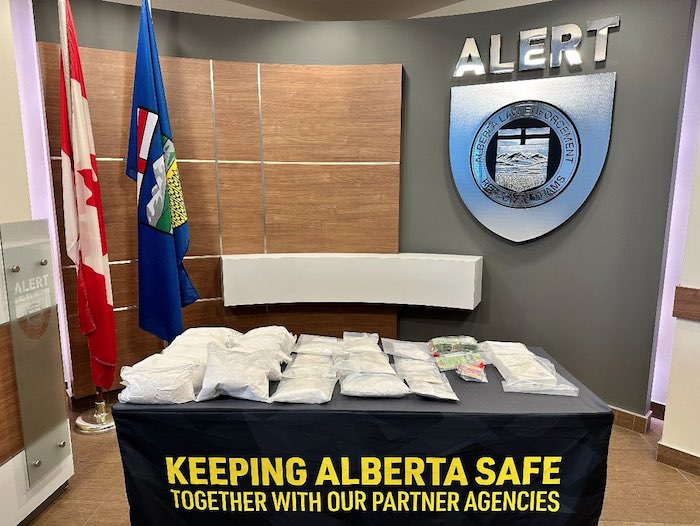 News release from the Alberta Law Enforcement Response Team (ALERT)
Cocaine seized after four Edmonton homes searched
More than two kilograms of cocaine, cash, and four vehicles have been seized following an ALERT Edmonton investigation into cocaine trafficking.
The investigation began in October 2022. Police were able to identify four homes and four vehicles linked to the drug trafficking operation.
"Through the course of this five-month investigation, officers were able to identify several suspects, and seized several pieces of equipment which were being used to produce large, commercial-sized quantities of product. This tells us that this was a much bigger, sophisticated operation," said Sgt. Jeff Woodliffe, ALERT Edmonton.
On February 23, 2023, police searched four homes and seized the following items as evidence:
2.6 kgs of cocaine;
28 grams of methamphetamine;
10 kgs of a cocaine buffing agent; and
$11,000 in cash.
The investigation remains ongoing as investigators prepare reports and disclosure for Crown Counsel.
The Edmonton Police Service assisted throughout the investigation.
Members of the public who suspect drug or gang activity in their community can call local police, or contact Crime Stoppers at 1-800-222-TIPS (8477). Crime Stoppers is always anonymous.
ALERT was established and is funded by the Alberta Government and is a compilation of the province's most sophisticated law enforcement resources committed to tackling serious and organized crime.