Devils top Oilers, tie franchise mark with 13th straight win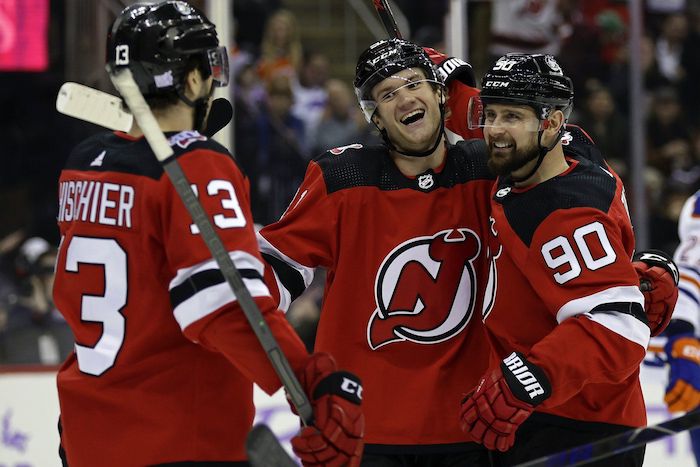 By Tom Canavan in Newark
NEWARK, N.J. (AP) — The young New Jersey Devils are making a name for themselves — in the team's record book.
Nico Hischier had three assists and the no-name Devils beat the Connor McDavid-led Edmonton Oilers 5-2 Monday night to match a franchise mark with their 13th consecutive win.
"I guess we're up there with the history book," Hischier said. "Nobody is going to take that from us now and it feels good. It proves that we're a good team, that we can win hockey games, that we don't have to hide anymore."
Jesper Bratt, Dawson Mercer, Damon Severson, Tomas Tatar and Yegor Sharangovich scored for the Devils, who haven't lost since Oct. 24 against Washington. Vitek Vanecek made 27 saves for New Jersey.
"It's awesome winning," said Bratt, who leads the team with 24 points. "So is everything around the rink and being with the guys and playing these important games. That means a lot, and winning is the best thing possible in hockey."
The Devils still have three quarters of the season to go, but they are well on the road to making the playoffs for the first time since the 2017-18 season.
"We've had a great run. We know that we're kind of the hunted now," coach Lindy Ruff said. "We know that we're going to expect probably the best every team can bring because we're getting recognition. So that part we have to deal with. But 19 games in you can't say, 'We sent a message to the league.'"
Leon Draisaitl and Ryan Nugent-Hopkins scored for the Oilers, beaten twice by New Jersey during its run. Stuart Skinner made 23 saves, but had the puck taken off his stick by Hischier early in the second period to set up the go-ahead goal by Mercer into a wide-open net.
"Obviously a tough game. Tough loss," Skinner said. "They're obviously a great team. They're obviously hot right now as well. They've got some great players that make some great plays and it was just tough to lose, especially two in a row to these guys. But all we can do is learn from our mistakes and move on."
Severson stretched the margin to 3-1 on a counterattack minutes later.
Edmonton made a push early in the third. Nugent-Hopkins cut it to 3-2 at 4:52 and had a close-in chance to tie it, only to be stopped by Vanecek, who improved to 9-1.
Tatar gave the Devils breathing room about a minute later, gloving down the rebound of Mercer's shot and beating Skinner. Sharangovich added an insurance goal with 5:15 to go.
Jack Hughes had two assists for the Devils.
ROUGH NIGHT IN NET
Not only did Skinner hand the Devils the go-ahead goal, backup netminder Jack Campbell also had a bad night.
Sitting on the end of the bench late in the second period, Campbell was cut when he was hit in the face by a puck that seemed to be deflected by Devils defenseman Dougie Hamilton. Campbell immediately left the bench and did not return for the third period.
"I went and saw him after the second period, and he was laughing and smiling. So that's the kind of guy he is," Skinner said. "But no, he had a pretty bloody nose and obviously it's hard to see that happen, especially to him. I think he's fine."
UP NEXT
Oilers: Continue their swing through the New York metropolitan area when they visit the Islanders on Wednesday. Edmonton finishes in New York City on Saturday against the Rangers.
Devils: Host the Toronto Maple Leafs on Wednesday night.
Premier Smith uses First Ministers' meeting to catch up with Quebec Premier Legault and Saskatchewan's Scott Moe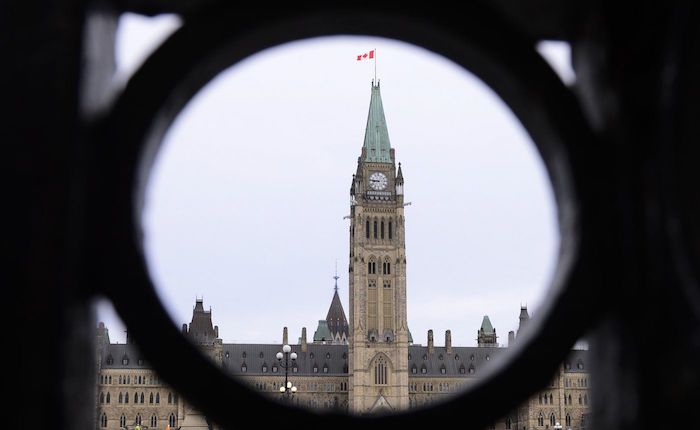 Premier Smith's update from the Ottawa
Premier Danielle Smith participated in the First Ministers' Meeting on health care in Ottawa and provided the following update.
Alberta is leading the country with major reform to health care. After 2.5 years of requests from Canada's premiers, today, the federal government presented their plan. While this is a start, overall, this is significantly lower than the premiers anticipated. Premier Smith will take this information back to her team in Alberta in advance of meeting with Canada's premiers again in the coming days.
Premier Smith also met with premiers François Legault of Quebec and Scott Moe of Saskatchewan in Ottawa in advance of today's first ministers' meeting.
Premier Smith and Premier Legault committed to a desired outcome for a health-care deal that recognizes and respects provincial jurisdiction over health delivery and leads to better outcomes for Albertans and Quebecers. Premier Smith stressed the importance of Alberta's energy sector, advocating for the importance of natural gas exploration and development both for the growth of the Canadian economy and to provide energy security for Canada's allies. Premier Legault reiterated his desire to invest in clean energy like hydroelectricity to fight climate change. Both premiers expressed concern about federal overreach and the need for the federal government to respect provincial autonomy in areas of provincial jurisdiction to better meet the needs of their citizens.
Premier Smith and Premier Moe expressed a need for flexibility in the delivery of health-care services, especially those that Alberta's Healthcare Action Plan commits to, such as reducing surgical wait times, improving ambulance services and reducing emergency room wait times. Premier Smith emphasized Alberta's progress on recovery-oriented care to support those struggling with mental health and addictions challenges and invited Premier Moe to Alberta to visit the province's recovery-oriented treatment centres. The premiers also discussed the mutual importance of the energy sector to their provinces for job growth and export to Canada's allies and a desire to work together on establishing economic corridors for trade and energy export.
Premier Smith asks Prime Minister to halt "Just Transition" legislation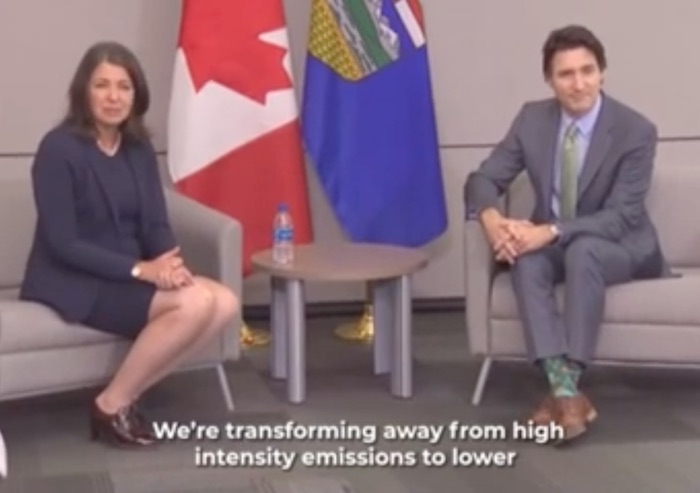 Premier Smith meets with the Prime Minister
Premier Danielle Smith met with the Prime Minister for approximately 30 minutes primarily discussing Alberta's request for the federal government to halt the introduction of its proposed 'Just Transition' legislation and other emission reduction strategies.
The Premier asked the federal government to instead work collaboratively with the Government of Alberta on developing a plan and partnership to attract energy investment and workers into Alberta's conventional, non-conventional and emerging energy sectors while reducing Canada's and Alberta's net emissions.
The Prime Minister expressed a willingness to explore this strategy with the Premier through their respective ministers and the Premier will be following up with further correspondence regarding proposed next steps in the near future.
The Premier used today's discussion to outline Alberta's expectations as to what must and must not be included in any future federal legislation, targets or policies as it relates to Alberta's energy sector. These expectations included:
Abandonment of any references to 'just transition' or any other terminology or policies that signal the phaseout of Alberta's conventional or non-conventional energy sector or workforce.
Increased workforce training and participation in all of the conventional, non-conventional and emerging energy sectors.
The need for formal consultation and collaboration with Alberta before the federal government announces or implements legislation, targets or policies that materially impact Alberta's energy sector.
Substantial increase in LNG exports to Asia through the lens of meeting targets through replacement of higher emitting fuel sources with clean Canadian LNG.
Joint federal-provincial initiatives to facilitate increased private investment in nuclear, hydrogen, bitumen beyond combustion, geothermal, lithium, helium, zero-emission vehicle, CCUS, petrochemical and other emerging technologies and fuels that make Alberta's conventional and non-conventional energy sector increasingly carbon neutral.