DeSantis to expand law critics call 'Don't Say Gay' into HS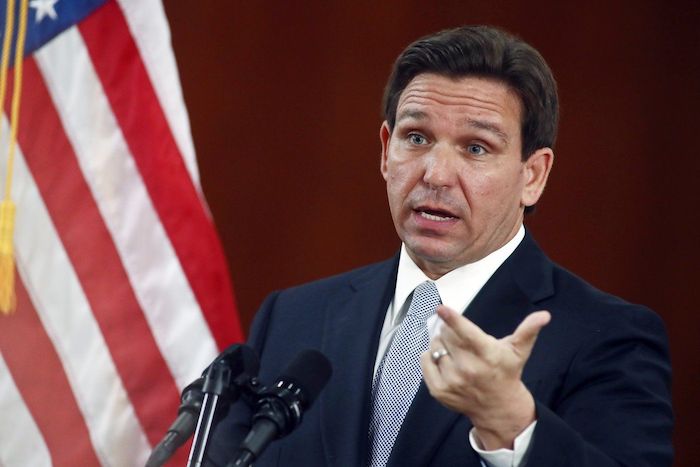 Florida Gov. Ron DeSantis answers questions from the media in the Florida Cabinet following his State of the State address during a joint session of the Senate and House of Representatives, Tuesday, March 7, 2023, at the state Capitol in Tallahassee, Fla. DeSantis' administration is moving to unilaterally forbid classroom instruction on sexual orientation and gender identity in all grades, expanding the controversial law critics call "Don't Say Gay" as the Republican governor continues a focus on cultural issues ahead of his expected presidential run. (AP Photo/Phil Sears, File)
By Anthony Izaguirre in Tallahassee
TALLAHASSEE, Fla. (AP) — The administration of Florida Gov. Ron DeSantis is moving to forbid classroom instruction on sexual orientation and gender identity in all grades, expanding the controversial law critics call "Don't Say Gay" as the Republican governor continues a focus on cultural issues ahead of his expected presidential run.
The proposal, which would not require legislative approval, is scheduled for a vote next month before the state Board of Education and has been put forth by state Education Department, both of which are led by appointees of the governor.
The rule change would ban lessons on sexual orientation and gender identity from grades 4 to 12, unless required by existing state standards or as part of reproductive health instruction that students can choose not to take.
DeSantis has leaned heavily into cultural divides on his path to an anticipated White House bid, with the surging Republican increasingly pursuing a conservative agenda that targets what he calls the insertion of inappropriate subjects in schools.
Spokespeople for the governor's office and the Education Department did not immediately return an emailed request for comment.
The measure comes after DeSantis championed a law last year that prohibited instruction on gender identity and sexual orientation in kindergarten through third grade.
The law drew widespread backlash nationally, with critics saying it marginalizes LGBTQ people, and kicked off a feud between the state and Disney, which publicly opposed the law.
At the governor's request, the Republican-dominated Legislature voted to dissolve a self-governing district controlled by Walt Disney World over its properties in Florida, and eventually gave DeSantis control of the board in a move widely seen as a punishment for the company opposing the law. The board oversees municipal services in Disney's theme park properties and was instrumental in the company's decision to build near Orlando in the 1960s.
The rule change was first reported by the Orlando Sentinel.
Latest GOP 2024 hopeful DeSantis 'blazing a trail' on book bans in Republican-controlled states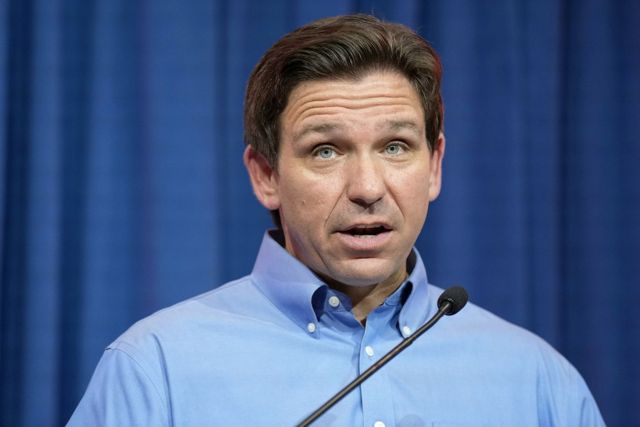 Florida last year became the first in a wave of red states to enact laws making it easier for parents to challenge books in school libraries they deem to be pornographic, deal improperly with racial issues or are in other ways inappropriate for students.
Books ensnared in the Florida regulations include explicit graphic novels about growing up LGBTQ+, a children's book based on a true story of two male penguins raising a chick in a zoo and "The Bluest Eye," a novel by Nobel laureate Toni Morrison that includes descriptions of child sexual abuse. Certain books covering racial themes also have been pulled from library shelves, sometimes temporarily, as school administrators try to assess what material is allowed under the new rules.
The day before DeSantis entered the presidential race earlier this week, a K-8 school in Miami-Dade County put the poem "The Hill We Climb" by Amanda Gorman on a restricted list for elementary students after a parent complained. The reasons for the objection to the poem, which Gorman read during President Joe Biden's inauguration, were not clear. The book version remains available to the middle school students, but Gorman criticized the decision to restrict it for younger grades, saying it robbed "children of the chance to find their voices in literature."
While efforts to ban books or censor education material have come up sporadically over the years, critics and supporters credit DeSantis with inspiring a new wave of legislation in other conservative states to regulate the books available in schools — and sometimes even in public libraries. The number of attempts to ban or restrict books across the U.S. last year was the highest in the 20 years the American Library Association has been tracking such efforts.
EveryLibrary, a national political action committee, said it's tracking at least 121 different proposals introduced in state legislatures this year targeting libraries, librarians, educators and access to materials. The group said 39 of those proposals would allow for criminal prosecution.
"He really is blazing a trail," said Tiffany Justice, the Florida-based co-founder of the conservative parents group Moms for Liberty, whose members have filed challenges to books in libraries in several states. "What Ron DeSantis does that I think is effective is he uses all the levers of power to make long-term change happen."
"Other governors," Justice said, "are paying attention and following suit."
In Arkansas, Republican Gov. Sarah Huckabee Sanders signed a law, set to take effect this summer, that could impose criminal penalties on librarians who knowingly provide "harmful" materials to minors. The law also would establish a process for the public to challenge materials and ask they be relocated to a section minors can't access.
"It's a perverse world when we're talking about trying to criminalize librarians," said Nate Coulter, executive director of the Central Arkansas Library System in Little Rock, which is expected to sue over Arkansas' law.
In Indiana, school libraries will be required by July 1 to publicly post a list of books they offer and provide a complaint process for community members under a law Republican Gov. Eric Holcomb signed this month. In Texas, a bill creating new standards for banning books from schools that the government considers too explicit has been sent to Republican Gov. Greg Abbott's desk.
In Oklahoma, the state school board has approved new rules that prohibit "pornographic materials and sexualized content" in school libraries and allow parents to submit formal complaints. The rules still must be approved by Republican Gov. Kevin Stitt.
DeSantis insists books aren't actually being "banned" in his state's schools, preferring to call the forced removal of some books "curation choices that are consistent with state standards."
"There has not been a single book banned in the state of Florida," DeSantis said during a live appearance on Twitter Wednesday when he announced his campaign. He later said "our mantra in Florida is education, not indoctrination."
Librarians, free speech advocates and some parents and educators say the push is driven by a small, conservative minority that happens to have outsized clout in Republican primaries, like the one DeSantis is now competing in.
"This is all part of his plan to run for president, and he believes his vilification of books and what's happening in public schools is his path to the presidency," said Andrew Spar, president of the Florida Education Association, the state's main teachers union.
Kasey Meehan, who directs the Freedom to Read program at the writers' organization PEN America, said that, when books are targeted in Florida, they later become the subject of complaints filed by parents in other states.
"It's something that continues to cause alarm for individuals who are advocating for the freedom to read or for a diversity of knowledge, ideas and books to be available to students across the country," Meehan said.
PEN earlier this month sued the Escambia school district in Florida over the removal of 10 books, including "The Bluest Eye" and "Lucky," a bestselling memoir by Alice Sebold about her rape when she was 18 years old.
There have been challenges to books in schools for decades — "The Bluest Eye" has been targeted in various states for years, long before DeSantis became governor. But the restrictions accelerated in Florida after DeSantis signed bills last year barring discussion of sexual orientation and gender identity in kindergarten through third-grade classrooms, a ban that has since expanded through 12th grade. He also created a mechanism for parents to challenge books in school libraries and has targeted how race is taught in Florida schools.
Many teachers and districts complain that the laws' standards are so vague they don't know what books might place them in legal jeopardy.
Michael Woods, a special education teacher in Palm Beach, said new rules compelling him to catalog books in his classroom led him to empty a small library he set up where students could choose to read something that interested them. Now those volumes are stored in a box he's stashed in his closet for fear of getting in trouble.
"That kind of positive connection to reading is no longer there," he said.
The individual challenges to books might be coming from a fairly narrow segment of the population, according to PEN and the American Library Association, which track requests to pull books. The library association said 40% of all requests challenged 100 or more books at a time.
Raegan Miller of Florida Freedom to Read, a group fighting the book restrictions, said she has talked about education issues with fellow parents of all political persuasions for years, and no one has ever complained about inappropriate material in their children's schools. She contends the issue has been ginned up by a small group of conservative activists.
"Do you really think we are all just happily dropping our kids off at Marxist indoctrination and pornography?" Miller said. "You only hear this stuff at school board meetings."
Moms for Liberty, which boasts 285 chapters, has a strong presence at school board meetings in the state and nationwide. It also has successfully backed several candidates for school board.
Justice, the group's co-founder, notes the books are still available in public libraries and through booksellers. The question, she said, is whether it's appropriate for taxpayer-funded schools to provide them to children.
Some books don't belong in certain settings, she said: "A seminary library would have different books than a medical school library."
It's the local, elected officials, she added, who should determine what's appropriate.
"That's representative government," Justice said.
___
Associated Press writers Sean Murphy in Oklahoma City and Arleigh Rodgers in Indianapolis contributed to this report.
"The theme of my speech is to remember the good moments, but also the hard moments too."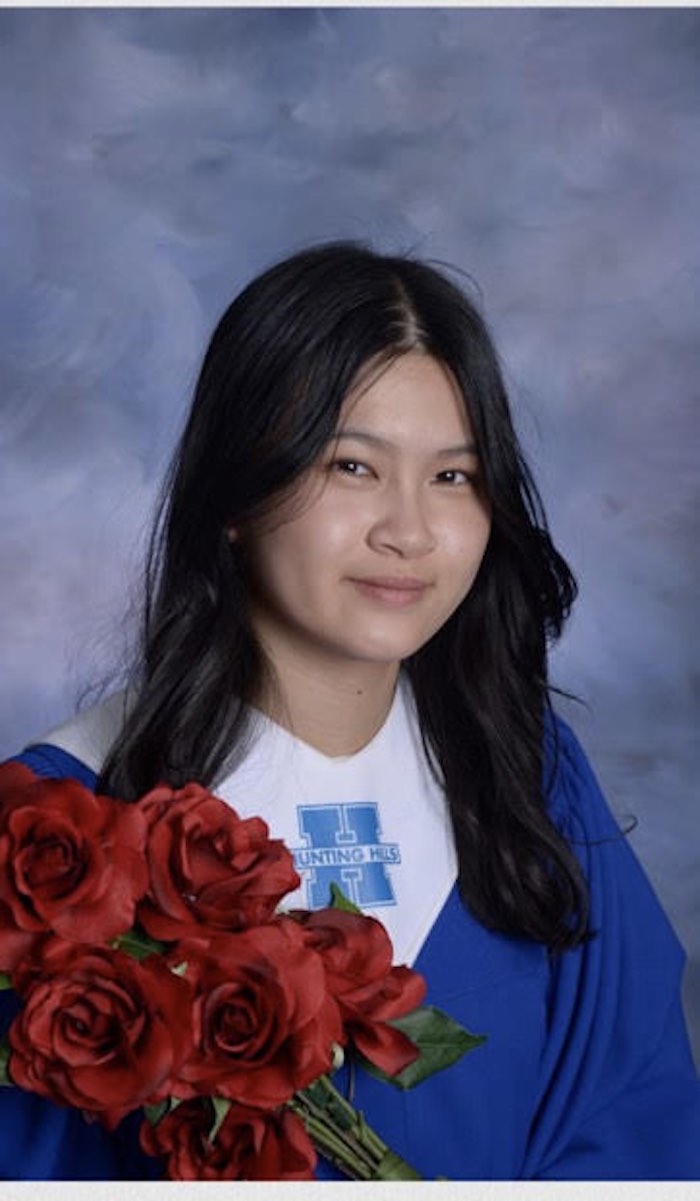 Relationships and connections are the most important to Hunting Hill's Valedictorian
Relationships and connections have played an integral role throughout Janie Tong's high school career. She has recently been named this year's Valedictorian for Hunting Hills High School.
"School itself is a lot with homework, assignments and exams, but the connections that you have with your friends and the relationships with your teachers it's something that is really uplifting and gives you the balance that you need," said Janie Tong, who has been named Valedictorian for Hunting Hill's Class of 2023.
"I was really shocked when I heard the news of being named Valedictorian," said Janie. "Throughout high school I have been working very hard, and it never really occurred to me that I could achieve it. Once it sunk in, I was really excited about it and proud because it was a recognition of all my hard work."
Janie, who has been part of Red Deer Public Schools since Kindergarten, reflects on a few highlights during her high school career.
"Our Bike-A-Thon and Wakefest were so much fun," she said. "It was fun to get to know my classmates, and have those experiences together and to make those connections."
In Grade 10, Janie took a course called Social Studies 10-20-30, which meant she took all three years of social studies in one year. This type of dedication set her on the path for success.
"It was where I Iearned my work ethic because I was taking a Grade 12 course in Grade 10," she said. "My teacher was great too, and made the class a lot of fun."
As for what's next, Janie will be heading to the University of Waterloo where she is enrolled in the Computer Science program.
"I'm really excited for a new adventure," she said.
As for her upcoming graduation ceremonies, Janie said she is looking forward to making memories with friends, family and teachers. "I want to really appreciate the whole experience," she said, adding she is also looking forward to addressing her fellow graduates.. The highs and lows of high school are what helped shape who we are today. High school was when we really found ourselves and started to answer the question we were asked when we were so young, which was 'what do you want to be when you grow up?'" said Janie. "It's been a great experience."
Darwin Roscoe, Principal at Hunting Hills High School, said Janie, who is known for her academic excellence and remarkable character, is deserving of this honour.
"Her numerous accolades in Advanced Placement and her relentless pursuit of knowledge have impacted her educational journey. Beyond her academic achievements, she has taken on leadership roles as a quiet leader, demonstrating exceptional organizational skills and the ability to unite others," he said. "Her contributions to Hunting Hills High School have been recognized with the Power of Home, Power of Honour, and Power of Heart awards, acknowledging her compassion, empathy, and kindness. Her completion of the intercultural certificate shows her commitment to fostering cross-cultural understanding. Her genuine warmth sets her apart. She uplifts and supports her peers, embodying the qualities of a true mentor and friend."
Graduation ceremonies for Hunting Hills will take place on May 26 at the Gary W. Harris Canada Games Centre.