Deportation order over bogus college admission letter could set precedent: lawyers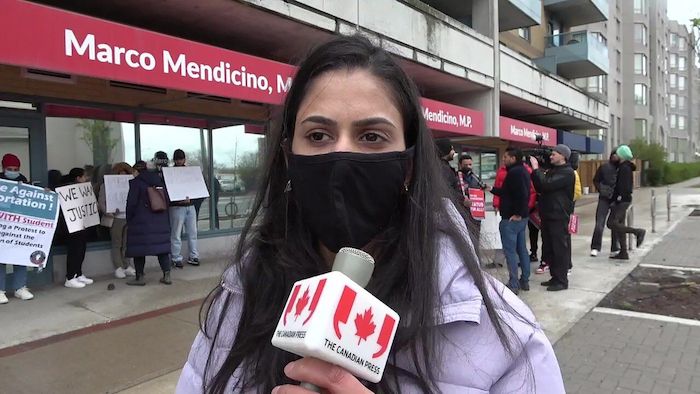 Karamjeet Kaur, a 25-year-old former international student from India, is facing deportation. Kaur is shown in this still from a video interview in Toronto, where students protested deportation, Wednesday, May 3, 2023. THE CANADIAN PRESS/Kiernan Green
By Kiernan Green in Toronto
An Edmonton woman is facing deportation from Canada this month after a college admission letter that secured her entry into the country five years ago turned out to be fake.
Even though Karamjeet Kaur, 25, proved not to know the letter was fraudulent, the Immigration and Refugee Board of Canada has ruled that she be deported by May 29.
That decision will likely have implications for possibly hundreds of other international students in Canada who reportedly received similar fake admission letters from the same education agent in India — a situation that shows lack of accountability by border and immigration authorities, according to lawyers and activists who spoke with The Canadian Press.
Kaur, whose poor, rural Indian family spent their life savings so she could be the first among them to study and work abroad, now works as a supervisor for a company in Edmonton. She's married to a Canadian citizen, frequently volunteers, has a work permit valid until November and was on the path to becoming a permanent resident.
Avnish Nanda of Nanda & Company law firm, which has taken on Kaur's case, said she's the type of person Canada wants. "She's contributed so much, and she has the kind of character commitment to this country that we want in young immigrants."
It wasn't until 2021, during the last stage of Kaur's application for permanent residency, that the Canada Border Services Agency informed her the admission letter from Toronto's Seneca College, which secured her student visa, was fake.
Kaur said that upon her arrival to Canada, the agent in India only told her that her spot at Seneca was no longer available. Kaur eventually went to NorQuest College in Edmonton, where she graduated from a business and administration management program in 2020.
"We thought that the immigration process is very strict, and that they verify everything when they are giving the visa," Kaur said in an interview with The Canadian Press. "I was really shocked. I've already been here five years. Canada is my country now."
Nanda said immigration officials in both India and Canada believed that Kaur's college admission letter was legitimate.
The same education agent gave as many as 700 students fraudulent admission letters to Canadian post-secondary schools, according to those trying to help the students who now face removal from Canada. The education agent is now reportedly facing charges in India.
Canada Border Services Agency (CBSA) confirmed in an email to The Canadian Press that "there are a number of active Immigration and Refugee Protection Act (IRPA) investigations into cases of misrepresentation, including those related to study permits."
The CBSA did not provide further details, citing ongoing investigations, and said it does not comment on specific cases.
The Immigration and Refugee Board of Canada said it's required to hold an admissibility hearing in cases where the CBSA alleges that someone is inadmissible to enter or remain in Canada.
In January 2023, a Federal Court judge dismissed Kaur's request for a judicial review of the Immigration Board's deportation order. The judge found Kaur "genuinely believed" she had been accepted to Seneca College, but noted that she never took any action to verify her acceptance and never contacted the university to query why her purported acceptance had been withdrawn.
Kaur's deportation order established an implied legal precedent for other students awaiting their hearing results, said Nanda. She's has since applied for permanent residency in Canada on humanitarian and compassionate grounds and through sponsorship.
Kaur and more than a dozen others protested outside Public Safety Minister Marco Mendicino's constituency office in Toronto on May 3 to demand culpability for their fake letters' initial acceptance by Canadian immigration officials. An online petition against the deportations of affected students, launched by Migrant Workers Alliance the next day, has since received more than 940 signatures.
"We're international students. We're contributing millions of dollars in Canada's economy… we stepped up (as essential workers) in COVID. We're the victims of fraud. (Canada) has to do a proper investigation," Lovepreet Singh, a victim of the same admission letter fraud, said at the protest. "If we have to go back, it would be an outrageous injustice for us."
Jaswant Mangat is representing about 40 students in various stages of their admissibility hearings before the immigration board and said that his clients' visa processing was done too hastily, often within a week. "There was no oversight or verification system," he said.
"If agents know that (Canada's immigration) system is unable to detect fraud, they'll continue to commit it," said Mangat.
In response to claims that incoming students' permits and visa documents weren't adequately reviewed, the CBSA said that Immigration, Refugees and Citizenship Canada is responsible for receiving and reviewing study permit applications. They did not confirm or deny the number of possibly fraudulent acceptance letters flagged in 2018. IRCC did not respond to questions about those claims by publication time.
Nanda said that Mendicino and Immigration Minister Sean Fraser should use the powers of their offices to mandate a process to determine whether all implicated students were unaware of the letter fraud, as Kaur proved in her judicial hearing.
"The government can today address this issue in a way that is compassionate and recognizes our domestic migration targets but also the daily lives of these folks who sacrificed everything to come to this country," said Nanda.
The Immigration and Refugee Board said it decides each case "on its merits, based on the law and the evidence and arguments presented by the parties."
This report by The Canadian Press was first published May 20, 2023
Winnipeg man pleads guilty to manslaughter in the death of Saskatchewan RCMP officer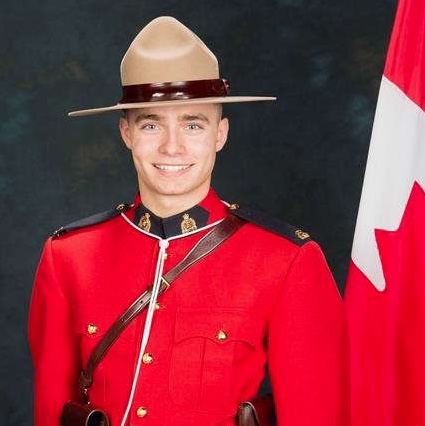 A man has pleaded guilty to manslaughter in the death of a Saskatchewan RCMP officer. RCMP Constable Shelby Patton is shown in this undated handout photo. Patton, of the Indian Head Detachment, was killed on June 12, 2021, after being hit by a pickup truck during a traffic stop. THE CANADIAN PRESS/HO, RCMP
By Jeremy Simes in Regina
The mother of a Saskatchewan RCMP officer who was killed two years ago says it was "hell" to watch a Winnipeg man plead guilty to manslaughter in her son's death.
Alphonse Stanley Traverse pleaded guilty on Wednesday to the charge in Regina Court of King's Bench for his role in Const. Shelby Patton's death. Traverse also pleaded guilty to a charge of stealing a motor vehicle.
"It's very traumatic," Melanie Patton, the mother of the 26-year-old Mountie, said in an interview.
"It's better than sitting through a trial, but at the same time there's so much trauma and we're not going to recover. It's like I'm living in hell."
Shelby Patton was killed more than two years ago when he attempted to stop a stolen truck, driven by Traverse, near the town of Wolseley, east of Regina.
According to an agreed statement of facts, Traverse had been driving from Winnipeg to Saskatchewan in June 2021 to play VLTs. He was with Marlene Pagee at the time, and they chose to go to Saskatchewan because bars were open in the province. COVID-19 measures meant bars were closed in Manitoba.
Traverse was on warrant status for various Criminal Code offences, the document said, and Pagee had been on bail with conditions. She also faces one count of accessory to murder after the fact in Patton's death.
Court heard Traverse and Pagee were driving a stolen green truck as they made their way to Saskatchewan. They were both using crystal meth.
However, the green truck wasn't working well, so Traverse and Pagee began looking for another vehicle. The document said they came across another truck near Pipestone, Man., and stole it. The truck was unlocked and had keys in the ignition.
The document said Traverse and Pagee made their way to Wolseley and stopped outside a hotel. Patton was then dispatched to investigate a suspected stolen truck in town.
When Patton arrived, court heard the couple noticed the Mountie's car, so they decided to drive away. However, Patton stopped them shortly thereafter and walked towards the driver's window, speaking with Traverse.
Court heard Patton had asked Traverse if he worked for the company that owned the truck. Traverse lied, saying he did. Patton then told him the truck had been reported stolen, asking him to step out of the vehicle until the issue could be sorted.
Traverse then turned to Pagee, saying "I can't," and started the truck.
Court heard Patton stepped up on the truck's running board and reached for the key's inside. The truck then accelerated rapidly and jerked.
The document said Patton fell off the running board. The rear driver-side tire ran over his body, killing him.
Melanie Patton said her son's death was no accident.
"He was a very good officer. He did not make a mistake," she said. "I'm sure any officer would have done the same. The job is very dangerous and getting more dangerous, unfortunately."
She said she hopes Traverse is given the maximum penalty.
Traverse is scheduled for sentencing on Jan. 17.
This report by The Canadian Press was first published Sept. 27, 2023.
Rota debacle renews calls to examine history, including war crime records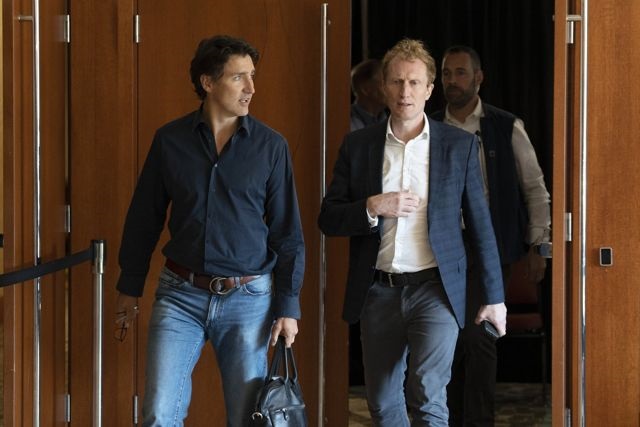 Prime Minister Justin Trudeau, left, and Minister of Immigration, Refugees and Citizenship Marc Miller leave a meeting during the Liberal Cabinet retreat in Charlottetown, Tuesday, Aug. 22, 2023. Canada could revisit calls to declassify documents about the presence of Nazi war criminals in the country, Miller said Wednesday, as the fallout continued over Parliament's recognition last week of a man who fought for the Nazis. THE CANADIAN PRESS/Darren Calabrese
By Mia Rabson in Ottawa
Canada could revisit calls to declassify documents about the presence of Nazi war criminals in the country, Immigration Minister Marc Miller said Wednesday, as the fallout continued over Parliament's recognition last week of a man who fought for the Nazis.
"Canada has a really dark history with Nazis in Canada," Miller said, heading into the weekly Liberal caucus meeting.
"There was a point in our history where it was easier to get (into Canada) as a Nazi than it was as a Jewish person. I think that's a history we have to reconcile."
Many Jewish organizations in Canada say doing that requires a public airing of information, and that means all the records Canada has about the presence of war criminals must be opened up.
"I think part of the problem here is that the records are closed," said B'nai Brith senior lawyer David Matas in an interview.
"You can't remember the past unless you know the past, and you can't know the past unless you get the records."
B'nai Brith Canada and the Friends of Simon Wiesenthal Center both reiterated their long-standing calls this week for the government to make public all records about the admittance of former Nazi soldiers.
That includes the entirety of a 1986 report from a public commission on war criminals, which is often referred to as the Deschênes Commission for the judge who led it.
The report has never been fully released, including an appendix with the names of 240 alleged Nazi war criminals who might be living in Canada that the report recommended Canada investigate.
"It's now time for Ottawa to not only release the unredacted files related to the Deschênes Commission, but to also address the stark reality that there are still former Nazis with blood on their hands living in Canada," said Friends of Simon Wiesenthal Center President Michael Levitt.
Matas noted that in June, a House of Commons committee studying Canada's access-to-information system recommended all historical documents be released in full after 25 years.
He said implementing that recommendation would fulfil the desire to see Canada's war criminal records.
Currently, records can be released 20 years after someone's death. But Matas said that rule doesn't apply in this case, because information about people who died can't be accessed unless their names are available.
He said it's not that every person named in the records is guilty, but that a justice system relies on openness, and you can't have justice without transparency, whether you're guilty or innocent.
There is also little to no information publicly available about what follow-up was done to investigate alleged war criminals named in the Deschênes report, or bring any of them to justice.
All of this comes after what some have called the most embarrassing international debacle in Canadian history.
On Friday, during an official visit by Ukraine President Volodymyr Zelenskyy, the House of Commons Speaker pointed to a guest in the gallery he identified as a war hero.
Parliamentarians and dignitaries who were present gave two standing ovations to a 98-year-old Ukrainian Canadian war veteran without knowing or understanding that the unit he fought with was formed by Nazi Germany to fight against the Soviet Union.
Speaker Anthony Rota, who said he did not know about Yaroslav Hunka's background, apologized for making an egregious mistake inviting him to Parliament. He announced Tuesday that he would resign from the role.
On Wednesday, Prime Minister Justin Trudeau issued an apology on behalf of Canada and all parliamentarians for the debacle.
University of Alberta professor John-Paul Himka pointed out that nobody seemed to immediately understand how Hunka's military history implied he would have fought with the Germans.
That's because of a great lack of understanding of history, even among elected MPs, he said.
"I mean, this man was introduced as somebody who fought the Russians during World War II. Who was fighting the Russians during World War II? It was the Germans," he said.
Matas concurred.
"I mean if Rota didn't know about this whole issue and he was the Speaker of the House of Commons, you can imagine how widespread the ignorance is," he said.
Still, said Matas, the uproar has rejuvenated the discussion about exposing that history, including all the records.
"This is on the radar, now, I think," he said. "They're paying attention to it."
Miller said he has read the Deschênes report twice since this all happened, and encouraged all Canadians to do so.
He also said he knows there are many people demanding the release of the records, and it is something the government "could possibly examine again."
But he said because he doesn't know exactly what is contained in the documents, he doesn't yet want to say if he backs their full release.
"But again, in a country like Canada that has not only a difficult history with Nazis in Canada, but also one of the most important diaspora of Jewish people, including some of the largest proportions of Holocaust survivors, impunity is absolutely not an option," he said.
Mental Health Minister Ya'ara Saks, whose York Centre riding in Toronto has about one-fifth of its population identifying as Jewish, said Canada should look at what it can do to help provide answers and closure to Jewish Canadians.
She said opening the records is something to be looked at.
This report by The Canadian Press was first published Sept. 27, 2023.