'Defending Saskatchewan': Moe prepared to take legal actions over pollution laws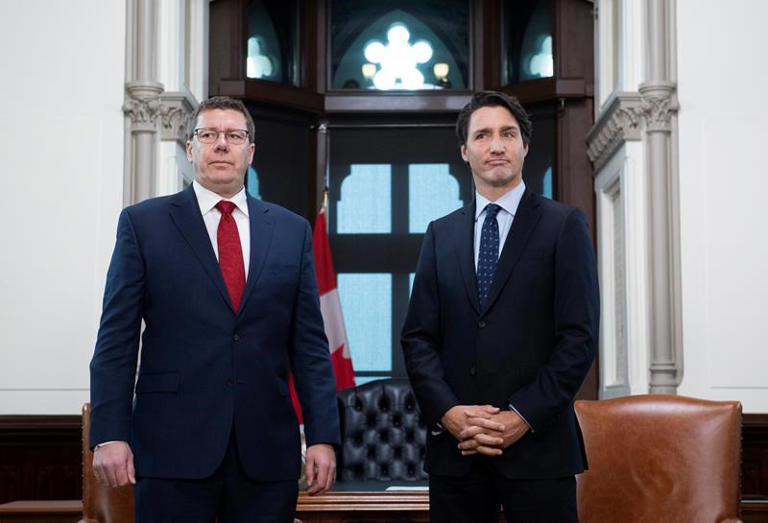 NORTH BATTLEFORD, Sask. — Saskatchewan Premier Scott Moe says he is prepared to take legal actions over federal regulations on pollution.
"The situation has been exacerbated in recent years by the current federal government's continued interference in the province's jurisdiction over natural resources under the guise of federal environmental regulation," Moe said Tuesday.
"It is time to defend and assert Saskatchewan's economic autonomy by 'drawing the line': taking a number of steps including the introduction of provincial legislation to clarify and protect Saskatchewan's constitutional rights."
A cost analysis from Saskatchewan's Ministry of Finance says the province could lose $111 billion by 2035 through federal environmental policies.
Saskatchewan previously challenged the federal government on the constitutionality of the price on carbon, but lost after the Supreme Court of Canada ruled Ottawa is acting within its jurisdiction.
This report by The Canadian Press was first published Oct. 11, 2022.
The Canadian Press
China's global influence looms over Harris trip to Africa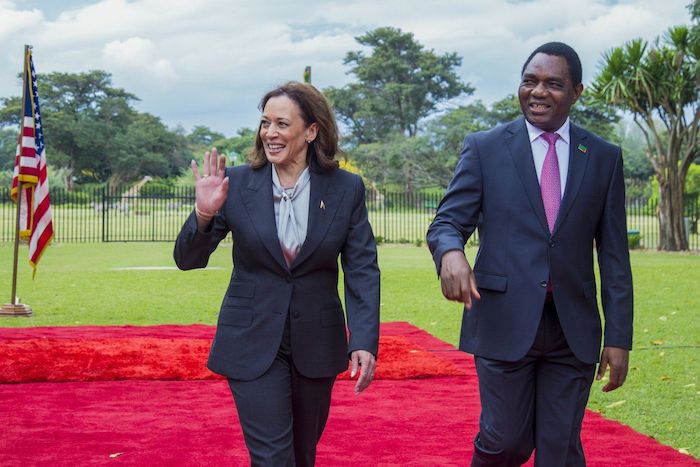 U.S. Vice President Kamala Harris, left, is greeted by Zambian President Hakainde Hichilema in Lusaka, Zambia, Friday March 31, 2023. Harris is on the last leg of a a seven-day African visit that took her to Ghana and Tanzania. (AP Photo/Salim Dawood)
By Chris Megerian, Cara Anna And Andrew Meldrum in Lusaka
LUSAKA, Zambia (AP) — When Vice President Kamala Harris arrived in Zambia on Friday for the final stop of her weeklong trip across Africa, she touched down at an airport that's doubled in size and features glittering new terminals.
Rather than a symbol of promising local development, it's a reminder of China's deep influence. Beijing financed the project, one of many that has expanded its footprint on a booming continent that's rich in natural resources, often generating goodwill among its citizens.
The global rivalry between the United States and China has been a recurring backdrop for Harris' journey, and nowhere has that been more apparent than Zambia and her previous stop in Tanzania.
Besides the airport, China built a 60,000-seat stadium in Lusaka, plus roads and bridges around the country. Zambia is on the hook for all of the development with billions of dollars in debt. Tanzania is a major trading partner with China, and it has a new political leadership school funded by the Chinese Communist Party.
The developments have alarmed Washington, and President Joe Biden's administration is worried that Africa is slipping further into Beijing's sphere of influence.
Harris has played down the issue on her trip, preferring to focus on building partnerships independent of geopolitical competition. However, she has acknowledged there's limited time for the U.S. to make inroads on the continent, telling reporters earlier in the trip that there is a "window" that is "definitely open now" for American investments.
At a news conference with Zambian President Hakainde Hichilema on Friday, Harris reiterated her call for "all bilateral official creditors to provide a meaningful debt reduction for Zambia" — an oblique reference to China — but she stressed that "our presence here is not about China."
Hichilema said it would be "completely wrong" to view Zambia's interests in terms of a rivalry between the U.S. and China.
"When I'm in Washington, I'm not against Beijing. When I'm in Beijing, I'm not against Washington," he said, adding that "none of these relationships are about working against someone or a group of countries."
China's roots in both Tanzania and Zambia run deep. In the 1970s, Beijing built the Tazara Railway from landlocked Zambia to Tanzania's Dar es Salaam port, allowing copper exports to circumvent white-minority-ruled Rhodesia and apartheid South Africa.
Today, China is Africa's largest two-way trading partner, with $254 billion of business in 2021, according to the United States Institute of Peace. That's four times the amount of trade between the U.S. and Africa. In addition, dealing with Beijing features less admonishments about democracy than with Washington.
"Most African countries are rightly unapologetic about their close ties to China," Nigeria's vice president, Yemi Osinbajo, tweeted on Thursday. "China shows up where and when the West will not and/or are reluctant."
Sen. Chris Coons, a Delaware Democrat who has worked on Africa issues in Congress, expressed frustration over China's growing influence on the continent.
"We switched from being the No. 1 trade partner or the No. 1 investment partner in two dozen countries, to China being the No. 1 trade and investment partner," he told reporters aboard Air Force Two on the flight to Ghana at the beginning of Harris' trip. "I think our challenge for this decade is to address that."
Biden has been taking steps toward that, such as hosting a summit for African leaders in December, when he announced that he wants to commit $55 billion to the continent in the coming years.
Harris has made announcements as well during her trip, including more than $1 billion in public and private money for economic development, $100 million for security assistance in West Africa and $500 million to facilitate trade with Tanzania.
However, there's skepticism about whether the U.S. will follow through on its promises, and Harris has been faced with not-so-subtle hints that Africa expects more. For example, the presidents of Ghana and Tanzania bluntly said they hope Biden chooses to visit their countries during his expected trip to Africa later this year, which would be his first to the continent as president.
By comparison, Tanzania was among the first countries that Chinese President Xi Jinping visited after becoming president in 2013. And after Xi secured a third term, Tanzanian President Samia Suluhu Hassan was the first African head of state to visit Beijing.
"Kamala faces Chinese dominance in Tanzania," the Tanzania Business Insight publication tweeted Wednesday.
Ian Johnson, a former China-based journalist who works at the U.S.-based Council on Foreign Relations, said Beijing presents a powerful narrative in the developing world as a country that rapidly built its economy and pulled much of its population out of poverty.
African leaders think "let's see what we can learn from China," he said, adding that "there's a certain fascination in how they did it."
Johnson also said China views Africa differently than the U.S.
"We have a tendency to see Africa as a series of problems — wars, famines, something like that," he said. "But in China's eyes, Africa is much more of an opportunity."
Edem Selormey, who conducts public opinion research at the Ghana Center for Democratic Development, said the feeling is often mutual.
"China's influence in Africa is largely seen as positive," she said. "And the U.S. trails China in that regard."
The difference, she said, is often about "what citizens see on the ground," such as infrastructure projects, and "the U.S. has been missing from this picture for a while."
John Kirby, a White House national security spokesman, said the debt that comes from China's involvement is ultimately corrosive. He said African leaders are "beginning to realize that China is not really their friend."
"China's interests in the region are purely selfish, as opposed to the United States," he said.
It's a sentiment that draws scoffs in some corners of Africa.
"America is like playing the role of a big Uncle Sam in trying to defend African countries against what they think is the encroachment of China into the liberty of African countries through these loans," said Tanzania-based analyst Mohamed Issa Hemed.
However, he added, "China is ahead of the U.S. in many, many ways."
Daniel Russel, a former State Department official who is now at the Asia Society Policy Institute, summed up the African perspective as "enough with the lectures" about China. "They've got something we want. And they've got it right here."
When it comes to U.S. hopes for Africa, he said, "you can't beat something with nothing."
___ Anna reported from Nairobi, Kenya, and Meldrum from Johannesburg. Associated Press writer Evelyne Musambi in Nairobi, Kenya, contributed to this report.
WestJet pilots to launch strike authorization vote as negotiations fizzle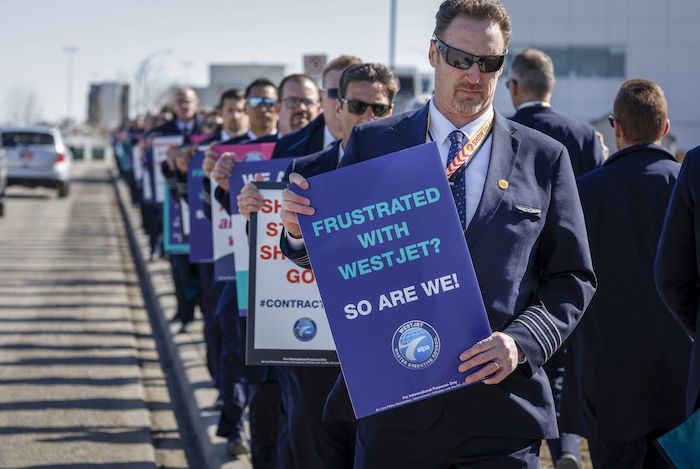 Members of the Air Line Pilots Association demonstrate amid contract negotiations outside Westjet's headquarters in Calgary, Alta., Friday, March 31, 2023. THE CANADIAN PRESS/Jeff McIntosh
By Christopher Reynolds in Montreal
The union representing WestJet pilots will launch a strike authorization vote Monday as contract talks with management drag on, the Air Line Pilots Association said Friday.
Bernard Lewall, who heads ALPA Canada's WestJet contingent, said its 1,600-person membership is "frustrated" after six months of bargaining with a company he claims has failed to seriously engage with it.
The issues revolve around wages, scheduling and work conditions at WestJet and its discount subsidiary Swoop, with 39 pilots opting to leave for other airlines in the past month alone, Lewall said in a phone interview from Calgary.
"WestJet used to be a place where young pilots wanted to come and work. That's not the case anymore. It's not just more experienced pilots that are leaving; you have new pilots looking at other places to fly too," he said, ahead of a union demonstration at WestJet headquarters at the Calgary airport.
"We want to show that the company has to treat its pilots better."
WestJet said the threat of a strike is a "common and expected tactic" in the negotiation process.
"However, that does not mean a strike will occur. WestJet is committed to this process and will continue to work with ALPA to reach a collective agreement that provides value to our current and future pilots, is sustainable for the company and avoids disruption to our guests," spokeswoman Madison Kruger said in an email.
Lewall said their wages remain well below the North American industry standard. Meanwhile, pilots are being asked to spend more time away from home. "We're already away from our families half the month."
If successful, the 15-day authorization vote would set the stage for the bargaining team to call a strike following a three-week "cooling-off period," which in turn would begin after the ongoing federal conciliation process wraps up April 24.
That means the union could go on strike or lockout by the May long weekend, which traditionally kicks off the summer travel season.
The strike mandate vote comes amid a severe pilot shortage as airlines struggle to shore up bottom lines badly dented by the pandemic.
One stumbling block is "equal pay for equal work," said Lewall.
Currently, pilots who fly under the Swoop banner are paid less than those who fly for WestJet. With the company's takeover of leisure carrier Sunwing approved by the federal government on March 10, Lewall said the union is worried it could lead to the creation of yet another class of pilots with a different pay scale.
"We could find ourselves in a place where there would be three airlines basically within WestJet who are all operating the same aircraft for different wages and with different conditions," he said.
Proposed last March, the Sunwing acquisition will see Calgary-based WestJet bolster its vacation package offerings as it adds the tour operator to its fleet, though the two brands will be marketed separately.
Poised for completion in the next few weeks, the takeover marks a major consolidation of the Canadian aviation market following a tumultuous year for travel.
WestJet pilots first unionized in May 2017, signalling a major shift in culture at the famously non-union airline.
Since then, other employee groups at the company have also unionized, including flight attendants and certain airport employees.
The pilots' first union contract, which expired at the end of last year, was the result of an arbitrated settlement reached in 2018. That deal averted a threatened strike, as WestJet pilots had voted in favour of job action after contract talks fell apart.
This report by The Canadian Press was first published March 31, 2023.