Czechs stun Canada 5-2 at world juniors: 'We didn't fight'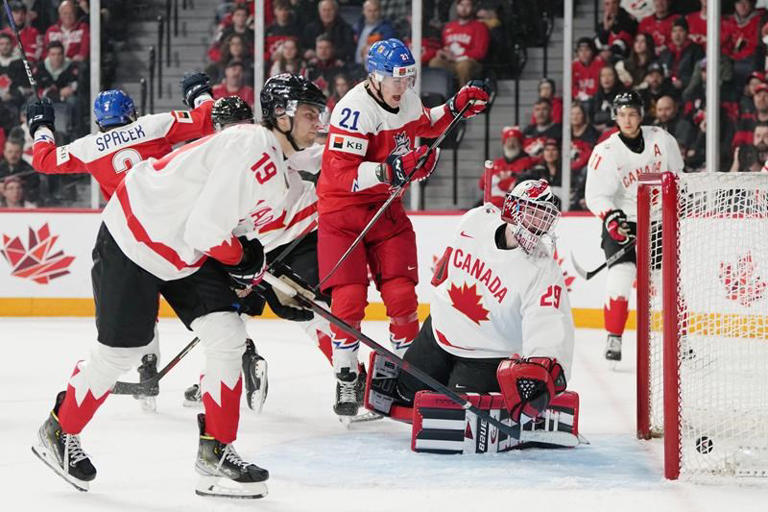 HALIFAX — Brandt Clarke could feel excitement building in the Canadian locker room.
A talented, ultra-skilled roster featuring three NHL players and the presumptive top pick at the 2023 draft was giddy at the thought of impressing a rabid home crowd.
Once the puck dropped, it was a completely different — and jaw-dropping — story.
Jaroslav Chemeler and Matous Mensik scored 33 seconds apart during a five-minute power play as Czechia stunned Canada 5-2 in the opener for both countries at the world junior hockey championship Monday.
"We wanted to put on a show," said Clarke, one of three NHL players loaned to the national team. "Maybe that got us away from what we were actually intending to do — just be a hard-nosed team, be a team nobody wants to play against.
"If you ask (the Czechs) we weren't that. They didn't have a lot of trouble getting the puck out of their zone, they didn't have a lot of trouble handling it in our zone."
Stanislav Svozil and David Spacek, with a goal and an assist each, and David Moravec also scored for underdog Czechia, the country commonly known as the Czech Republic. Tomas Suchanek was stellar in making 36 saves behind a structured, determined group.
"Never had a better feeling," Svozil said. "I don't know how to explain it."
Shane Wright, with a goal and an assist, and Connor Bedard replied for disjointed, at-times-free-wheeling Canada.
"We're all just disappointed — disappointed with our effort, disappointed with the result," said Wright, the Canadian captain and No. 4 overall pick in 2022. "We know we have a whole lot better than that."
"They played with little more intensity to start," added Bedard, a phenom expected to go first overall in June. "They outworked us for a good amount of the game."
Benjamin Gaudreau allowed five goals on 17 shots before being replaced by Thomas Milic in the second period. Milic finished with 10 saves as the suddenly wobbly tournament favourites lost to the Czechs for the first time in 3,285 days.
Sweden hammered Austria 11-0 in Group A's other game.
"I don't want to say 'shock' because we knew if we didn't bring it there's some really good teams," Clarke said. "It's kind of 'disbelief' where it happened so fast. It's like, 'Wow, the game has got away from us.'
"We didn't fight to get back into it."
Looking for its 20th gold medal after winning in Edmonton this past summer, Canada suffered just its second loss in 24 meetings with the Czechs at the men's under-20 showcase since 1994, with the only other defeat coming in a shootout in the 2013 preliminary round.
"It's easy to win and just cruise on through," Canadian head coach Dennis Williams said. "Now it will tell us what type of group we've got."
As the locker-room leader, Wright said there needs to be accountability following one of the country's worst defeats on home soil.
"Guys gotta look themselves in the mirror," he said. "We've really got to figure a lot of things out. I know we're going to respond."
Down 3-2 in the second period, Canada crumbled after forward Zach Dean was assessed a match penalty for an illegal check to the head.
"I was surprised," Wright said. "Not sure about that one, but it is what it is."
With Dean taking an early shower, Chemeler scored from Gaudreau's doorstep before Mensik fired from a sharp angle moments later to end the netminder's forgettable night.
The Canadians got a power play early in the third, but were unable to connect, and the quietly confident Czechs kept their cool from there to secure an improbable victory.
The first "normal" world juniors since 2020 due to the COVID-19 pandemic — 2021 was played in a bubble before the 2022 event was postponed eight months — fans inside a frothing Scotiabank Centre were ready.
The tournament hosts had a number of early chances on individual efforts, including Adam Fantilli's attempt at "The Michigan" that was thwarted by Spacek, before pushing ahead on a power play.
After the Czechs were whistled for goaltender interference on a sequence where the puck wound up in Gaudreau's net, Wright tipped home his first-ever world junior goal.
Bedard then had Canada's second effort at completing "The Michigan" — where a player picks the puck up on his stick behind the net and tries to tuck it upstairs — before Clarke's 2-0 goal was nixed by an offside review.
That seemed to energize Czechia.
Spacek scored on a backdoor play before Moravec's seeing-eye point shot 35 seconds later gave the Europeans an unlikely 2-1 lead through 20 minutes.
Svozil put the Czechs, who face Austria on Tuesday, ahead by two 44 seconds after the intermission, but Bedard responded 45 seconds later to ignite the red-clad Maritime crowd hosting the world juniors for the first time in 20 years.
But Dean's hit on defenceman Ales Cech resulted in the five-minute penalty that would extend the underdog Czech's lead to three and leave Canada with plenty of questions.
"We have a lot of creative players, we have a lot of guys with high skill," said Clarke, whose team cancelled practice Tuesday ahead of Wednesday's meeting with Germany. "But in the first 10 minutes, the first period of the game, we were thinking like, 'Hey let's get a cute one here, let's make the crowd happy.'
"But that's not how you win hockey games. The game plan was (to) send a message early, get to the net, get a dirty one — make these guys realize that we're not here to mess around, we're here to put the hammer down.
"We didn't do that."
TRAVEL WOES
Czech defenceman David Jiricek's equipment didn't arrive in Halifax until Monday afternoon thanks to the winter storm that walloped central and Eastern Canada last week.
The No. 6 pick at the 2022 NHL draft — property of the Columbus Blue Jackets and a member of the AHL's Cleveland Monsters — was supposed to join his teammates Friday in Halifax, but didn't get out of Toronto until 48 hours later.
Jiricek was on the ice for his team's morning skate in borrowed gear and was a game-time decision until his bag was arrived at the arena from the airport.
This report by The Canadian Press was first published Dec. 26, 2022.
___
Follow @JClipperton_CP on Twitter.
Joshua Clipperton, The Canadian Press
Wilkinson urges collaboration after Saskatchewan rejects federal energy table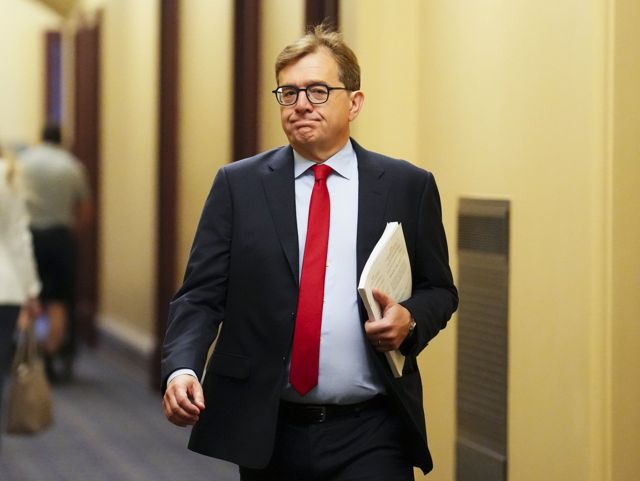 Minister of Natural Resources Jonathan Wilkinson arrives to a cabinet meeting on Parliament Hill in Ottawa on May 30, 2023. THE CANADIAN PRESS/Sean Kilpatrick
By Jeremy Simes in Regina
Federal natural resources minister Jonathan Wilkinson has asked Saskatchewan to work together on shared energy priorities after Ottawa and the province recently clashed over differing net-zero plans.
In a letter addressed to Premier Scott Moe this week, Wilkinson said he remains open to discussing how both parties can collaborate to build the economy while also ensuring the environment is sustainable for future generations.
Wilkinson has been working with each province to create regional energy and resource tables, forums that would identify areas where both jurisdictions can move forward on shared priorities and accelerate economic activity.
He said most provinces and territories have agreed to have their own table with Ottawa, but Saskatchewan has not.
Saskatchewan Justice Minister Bronwyn Eyre wrote to Wilkinson on May 16 the province won't participate because it is "directly connected to the federal 'Just Transition' plan."
Wilkson responded he's disappointed Saskatchewan won't take part, adding he believes people expect governments of all stripes to come together and find solutions.
"Given that the intention is to focus on areas of economic priority of the province for the advancement and betterment of the provincial economy, it is difficult to understand such a rejection and how this will be in the best interest of Saskatchewan's citizens," he said in the letter Wednesday.
Alberta, Nunavut and Quebec have not yet said if they will participate.
Wilkinson's letter comes after Moe said Saskatchewan would not meet Ottawa's target for electricity emissions to be net-zero by 2035.
Moe has said Saskatchewan can meet a 2050 target, but the 2035 target is not achievable, would harm the province's economy and cause electricity to be unaffordable and unreliable.
The 2035 target is part of Ottawa clean electricity standards, which are still under development. The standards would allow fossil fuels to be used if the emissions are abated.
Wilkinson said the 2035 target is possible, affordable and desirable.
He said countries and businesses are moving toward net-zero to seize economic opportunities and to avoid the effects of climate change, noting all G7 countries have committed to achieving a decarbonized electricity grid by 2035.
In her letter, Eyre indicated the province is still open to having discussions with Ottawa about projects and funding.
However, she said Saskatchewan is "drawing a line" over various environmental policies she believes are harmful.
She said Ottawa should stop these policies, which include proposed emissions caps, the carbon tax, clean electricity regulations, fuel standards and fertilizer emissions reductions.
"When you do this, we can build a stronger Canada together," she said in the letter.
Wilkinson said Ottawa and Saskatchewan already agree in several areas, including hydrogen, biofuels, critical minerals, value-added agriculture, carbon capture and small modular nuclear reactors.
He said the province could start dialogue over advancing key projects, including Foran Mining's plans in northeast Saskatchewan and the Critical Minerals Processing Centre in Saskatoon.
Wilkinson said both parties could also look at how they can advance regulatory processes around small modular nuclear reactors, which Saskatchewan is considering as part of its future electricity grid.
This report by The Canadian Press was first published June 8, 2023.
Trudeau Foundation board chair says donation from Chinese company has been returned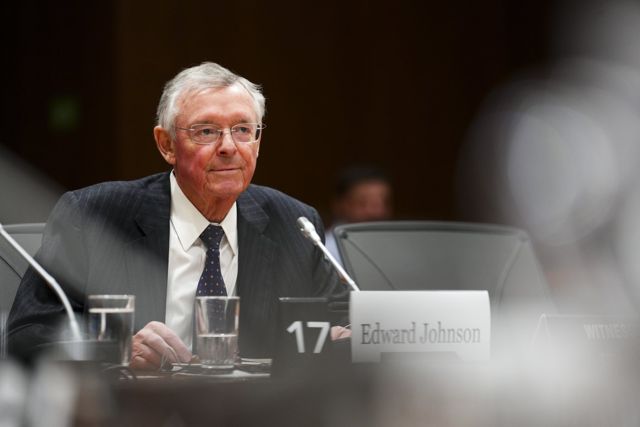 Edward Johnson, chair of the board of the Pierre Elliott Trudeau Foundation, appears as a witness at a standing committee on access to information, privacy and ethics on Parliament Hill in Ottawa on Tuesday, May 9, 2023. Johnson says the foundation has returned a controversial $140,000 donation to Millennium Golden Eagle International. THE CANADIAN PRESS/Sean Kilpatrick
Ottawa
The chair of the Pierre Elliott Trudeau Foundation's board says the organization has returned a $140,000 donation to Millennium Golden Eagle International.
Edward Johnson was speaking to a House committee that's investigating allegations that Beijing orchestrated donations to the charity in an attempt to influence the prime minister.
Those allegations came from a report in the Globe and Mail in February, which cited an unnamed security source.
Johnson told the committee he has confirmed with the bank that the company received the money from the Trudeau Foundation.
One of the men who arranged the donation in 2016, billionaire Zhang Bin, is listed online as chairman of Millennium Golden Eagle International.
He is also president of the China Cultural Industry Association, which says on its website it adheres to the "total leadership" of the Chinese Communist Party and was formed with the approval of China's central government.
Johnson says the foundation has been trying to return the donation since the controversy emerged but it had trouble finding a bank account associated with the company.
This report by The Canadian Press was first published June 8, 2023.
— With files from Mickey Djuric and Chuck Chiang