Crowd gathers north of Toronto to cheer on trucker convoy heading to Ottawa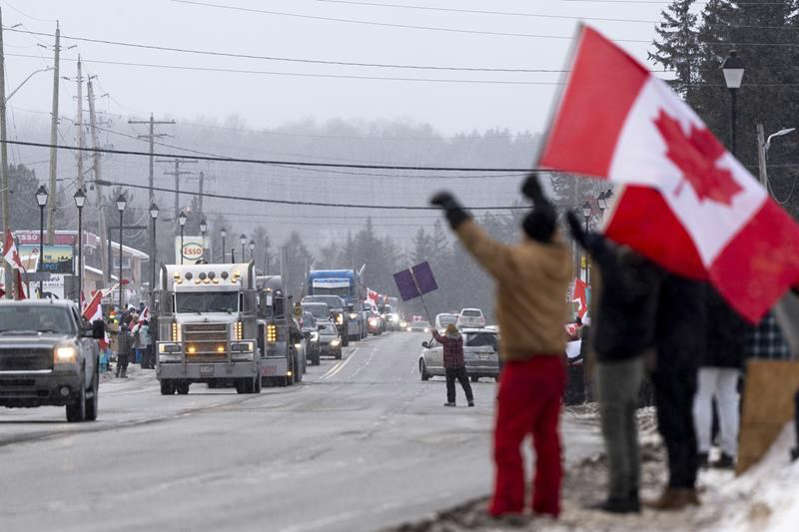 TORONTO — A large crowd gathered outside a mall north of Toronto on Thursday as a group of local truckers prepared to join a convoy to Ottawa in protest of the federal government's COVID-19 vaccine mandate for cross-border drivers.
Some in the crowd threw cash and food up to truckers in their vehicles at the Vaughan Mills mall while others hoisted Canadian flags and signs protesting the government as the truckers gradually rolled out.
Mike Fabinski, a truck driver from Barrie, Ont., said the vaccine mandate means he won't be able to work cross-border routes any more.
"You want to be vaccinated, go ahead, your choice. I don't want to be vaccinated, that's my choice," he said.
Fabinski said he's been a truck driver for 20 years but has not been able to travel to the U.S. since the federal mandate came to effect on Jan 15.
"I was going non-stop until they started last Saturday," he said. "Now I cannot go. I cannot work no more."
The federal government ended truckers' exemption to the vaccine mandate two weeks ago meaning Canadian truck drivers need to be fully vaccinated if they want to avoid a two-week quarantine when they cross into Canada from the U.S.
Some with extreme, far-right views have latched onto the protest against the mandate. One online video includes a man expressing hope the rally will turn into the Canadian equivalent of the Jan. 6, 2021, riot at the U.S. Capitol by supporters of former president Donald Trump.
On Thursday, some in the crowd that came out to support the truckers said they planned to join the convoy and make the trek to Ottawa as well.
Dean Brown said he supported peaceful protest intended by the convoy and rejected suggestions that it could lead to violence.
"The people who are in charge of this (convoy) are blocking people who are insisting or suggesting violence," the 57-year-old Toronto man said.
"It's all about peace. It's all about freedom. It's all about getting the Canadian way of life back. We are not here to turn it to violence."
Ontario Provincial Police were urging drivers to be patient as several groups of truckers planned to drive across the province to Ottawa before a so-called "freedom rally" on Parliament Hill planned for Saturday.
Police spokesman Sgt. Kerry Schmidt said drivers should prepare for delays on Toronto-area highways, including Highway 401, Highway 400 and the Queen Elizabeth Way.
Police in Ottawa have said they are planning for as many as 2,000 demonstrators, and while protest leaders have been co-operative, there are concerns that far-right extremist groups that have attached themselves to the convoy could spark violence.
The Canadian Trucking Alliance, which has denounced the convoy protest, estimates that roughly 15 per cent of truckers — up to 16,000 — are not fully vaccinated against COVID-19.
This report by The Canadian Press was first published Jan. 27, 2022.
Maan Alhmidi, The Canadian Press
'If there'd even been five minutes' warning': Woman questions storm alert system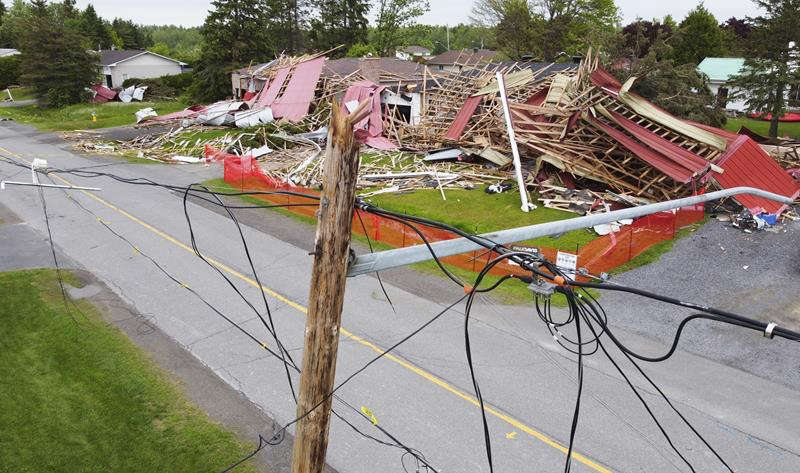 Bethany Armstrong watched as the sky turned a tint of green on Saturday afternoon.
The Peterborough, Ont., woman was out camping with friends in Lakehurst, Ont., at the time, so she checked a weather app on her phone and noticed a thunderstorm warning.
That was the only indication she said she had that a vicious storm was about to hit.
Armstrong said she never received the emergency alert that many Ontario residents got on their cellphones, warning them to seek shelter ahead of severe weather that ultimately killed 11 people.
One of those who died was a close friend of Armstrong's family – Armstrong says that friend didn't get the alert either.
"If there'd even been five minutes' warning … she would have gotten inside," Armstrong said of the woman she likened to her second mom.
Joanne Labelle, 64, of Cornwall, Ont., was among those killed as a result of the storm. She had been staying in a trailer on Armstrong's parents' property in the Peterborough area when the intense winds and rains hit.
Labelle's husband and Armstrong's father found Labelle struck by a tree – Armstrong said the family thinks Labelle had been trying to get from the trailer to a house on the property when she was hit.
Armstrong said her family and Labelle's husband later checked Labelle's cellphone, which was with her during the storm, but found no evidence of an alert.
"I just think like, 'Wow, you know, if she had got the alert, we wouldn't maybe be in this situation,'" Armstrong said, describing Labelle as a "smart" woman who loved the outdoors and would have taken a severe weather warning seriously.
Emergency alerts are issued in Canada through the Alert Ready system, which delivers critical alerts to Canadians through television, radio and LTE-connected and compatible wireless devices.
The system was developed with many partners, including federal, provincial and territorial emergency management officials, Environment and Climate Change Canada, weather information company Pelmorex Corp., the broadcasting industry and wireless service providers.
Cecelia Parsons, a spokesperson for Environment Canada, said "broadcast immediate" alerts are sent through the Alert Ready system for tornado warnings and severe thunderstorm warnings involving wind gusts of 130 kilometres per hour or greater and hail that is at least seven centimetres in diameter. Saturday's storm was the first time such an alert for a thunderstorm was sent through the system, she said.
However, some residents may not have received an emergency alert on their smartphones for a number of reasons, including their phones not being "compatible," Parsons said.
"This may occur for a variety of reasons: the phone is turned off or in silent or airplane mode; the phone is not physically in the specific area targeted for the alert; device compatibility, connection to an LTE network, cell tower coverage and device software and settings," she said.
Martin Belanger, director of public alerting for Pelmorex, said smartphones need to be in the area where an emergency alert has been issued in order to receive an alert and also need to be connected to an LTE or 5G network — a requirement established by the Canadian Radio-television and Telecommunications Commission.
As of April 2019, the CRTC requires that new phones sold by Canada's wireless carriers be compatible with the emergency alerting system, Parsons added.
Belanger said Environment Canada was responsible for issuing the emergency alerts on Saturday and Pelmorex received those alerts and made them available to broadcasters and wireless service providers.
He added that Pelmorex received "some" reports from the public about not getting an emergency alert during Saturday's storm. When the company receives such reports, it shares that information with its partners, he said.
Emergency Preparedness Minister Bill Blair said that with 11 people dead, the early warning system didn't work as well as it could have to protect residents from last weekend's storm.
"I think there needs to be improvement," Blair said on Friday from Indonesia, where he was attending international meetings on disaster risk and mitigation.
"When (there's) information that Canadians need to take the steps in order to be safe, we need to make sure that they get that information."
Blair said public education is also needed so Canadians know what to do when they receive such an alert. He also said the country's public alerting system, controlled by provinces and territories, is applied "inconsistently."
"The tragic loss of life and the damage that occurred in Ontario and Quebec over the past several days demonstrate to us that there is still more work to do, and we're committed to doing that," he said.
Armstrong, who made it through the storm last weekend by taking shelter in a nearby home, said she would like to see the Alert Ready system improved.
"I just hope that things can improve for the future and that they can get either a better system in place or adjust the criteria that has to be met," she said as she remembered Labelle as a beloved matriarch and a mainstay at the pharmacy where she worked. "So we can try and help save other people."
This report by The Canadian Press was first published May 27, 2022.
– with files from Stephanie Taylor in Ottawa.
———
This story was produced with the financial assistance of the Meta and Canadian Press News Fellowship.
Noushin Ziafati, The Canadian Press
Federal government posts $95.6 billion deficit for 2021-2022 fiscal year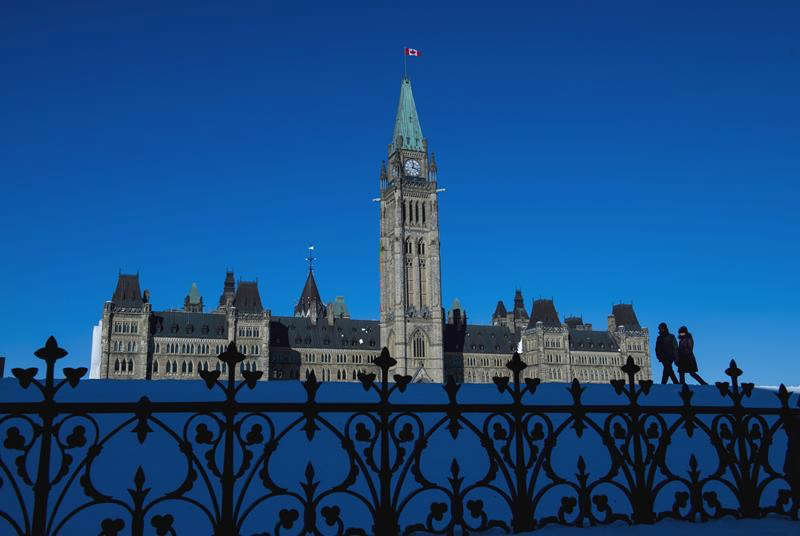 OTTAWA — The federal government posted a deficit of $95.6 billion for its 2021-22 fiscal year.
In its monthly fiscal monitor report, the Finance Department says the tally for the April 2021 to March 2022 period compared with a deficit of $314.0 billion a year earlier.
Program expenses, excluding net actuarial losses, totalled $457.3 billion, down from $577.6 billion a year earlier due in large part to lower transfers to businesses, individuals, and other levels of government.
Public debt charges rose to $24.8 billion compared with $20.5 billion a year earlier.
Revenue for the fiscal year totalled $396.8 billion, up from $299.5 billion, due to higher tax and other revenues.
Net actuarial losses were $10.3 billion, down from $15.4 billion.
This report by The Canadian Press was first published May 27, 2022.
The Canadian Press