CP NewsAlert: Romania's Simona Halep wins National Bank Open
TORONTO — Simona Halep has won the National Bank Open.
The Romanian beat Brazil's Beatriz Haddad Maia 6-3, 2-6, 6-3 for her third title in Canada.
More coming.
The Canadian Press
3 physicists share Nobel Prize for work on quantum science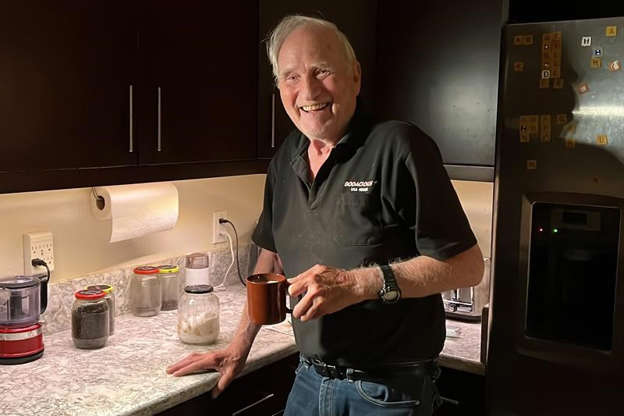 STOCKHOLM (AP) — Three scientists jointly won this year's Nobel Prize in physics on Tuesday for their work on quantum information science that has significant applications, for example in the field of encryption.
Frenchman Alain Aspect, American John F. Clauser and Austrian Anton Zeilinger were cited by the Royal Swedish Academy of Sciences for discovering the way that unseen particles, such as photons or tiny bits of matter, can be linked, or "entangled," with each other even when they are separated by large distances.
"Being a little bit entangled is sort of like being a little bit pregnant. The effect grows on you," Clauser said in a Tuesday morning phone interview with The Associated Press.
It all goes back to a feature of the universe that even baffled Albert Einstein and connects matter and light in a tangled, chaotic way.
Clauser, 79, was awarded his prize for a 1972 experiment that helped settle a famous debate about quantum mechanics between Einstein and famed physicist Niels Bohr. Einstein described "a spooky action at a distance" that he thought would eventually be disproved.
"I was betting on Einstein," Clauser said. "But unfortunately I was wrong and Einstein was wrong and Bohr was right."
Clauser said his work on quantum mechanics shows that you can't confine information to a closed volume, "like a little box that sits on your desk" — though even he can't say why.
"Most people would assume that nature is made out of stuff distributed throughout space and time," Clauser said. "And that appears not to be the case."
Quantum entanglement "has to do with taking these two photons and then measuring one over here and knowing immediately something about the other one over here," said David Haviland, chair of the Nobel Committee for Physics. "And if we have this property of entanglement between the two photons, we can establish a common information between two different observers of these quantum objects. And this allows us to do things like secret communication, in ways which weren't possible to do before."
That's why quantum information is not an esoteric thought experiment, said Eva Olsson, a member of the Nobel committee. She called it a "vibrant and developing field."
"It has broad and potential implications in areas such as secure information transfer, quantum computing and sensing technology," Olsson said. "Its predictions have opened doors to another world, and it has also shaken the very foundations of how we interpret measurements."
Everything in the universe could be entangled but "usually the entanglement just kind of washes off. It's so chaotic and random that when you look at it … we don't see anything," said Harvard professor Subir Sachdev, who has worked on experiments that look at quantum entangled material consisting of up to 200 atoms. But sometimes scientists can unsnarl just enough to make sense and be useful in everything from encryption to superconductors, he said.
Speaking by phone to a news conference after the announcement, Zeilinger said he was "still kind of shocked" at hearing he had received the award.
"But it's a very positive shock," said Zeilinger, 77, who is based at the University of Vienna.
Clauser, Aspect, and Zeilinger have figured in Nobel speculation for more than a decade. In 2010 they won the Wolf Prize in Israel, seen as a possible precursor to the Nobel.
While physicists often tackle problems that appear at first glance to be far removed from everyday concerns — tiny particles and the vast mysteries of space and time — their research provides the foundations for many practical applications of science.
The Nobel committee said Clauser developed quantum theories first put forward in the 1960s into a practical experiment. Aspect, 75, was able to close a loophole in those theories, while Zeilinger demonstrated a phenomenon called quantum teleportation that effectively allows information to be transmitted over distances.
"Using entanglement you can transfer all the information which is carried by an object over to some other place where the object is, so to speak, reconstituted," said Zeilinger. He added that this only works for tiny particles.
"It is not like in the Star Trek films (where one is) transporting something, certainly not the person, over some distance," he said.
When he began his research, Zeilinger said the experiments were "completely philosophical without any possible use or application."
Since then, the laureates' work has been used to develop the fields of quantum computers, quantum networks and secure quantum encrypted communication.
A week of Nobel Prize announcements kicked off Monday with Swedish scientist Svante Paabo receiving the award in medicine Monday for unlocking secrets of Neanderthal DNA that provided key insights into our immune system.
They continue with chemistry on Wednesday and literature on Thursday. The 2022 Nobel Peace Prize will be announced on Friday and the economics award on Oct. 10.
The prizes carry a cash award of 10 million Swedish kronor (nearly $900,000) and will be handed out on Dec. 10. The money comes from a bequest left by the prize's creator, Swedish inventor Alfred Nobel, who died in 1895.
___
Jordans reported from Berlin. Seth Borenstein contributed from Kensington, Maryland, and Maddie Burakoff contributed from New York.
___
Follow all AP stories about the Nobel Prizes at https://apnews.com/hub/nobel-prizes
David Keyton And Frank Jordans, The Associated Press
Blue Jays earn top wild card, beat Os 5-1 as Guerrero homers
By Todd Karpovich in Baltimore
BALTIMORE (AP) — Vladimir Guerrero Jr. hit his 32nd homer and the Toronto Blue Jays earned the top seed for an American League wild card series with a 5-1 rain-shortened victory over the Baltimore Orioles on Monday night.
Play was halted by rain with Toronto batting with two outs in the eighth and called after a wait of 55 minutes.
Toronto clinched the right to host a best-of-three playoff series against Seattle or Tampa Bay starting Friday when the Mariners lost to Detroit later Monday.
"There was one singular focus today when the game did start and that was to win," Blue Jays interim manager John Schneider said. "You really can't say enough how they responded."
Whit Merrifield went 3 for 3 with an RBI for the Blue Jays, who have won four straight.
Before a crowd of just 10,642, José Berríos (12-7) allowed one run and three hits with five strikeouts and three walks over six innings.
"I thought we were going to have a delay but we started on time," Berríos said. "I just went there to compete and get that win for the team and we did it. The mound was wet and it was raining all night."
Tim Mayza earned his second save.
Baltimore's Jorge Mateo stole his American League-leading 35th base, one ahead of teammate Cedric Mullins.
Baltimore already had secured a winning season for the first time since 2016.
Toronto took a 2-0 lead off Dean Kremer in the second on a single by Merrifield that scored Teoscar Hernández and Matt Chapman.
Guerrero boosted the lead to 3-0 with a 422-drive over the left-field wall in the third. He became the fourth player in Blue Jays franchise history to hit at least 32 home runs at age 24 or younger.
The Orioles got the board in the bottom half on a sacrifice fly by Anthony Santander that Hernandez was able to snag with a running, leaping catch at the right-field fence.
A wild pitch by Kremer allowed Merrifield to score in the fifth as the Blue Jays increased the lead to 4-1.
"I can do different things to help and impact the game," Merrifield said. "It's nice that they're coming at big times for us."
Kremer (8-7) allowed four runs and six hits with four strikeouts and one walk over six innings. He ends the season with a 3.23 ERA over 21 starts.
Chapman added an RBI single in the eighth.
"Not easy to play in," Orioles manager Brandon Hyde said. "Kind of a tough night all around. Wet, cold. Dean, it affected him a little bit. His stuff wasn't the same as it is normally."
MVO
Orioles catcher Adley Rustchman is the winner of the 2022 Most Valuable Oriole Award. Rutschman is the third rookie to win the award since its inception in 1954, joining right-handed pitchers Gregg Olson in 1989 and Rodrigo López in 2002.
TRAINER'S ROOM
Blue Jays: OF Lourdes Gurriel Jr. (left hamstring strain) could be available when the postseason begins on Friday.
Orioles: RHP Félix Bautista, who leads the team with 15 saves, has been shut down for the season with left knee soreness.
UP NEXT​​
Blue Jays: RHP Mitch White (1-6, 5.21) has pitched against the Orioles once in his career, allowing five runs on three hits, two strikeouts and three walks over 2 1/3 innings last month.
Orioles: RHP Mike Baumann (1-3, 4.34 ERA) is 0-1 with an 8.10 ERA in three appearances, including one start, against Toronto.
___
More AP MLB: https://apnews.com/hub/MLB and https://twitter.com/AP_Sports