Conservative debate: Poilievre fends off attacks, promises to fire Macklem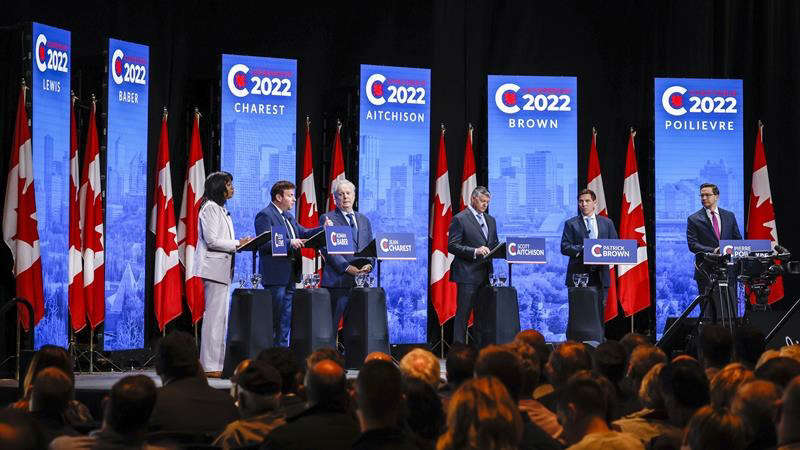 EDMONTON — Candidates vying for the Conservative leadership framed the country — and the party — as deeply divided at the first official debate on Wednesday, and took turns pointing fingers at one rival they accuse of driving disunity in the race.
The loudest applause in the Edmonton Convention Centre, packed with more than 1,000 people, repeatedly went to longtime MP Pierre Poilievre, who said his vision for the country is about giving people "freedom to take back control of their lives."
A major part of his pitch is about fighting inflation. During the debate, he took specific aim at Bank of Canada governor Tiff Macklem, saying he would fire him because Canada's inflation rate is the highest it's been in decades.
"The Bank of Canada governor has allowed himself to become the ATM machine of this government. And so I would replace him with a new governor who would reinstate our low-inflation mandate, protect the purchasing power of our dollar and honour the working people who earn those dollars," Poilievre said.
Jean Charest, Quebec's former premier, responded by saying the MP's remarks were irresponsible and sowed distrust in the system.
"Conservatives do not do that."
Leslyn Lewis, a social conservative who placed third in the party's 2020 leadership race before being elected as an MP for Ontario in last year's federal election, said after the debate she found the comment concerning, saying it "undermines credibility in our economic system."
"I don't agree that Members of Parliament should be meddling in the Bank of Canada."
Poilievre was the only candidate not to speak to reporters following the debate.
The popular Conservative, who has at times drawn crowds by the thousands at campaign events across the country, was repeatedly targeted by different candidates on topics including his stance on abortion and embrace of the cryptocurrency Bitcoin.
Charest, along with Lewis, accused Poilievre of encouraging Canadians to invest in the risky digital currency.
Patrick Brown, mayor of Brampton, Ont., said "magic internet money" like Bitcoin fluctuates wildly and Poilievre shouldn't be encouraging Canada's vulnerable investors to gamble their savings.
In response, Poilievre said he did not encourage people to invest in Bitcoin, but does not want to see it banned because investors deserve the right to choose how to spend their money.
Poilievre also stated that a government led by him wouldn't pass or introduce legislation restricting access to abortion. Charest, who said he supports abortion rights, called that answer insufficient, saying that Canadian women deserved to know where he stood.
"Every candidate in this race needs to tell the women of Canada where they stand, whether they're pro or against. The women of Canada deserve to know where they stand, and Mr. Poilievre's answer, quite frankly, does not fit that test," said Charest.
Poilievre later said he believes in freedom of choice and would allow free votes from his caucus on the topic. He also laid into Charest's own record on the issue.
"You're the only one on this stage who actually voted for a law that would recriminalize abortion when you were part of the Mulroney government. You did," said Poilievre.
"And you can take a moment now to renounce your earlier vote if you've changed your mind, but that was your position. You seem to have forgotten. You've forgotten a lot of things about your record."
In 1990, Charest voted in favour of Bill C-43, which Brian Mulroney's government brought in after a 1988 Supreme Court ruling decriminalized abortion. The bill would have recriminalized the procedure except when a woman's health was at risk, but it died in a tie vote in the Senate.
Without mentioning Poilievre's name, Brown also used his opening statement to take a shot at the longtime Conservative's bombastic political style, saying it's not what the party needs to grow in suburbs and areas like the Greater Toronto Area.
"The choice before the party is clear," Brown said.
"Do we want an unelectable party leader who drives voters away, walk straight into Liberal traps, giving unclear answers on divisible issues like abortion, and wedges Conservatives against each other?"
Most of the six candidates directly referenced COVID-19 vaccine mandates as one of the key reasons for what they see as division in the country, with Lewis saying she believes Canada needs to become a beacon of life again because people are "traumatized" from pandemic-related health rules.
Charest was a notable exception, as he pointed to disagreements over oil and gas between the eastern and western parts of the country as the cause of the conflict.
"I see a country that is deeply divided and I am running because I believe that national unity is the No. 1 challenge of any prime minister," he said.
Although the race has been described as a contentious battle for the soul of the party after three consecutive election losses to the Liberals, the atmosphere of Wednesday's event was at times markedly lighter. Candidates were asked a series of personal questions about their favourite political heroes, what books they were reading and the last television show they binged.
Speaking afterwards, Charest, who led the former federal Progressive Conservative party in the 1990s, said he found the debate formal "unusual" and wasn't expecting to field questions so personal.
Moderator Tom Clark, a former political journalist, enforced at times complex rules. One segment required candidates to raise a prop paddle in order to participate, and Clark took time away from candidates whose supporters interrupted the debate with cheers. A clip of a sad trombone also played when contenders broke certain rules.
Candidates were prodded to deliver clear answers on policy items from supporting a no-fly zone over Ukraine, supply management and implementing the 94 calls to action from the Truth and Reconciliation Commission of Canada.
For his vision for Canada, Rural Ontario MP Scott Aitchison said he wants to renew the promise that the next generation of Canadians will be better than the one before and remove divisive rhetoric from politics.
Roman Baber, the Independent Ontario MPP who was kicked out of Premier Doug Ford's caucus for opposing COVID-19 restrictions, said he wants to return democracy to Canada and end what he called "21st-century segregation," referring to vaccine mandates.
This report by The Canadian Press was first published May 11, 2022.
Stephanie Taylor, The Canadian Press
HIV spike among B.C. drug users associated with COVID-19 lockdown, research says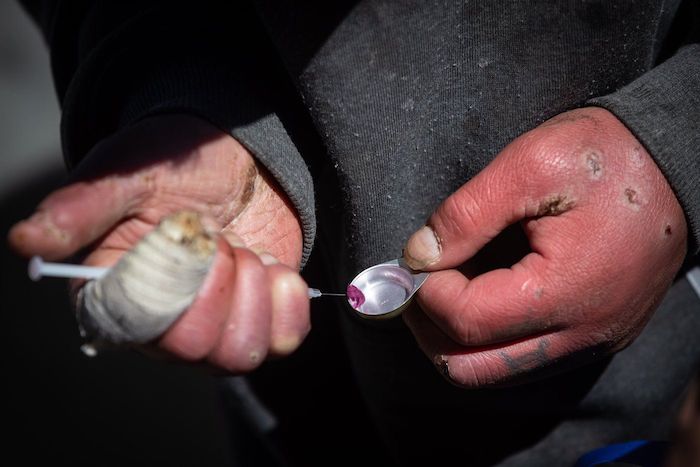 By Brieanna Charlebois in Vancouver
A new study says reduced access to HIV services during early COVID-19 lockdowns in British Columbia was associated with a "sharp increase" in HIV transmission among some drug users.
The study by University of British Columbia researchers says that while reduced social interaction during the March-May 2020 lockdown worked to reduce HIV transmission, that may not have "outweighed" the increase caused by reduced access to services.
The study, published in Lancet Regional Health, found that fewer people started HIV antiretroviral therapy or undertook viral load testing under lockdown, while visits to overdose prevention services and safe consumption sites also decreased.
The overall number of new HIV diagnoses in B.C. continues a decades-long decline.
But Dr. Jeffrey Joy, lead author of the report published on Friday, said he found a "surprising" spike in transmission among some drug users during lockdown.
Joy said transmission rates for such people had previously been fairly stable for about a decade.
"That's because there's been really good penetration of treatment and prevention services into those populations," he said in an interview.
B.C. was a global leader in epidemic monitoring, which means the results are likely applicable elsewhere, Joy said.
"We are uniquely positioned to find these things," he said. "The reason that I thought it was important to do this study and get it out there is (because) it's probably happening everywhere, but other places don't monitor their HIV epidemic in the same way that we do."
Rachel Miller, a co-author of the report, said health authorities need to consider innovative solutions so the measures "put in place to address one health crisis don't inadvertently exacerbate another."
"These services are the front-line defence in the fight against HIV/AIDS. Many of them faced disruptions, closures, capacity limits and other challenges," Miller said in a news release.
"Maintaining access and engagement with HIV services is absolutely essential to preventing regression in epidemic control and unnecessary harm."
The Health Ministry did not immediately respond to requests for comment.
Researchers said the spike among "select groups" could be attributed to a combination of factors, including housing instability and diminished trust, increasing barriers for many people who normally receive HIV services.
British Columbia is set to become the first province in Canada to decriminalize the possession of small amounts of hard drugs in January, after receiving a temporary federal exemption in May.
Joy said this decision, alongside measures like safe supply and safe needle exchanges, will make a difference preventing similar issues in the future.
"The take-home message here is, in times of crisis and public health emergency or other crises, we need to support those really vulnerable populations more, not less," he said.
"Minimally, we need to give them continuity and the access to their services that they depend on. Otherwise, it just leads to problems that can have long, long-term consequences."
This report by The Canadian Press was first published Sept. 24, 2022.
Tragedies unite Humboldt Broncos mom and James Smith Cree Nation artist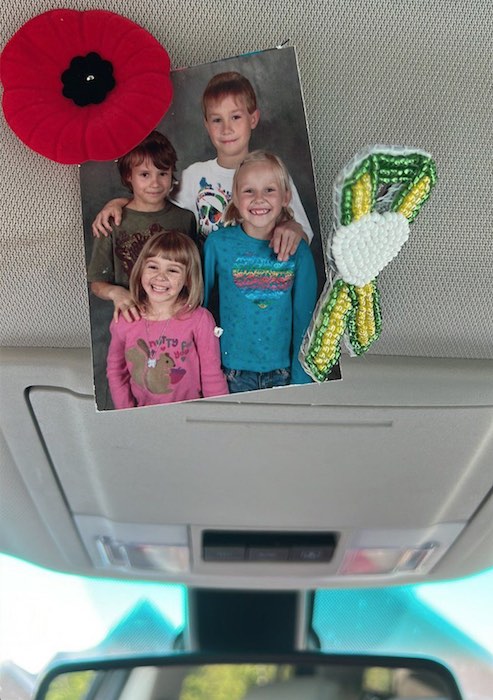 By Mickey Djuric in Regina
Celeste Leray-Leicht received many condolence gifts after the Humboldt Broncos bus crash that claimed the life of her son, but it was a beaded green and yellow ribbon with a white heart that stood out.
Leray-Leicht wore it for years after her son Jacob Leicht died. It now lives on her vehicle's visor, next to a photo of her children when they were little, alongside a poppy.
She always felt a connection to the beaded ribbon because of the heart.
"My son Jacob, he was a Valentine baby, so I'm drawn to hearts," Leray-Leicht said from her home in Humboldt, Sask., east of Saskatoon.
On April 6, 2018, near Tisdale, Sask., 16 people were killed and 13 were injured when an inexperienced truck driver ran a stop sign, crashing into a bus that was taking the Humboldt Broncos junior hockey team to a playoff game.
Leray-Leicht's son played with the Broncos and was 19 when he died in the crash.
She never knew who gifted her the beaded pin, but she found out when she headed out to James Smith Cree Nation, northeast of Saskatoon, to drop off food and other donations earlier this month.
Bernard Constant Community School on the reserve has become a gathering hub after a stabbing rampage on Sept. 4 that killed 10 people, nine of whom were James Smith Cree Nation members. Eighteen others were injured. Both suspects have died.
The school is where funerals and wakes were held, where volunteers continue to cook throughout the day to keep members fed as they recover. It's also where people come to pray.
On Sept. 11, it became the place where two women, dealing with devastating loss, came face to face for the first time.
While in the school's gym, Leray-Leicht met Lissa Bear, who is a member of James Smith Cree Nation, and has been grieving alongside her community.
She's also the Indigenous artist who anonymously gifted her the beaded ribbon that had always reminded Leray-Leicht of Jacob.
To Leray-Leicht's surprise, Bear had approached her saying she had sent her the pin years ago.
"And I said 'I just looked at that pin half an hour ago," Leray-Leicht said. "We were kindred spirits. We instantly hit it off."
Leray-Leicht said it was remarkable to meet Bear, despite the tragedies that unite them.
"I think God is in the details and I don't really believe in coincidences too much. I think we'll become good friends," said Leray-Leicht. "It was just so special to me."
Bear declined to comment, but gave consent to Leray-Leicht to share the story.
Humboldt and James Smith Cree Nation are 125 kilometres apart, but are connected through their grief.
Since the mass stabbing, families from Humboldt have silently attended funerals, donated food and offered support to people in the Indigenous community.
"As adults and leaders in the community, it's our responsibility to try and find as many supports as we can for our youth and for our adults without reliving the trauma over and over again," Leray-Leicht said.
Students in Humboldt wrote messages of hope on hearts for James Smith Cree Nation, something a nearby community did for them in 2018 after the bus crash.
At a vigil in Humboldt on Sept. 14, the hearts were placed in baskets alongside chocolate Hershey hugs, and were given to James Smith Cree Nation Chief Wally Burns. They asked him to pass them along to the youth of his community.
"When asked 'what do you need?' and they say prayers, I can relate," said Leray-Leicht, who helped plan the vigil. "That's all I remember thinking — 'That's what we needed, too.' Prayers to lift us up to survive this devastating loss."
This report by The Canadian Press was first published Sept. 24, 2022.