Companies push ahead on pot gummy plans despite hazy regulations
TORONTO — Chewy, colourful cannabis-infused gummies in bright colours and in the shape of animals or creatures are among the best-selling edible pot products on the black market — but Canadians shouldn't expect them on legal shelves.
Regulations that will make edibles legal come into force Oct. 17, exactly a year after Canada legalized the sale and purchase of dried and fresh cannabis, oil, seeds and plants. The rules laid out so far are aimed at keeping the new pot products out of the hands of kids and stipulate they can't be seen as "appealing to young persons" — but Health Canada has yet to provide additional details on exactly what crosses the line.
That leaves companies grappling with how to market gummies — an already popular adult product based on a children's treat — without being too much fun.
THC-infused gummy bears are unlikely to be among the new products set to hit legal shelves as early as December but companies are pushing ahead with pot-gummy plans they believe will allow them to eventually cash in on consumer demand without resorting to colourless and flavourless blobs.
Licensed producer Zenabis Ltd. said it is prioritizing the gummies' category of edibles because of its demonstrated and growing appeal south of the border, said Kyrsten Dewinetz, its program manager of food and beverage services.
"It's popular with many different demographics… We're probably going to forge ahead a little bit more quickly in this category," she said, adding Zenabis aims to launch its line of gummies by early 2020.
The earliest new goods can be sold legally will be mid-December, due to the required 60-day notice companies must provide to Health Canada of their intent to sell them.
A recent survey of Canadians conducted by Deloitte showed that current users' most-preferred edible format was a gummy at 26 per cent, followed by cookies at 23 per cent, brownies at 22 per cent and chocolate at 16 per cent.
Gummies are appealing to consumers for a variety of reasons, including portability and the ability to conceal them easily in public, said Rishi Malkani, a partner focusing on cannabis mergers and acquisitions for Deloitte.
"They're tiny, they're easily ingestible, you could do it quite discreetly… It's a little easier to transport or take with you to an event than brownies or other edibles, or even beverages for that matter."
The Canadian market for the soon-to-be-legalized goods is worth an estimated $2.7 billion annually, with edibles amounting to $1.6 billion alone, according to Deloitte.
In the U.S., where edibles are already available in several states where recreational pot is legalized, gummies are more popular than ever, according to BDS Analytics.
During the first four months of 2019, 17 of the top 20 selling ingestible products in California, Colorado and Oregon were gummies, according the U.S. firm.
And despite similar rules requiring that edibles makers not appeal to kids in various states, cannabis gummies and candy ripping off well-known brands continue to pop up.
In July, confectionery giant Mondelez Canada launched a lawsuit in a California court against a company called Stoney Patch Kids, whose products look virtually identical to its Sour Patch Kids product.
The risks to children of such products were outlined in recent research by the Canadian Paediatric Society, which found that a "significant number of young children" required medical care after ingesting cannabis in the months surrounding legalization last October.
The preliminary research found 16 reported cases involving recreational pot between September and December 2018.
And in late July, the Quebec government decided to unveil its own more stringent rules for pot edibles that would ban the sale of cannabis candies, confections and desserts including chocolate and "any other product that is attractive to minors."
The provincial government said that Ottawa's measures to regulate so-called Cannabis 2.0 products would not allow Quebec to "achieve its public health and safety objectives." Quebec's rules are subject to a 45-day public consultation before they take effect.
If Quebec's stricter edibles come into force, that could result in a $300-million annual drop in Quebec's cannabis market — and $40 million lost on gummies alone, according to Deloitte.
"It will be a significant impact," said Malkani, noting that gummies are expected to account for roughly eight or nine per cent of edibles in Quebec.
It's a move that officials in Washington State almost took last year, when it unexpectedly asked pot edibles makers to halt production of candies and gummies in October. Regulators later softened its stance to allow for candies and gummies, but limited the colours and shapes to only those from a government-approved list and issued packaging guidelines.
Health Canada has said edibles must not be "reasonably considered to be appealing to a young person" but has not stipulated which colours, flavours or shapes will be allowed.
The level of appeal to children of a given product will be determined on a case-by-case basis, and the factors used include shape, colour, flavour, name, packaging and how it is presented, agency officials told reporters on a briefing in June.
"If a gummy bear is appealing to a young person, would that be permitted? The answer is no," one Health Canada official said.
The federal agency said that it would publish guidance that will outline the factors to be considered, but the additional details have yet to be released.
Meanwhile, companies are rushing to get production of these goods started as soon as possible to avoid the initial supply shortages seen in the wake of legalization last October.
Cam Battley, the chief commercial officer for Aurora Cannabis Inc., said the licensed producer agrees with the government's overall objective but there remains a "lack of clarity" on exactly what is permissible. Still, he said the Edmonton-based firm has a gummy game plan — but would not go into specifics.
"We're confident that we have a strategy that will successfully thread that needle, supporting the policy objectives of migrating those patients over to the legal system but at the same time not being attractive to children," said Battley.
Armina Ligaya, The Canadian Press
Nature Conservancy of Canada releases action plan to protect Prairie grasslands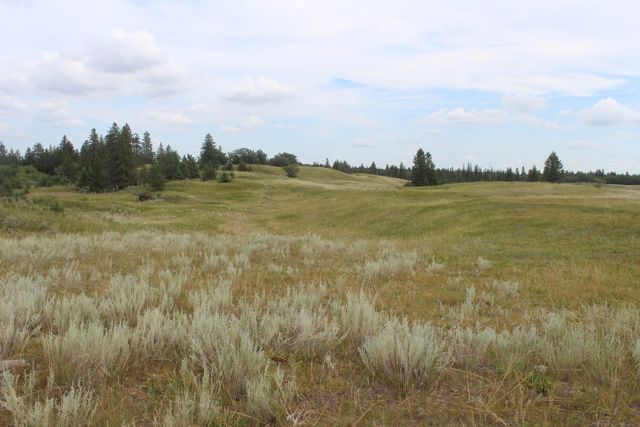 Grasslands are shown in a Nature Conservancy of Canada handout photo. The Nature Conservancy of Canada has announced a plan to protect Prairie grasslands, considered one of the most endangered and least protected ecosystems in the country. THE CANADIAN PRESS/HO-Nature Conservancy of Canada
By Colette Derworiz in Calgary
The Nature Conservancy of Canada has announced a plan to protect iconic Prairie grasslands, considered one of the most endangered and least protected ecosystems in the country.
The plan aims to raise $500 million by 2030 to conserve more than 5,000 square kilometres — about six times the size of Calgary — in Alberta, Saskatchewan and Manitoba.
"What we're trying to do is accelerate the rate of conservation in the Prairie Provinces, specifically in the grasslands," Jeremy Hogan, the non-profit organization's director of prairie grassland conservation, said in an interview.
"They are Canada's most endangered ecosystem. There's only about 18 per cent left of the Great Plains Prairie grasslands in Canada and we continue to lose about (600 square kilometres) a year."
Grasslands, he said, are often converted to fields for growing crops or taken over by expanding cities and towns.
But he calls them an "unsung hero" for the environment.
"They provide a lot of what we call ecosystem services," he said. "So, they provide a lot of benefit to everyday Canadians' lives, even if you don't live or work in the grasslands."
They store and filter water, preventing both floods and droughts. They improve water quality. They keep soil in place, because of extensive root networks, so there's less erosion along lakes and rivers.
Hogan said grasslands also are important for reducing the effects of climate change.
"The carbon storage in grasslands is incredible and it's all stored securely underground," he said. "So, when you get these kinds of fires like the ones that are happening in Alberta right now, carbon stored in the grasslands isn't threatened by those fires like carbon stored in forests."
Across Alberta, wildfires have already scorched more than 10,000 square kilometres of forest this year.
Horgan said grasslands can also be an economic benefit for local communities and are essential to food security.
"A lot of the grasslands that are intact today are working ranches," he said. "So, the grasslands are operated as cattle operations. As long as the cattle are grazed sustainably, it's actually a mutually beneficial relationship.
"It requires a little bit of disturbance from grazing animals to maintain range health … and then on the flip side of that is a healthy sustainable grazing operation leads to more nutritious forage for cattle. So, it's actually a win-win for ranchers and the environment."
Duane Thompson, chairman of the environment committee with the Canadian Cattle Association, said in a statement that farmers and ranchers are proud of their role in managing and protecting the at-risk ecosystems. They are often involved in nature conservancy projects to protect grasslands.
Outside of Waterton Lakes National Park in southern Alberta, a 16.5 square kilometre property known as The Yarrow has been conserved after a $6.9-million fundraising campaign. It features grasslands, wetlands, creeks, mixed forests and includes 27 wildlife species.
The organization now wants to protect grasslands in the Cypress Uplands Natural Area in southwestern Saskatchewan. They rise more than 600 metres, the highest elevation east of the Canadian Rockies, and are home to pronghorn, deer, elk and cougars. The area also has the highest diversity of birds, including burrowing owl, common nighthawk and ferruginous hawk, in that province.
East of Brandon, the nature conservancy has also secured its largest-ever conservation agreement in Manitoba. The 21 Farms project, which is 4.5 square kilometres, boasts mixed-grass prairie, as well as sandhill prairie and sandhill forest, and is home to the Sprague's pipit and a large Sharp-tail grouse lek.
"That's one of the cool points about the Prairie grasslands," said Hogan. "It's not just this one block of grass. It's very, very diverse west to east and changes with different topography and soil type."
The action plan, he said, hopes to raise money to continue protecting those types of areas across all three provinces before they disappear.
"It's not too late to act, but we're getting there," said Hogan. "The fact that there is only 18 per cent left is a very real and dangerous thing to grasslands. Once you reach a certain point, there's no going back.
"What is left is worth protecting and it's worth protecting urgently."
This report by The Canadian Press was first published June 5, 2023.
Canada saw decline in fresh fruit, vegetable availability in 2022: StatCan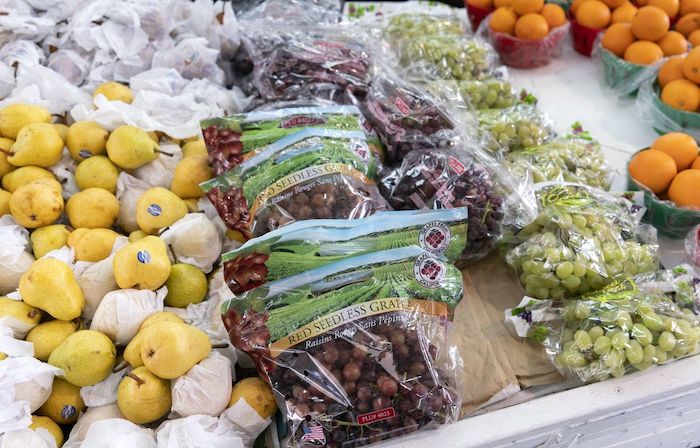 Statistics Canada says fewer fresh fruits and vegetables were available to Canadians in 2022, due to factors such as ongoing supply chain issues, labour shortages and price increases. Assorted fruit is shown at a market in Montreal on Thursday, June 13, 2019. THE CANADIAN PRESS/Paul Chiasson
Statistics Canada says fewer fresh fruits and vegetables were available to Canadians in 2022, due to factors such as ongoing supply chain issues, labour shortages and price increases.
StatCan says the amount of available fresh fruit declined by more than five per cent in 2022 from the previous year, to 72.9 kilograms per person.
Even though there was a 12.7 per cent increase in domestic fruit production, it was not enough to keep up with an increase in exports and a decrease in imports, the agency says in a report released today.
The availability of fresh vegetables — excluding potatoes — was 64.7 kilograms per person in 2022, a decrease of nearly six per cent from 2021.
Just like with fruits, Canada's vegetable production increases in 2022 were not enough to keep up with a rise in exports and a drop in imports, StatCan says.
The agency says some Canadian food industry sectors experienced record production in 2022, but also exported more food internationally than the previous year.
It says the entire industry was affected by pandemic-related supply chain issues, such as shipping delays and shortages of labour and products.
StatCan also cites price increases as one of the factors. Extreme weather, the war in Ukraine and energy costs severely impacted global food prices last year.
Food inflation was stubbornly high in Canada in 2022, outpacing overall inflation. Grocery prices were up 9.8 per cent in 2022 compared with 2021, the fastest pace since 1981.
StatCan's latest report says the amount of milk available to Canadians also decreased by nearly four per cent in 2022, compared to the previous year.
StatCan says that was mainly caused by a drop in production of one per cent milk and two per cent milk.
In contrast, red meat availability increased by 4.3 per cent in 2022, led by beef as cattle slaughter increased from the previous year. The amount of poultry available to Canadians increased by 1.5 per cent.
This report by The Canadian Press was first published May 31, 2023.