Commonwealth falls short of condemning Russia as Trudeau prepares for G7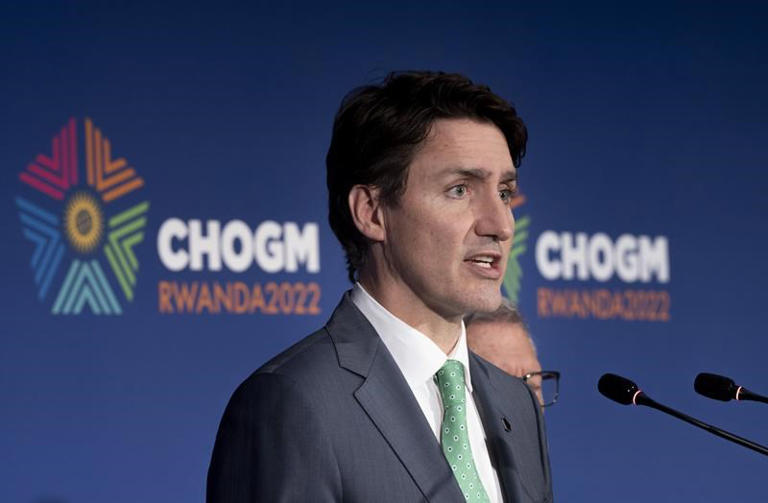 KIGALI, Rwanda — Prime Minister Justin Trudeau headed to the G7 summit in Germany on Saturday without a consensus from the Commonwealth to condemn the Russian invasion of Ukraine, but with a chorus of countries calling for help to overcome the fallout of the war.
Trudeau and Foreign Affairs Minister Mélanie Joly arrived in Kigali, the capital of Rwanda, on Wednesday for the Commonwealth Heads of Government meeting, which has been dominated by the concerns of nations that are suffering from food scarcity. Trudeau departed for the G7 talkslater in the day.
In the final communique from the Commonwealth summit, the 54 participating countries said they discussed the conflict in Ukraine, " underscored the need to respect the territorial integrity and sovereignty of all states," and " emphasized that all countries must seek peaceful resolution to all disputes in accordance with international law."
The countries stopped short of condemning Russia, as Trudeau and United Kingdom Prime Minister Boris Johnson have done throughout the summit.
"I can assure you that the topic of standing up for Ukraine was much discussed," Trudeau said at a press conference following the conclusion of the summit, referencing "strong language" in the communique.
Most Commonwealth Nations condemned Russia's actions at a United Nations vote in March, but 10 abstained. Among them was India, whose Prime Minister Narendra Modi opted not to attend the Commonwealth summit and instead spoke virtually with the leaders of Russia, China, Brazil and South Africa.
Trudeau said Russian President Vladimir Putin has run a disinformation campaign and has even been "telling outright lies," including blaming the food security crisis on Western sanctions against Russia.
He said food shortage stems from Russia's illegal actions, including blockade at key ports, as well as the deliberate targeting of Ukrainian grain storage facilities through cruise missile strikes.
"I was very clear with our friends and partners around the table, and not just clear on Russia's responsibility, but on how Canada and the West are stepping up," Trudeau said.
Canada will be raising the growing threat of famine at the G7 in Schloss Elmau Germany, Joly said.
She said Canada was in "listening mode" at the Commonwealth meetings, where leaders of smaller nations were able to speak without the dominating presence of the United States, Russia and China.
"What is clear to us is that Russia is weaponizing food and putting a toll on many countries around the world, and putting 50 million lives at risk," Joly told reporters Friday in Rwanda.
Trudeau had attempted to meet with the chair of the African Union Commission, Moussa Faki Mahamat, for several days during the Commonwealth summit but the sit-down was repeatedly postponed and eventually cancelled.
Shortly after Trudeau arrived in Rwanda, the government announced Canada would dedicate a new ambassador to the African Union, which has suffered from the food shortages inflicted on the continent as a result of the warin Ukraine.
Both Ukraine President Volodymyr Zelenskyy and Putin have met with representatives of the African Union, with Russia blaming sanctions against its government for stopping the flow of grain.
At the conclusion of the Commonwealth summit, Trudeau announced $94 million in funding for various education initiatives and $120 million to support gender equality and women's rights in Commonwealth countries.
Some of the other voices the prime minister has promised to centre at his international meetings, including the G7 summit, belong to youth leaders who spoke at a Saturday-morning event focused on issues facing young people around the world.
Some of the delegates spoke about the devastating effects of climate change, particularly around remote island nations where infrastructure cannot withstand natural disasters and rebuilding efforts take years. The onslaught takes a toll on education and health services, one delegate told the forum.
This report by The Canadian Press was first published June 25, 2022.
Laura Osman, The Canadian Press
Trump calls for 'immediate' release of Mar-a-Lago warrant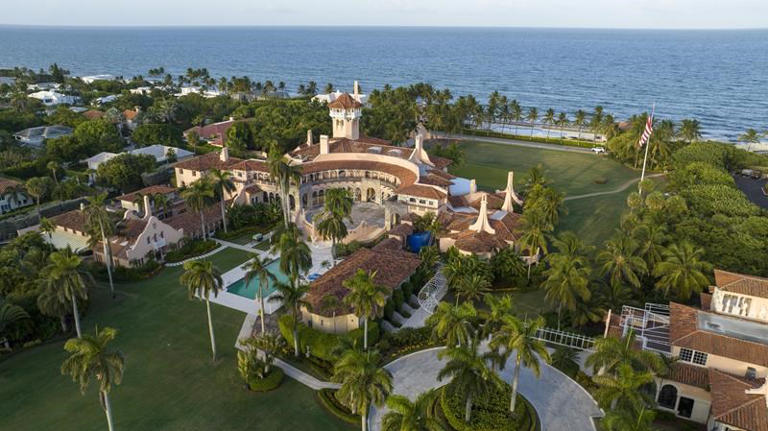 WASHINGTON (AP) — Former President Donald Trump called late Thursday for the "immediate" release of the federal warrant the FBI used to search his Florida estate, hours after the Justice Department had asked a court to unseal the warrant, with Attorney General Merrick Garland citing the "substantial public interest in this matter."
In messages posted on his Truth Social platform, Trump wrote, "Not only will I not oppose the release of documents … I am going a step further by ENCOURAGING the immediate release of those documents." He continued to assail the FBI search of Mar-a-Lago as "unAmerican, unwarranted and unnecessary."
"Release the documents now!" he wrote.
The Justice Department request earlier Thursday is striking because such documents traditionally remain sealed during a pending investigation. But the department appeared to recognize that its silence since the search had created a vacuum for bitter verbal attacks by Trump and his allies, and that the public was entitled to the FBI's side about what prompted Monday's action at the former president's home.
"The public's clear and powerful interest in understanding what occurred under these circumstances weighs heavily in favor of unsealing," said a motion filed in federal court in Florida on Thursday.
Should the warrant be released — the request is now with the judge — it could disclose unflattering information about the former president and about FBI scrutiny of his handling of sensitive government documents right as he prepares for another run for the White House. During his successful 2016 campaign, he pointed frequently to an FBI investigation into his Democratic opponent, Hillary Clinton, over whether she mishandled classified information.
It's unclear at this point how much information would be included in the documents, if made public, or if they would encompass an FBI affidavit that would presumably lay out a detailed factual basis for the search. The department specifically requested the unsealing of the warrant as well as a property receipt listing the items that were seized, along with two unspecified attachments.
To obtain a search warrant, federal authorities must prove to a judge that probable cause exists to believe that a crime was committed. Garland said he personally approved the warrant, a decision he said the department did not take lightly given that standard practice where possible is to select less intrusive tactics than a search of one's home.
In this case, according to a person familiar with the matter, there was substantial engagement with Trump and his representatives prior to the search warrant, including a subpoena for records and a visit to Mar-a-Lago a couple of months ago by FBI and Justice Department officials to assess how the documents were stored. The person was not authorized to discuss the matter by name and spoke on condition of anonymity.
Neither Trump nor the FBI has said anything about what documents the FBI might have recovered, or what precisely agents were looking for. But the former president complained anew Thursday about the search.
Trump, who for years has lambasted the FBI and sought to sow distrust among his supporters in its decisions, said the warrant was served and the search conducted despite his cooperation with the Justice Department over the search.
In a post to his Truth Social platform, Trump said that his "attorneys and representatives were cooperating fully" prior to the search, and that government officials "could have had whatever they wanted, whenever they wanted, if we had it."
The Justice Department has until Friday afternoon to alert the judge about whether Trump will object to the release.
FBI and Justice Department policy cautions against discussing ongoing investigations, both to protect the integrity of probes and to avoid unfairly maligning someone who is being scrutinized but winds up ultimately not being charged. That's especially true in the case of search warrants, where supporting court papers are routinely kept secret as the investigation proceeds.
In this case, though, Garland cited the fact that Trump himself had provided the first public confirmation of the FBI search, "as is his right." The Justice Department, in its new filing, also said that disclosing information about it now would not harm the court's functions.
Even so, Garland, in a hastily scheduled public statement delivered from the Justice Department podium, appeared to acknowledge the unusual nature of the department's request as he declined to take questions or provide any substantive details about the FBI's investigation.
"Much of our work is by necessity conducted out of the public eye. We do that to protect the constitutional rights of all Americans and to protect the integrity of our investigations," he said. "Federal law, longstanding department rules and our ethical obligations prevent me from providing further details as to the basis of the search at this time."
The Justice Department under Garland has been leery of public statements about politically charged investigations, or of confirming to what extent it might be investigating Trump as part of a broader probe into the Jan. 6 riot at the U.S. Capitol and efforts to overturn the results of the 2020 election.
The department has tried to avoid being seen as injecting itself into presidential politics, as happened in 2016 when then-FBI Director James Comey made an unusual public statement announcing that the FBI would not be recommending criminal charges against Clinton regarding her handling of email — and when he spoke up again just over a week before the election to notify Congress that the probe was being effectively reopened because of the discovery of new emails.
The Mar-a-Lago search warrant served Monday was part of an ongoing Justice Department investigation into the discovery of classified White House records recovered from Trump's home in Palm Beach, Florida, earlier this year. The National Archives had asked the department to investigate after saying 15 boxes of records it retrieved from the estate included classified records. Multiple federal laws govern the handling of classified information.
The attorney general also condemned verbal attacks on FBI and Justice Department personnel over the search. Some Republican allies of Trump have called for the FBI to be defunded. Large numbers of Trump supporters have called for the warrant to be released hoping they it will show that Trump was unfairly targeted.
"I will not stand by silently when their integrity is unfairly attacked," Garland said of federal law enforcement agents, calling them "dedicated, patriotic public servants."
Earlier Thursday, an armed man wearing body armor tried to breach a security screening area at an FBI field office in Ohio, then fled and was later killed after a standoff with law enforcement. A law enforcement official briefed on the matter identified the man as Ricky Shiffer and said he is believed to have been in Washington in the days leading up to the attack on the Capitol and may have been there on the day it took place.
_____
Associated Press writers Zeke Miller, Lindsay Whitehurst and Meg Kinnard contributed to this report.
More on Donald Trump-related investigations: https://apnews.com/hub/donald-trump
Eric Tucker And Michael Balsamo, The Associated Press
Ex-police officer gets 7-plus years in prison in Jan. 6 case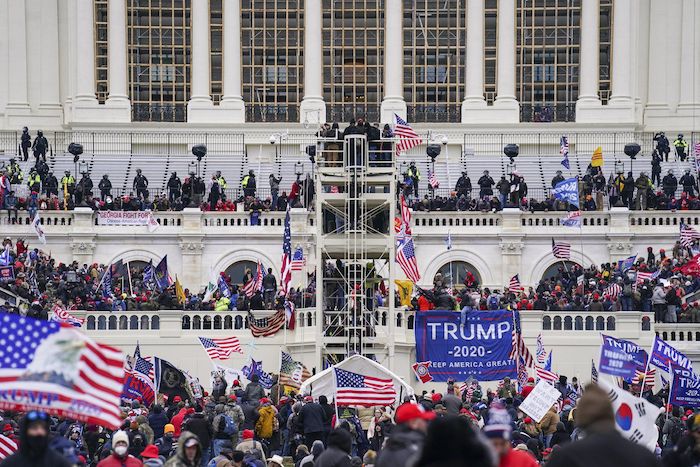 By Michael Kunzelman in Washington
WASHINGTON (AP) — An off-duty Virginia police officer who stormed the U.S. Capitol with a fellow officer was sentenced Thursday to more than seven years in prison, matching the longest prison sentence so far among hundreds of Capitol riot cases.
Former Rocky Mount Police Sgt. Thomas Robertson didn't speak in court before U.S. District Judge Christopher Cooper sentenced him to seven years and three months in prison. Cooper also sentenced Robertson to three years of supervised release after his prison term.
Federal prosecutors had recommended an eight-year prison sentence for Robertson. The sentence he got equals that of Guy Reffitt, a Texas man who attacked the Capitol while armed with a holstered handgun.
Robertson gets credit for the 13 months he has already been jailed.
In April, a jury convicted Robertson of attacking the Capitol on Jan. 6, 2021, to obstruct Congress from certifying President Joe Biden's 2020 electoral victory. Jurors found him guilty of all six counts in his indictment, including charges that he interfered with police officers at the Capitol and that he entered a restricted area with a dangerous weapon, a large wooden stick.
Robertson traveled to Washington on the morning of Jan. 6 with another off-duty Rocky Mount police officer, Jacob Fracker, and a third man, a neighbor who wasn't charged in the case.
Fracker was scheduled to be tried alongside Robertson before he pleaded guilty to a conspiracy charge in March and agreed to cooperate with federal authorities. Cooper is scheduled to sentence Fracker next Tuesday.
Prosecutors have asked Cooper to spare Fracker from a prison term and sentence him to six months of probation along with a period of home detention or "community confinement." They said Fracker's "fulsome" cooperation and trial testimony was crucial in securing convictions against Robertson.